Open Access This article is
freely available
re-usable
Article
Lack of Population Genetic Structuring in Ocelots (
Leopardus pardalis
) in a Fragmented Landscape
1
Universidade Estadual Paulista Júlio de Mesquita Filho, Departamento de Zootecnia, Via de Acesso Paulo Donato Castellane, s/n°, 14884-900 Jaboticabal, Brazil
2
Universidade Estadual do Sudoeste da Bahia, Departamento de Ciências Biológicas, Av. José Moreira Sobrinho, s/n°, Jequiezinho, 45200-000 Jequié, Brazil
3
Universidade de Brasília, Instituto de Ciências Biológicas, Departamento de Genética e Morfologia, Campus Universitário Darcy Ribeiro, Asa Norte, 70910-900 Brasilia, Brazil
4
PUCRS, Faculdade de Biociências, Laboratório de Biologia Genômica e Molecular, Av. Ipiranga 6681, Prédio 12, 90619-900 Porto Alegre, Brazil
5
Instituto Pró-Carnívoros, 12945-010 Atibaia, Brazil
6
Universidade Federal de São João Del-Rei, Departamento de Ciências Naturais, Campus Dom Bosco, Universidade Federal de São João del-Rei, 36301-160 Sao Joao Del Rei, Brazil
7
Instituto de Pesquisas Ecológicas, Rua Ricardo Fogarolli, 387, Vila Sao Paulo, 19280-000 Teodoro Sampaio, Brazil
8
Centro Nacional de Pesquisa Para a Conservação de Predadores Naturais, Instituto Chico Mendes de Conservação da Biodiversidade, Avenida dos Bandeirantes, s/n° Balneário Municipal, 12941-680 Atibaia, Brazil
9
Laboratório de Biodiversidade Molecular e Citogenética, Universidade Federal de São Carlos, Departamento de Genética e Evolução, Via Washington Luis, km 235, Caixa Postal 676, Monjolinho, 13565-905 São Carlos, Brazil
*
Author to whom correspondence should be addressed.
Academic Editor: Mario A. Pagnotta
Received: 12 May 2015 / Accepted: 24 July 2015 / Published: 30 July 2015
Abstract
:
Habitat fragmentation can promote patches of small and isolated populations, gene flow disruption between those populations, and reduction of local and total genetic variation. As a consequence, these small populations may go extinct in the long-term. The ocelot (
Leopardus pardalis
), originally distributed from Texas to southern Brazil and northern Argentina, has been impacted by habitat fragmentation throughout much of its range. To test whether habitat fragmentation has already induced genetic differentiation in an area where this process has been documented for a larger felid (jaguars), we analyzed molecular variation in ocelots inhabiting two Atlantic Forest fragments, Morro do Diabo (MD) and Iguaçu Region (IR). Analyses using nine microsatellites revealed mean observed and expected heterozygosity of 0.68 and 0.70, respectively. The MD sampled population showed evidence of a genetic bottleneck under two mutational models (TPM = 0.03711 and SMM = 0.04883). Estimates of genetic structure (F
ST
= 0.027; best fit of k = 1 with STRUCTURE) revealed no meaningful differentiation between these populations. Thus, our results indicate that the ocelot populations sampled in these fragments are still not significantly different genetically, a pattern that strongly contrasts with that previously observed in jaguars for the same comparisons. This observation is likely due to a combination of two factors: (i) larger effective population size of ocelots (relative to jaguars) in each fragment, implying a slower effect of drift-induced differentiation; and (ii) potentially some remaining permeability of the anthropogenic matrix for ocelots, as opposed to the observed lack of permeability for jaguars. The persistence of ocelot gene flow between these areas must be prioritized in long-term conservation planning on behalf of these felids.
Keywords:
felid; habitat fragmentation; genetic diversity; bottleneck
1. Introduction
In this context, the goal of the present study was to analyze the genetic structure of ocelot populations inhabiting the IR and MD fragments of the Upper Parana Atlantic Forest ecoregion. We tested if habitat fragmentation has produced detectable genetic discontinuity between the studied populations, and if any loss of diversity can be observed in these forest remnants. By comparing our findings to previous analyses targeting jaguars in the same areas, and ocelots in different areas, we draw conclusions regarding the history of genetic differentiation due to landscape fragmentation in this region and its conservation implications.
2. Materials and Methods
2.1. Study Area and Sampling
We used samples from two protected areas located in the Brazilian Interior Atlantic Forest, within the Upper Paraná Atlantic Forest (UPAF) ecoregion. The Morro do Diabo (MD, n = 14) State Park spans
ca.
34,000 ha and is located at the northern end of this ecoregion, in western São Paulo state (
Figure 1
). The landscape surrounding this park is a mosaic of farmlands, roads, and remaining forest fragments (totaling an area of about 10,000 ha). The other sampling site, referred to here as Iguaçu Region (IR, n = 18), comprised the Iguaçu National Park (Brazil) and the Iguazú National Park (Argentina), with a total area of
ca.
255,000 ha. These areas are located at the southern end of the UPAF and are connected to each other and also to the forest remnants comprising the Green Corridor of Misiones, in Argentina. The MD and IR are located
ca.
400 km from each other, and despite the presence of other protected areas in between, there is evidence indicating that they have been isolated from each other by human-induced fragmentation for 30–40 years [
14
].
2.2. Laboratory Protocols
The samples (
n
= 32) were derived from animals previously captured for independent ecological studies in these areas. Fourteen blood and tissue samples were collected in MD in 1999–2000, and 18 blood samples in the IR from 1993 to 2000. We extracted the DNA from all samples using a protocol modified from Sambrook
et al.
[
22
], and assessed genetic variation using 12 microsatellite loci initially developed for
Felis catus
[
23
]: FCA008, F42, FCA053, FCA077, FCA096, F98, FCA124, FCA146, FCA391, FCA424, FCA441 and FCA453. We used the fluorescent labeling protocol of Schuelke [
24
] and synthesized forward primers adding an M13 (-21) tail (5′-TGTAAAACGACGGCCAGT-3′) to their 5′ ends. The polymerase chain reaction (PCR) was performed in a final volume of 10 µL, containing 20 ng of DNA, 0.2 mM dNTPs, 1× PCR buffer, 8 pmol of the reverse primer, 2 pmol of the forward primer, 8 pmol of a M13 (-21) primer labeled with one of four dyes (6-FAM, NED, TET and HEX), 1.5 mM MgCl
2
and 1 unit of
Platinum Taq DNA Polymerase
(Invitrogen). The PCR profile for all loci consisted of an initial denaturation step at 95 °C for 5 min, 35 cycles of 94 °C (1 min), 55–62 °C (1 min) and 72 °C (1 min), followed by 15 cycles of 94 °C (30 s), 55 °C (45 s), 72 °C (30 s) and a final extension at 72°C (10 min). We analyzed the results in a MegaBACE 1000 automated sequencer, and scored the allele sizes using the software Genetic Profiler (GE Healthcare).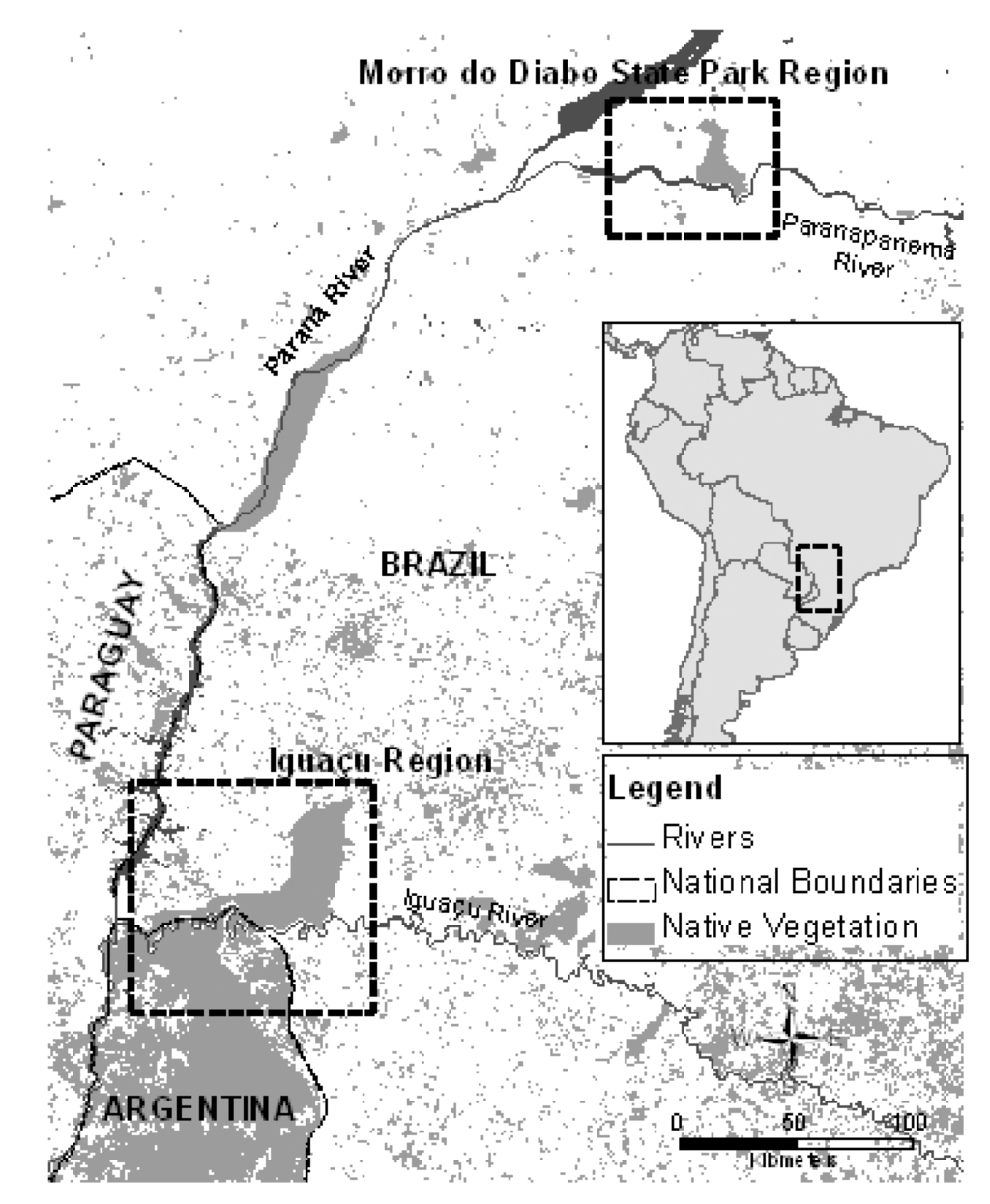 Figure 1. Upper Parana ecoregion and the sampled areas. Each square represents the origin of the samples collected. The gray areas represent the remaining native vegetation.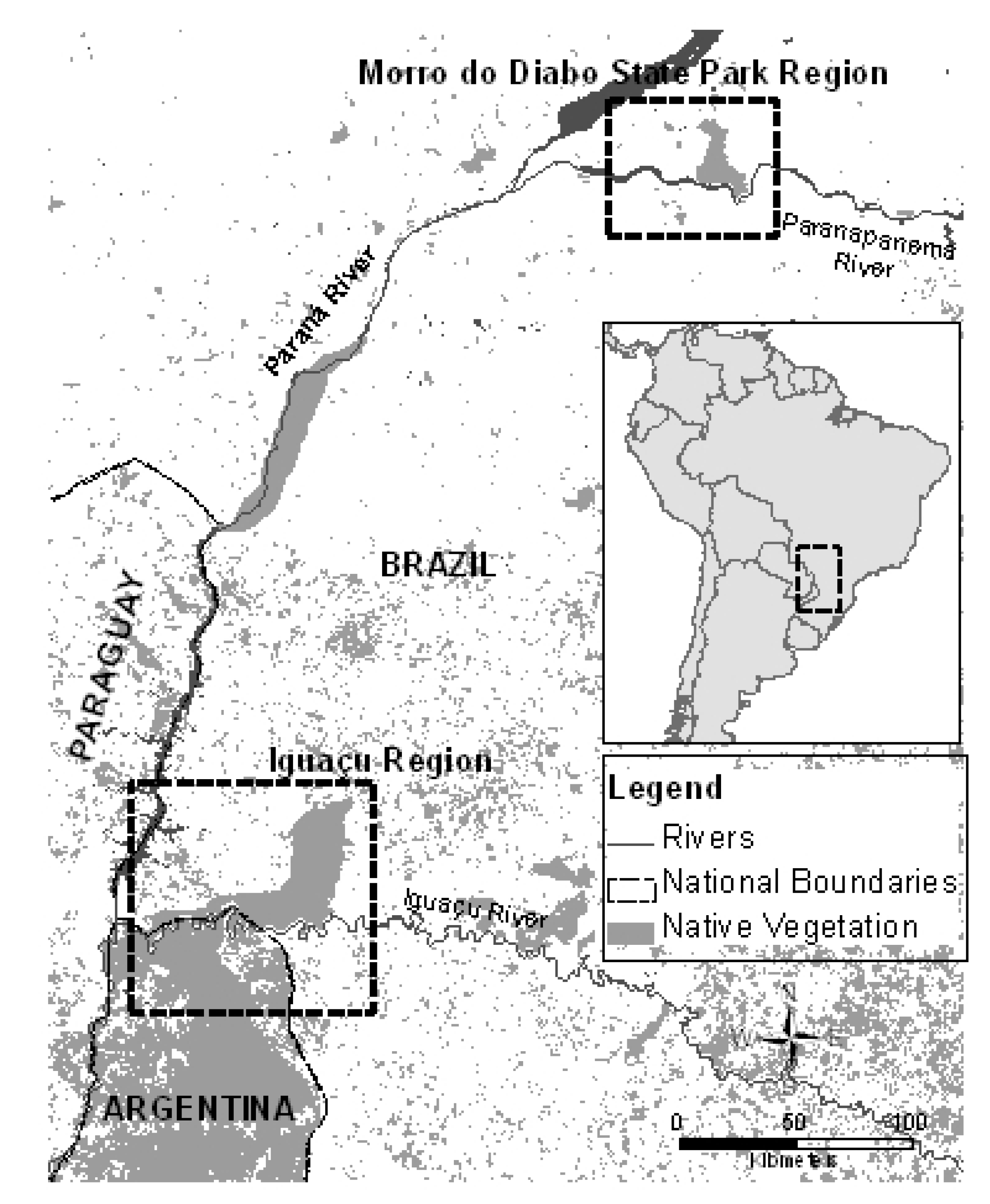 3. Results
Two of the 12 microsatellites that were initially tested were excluded from the analyses because they failed to amplify (FCA098) or to produce reliable genotypes (FCA146) despite the wide range of PCR conditions we explored. In addition, we were able to genotype locus FCA96 for only about 70% of the samples, most of which presented homozygous genotypes, including double negative amplifications suggesting the occurrence of null alleles. Therefore, this microsatellite locus was also excluded from the analyses. We thus employed the remaining nine, successfully genotyped polymorphic loci to investigate inter and intra-population levels of variation. The independence among these loci was assumed since we found no statistically significant linkage disequilibrium.
The two sampled populations exhibited very similar levels of genetic diversity (
Table 1
). When the mean between the two populations was computed, the expected heterozygosity was 0.71, the mean number of alleles per locus was 6.1, and the mean allelic richness was 5.7. The MD population exhibited a significant HWE deviation at locus FCA453, whereas the IR population showed a significant excess of homozygotes at locus FCA042, both after implementing the B-Y FDR correction (
p
< 0.0177). The locus FCA441 showed presence of null alleles only in the IR population (12.5%). No false allele or allelic dropout was detected for the others markers. The total
F
IS
estimates were positive in the two populations (IR: 0.078; MD: 0.001), and significantly higher than zero for IR (
p
< 0.05). We found 15 private alleles in IR and 10 in MD. However, using the rarefaction estimation, the IR and MD values were lower (1.44 and 1.62, respectively).
We detected significant evidence for a population bottleneck with the Wilcoxon sign-rank test for the MD population, and heterozygote excess under the two mutational models TPM and SMM (
p
= 0.03711 and 0.04883, respectively). Nevertheless, the mean ratio between the total number of alleles and the allele size range (
M
, following Garza and Williamson [
36
]) was 0.750 for MD and 0.776 for IR, in both cases higher than the expected
M
for a bottlenecked population (
M
< 0.68).
We detected no significant genotypic differences using the ENA correction method (which corrects for null alleles), with
F
ST
= 0.027, (
p
= 0.077). However, we found a larger divergence without this correction, with
F
ST
= 0.038, which was highly significant (
p
= 0.002). The most likely number of genetic clusters inferred using STRUCTURE was one (K = 1 (mean Ln P (D) = −971.6); K = 2 (mean Ln P (D) = −1060.0); K = 3 (mean Ln P (D) = −1259.5). In addition, when results from k = 2 and k = 3 runs were assessed, all individuals from both sampling sites were equally assigned to all possible clusters, supporting the interpretation that our data set can be best modeled by a single genetic population. Using the GenAlEx assignment test, 27 of 32 (84%) individuals were self-assigned to the population from which they had been sampled. Three individuals from IR and two from MD were assigned to the other population.
Since we found no evidence for genetic differentiation between these populations, we calculated a total Ne including all samples (total 32 individuals). This resulted in an estimate of Ne = 124.9 (CI 46.6–341.1) for the two combined sampling sites.

Table 1.
Genetic diversity at nine microsatellite loci for
Leopardus pardalis
sampled at the two areas investigated in this study.
Table 1. Genetic diversity at nine microsatellite loci for

Leopardus pardalis

sampled at the two areas investigated in this study.
FCA008
FCA042 ‡
FCA053
FCA077
FCA124
FCA391
FCA424
FCA441
FCA453 †
Average
Morro do Diabo (MD)
(n = 14)

N

7
9
3
9
2
7
5
3
7
5.8

R

6.77
8.69
3.00
8.92
2.00
6.97
5.00
3.00
6.84
5.8
HE
0.78
0.88
0.56
0.89
0.30
0.84
0.76
0.54
0.83
0.71
HO
0.92
1.00
0.33
0.79
0.36
0.64
0.79
0.64
0.92
0.71

Fis

−0.190
−0.147
0.417
0.123
−0.182
0.243
−0.036
−0.200
−0.099
0.001
Iguaçu Region (IR)
(n = 18)

N

6
12
5
9
2
8
4
4
7
6.3

R

5.30
10.32
4.33
8.20
2.00
6.86
3.67
3.89
6.51
5.7
HE
0.68
0.91
0.62
0.84
0.43
0.80
0.67
0.60
0.79
0.70
HO
0.67
0.78
0.59
0.83
0.47
0.61
0.67
0.33
0.89
0.65

Fis

0.012
0.141
0.048
0.012
−0.103
0.243
−0.002
0.450
−0.136
0.078
N

is the number of alleles in each population,

R

the allelic richness, HE expected heterozygosity, HO observed heterozygosity, † and ‡ indicate loci deviating from Hardy–Weinberg expectations (after B-Y FDR correction for multiple comparisons,

p

< 0.0177) for the Morro do Diabo population (†) and Iguaçu Region population (‡).
4. Discussion
In conclusion, our data indicate that the ocelot populations sampled in these UPAF fragments must be viewed as a single genetic population. However, in the face of current levels of habitat loss and fragmentation, it is likely that anthropogenic barriers may lead (or have already led) to the complete severing of the connection between these fragments. Despite the low number of samples obtained in this study, the bottleneck inference for the MD population may already represent results of human-induced fragmentation and consequently an in-progress isolation of these populations. Considering that these results are based on samples collected between 1993 and 2000, and that habitat alteration in the region has continued to increase in the last decades, it may be reasonable to assume that this trend of isolation has already been enhanced, and may pose an important threat to these populations in the near future. It is therefore critical to foster immediate landscape management actions that allow the persistence of ocelot gene flow between these areas to preserve its original population structure and maintain its evolutionary potential in the face of continued disturbances. Such actions include the conservation and restoration of intervening habitats (e.g., riparian forests and native woodland patches within private ranches and farms), and the designation of additional protected areas in the region. Taken together, these actions should help ensure the long-term viability of this species in the region, and also benefit the persistence of the UPAF ecosystem as a whole.
Acknowledgments
The authors thank Jan K. Mähler Jr., Alessandra Nava, Cibele B. Indrusiak, Valeria Conforti and Anael A. Jacob for the samples used in this study. We also thank Rodrigo Begotti for help in the map production, Renata Miotto for help with laboratory procedures, and the Brazilian agencies Fundação de Amparo à Pesquisa do Estado de São Paulo (FAPESP) and Conselho Nacional de Desenvolvimento Científico e Tecnológico (CNPq) for financial support.
Author Contributions
Fernando C. C. Azevedo, Laury Cullen Jr. and Peter G. Crawshaw Jr. collected the field data; Fernando P. Rodrigues and Eduardo Eizirik conceived the project; Marina G. Figueiredo, Marcelo Cervini and Pedro M. Galetti Jr conducted theexperiments and analyzed the data; and all authors wrote the paper.
Conflicts of Interest
The authors declare no conflict of interest.
© 2015 by the authors; licensee MDPI, Basel, Switzerland. This article is an open access article distributed under the terms and conditions of the Creative Commons Attribution license (http://creativecommons.org/licenses/by/4.0/).