Open Access This article is
freely available
re-usable
Article
Diversity, Stand Characteristics and Spatial Aggregation of Tree Species in a Bangladesh Forest Ecosystem
1
Department of Biogeography, University of Bayreuth, Bayreuth, D-95447, Germany
2
Department of Forestry and Environmental Science, Shahjalal University of Science and Technology, Sylhet-3114, Bangladesh
*
Author to whom correspondence should be addressed.
Received: 11 May 2011; in revised form: 27 July 2011 / Accepted: 9 August 2011 / Published: 16 August 2011
Abstract
: Assessing biodiversity and the spatial structures of forest ecosystems are important for forestry and nature conservation. However, tropical forests of Bangladesh are only sparsely investigated. Here we determined biodiversity (alpha, beta and gamma), spatial species turnover and stand characteristics of one of the few remnant tropical forests in Bangladesh. Two differently protected areas of Satchari forest were compared. We recorded tree species composition, in a systematic plot design, measured diameter at breast height for each individual tree (to assess basal area), and calculated decay in similarity of tree species composition with geographical distance. The distance-decay was assessed separately for the whole study area and for two subsamples from Satchari National Park and Satchari Reserve Forest. Satchari National Park (strictly protected) had, despite its smaller area, a higher Alpha and Gamma diversity, but a lower Beta diversity than Satchari Reserve Forest. Variation in species composition was not significant between the two differently protected areas. Basal area increased significantly with protection status although tree individuals were of equal size in both areas. Plots in the Reserve Forest were associated with higher species turnover than in the National Park. We suggest anthropogenic disturbance, which occurs in the less strictly protected Reserve Forest, is the main driver for the detected spatial heterogeneity in species composition.
Keywords:
diameter at breast height; beta diversity; distance-decay; Indian Subcontinent; national park; reserve forest; management; conservation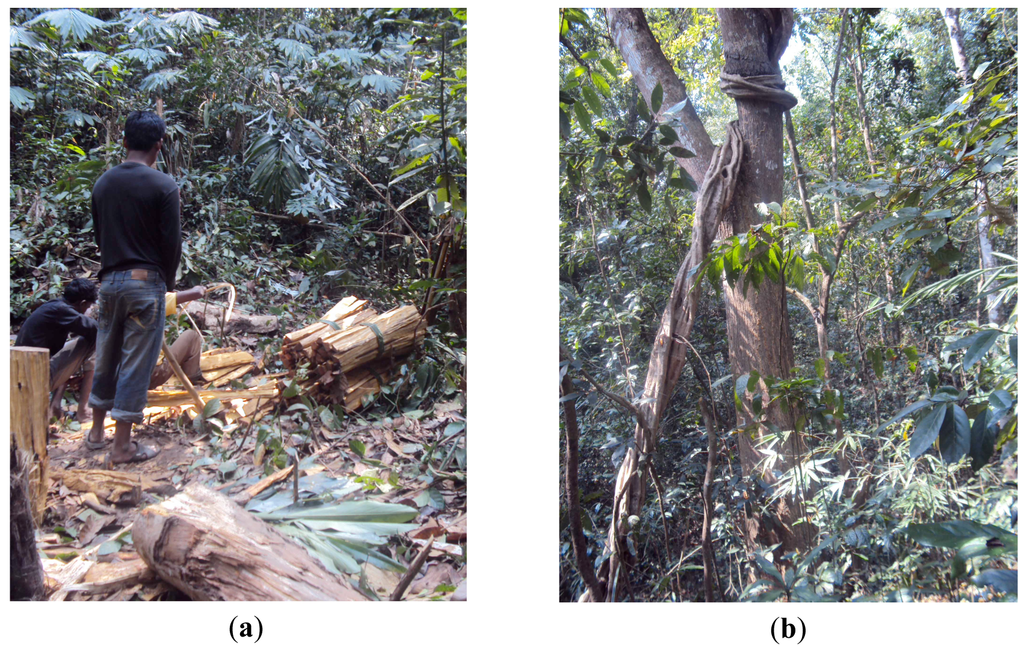 Figure 1. (a) Different illegal land use (like firewood collection) was detected within the protected forest areas; (b) Less disturbed parts are characterized by a well-developed tree stratum with evergreen top canopy trees.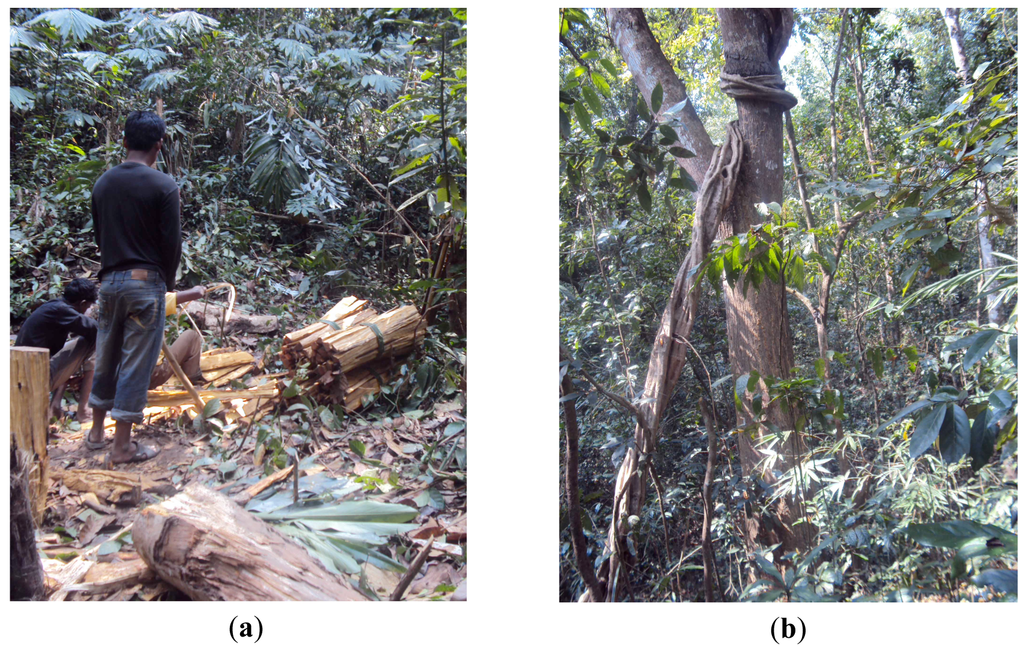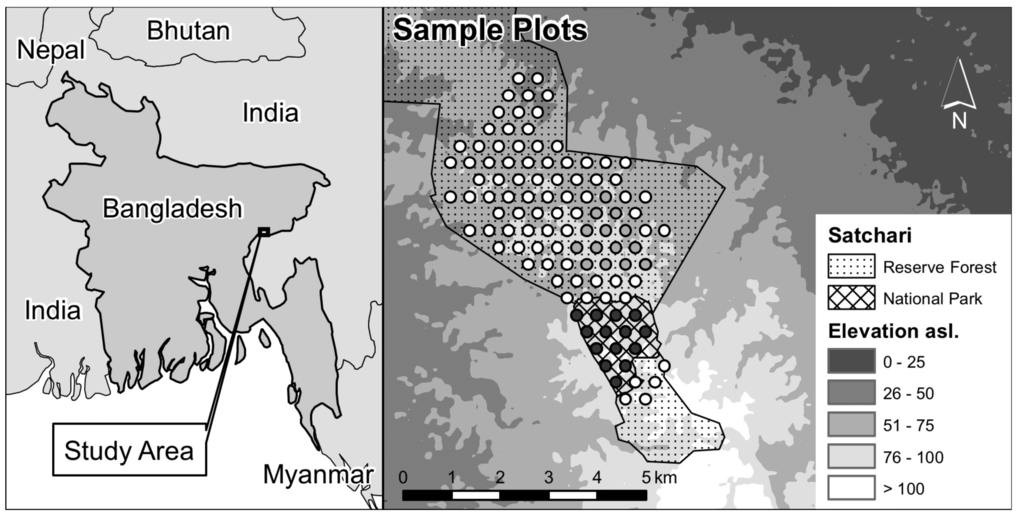 Figure 2. The study area in east Bangladesh covers the core area of Satchari National Park (15 plots) and the forested parts of Satchari Reserve Forest (96 plot). Two sub samples from Satchari National Park (black circles) and Satchari Reserve Forest (grey circles) were compared in the distance-decay analysis.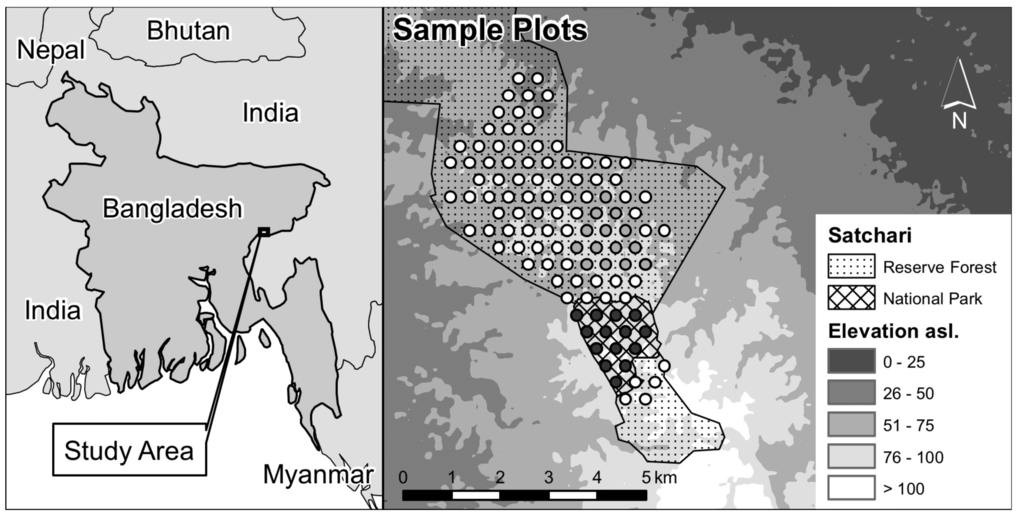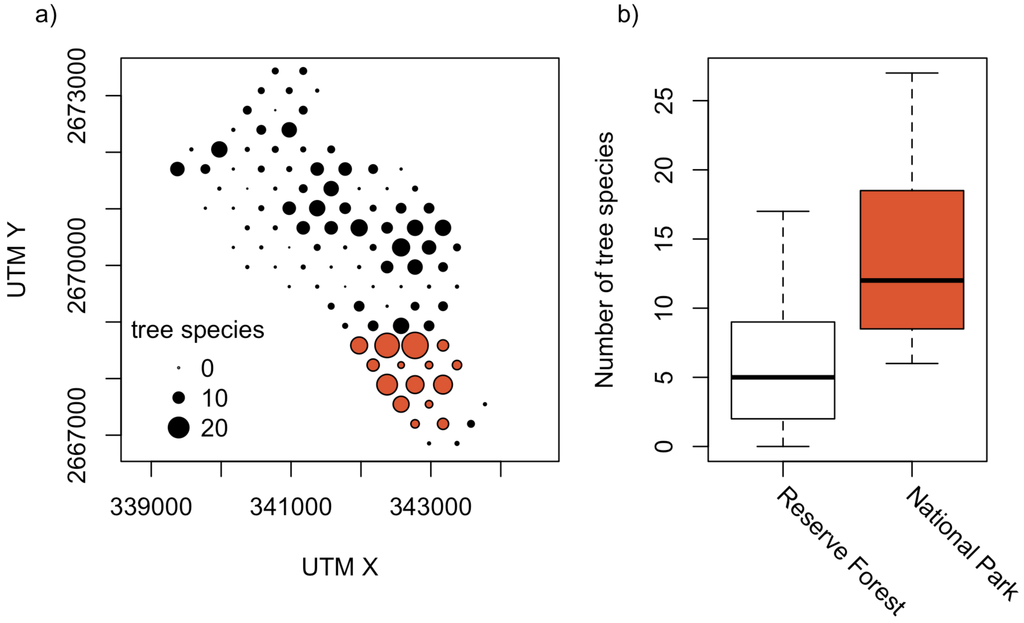 Figure 3. Tree species diversity in National Park and Reserved Forest (a) Spatial pattern of tree species richness in Satchari National Park (red) and Satchari Reserve Forest (black); (b) Influence of protection status on tree Alpha diversity is documented by significantly higher values in the National Park.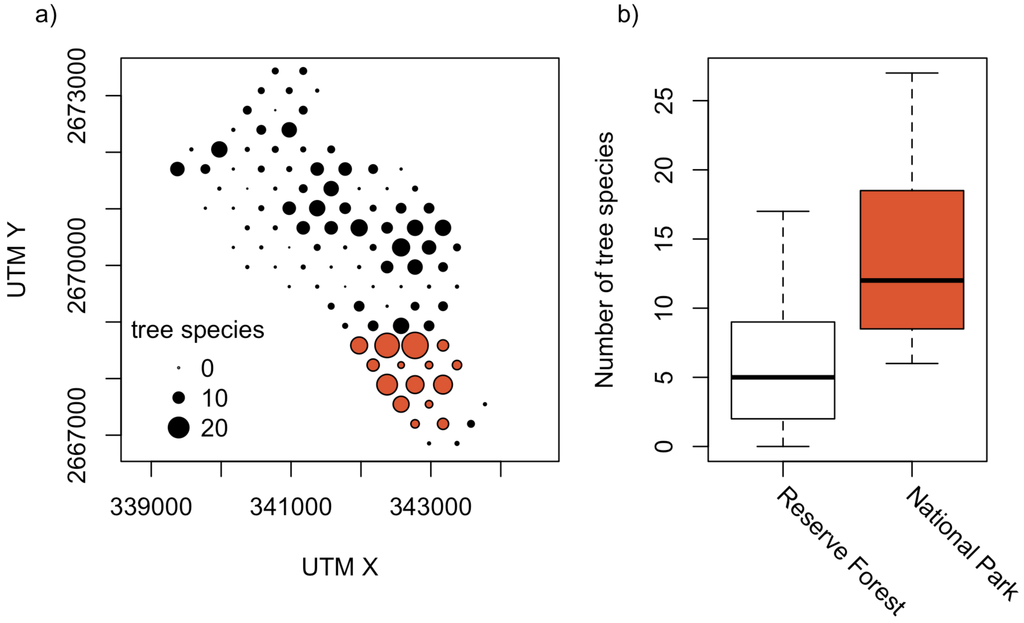 Figure 4. (a) Decline in similarity of tree species species composition between compared pairs of plots with distance in the whole study area. If the National Park and the Reserve Forest are considered separately, the slope of the distance-decay relationship is less steep in the National park (b) compared to the Reserve Forest (c).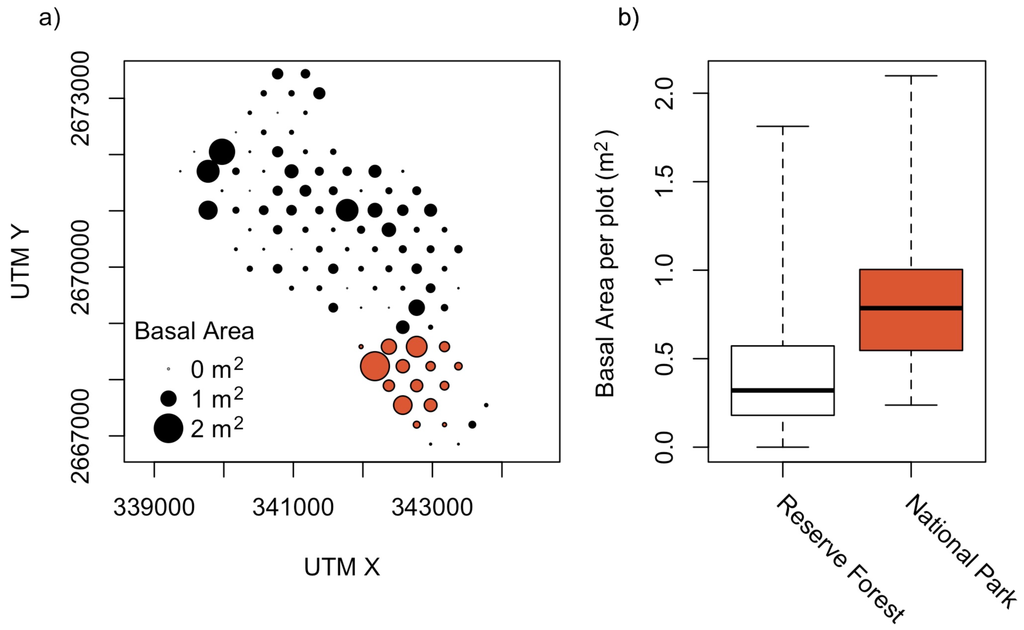 Figure 5. Basal area in National Park and Reserved Forest (a) Spatial pattern of basal area in Satchari National Park (red) and Satchari Reserve Forest (black); (b) Influence of protection status on basal area shows a significant increase in the strictly protected National Park.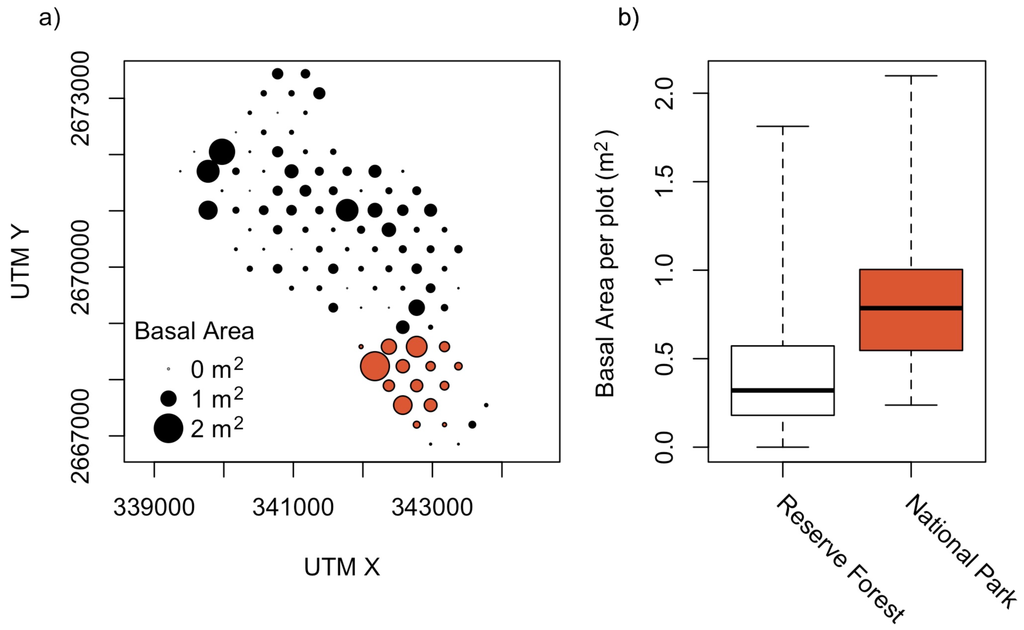 Acknowledgments
We thank Reinhold Stahlmann and the other members of the Department of Biogeography at the University of Bayreuth for constructive hints. This research was supported by a personal grant to Mohammad Belal Uddin from the German Academic Exchange Service (DAAD).
© 2011 by the authors; licensee MDPI, Basel, Switzerland. This article is an open access article distributed under the terms and conditions of the Creative Commons Attribution license (http://creativecommons.org/licenses/by/3.0/).