Open Access This article is
freely available
re-usable
Article
Genotyping-by-Sequencing Reveals Molecular Genetic Diversity in Italian Common Bean Landraces
1
Institute of Biosciences and Bioresources, National Research Council (CNR), Via Amendola 165/A, 70126 Bari, Italy
2
Department of Soil, Plant and Food Science, University of Bari ˝Aldo Moro˝, Via Amendola 165/A, 70126 Bari, Italy
*
Author to whom correspondence should be addressed.
Received: 1 August 2019 / Accepted: 1 September 2019 / Published: 3 September 2019
Abstract
:
The common bean (
Phaseolus vulgaris
L.) is one of the main legumes worldwide and represents a valuable source of nutrients. Independent domestication events in the Americas led to the formation of two cultivated genepools, namely Mesoamerican and Andean, to which European material has been brought back. In this study, Italian common bean landraces were analyzed for their genetic diversity and structure, using single nucleotide polymorphism (SNP) markers derived from genotyping-by-sequencing (GBS) technology. After filtering, 11,866 SNPs were obtained and 798 markers, pruned for linkage disequilibrium, were used for structure analysis. The most probable number of subpopulations (K) was two, consistent with the presence of the two genepools, identified through the phaseolin diagnostic marker. Some landraces were admixed, suggesting probable hybridization events between Mesoamerican and Andean material. When increasing the number of possible Ks, the Andean germplasm appeared to be structured in two or three subgroups. The subdivision within the Andean material was also observed in a principal coordinate analysis (PCoA) plot and a dendrogram based on genetic distances. The Mesoamerican landraces showed a higher level of genetic diversity compared to the Andean landraces. Calculation of the fixation index (F
ST
) at individual SNPs between the Mesoamerican and Andean genepools and within the Andean genepool evidenced clusters of highly divergent loci in specific chromosomal regions. This work may help to preserve landraces of the common bean from genetic erosion, and could represent a starting point for the identification of interesting traits that determine plant adaptation.
Keywords:
Phaseolus vulgaris
; landraces; genotyping-by-sequencing; SNP; population genetics
1. Introduction
The objective of this study was to use GBS-derived SNP markers to assess population genetics and phylogenetic relationships in a set of 50 Italian common bean accessions attributed to the Andean or Mesoamerican genepools through the diagnostic marker phaseolin.
2. Materials and Methods
2.1. Plant Material
Fifty Italian common bean accessions were used in this study. The predominant part of samples were landraces from southern Italy (especially Apulia and Basilicata regions), however other Italian regions were also represented (
Table S1
). Most samples were gathered during collecting missions carried out in Apulia region between 2015 and 2016. The other materials were from a common bean working collection held at the Institute of Biosciences and Bioresources, CNR, Italy, and five samples were bought as market-improved varieties.
2.2. Protein Extraction and SDS/PAGE (Sodium Dodecyl Sulphate/PolyAcrylamide Gel Electrophoresis)
The dry cotyledons of three single seeds per sample was finely ground and the proteins were extracted for two hours by adding 10 volumes of 0.002 M borate buffer pH 9.0. The proteins were dissociated by heating to 90 °C for 2 min in the presence of denaturing buffer (20 mM Tris-HCl pH 8.6 containing 1% SDS, 2% 2-mercaptoethanol, and 8.3% glycerol). One-dimensional SDS/PAGE was performed following the procedure described by Laemmli [
43
] using 15% polyacrylamide gel slabs.
2.3. DNA Extraction, GBS Assay, and SNP Filtering
Plants were grown in a greenhouse and genomic DNA was extracted from young leaves of single plants using the DNeasy Plant Mini Kit (Qiagen, Hilden, Germany). The DNA quality was verified using a Nanodrop (Thermo Fisher Scientific, Rockfort, IL, USA) and its concentration was quantified with a Qubit fluorometer (Life Technologies, Carlsbad, CA, USA).
Cluster analysis was carried out using the Illumina CASAVA v1.8.2 software and higher level multiplex divided by means of Illumina TruSeq indexes (24 samples each, with variable inline barcodes). Internal pipelines were applied to raw reads in order to remove low quality reads and to demultiplex single individuals according to inline barcodes. These were removed from each read and RAD site concordance was checked.
2.4. Structure Analysis and Genetic Relationships
Prior to analysis, the SVS software v8.4.0 was used to trim the SNP dataset based on pairwise linkage disequilibrium (LD) between adjacent markers. The threshold was set at r
2
> 0.5, as reported in previous SNP analyses in the common bean [
42
,
47
].
Structure analysis was carried out using a Bayesian formulation of a clustering procedure and the admixture model by means of the software STRUCTURE (v2.3.4) [
48
]. To estimate the number of subpopulations (
K
) inside
P. vulgaris
germplasm, 10 independent runs were performed for each
K
value from
K
= 2 to
K
= 10, applying a length of burning period of 50,000 and a number of Markov chain Monte Carlo (MCMC) repetitions after burning equal to 100,000. The "optimal" number of clusters (
K
value), was determined by ad hoc ΔK statistics [
49
] using Structure Harvester software [
50
].
The output of STRUCTURE was used to obtain expected heterozygosity between individuals in the same group and the ˝net nucleotide distance˝ (allele frequency divergence) between clusters.
SNPs selected as previously described were used to evaluate the genetic relationships among the common bean genotypes. The Tamura–Nei genetic distance [
51
] was calculated and a principal coordinate analysis (PCoA) was performed with GenAlex 6.5.02. A neighbor joining (NJ) tree was constructed using MEGA7 [
52
], with 500 bootstrap replicates.
2.5. Pairwise Fixation Index (FST)
F
ST
values at individual loci were plotted against the common bean genome assembly using SVS v8.4.0, implementing the Weir and Cockerham algorithm [
53
]. All the initially filtered SNPs, including those in LD, were considered for this analysis.
3. Results
3.1. Seed Morphological Traits and Phaseolin Pattern
The material analyzed was variable in seed shape, size, and color (
Table S1
,
Figure S1
). Three seed phaseolin patterns were observed, i.e., type S for 19 landraces, type T for 17 samples (including 5 commercial varieties), and type C for 14 landraces (
Table S1
). All common beans with S phaseolin displayed light-colored seeds, including white, light brown, pale brown, and pale yellow, with the exception of "Carrubara" (8) which was collected in Sicily, which showed a black coloration. The seed colors in type C and T were more variable and generally darker than in type S, ranging from white to light brown, brown, reddish-brown, dark red, and black. Some accessions had a seed coat pattern varying from striped to mottled, spotted, or showing a colored eye around the hilum.
Phaseolin S accessions displayed predominantly a kidney, cuboid, or oval shape, while phaseolin T samples were mainly cylindrical or oval, and phaseolin C accessions were very variable, but predominantly oval and cuboid. "Locale di Accettura" (20) accession was the only kidney-shaped accession among the ones displaying phaseolin type C.
Most of the analyzed accessions are consumed as dry seeds, but some are eaten as fresh vegetables, and some can be consumed either way. A number of common bean landraces take their name from their seed tegument color, e.g., "Zolfino" (sulfur, yellow), "Verdolino" (light greenish), "Tabacchino" ("small tobacco", brown), or seed shape or size, e.g., "Riso" (rice), "Piattella" (flat). In some cases, the same common name is used to identify genetically different material, for instance "Cannellino" is a market class usually referred to white, kidney/cylindrical-shaped common beans, while "Fagiolini" (little beans) or "Mangiatutto" (eat all) generally refer to snap beans. This popular nomenclature is common also in other Italian regions [
54
].
3.2. Sequencing Output
Illumina raw reads were analyzed in order to eliminate low quality reads and demultiplex single individuals according to internal barcodes, which were removed, and RAD site concordance was checked. All reads were trimmed to a fixed length of 110 bp to maintain maximum compatibility for downstream software. After pre-processing steps, 94% of raw reads were successfully demultiplexed and linked to samples. The average read count per sample was 3.09 M.
After filtering SNPs for MAF, call rate, and inbreeding coefficient, 11,866 polymorphic sites were detected in 50 samples. Transitions were 63.68% and transversions were 36.32%, therefore the transition–transversion rate was 1.75.
3.3. Genetic Structure
Therefore, generally speaking, the common beans with an S-type phaseolin constituted a very compact group at all K values, except for the samples "Corno di capra" (18) and "Zolfino" (19), which were usually admixed and isolated from the rest of the germplasm at higher K. Other samples showing an admixed genetic background from K3 onwards were "Locale di Accettura" (20), "Riso" (33), "Billò" (34) with a C phaseolin, and "Pezzati" (50) with a T phaseolin.
Snap beans, which can have any phaseolin type, were quite dispersed in the tree.
3.4. Pairwise Fixation Index (FST)
In order to detect genomic regions putatively subjected to directional selection, F
ST
values at the 11,866 individual loci were plotted against the common bean genome. To do this, we defined three different clusters, i.e., the type S phaseolin, the prevailing type T phaseolin, and the prevalent type C phaseolin groups, corresponding to the red, blue, and yellow groups in K4 (
Figure 1
), respectively, and excluded admixed material. We performed two kinds of comparisons: The Mesoamerican S-type common beans against the other accessions (Andean), and the prevailing T-type material against the prevalent C-type accessions, which both belonged to the Andean genepool. In the first case, as expected, many SNPs showed a high F
ST
value, scattered in almost all chromosomes, even though SNPs with F
ST
= 1 formed some blocks, especially in chromosomes Pv1, Pv7, Pv9, Pv10, and Pv11 (
Figure 3
A). When comparing the two C/T-groups, a lower number of high-F
ST
SNPs was observed and the 181 SNPs with an F
ST
value equal to 1 were concentrated in some chromosomes (
Figure 3
B). We analyzed these SNPs and found that chromosomes Pv1, Pv2, Pv3, Pv4, Pv7, and Pv10 contained 42, 6, 1, 10, 24, and 98 SNPs, respectively (
Table S2
). Of these, 14 SNPs were located in 11 genes, with 6 in introns (4 genes in chromosomes Pv1, Pv2, Pv10), 5 in CDS (5 genes in chromosomes Pv7 and Pv10), and 3 in 3′UTR (2 genes, chromosomes Pv1 and Pv7). These genes had putative different functions, including cadmium transporter ATPase, starch synthase, DNA binding, serine/threonine protein kinase, ribosome protein, etc. (
Table S3
).
Supplementary Materials
The following are available online at
https://www.mdpi.com/1424-2818/11/9/154/s1
, Figure S1: Italian common bean (
Phaseolus vulgaris
L.) landraces used in this study. Photos for three market varieties are absent since these seeds are dressed and did not display their natural coloration. Figure S2: estimate of the most probable K by means of ΔK statistics. The number of subpopulations (K) was ascertained based on maximum likelihood and ΔK values. Table S1: list of common bean germplasms analyzed, sample codes, seed features, product type, and phaseolin patterns. Table S2: SNP markers with F
ST
= 1 between two groups of Andean common bean accessions analyzed in the present study. Table S3: SNP markers from Table S2, found in
P. vulgaris
genes. Transcript name, SNP localization, and functional annotation are indicated.
Author Contributions
Conceptualization: G.S. and L.L.; Formal analysis: S.P., G.S., D.L.Z., L.L.; Funding acquisition: G.S.; Investigation: G.S., L.L., S.P., D.L.Z.; Resources: G.S.; Supervision: G.S.; Writing - original draft: L.L. and G.S.; Writing - review & editing: G.S. and L.L.
Funding
This research was funded by the project BiodiverSO—PSR Puglia 2007-2013 Mis. 214/4 subaz. a), and by the project BiodiverSO—PSR Puglia 2014-2020 Mis.10.2.
Acknowledgements
Authors thank Salvatore Cifarelli (SC) and Francesco P. Losavio for collecting the germplasms in the Apulia region, SC for seed pictures, and Vittoria Liuzzi for DNA extraction. Special thanks to the reviewers and the editor for their valuable suggestions and comments.
Conflicts of Interest
The authors declare no conflict of interest. The funders had no role in the design of the study, in the collection, analyses, or interpretation of data, in the writing of the manuscript, or in the decision to publish the results.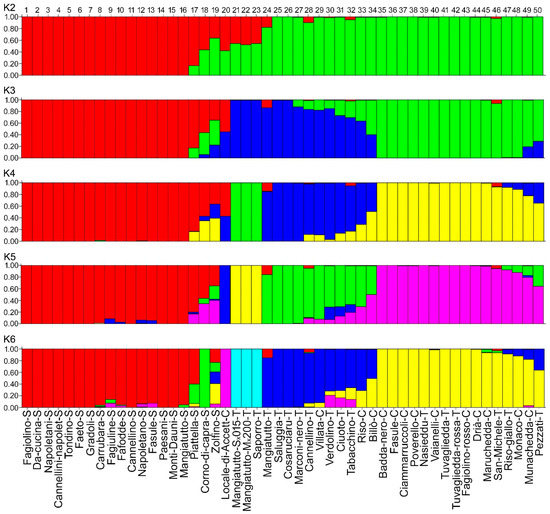 Figure 1.
Population structure of the common bean material analyzed in this study. From top to bottom: K = 2, K = 3, K = 4, K = 5, and K = 6 graphs. The y-axis indicates the estimated membership coefficient (q). Each accession is represented by a single vertical bar, and is identified by a progressive number (above the K = 2 graph) and its name, plus its phaseolin type (below the K = 6 graph), as in
Table S1
. Different colors correspond to the distinct groups at each K, as identified by the STRUCTURE software.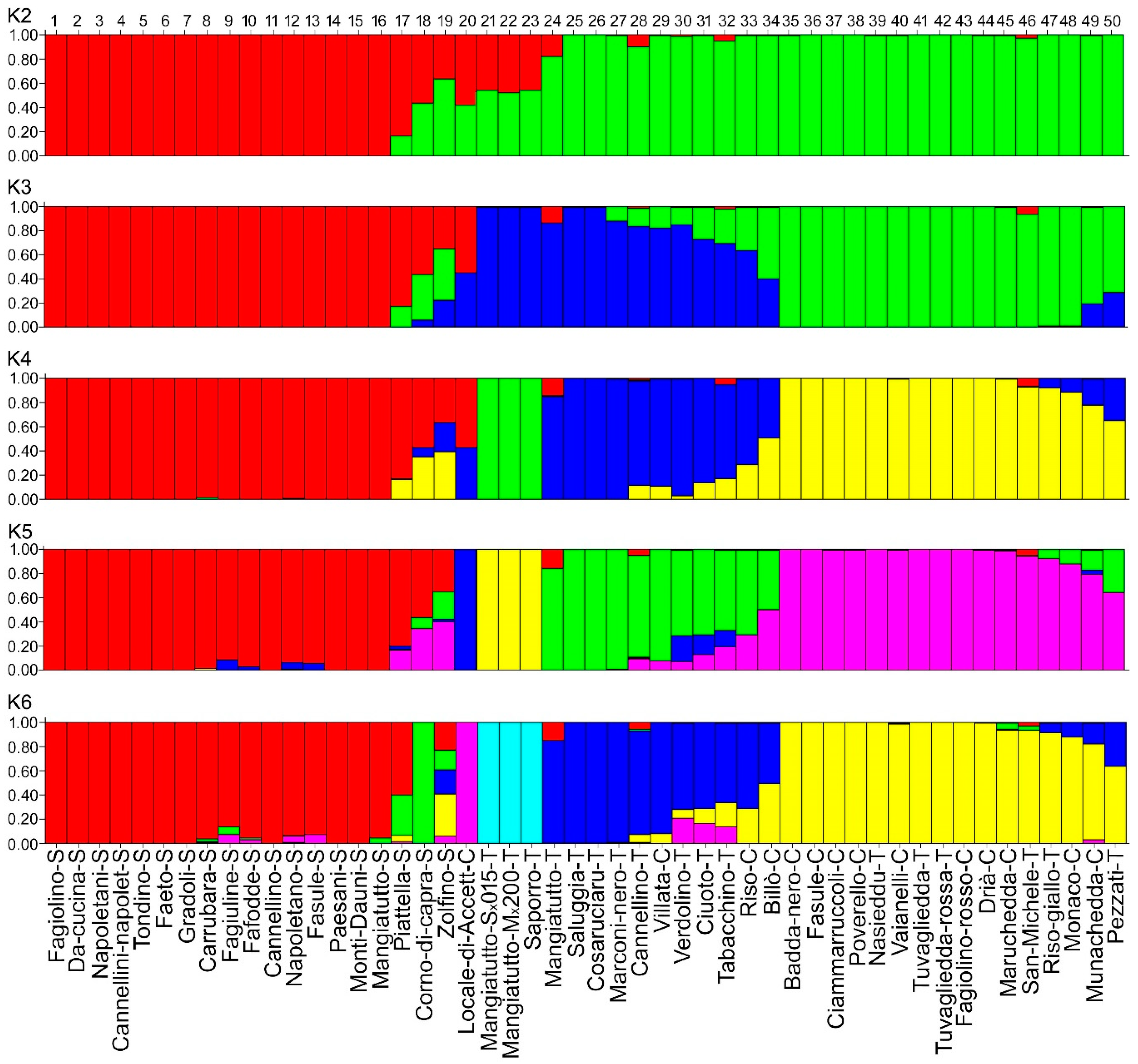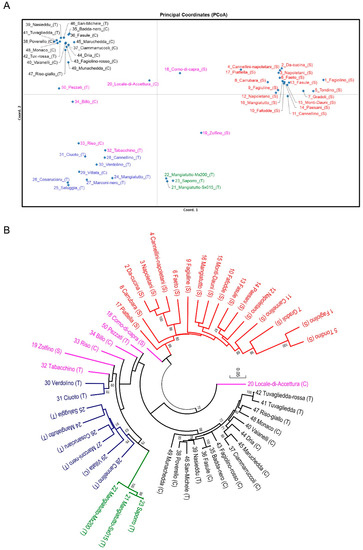 Figure 2.
(
A
) Graph of the first two axes from a principal coordinate analysis (PCoA) of common bean genotypes used in this study. Colors refer to groups in K = 4 of
Figure 1
, except for the yellow group, which is black, and the admixed samples, which are fuchsia colored. (
B
) Neighbor joining tree based on Tamura–Nei genetic distance derived from single nucleotide polymorphism (SNP) analysis. Bootstrap values ≥ 60 are shown. Common bean accessions are indicated with a progressive number, common name, and phaseolin pattern (in brackets).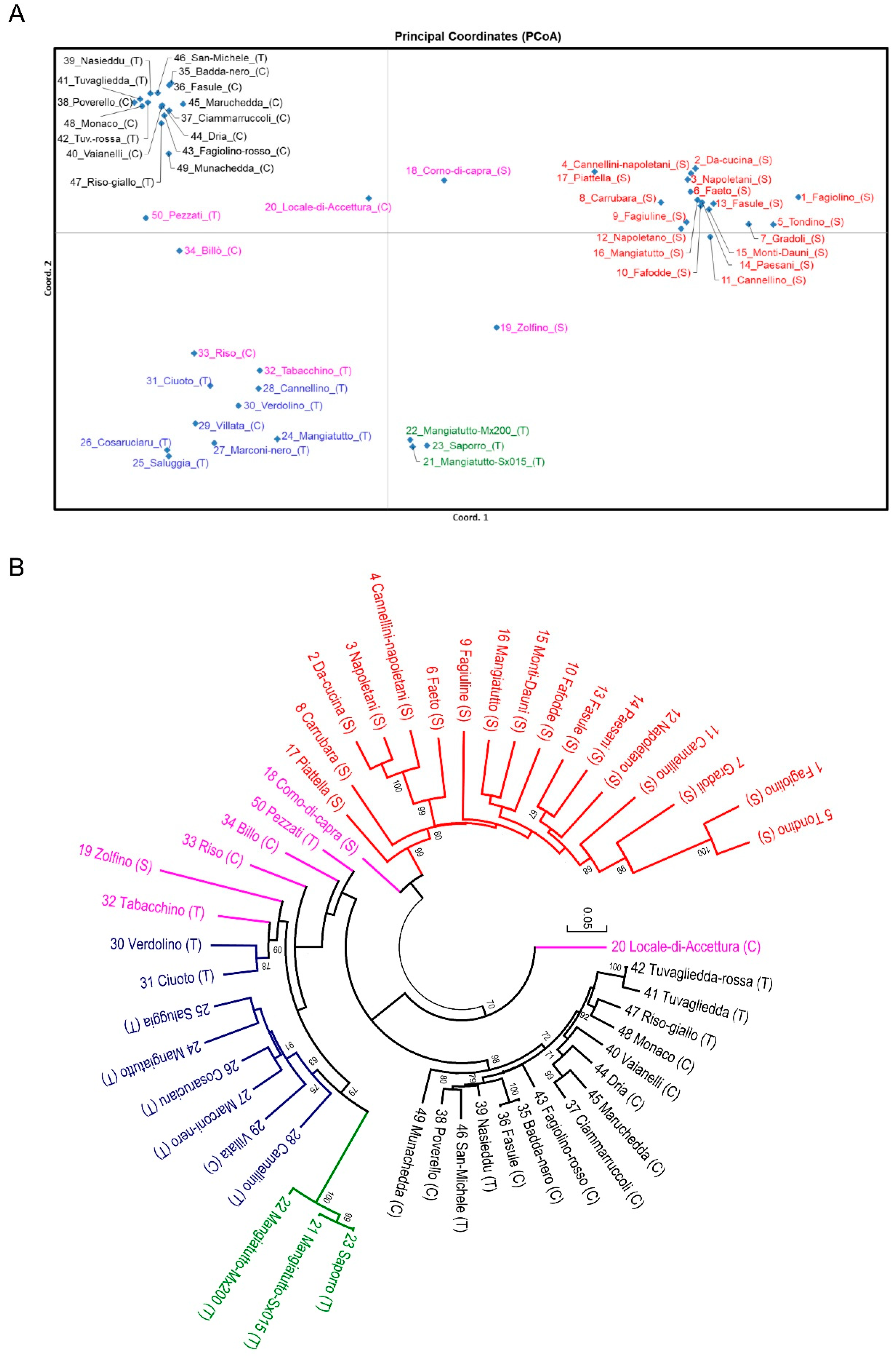 Figure 3. Fixation index (FST) for SNPs analyzed between (A) Mesoamerican and Andean accessions and (B) within Andean groups. Each bar represents a common bean chromosome. From left to right, Pv1 to Pv11. Each color refers to a common bean chromosome.


© 2019 by the authors. Licensee MDPI, Basel, Switzerland. This article is an open access article distributed under the terms and conditions of the Creative Commons Attribution (CC BY) license (http://creativecommons.org/licenses/by/4.0/).