Statistical Evaluation of Monophyly in the 'Broad-Nosed Weevils' through Molecular Phylogenetic Analysis Combining Mitochondrial Genome and Single-Locus Sequences (Curculionidae: Entiminae, Cyclominae, and Hyperinae)
1
School of Biological Sciences, University of East Anglia, Norwich NR4 7TJ, UK
2
Department of Life Sciences, The Natural History Museum, London SW7 5BD, UK
3
College of Tropical Agriculture and Human Resources, University of Hawai'i at Mānoa, Honolulu, HI 96822, USA;
4
Department of Life Sciences, Silwood Park Campus, Imperial College London, Ascot SL5 7QN, UK
5
Island Ecology and Evolution Research Group, Instituto de Productos Naturales y Agrobiología, 38206 La Laguna, Tenerife, Spain
*
Author to whom correspondence should be addressed.
Received: 20 January 2018 / Revised: 22 March 2018 / Accepted: 2 April 2018 / Published: 6 April 2018
Abstract
Establishing well-supported monophyletic groups is a key requirement for producing a natural classification that reflects evolutionary descent. In a phylogenetic framework this is best achieved through dense taxon sampling and the analysis of a robust character dataset, combined with statistical testing of topological hypotheses. This study assesses the monophyly of tribes and subfamilies within the diverse 'broad-nosed weevils' (Curculionidae: Entiminae, Cyclominae and Hyperinae) through analysis of single-locus sequence data for mitochondrial
cox1
and
rrnL
genes, in combination with a 'backbone' of complete and near-complete mitochondrial genome sequences. Maximum likelihood phylogenetic analyses incorporating topological constraints for various higher-taxa were statistically tested using the AU, SH, and KH tests, which indicated that three tribes within Entiminae, as presently classified, are not monophyletic. Moderate and high bootstrap support was also consistent with two entimine tribes (Peritelini and Cylydrorhinini) being each recovered as monophyletic in an unconstrained analysis. Furthermore, one genus of cyclomine weevils (
Aphela
) is recovered outside the clade of 'broad-nosed weevils', although its taxonomic placement remains uncertain. It is apparent that the present approach may be hampered by limited taxon sampling in the 'backbone' dataset, rendering it difficult for divergent taxa to robustly match to their closest lineages. However, with improved taxon sampling of the mitogenome tree, the general approach can be a useful taxonomic tool for weevils.
View Full-Text
►

▼

Figures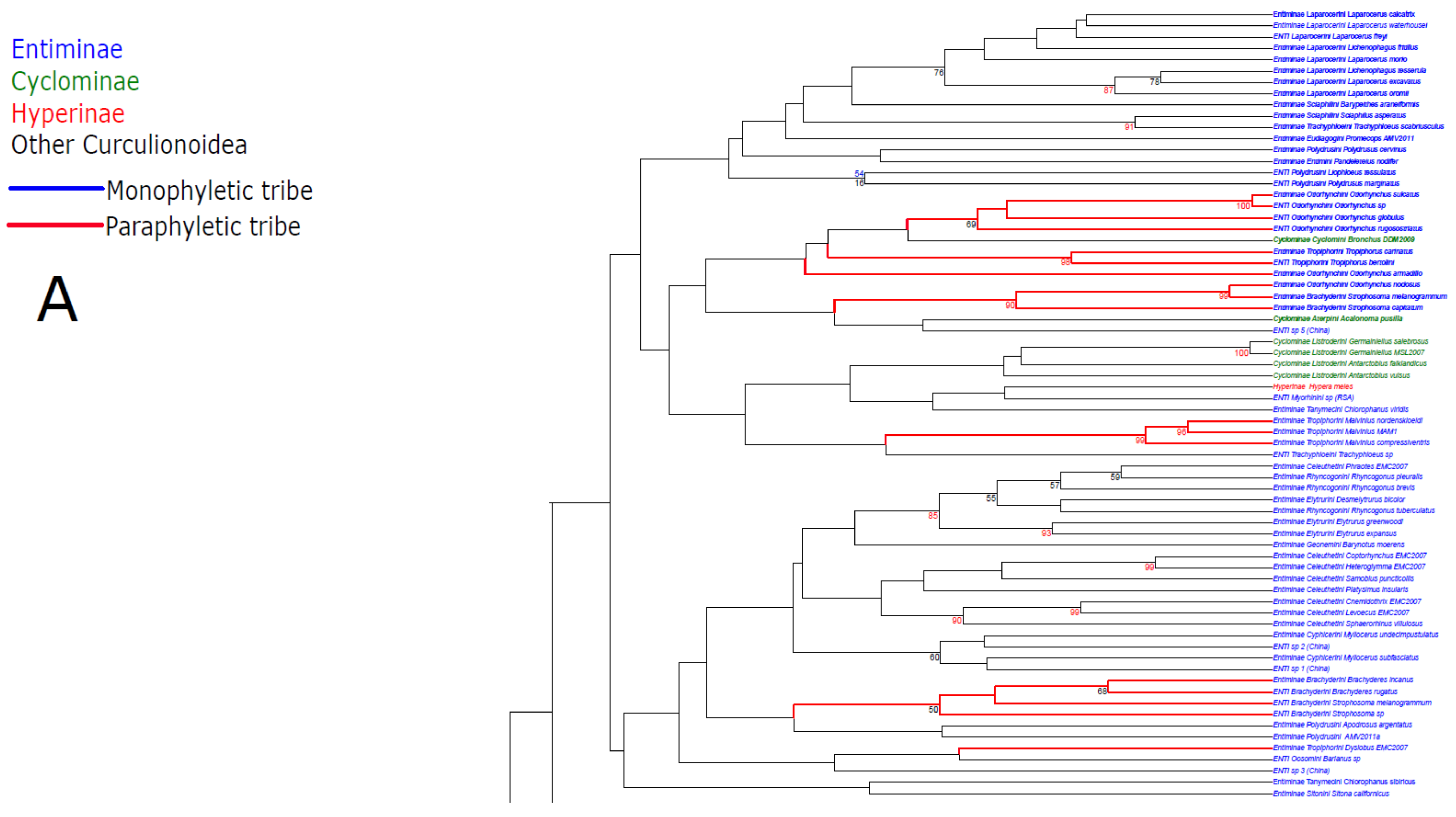 Figure 1
This is an open access article distributed under the
Creative Commons Attribution License
which permits unrestricted use, distribution, and reproduction in any medium, provided the original work is properly cited (CC BY 4.0).

Share & Cite This Article
MDPI and ACS Style
Gillett, C.P.; Lyal, C.H.; Vogler, A.P.; Emerson, B.C. Statistical Evaluation of Monophyly in the 'Broad-Nosed Weevils' through Molecular Phylogenetic Analysis Combining Mitochondrial Genome and Single-Locus Sequences (Curculionidae: Entiminae, Cyclominae, and Hyperinae). Diversity 2018, 10, 21.
Note that from the first issue of 2016, MDPI journals use article numbers instead of page numbers. See further details here.
Related Articles
Comments
[Return to top]