Open Access This article is
freely available
re-usable
Communication
Access to
d
- and
l
-Psicose Derivatives via Hydroxy Methylation of Ribono Lactone
Institute of Organic Chemistry, University of Tuebingen, Auf der Morgenstelle 18, 72076 Tuebingen, Germany
*
Author to whom correspondence should be addressed.
Received: 18 November 2019 / Accepted: 4 December 2019 / Published: 10 December 2019
Abstract
:
2,3,5-Tri-
O
-benzyl- and 2,3,5-tri-
O
-methyl-
d
-ribono-γ-lactone were converted with (methoxyethoxymethoxy)methyl and benzyloxy tributylstannane into the corresponding protected
d
-psicoses as mixtures of anomers in 31%–72% yield. Treatment of 2,3,5-tri-
O
-methyl-
l
-ribono-γ-lactone with benzyloxy tributylstannane afforded the corresponding
l
-psicose derivative as an anomeric mixture in 72% yield. Both methylated psicoses were further converted into 1,2-
O
-isopropylidene-3,4,6-tri-
O
-methyl-
d
- and
l
-psicofuranosides, the respective α- and β-anomers of which could be separated and characterized.
Keywords:
ribose; psicose; ketose; rare sugar; hydroxy methylation
Supplementary Materials
Supplementary information (copies of NMR spectra) is available online.
Author Contributions
Experiment design, M.R.I. and T.Z.; experiment performance, M.R.I.; data interpretation, M.R.I.; writing—original draft preparation, M.R.I.; writing—review and editing, M.R.I., T.Z.; supervision, T.Z.
Funding
This research received no external funding.
Acknowledgments
The work of Anna Stroppel (proofreading the manuscript), Petra Schülzle (elemental analysis) and Dorothee Wistuba (HRMS) is gratefully acknowledged.
Conflicts of Interest
The authors declare no conflict of interest.

Figure 1.
Fischer projection of
d
- and
l
-psicose (
1
),
d
- and
l
-ribose (
2
) and
d
- and
l
-psicose derivatives
3
. PG—protective group.



Scheme 2.

Hydroxy methylation of

d

-8

with methoxyethoxmethyl group (MEM)-protected organotin compound

4b

.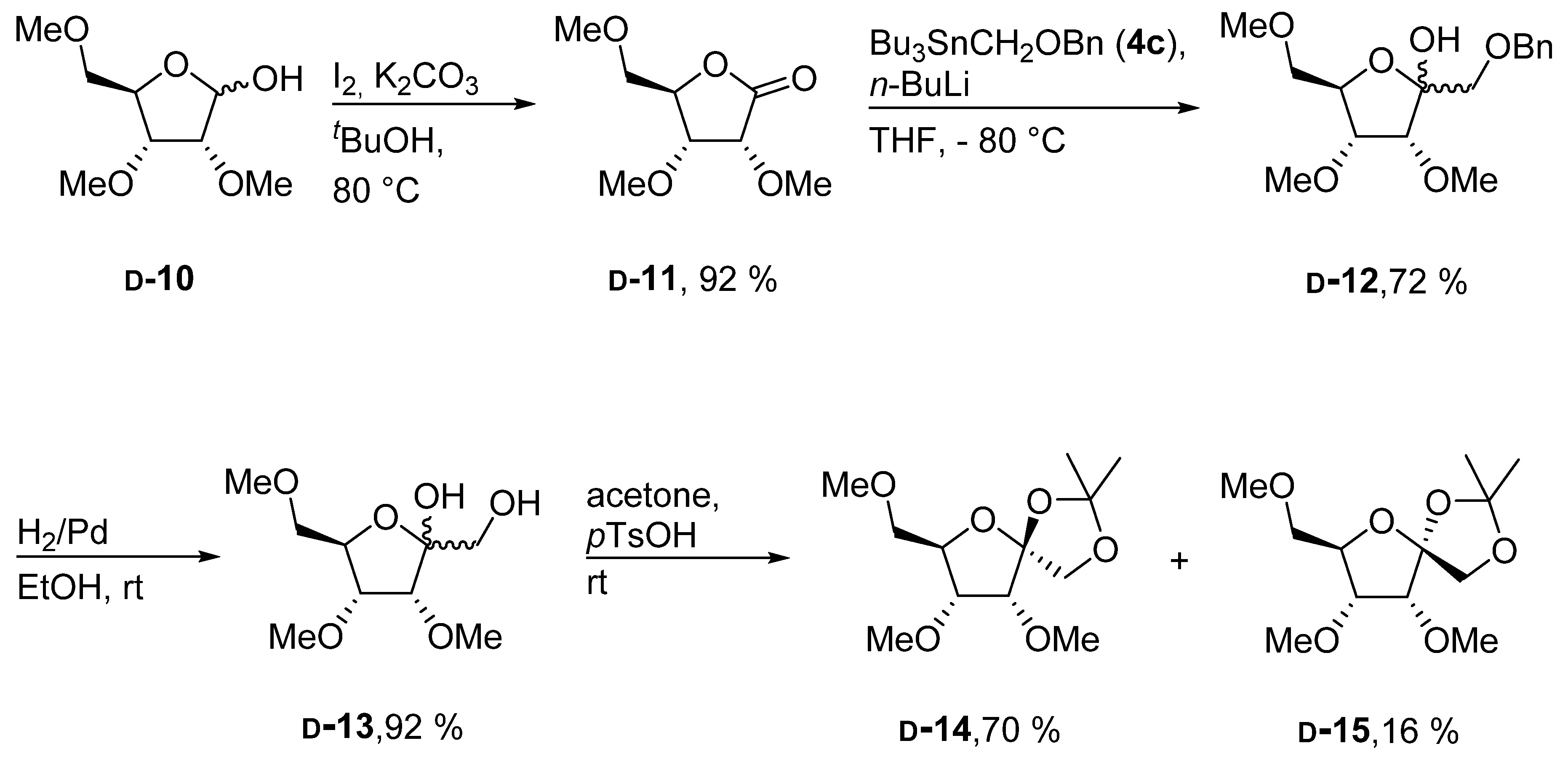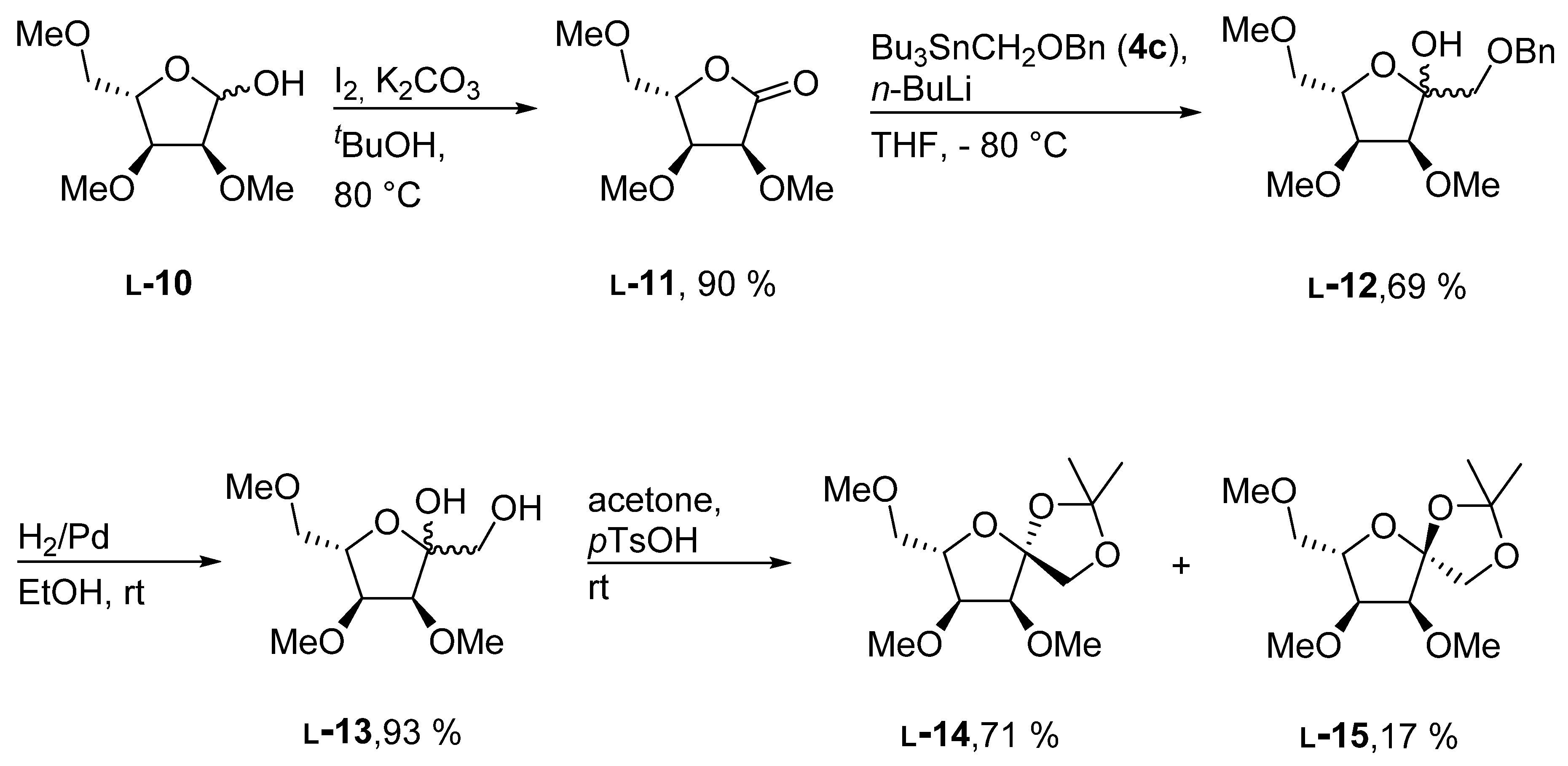 © 2019 by the authors. Licensee MDPI, Basel, Switzerland. This article is an open access article distributed under the terms and conditions of the Creative Commons Attribution (CC BY) license (http://creativecommons.org/licenses/by/4.0/).