Preeclampsia is Associated with Sex-Specific Transcriptional and Proteomic Changes in Fetal Erythroid Cells
1
Division of Obstetrics and Gynecology, Department of Clinical Sciences Lund, Lund University, Klinikgatan 28, 22184 Lund, Sweden
2
Laboratory for Cytogenetics and Genome Research, Center for Human Genetics, KU Leuven, Herestraat 49, 3000 Leuven, Belgium
3
Department of Human Genetics, Centre for Human Genetics, University Hospital Leuven, KU Leuven, Herestraat 49, 3000 Leuven, Belgium
4
Genomics Core, UZ Leuven, Herestraat 49, 3000 Leuven, Belgium
5
Department of Hematology and Transfusion Medicine, Lund University, Klinikgatan 28, 22184 Lund, Sweden
6
Department of Molecular Medicine and Gene Therapy, Lund University, Sölvegatan 17, 22184 Lund, Sweden
7
Adult Stem Cell Section, National Institute of Dental and Craniofacial Research, National Institutes of Health, 9000 Rockville Pike, Bethesda, MD 20892, USA
8
School of Biosciences, Bldg 4, University of Melbourne, Parkville 3010, Australia
9
Lund University, Skåne University Hospital, Obstetrics and Gynecology, Department of Clinical Sciences Lund, Klinikgatan 28, 22184 Lund, Sweden
*
Author to whom correspondence should be addressed.
†
These authors contributed equally to this work.
Received: 14 March 2019 / Revised: 12 April 2019 / Accepted: 17 April 2019 / Published: 25 April 2019
Abstract
Preeclampsia (PE) has been associated with placental dysfunction, resulting in fetal hypoxia, accelerated erythropoiesis, and increased erythroblast count in the umbilical cord blood (UCB). Although the detailed effects remain unknown, placental dysfunction can also cause inflammation, nutritional, and oxidative stress in the fetus that can affect erythropoiesis. Here, we compared the expression of surface adhesion molecules and the erythroid differentiation capacity of UCB hematopoietic stem/progenitor cells (HSPCs), UCB erythroid profiles along with the transcriptome and proteome of these cells between male and female fetuses from PE and normotensive pregnancies. While no significant differences were observed in UCB HSPC migration/homing and in vitro erythroid colony differentiation, the UCB HSPC transcriptome and the proteomic profile of the in vitro differentiated erythroid cells differed between PE vs. normotensive samples. Accordingly, despite the absence of significant differences in the UCB erythroid populations in male or female fetuses from PE or normotensive pregnancies, transcriptional changes were observed during erythropoiesis, particularly affecting male fetuses. Pathway analysis suggested deregulation in the mammalian target of rapamycin complex 1/AMP-activated protein kinase (mTORC1/AMPK) signaling pathways controlling cell cycle, differentiation, and protein synthesis. These results associate PE with transcriptional and proteomic changes in fetal HSPCs and erythroid cells that may underlie the higher erythroblast count in the UCB in PE.
View Full-Text
►

▼

Figures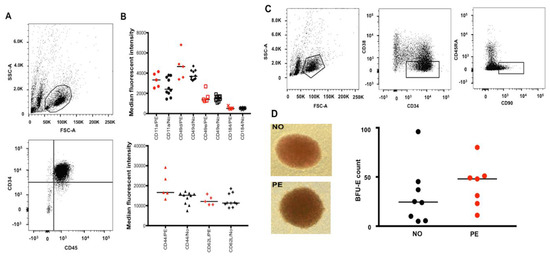 Figure 1
This is an open access article distributed under the
Creative Commons Attribution License
which permits unrestricted use, distribution, and reproduction in any medium, provided the original work is properly cited (CC BY 4.0).

Share & Cite This Article
MDPI and ACS Style
Masoumi, Z.; Maes, G.E.; Herten, K.; Cortés-Calabuig, Á.; Alattar, A.G.; Hanson, E.; Erlandsson, L.; Mezey, E.; Magnusson, M.; Vermeesch, J.R.; Familari, M.; Hansson, S.R. Preeclampsia is Associated with Sex-Specific Transcriptional and Proteomic Changes in Fetal Erythroid Cells. Int. J. Mol. Sci. 2019, 20, 2038.
Note that from the first issue of 2016, MDPI journals use article numbers instead of page numbers. See further details here.
Related Articles
Comments
[Return to top]