Unveiling the Efficacy, Safety, and Tolerability of Anti-Interleukin-1 Treatment in Monogenic and Multifactorial Autoinflammatory Diseases
1
Department of Neurosciences, Psychology, Pharmacology and Child Health (NEUROFARBA), University of Florence, 50139 Florence, Italy
2
Department of Experimental and Clinical Medicine, University of Florence, 50134 Florence, Italy
3
Department of Emergency and Organ Transplantation, Rheumatology Unit, University of Bari, 70121 Bari, Italy
4
Department of Medical Sciences, Surgery and Neurosciences, University of Siena, 53100 Siena, Italy
5
Department of Pharmacy-Drug Sciences, University of Bari "A. Moro", 70125 Bari, Italy
6
Institute of Pediatrics, Fondazione Policlinico Universitario "A. Gemelli" IRCCS, 00168 Rome, Italy
7
Institute of Pediatrics, Università Cattolica Sacro Cuore, 00198 Rome, Italy
8
Department of Neurosciences, Psychology, Drug Research and Child Health, Rheumatology Unit, Meyer Children's Hospital, University of Florence, 50139 Florence, Italy
*
Author to whom correspondence should be addressed.
†
These authors equally contributed to this work.
Received: 25 March 2019 / Revised: 13 April 2019 / Accepted: 15 April 2019 / Published: 17 April 2019
Abstract
Autoinflammatory diseases (AIDs) are heterogeneous disorders characterized by dysregulation in the inflammasome, a large intracellular multiprotein platform, leading to overproduction of interleukin-1(IL-1)β that plays a predominant pathogenic role in such diseases. Appropriate treatment is crucial, also considering that AIDs may persist into adulthood with negative consequences on patients' quality of life. IL-1β blockade results in a sustained reduction of disease severity in most AIDs. A growing experience with the human IL-1 receptor antagonist, Anakinra (ANA), and the monoclonal anti IL-1β antibody, Canakinumab (CANA), has also been engendered, highlighting their efficacy upon protean clinical manifestations of AIDs. Safety and tolerability have been confirmed by several clinical trials and observational studies on both large and small cohorts of AID patients. The same treatment has been proposed in refractory Kawasaki disease, an acute inflammatory vasculitis occurring in children before 5 years, which has been postulated to be autoinflammatory for its phenotypical and immunological similarity with systemic juvenile idiopathic arthritis. Nevertheless, minor concerns about IL-1 antagonists have been raised regarding their employment in children, and the development of novel pharmacological formulations is aimed at minimizing side effects that may affect adherence to treatment. The present review summarizes current findings on the efficacy, safety, and tolerability of ANA and CANA for treatment of AIDs and Kawasaki vasculitis with a specific focus on the pediatric setting.
View Full-Text
►

▼

Figures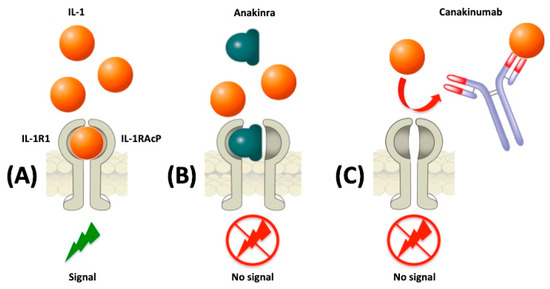 Figure 1
This is an open access article distributed under the
Creative Commons Attribution License
which permits unrestricted use, distribution, and reproduction in any medium, provided the original work is properly cited (CC BY 4.0).

Share & Cite This Article
MDPI and ACS Style
Bettiol, A.; Lopalco, G.; Emmi, G.; Cantarini, L.; Urban, M.L.; Vitale, A.; Denora, N.; Lopalco, A.; Cutrignelli, A.; Lopedota, A.; Venerito, V.; Fornaro, M.; Vannacci, A.; Rigante, D.; Cimaz, R.; Iannone, F. Unveiling the Efficacy, Safety, and Tolerability of Anti-Interleukin-1 Treatment in Monogenic and Multifactorial Autoinflammatory Diseases. Int. J. Mol. Sci. 2019, 20, 1898.
Note that from the first issue of 2016, MDPI journals use article numbers instead of page numbers. See further details here.
Related Articles
Comments
[Return to top]