Glutamatergic Signaling Along The Microbiota-Gut-Brain Axis
1
Department of Medicine and Surgery, University of Insubria, via H Dunant 5, 21100 Varese, Italy
2
Department of Internal Medicine and Therapeutics, Section of Pharmacology, University of Pavia, via Ferrata 9, 27100 Pavia, Italy
3
Department of Biotechnology and Life Sciences, University of Insubria, via H Dunant 5, 21100 Varese, Italy
*
Author to whom correspondence should be addressed.
Received: 21 January 2019 / Revised: 4 March 2019 / Accepted: 21 March 2019 / Published: 25 March 2019
Abstract
A complex bidirectional communication system exists between the gastrointestinal tract and the brain. Initially termed the "gut-brain axis" it is now renamed the "microbiota-gut-brain axis" considering the pivotal role of gut microbiota in maintaining local and systemic homeostasis. Different cellular and molecular pathways act along this axis and strong attention is paid to neuroactive molecules (neurotransmitters, i.e., noradrenaline, dopamine, serotonin, gamma aminobutyric acid and glutamate and metabolites, i.e., tryptophan metabolites), sustaining a possible interkingdom communication system between eukaryota and prokaryota. This review provides a description of the most up-to-date evidence on glutamate as a neurotransmitter/neuromodulator in this bidirectional communication axis. Modulation of glutamatergic receptor activity along the microbiota-gut-brain axis may influence gut (i.e., taste, visceral sensitivity and motility) and brain functions (stress response, mood and behavior) and alterations of glutamatergic transmission may participate to the pathogenesis of local and brain disorders. In this latter context, we will focus on two major gut disorders, such as irritable bowel syndrome and inflammatory bowel disease, both characterized by psychiatric co-morbidity. Research in this area opens the possibility to target glutamatergic neurotransmission, either pharmacologically or by the use of probiotics producing neuroactive molecules, as a therapeutic approach for the treatment of gastrointestinal and related psychiatric disorders.
View Full-Text
►

▼

Figures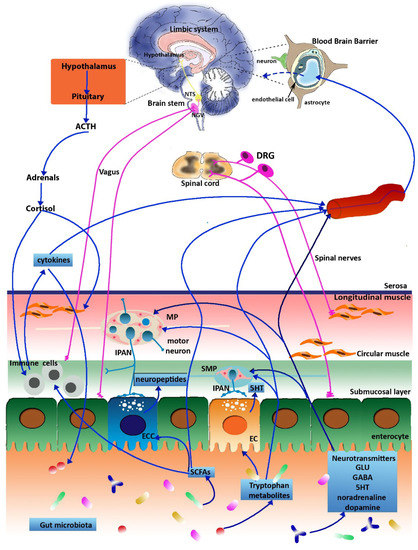 Figure 1
This is an open access article distributed under the
Creative Commons Attribution License
which permits unrestricted use, distribution, and reproduction in any medium, provided the original work is properly cited (CC BY 4.0).

Share & Cite This Article
MDPI and ACS Style
Baj, A.; Moro, E.; Bistoletti, M.; Orlandi, V.; Crema, F.; Giaroni, C. Glutamatergic Signaling Along The Microbiota-Gut-Brain Axis. Int. J. Mol. Sci. 2019, 20, 1482.
Note that from the first issue of 2016, MDPI journals use article numbers instead of page numbers. See further details here.
Related Articles
Comments
[Return to top]