Caffeic Acid Phenethyl Ester Rescues Pulmonary Arterial Hypertension through the Inhibition of AKT/ERK-Dependent PDGF/HIF-1α In Vitro and In Vivo
1
Department of Critical Care Medicine, Kaohsiung Veterans General Hospital, Kaohsiung 81362, Taiwan
2
School of Medicine, National Yang-Ming University, Taipei 11221, Taiwan
3
Department of Physical Therapy, Fooyin University, Kaohsiung 83102, Taiwan
4
Department of Medical Education and Research, Kaohsiung Veterans General Hospital, Kaohsiung 81362, Taiwan
5
Department of Pathology and Laboratory, Kaohsiung Veterans General Hospital, Kaohsiung 81362, Taiwan
6
Graduate Institute of Clinical Medicine, National Yang-Ming University, Taipei 11221, Taiwan
7
School of Medicine for International Students, I-Shou University, Kaohsiung 82445, Taiwan
8
Kaohsiung Veterans General Hospital, Pingtung Branch, Pintung 91245, Taiwan
9
Institute of Biomedical Sciences, National Sun Yat-Sen University, Kaohsiung 80424, Taiwan
10
Department of Medical Research, China Medical University Hospital, China Medical University, Taichung 40402, Taiwan
11
School of Medicine, Kaohsiung Medical University, Kaohsiung 80708, Taiwan
*
Authors to whom correspondence should be addressed.
†
These authors contributed equally to this work.
Received: 17 November 2018 / Revised: 19 March 2019 / Accepted: 20 March 2019 / Published: 22 March 2019
Abstract
Pulmonary arterial hypertension (PAH) is characterized by pulmonary arterial proliferation and remodeling, resulting in a specific increase in right ventricle systolic pressure (RVSP) and, ultimately right ventricular failure. Recent studies have demonstrated that caffeic acid phenethyl ester (CAPE) exerts a protective role in NF-κB-mediated inflammatory diseases. However, the effect of CAPE on PAH remains to be elucidated. In this study, monocrotaline (MCT) was used to establish PAH in rats. Two weeks after the induction of PAH by MCT, CAPE was administrated by intraperitoneal injection once a day for two weeks. Pulmonary hemodynamic measurements and pulmonary artery morphological assessments were examined. Our results showed that administration of CAPE significantly suppressed MCT-induced vascular remodeling by decreasing the HIF-1α expression and PDGF-BB production, and improved in vivo RV systolic performance in rats. Furthermore, CAPE inhibits hypoxia- and PDGF-BB-induced HIF-1α expression by decreasing the activation of the AKT/ERK pathway, which results in the inhibition of human pulmonary artery smooth muscle cells (hPASMCs) proliferation and prevention of cells resistant to apoptosis. Overall, our data suggest that HIF-1α is regarded as an alternative target for CAPE in addition to NF-κB, and may represent a promising therapeutic agent for the treatment of PAH diseases.
View Full-Text
►

▼

Figures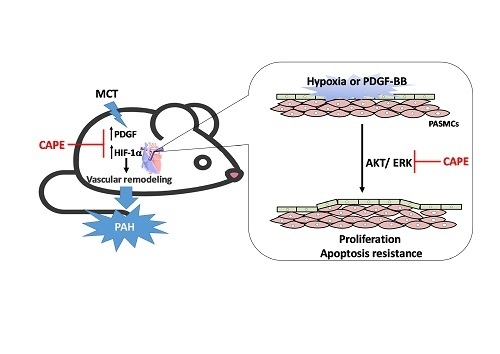 Graphical abstract
This is an open access article distributed under the
Creative Commons Attribution License
which permits unrestricted use, distribution, and reproduction in any medium, provided the original work is properly cited (CC BY 4.0).

Share & Cite This Article
MDPI and ACS Style
Cheng, C.-C.; Chi, P.-L.; Shen, M.-C.; Shu, C.-W.; Wann, S.-R.; Liu, C.-P.; Tseng, C.-J.; Huang, W.-C. Caffeic Acid Phenethyl Ester Rescues Pulmonary Arterial Hypertension through the Inhibition of AKT/ERK-Dependent PDGF/HIF-1α In Vitro and In Vivo. Int. J. Mol. Sci. 2019, 20, 1468.
Note that from the first issue of 2016, MDPI journals use article numbers instead of page numbers. See further details here.
Related Articles
Comments
[Return to top]