Differential Methylation in
APOE

(Chr19; Exon Four; from 44,909,188 to 44,909,373/hg38) and Increased Apolipoprotein E Plasma Levels in Subjects with Mild Cognitive Impairment

1

Department of Neurology, Faculty of Medicine, Universidad Nacional de Colombia, Bogotá ZC 57, Colombia

2

Neurosciences Research Group, Faculty of Medicine, Universidad Nacional de Colombia, Bogotá ZC 57, Colombia

3

Genetic Institute, Universidad Nacional de Colombia, Bogotá ZC 57, Colombia

4

David Cabello International Alzheimer Disease Scholarship Fund, Houston Methodist Hospital, Houston, TX 77030, USA

5

Center for Evidence to Implementation, Bogotá ZC 57, Colombia

6

Health Technologies and Politics Assessment Group, Clinical Research Institute, Faculty of Medicine, Universidad Nacional de Colombia, Bogotá ZC 57, Colombia

7

PhD Program in Clinical and Translational Science, Department of Translational Research and of New Surgical and Medical Technologies, University of Pisa, 56128 Pisa, Italy

8

Laboratory of Neuroscience, University of Zulia, Maracaibo 4001, Venezuela

9

Department of Neurology, Methodist Neurological Institute and the Institute for Academic Medicine Houston Methodist Research Institute, Houston Methodist Hospital, Houston, TX 77030, USA

10

Weill Cornell Medical College, Department of Neurology, Cornell University, New York, NY 10065, USA

11

Hospital Universitario Nacional de Colombia, Bogotá ZC 57, Colombia

*

Author to whom correspondence should be addressed.

Received: 30 January 2019 / Revised: 4 March 2019 / Accepted: 12 March 2019 / Published: 20 March 2019
Abstract
Background: Biomarkers are essential for identification of individuals at high risk of mild cognitive impairment (MCI) for potential prevention of dementia. We investigated DNA methylation in the
APOE
gene and apolipoprotein E (ApoE) plasma levels as MCI biomarkers in Colombian subjects with MCI and controls. Methods: In total, 100 participants were included (71% women; average age, 70 years; range, 43–91 years). MCI was diagnosed by neuropsychological testing, medical and social history, activities of daily living, cognitive symptoms and neuroimaging. Using multivariate logistic regression models adjusted by age and gender, we examined the risk association of MCI with plasma ApoE and
APOE
methylation. Results: MCI was diagnosed in 41 subjects (average age, 66.5 ± 9.6 years) and compared with 59 controls. Elevated plasma ApoE and
APOE
methylation of CpGs 165, 190, and 198 were risk factors for MCI (
p
< 0.05). Higher CpG-227 methylation correlated with lower risk for MCI (
p
= 0.002). Only CpG-227 was significantly correlated with plasma ApoE levels (correlation coefficient = −0.665;
p
= 0.008). Conclusion: Differential
APOE
methylation and increased plasma ApoE levels were correlated with MCI. These epigenetic patterns require confirmation in larger samples but could potentially be used as biomarkers to identify early stages of MCI.
View Full-Text
►

▼

Figures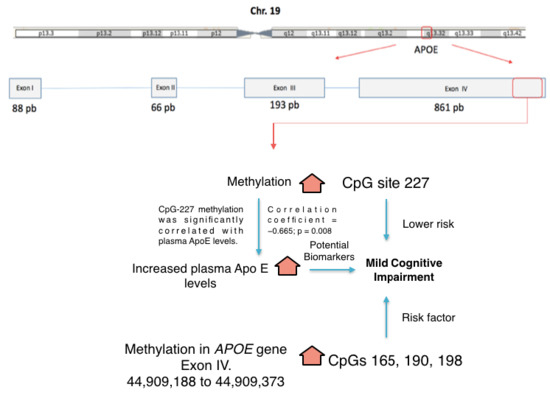 Graphical abstract
This is an open access article distributed under the
Creative Commons Attribution License
which permits unrestricted use, distribution, and reproduction in any medium, provided the original work is properly cited (CC BY 4.0).

Share & Cite This Article
MDPI and ACS Style
Mancera-Páez, O.; Estrada-Orozco, K.; Mahecha, M.F.; Cruz, F.; Bonilla-Vargas, K.; Sandoval, N.; Guerrero, E.; Salcedo-Tacuma, D.; Melgarejo, J.D.; Vega, E.; Ortega-Rojas, J.; Román, G.C.; Pardo-Turriago, R.; Arboleda, H. Differential Methylation in APOE (Chr19; Exon Four; from 44,909,188 to 44,909,373/hg38) and Increased Apolipoprotein E Plasma Levels in Subjects with Mild Cognitive Impairment. Int. J. Mol. Sci. 2019, 20, 1394.
Note that from the first issue of 2016, MDPI journals use article numbers instead of page numbers. See further details here.
Related Articles
Comments
[Return to top]