Open Access This article is
freely available
re-usable
Review
Steroid Receptor Signallings as Targets for Resveratrol Actions in Breast and Prostate Cancer
Department of Pharmacy, Health and Nutritional Sciences University of Calabria, Via Pietro Bucci, Arcavacata di Rende, 87036 Cosenza, Italy
†
These authors contributed equally to this work (co-first authors).

‡
These authors shared senior authorship (co-last authors).

Received: 6 February 2019 / Accepted: 25 February 2019 / Published: 3 March 2019
Abstract
:
Extensive research over the past 25 years in hormone-dependent cancers, such as breast cancer and prostate cancer, has identified the molecular mechanisms driven by steroid receptors, elucidating the interplay between genomic and non-genomic steroid receptors mechanism of action. Altogether, these mechanisms create the specific gene expression programs that contribute to endocrine therapy resistance and cancer progression. These findings, on the bidirectional molecular crosstalk between steroid and growth factor receptors pathways in endocrine resistance, suggest the use of multi-target inhibitors together with endocrine therapies, for treating resistant disease. In this review we will discuss the novel understanding on the chemopreventive and anti-cancer activities of Resveratrol (3,5,4′-trihydroxy-stilbene) (RSV), a phytoalexin found in grapes acting on a plethora of targets. We will highlight Resveratrol effect on steroid receptors signalling and its potential use in the treatment of hormone-dependent cancer. Understanding the molecular mechanisms by which the bioactive compound influences cancer cell behaviour, by interfering with steroid receptors functional activity, will help to advance the design of combination strategies to increase the rate of complete and durable clinical response in patients.
Keywords:
Resveratrol; oestrogen receptor; androgen receptor; breast cancer; prostate cancer
1. Introduction
In this review, we will discuss the evidences supporting a role for RSV as modulator of ER and AR in breast and prostate cancer, respectively.
2. ER Signalling in Breast Cancer
3. Resveratrol Effects on ER Signalling: Potential Action in Breast Cancer Patients
4. AR Signalling in Prostate Cancer
5. Resveratrol Effects on AR Signalling: Potential Action in Prostate Cancer Patients
6. Conclusions
Breast and prostate cancer are part of the ongoing therapeutic revolution currently underway in the medical oncology, although the perspective to reduce disease progression still remains a significant challenge. Data reported in this review indicate that breast and prostate cancer can be responsive to RSV, which will affect multiple targets. RSV possesses a plethora of biological and chemopreventive activities targeting ER and AR, therefore it holds great promise for future development of optimal combination treatment regimens. RSV acts on molecular pathways that become constitutively activated in endocrine-resistant tumours, thus it might become part of future therapeutic protocols. Further studies are needed to evaluate benefits of combination therapy, particularly on early diseases. Hopefully, results of these studies will contribute to further shape the future of breast and prostate cancer therapy.
Author Contributions
Conceptualization: F.D.A., A.C., R.S., V.P.; Writing-Original Draft Preparation: F.D.A., A.C., R.S., V.P.; Editing: F.I.M., I.C.; Supervision: R.S., V.P.
Funding
This work was supported by AIRC (Associazione Italiana per la Ricerca sul Cancro), projects n. IG20122.
Conflicts of Interest
The authors declare that the research was conducted in the absence of any commercial or financial relationships that could be construed as a potential conflict of interest.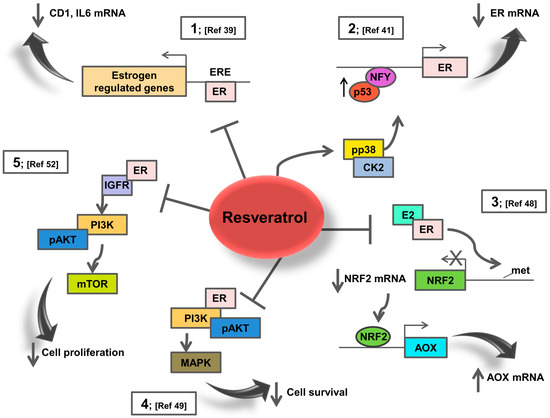 Figure 1. Summary of Resveratrol effects on ER dependent pathways. 1. RSV represses different classes of oestrogen up-regulated genes in breast cancer cells. 2. RSV activates p38 MAPK/CK2 signalling, induces the recruitment of a p53/NFY complex at the ERα proximal promoter reducing ER mRNA and protein levels in tamoxifen-resistant breast cancer cells. 3. RSV induces NRF2-regulated antioxidant genes and inhibits E2-mediated alterations in NRF2 promoter methylation in mammary cells. 4. RSV inhibits the ER-dependent PI3K activity in MCF-7 breast cancer cells. 5. RSV inhibits the cross-talk between ER and IGF-1R signalling in ovarian cancer cells.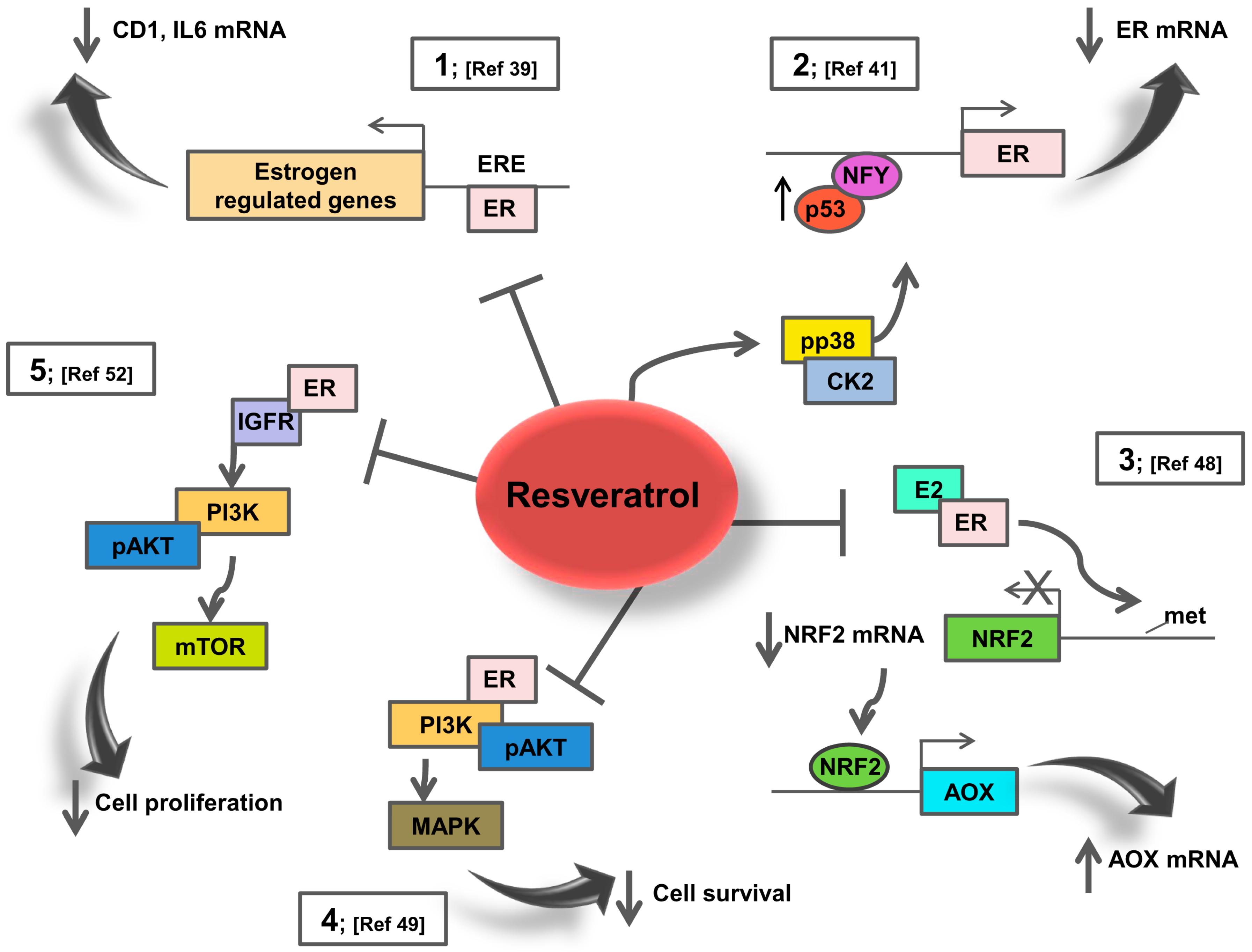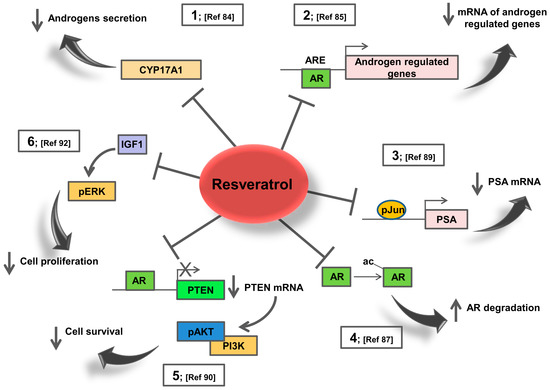 Figure 2. Summary of Resveratrol effects on AR dependent pathways. 1. RSV reduces the production of adrenal androgens, via inhibition of CYP17A1 in adrenocortical cells. 2. RSV represses different classes of androgen up-regulated genes in prostate cancer cells. 3. RSV decreases the transcriptional activity of AR through c-Jun specific DNA binding activity in prostatic cancer cells. 4. RSV decreases the ligand-induced nuclear accumulation of AR reducing its acetylation status in prostate cancer cells. 5. RSV inhibits PI3K activity by stimulating PTEN expression and decreasing AR action in LNCaP cells. 6. RSV decreases IGF-1 and ERK1 phosphorylation in transgenic adenocarcinoma mouse model of prostate cancer.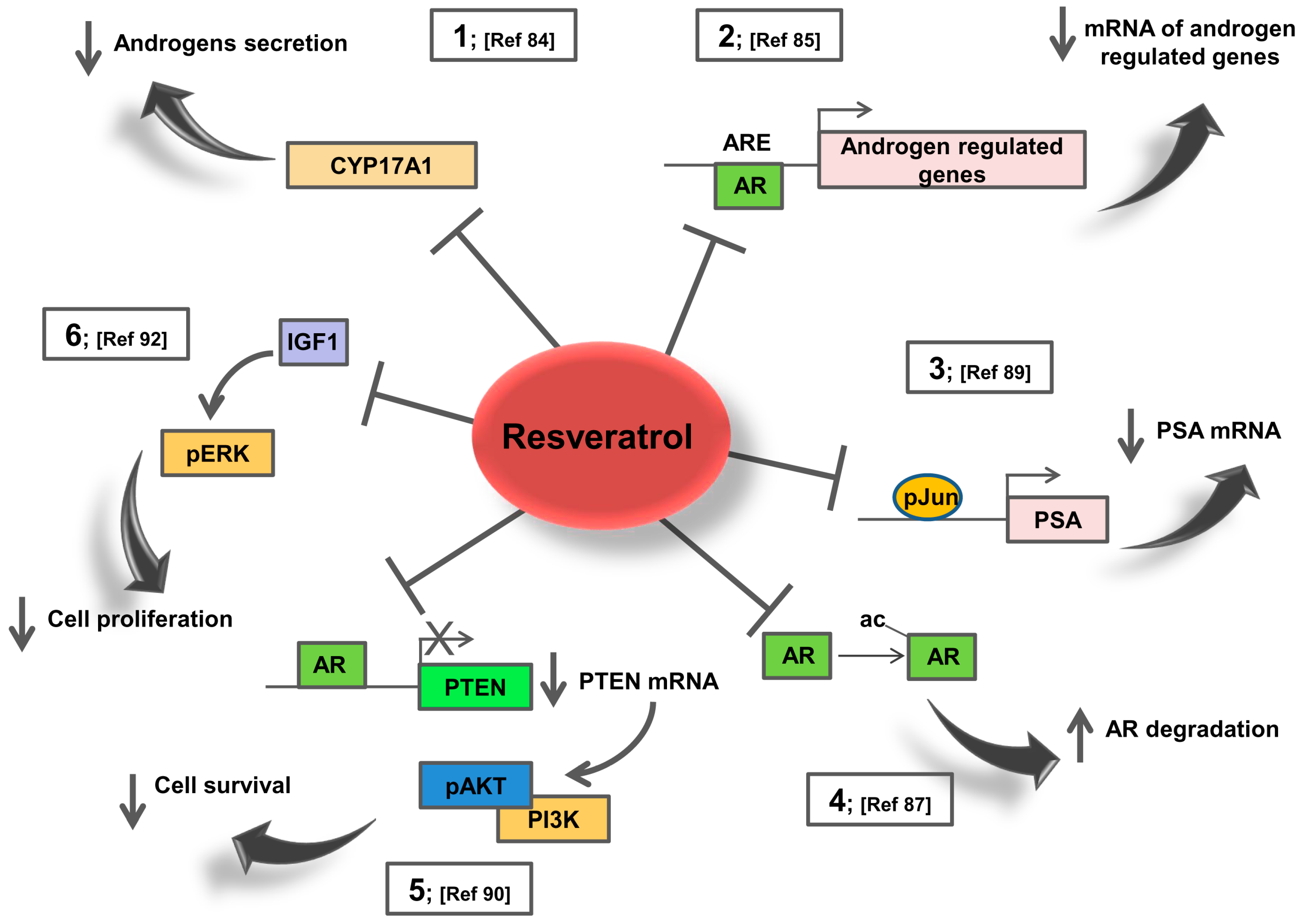 © 2019 by the authors. Licensee MDPI, Basel, Switzerland. This article is an open access article distributed under the terms and conditions of the Creative Commons Attribution (CC BY) license (http://creativecommons.org/licenses/by/4.0/).