Chemical Variability of the Essential Oil of
Origanum ehrenbergii

Boiss. from Lebanon, Assessed by Independent Component Analysis (ICA) and Common Component and Specific Weight Analysis (CCSWA)

1

Institut Jean-Pierre Bourgin, AgroParisTech, INRA, Université Paris-Saclay, RD 10, Route de Saint-Cyr, 78026 Versailles, France

2

Holy Spirit University of Kaslik, B.P. 446 Jounieh, Lebanon

3

UMR Ingénierie Procédés Aliments, AgroParisTech, INRA, Université Paris-Saclay, F-91300 Massy, France

4

Laboratoire de Biodiversité et Biotechnologies Microbiennes (LBBM), Observatoire Océanologique, Sorbonne Universités, UPMC Univ Paris 06, CNRS, 66650 Banyuls-sur-mer, France

5

Department of Chemistry and Biochemistry, Faculty of Sciences II, Lebanese University, 90656 Jdeideth El Matn, Lebanon

6

Department of Biomedical Sciences, University of Cagliari, Via Ospedale 72, 09124 Cagliari, Italy

7

Department of Agricultural and Enviromental Sciences, Milan State University, via G. Celoria 2, 20133 Milan, Italy

*

Authors to whom correspondence should be addressed.

Received: 18 January 2019 / Revised: 14 February 2019 / Accepted: 21 February 2019 / Published: 27 February 2019
Abstract
Origanum ehrenbergii
Boiss., an endemic plant to Lebanon, is widely acknowledged in Lebanese traditional medicine. The aim of the present study was to evaluate the influence of the drying method, region, and time of harvest on yield and chemical composition of
O. ehrenbergii
essential oils (EOs). Plants were harvested monthly throughout 2013 and 2014, from two different regions, Aabadiye and Qartaba, then dried using two drying methods: lyophilization and shade-drying at 4 °C. EO was extracted by hydrodistillation and analyzed by GC/MS. GC-MS data, combined with independent component analysis (ICA) and common component and specific weight analysis (CCSWA), showed that drying techniques, region of harvest, and soil composition have no effect on the chemical composition of
O. ehrenbergii
EOs. Of the factors analyzed, only harvesting time affected the EO composition of this species. High and stable amounts of carvacrol, associated with reliable antimicrobial activities, were detected in material harvested between March and October. EOs obtained from plants harvested in Aabadiye in January and February showed high amounts of thymoquinone, related to anti-inflammatory and cytotoxic effects. The use of ICA and CCSWA was proven to be efficient, and allowed the development of a discriminant model for the classification of
O. ehrenbergii
chemotype and the determination of the best harvesting time.
View Full-Text
►

▼

Figures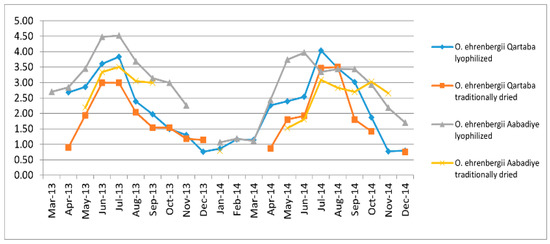 Figure 1
This is an open access article distributed under the
Creative Commons Attribution License
which permits unrestricted use, distribution, and reproduction in any medium, provided the original work is properly cited (CC BY 4.0).

Share & Cite This Article
MDPI and ACS Style
Zgheib, R.; El-Beyrouthy, M.; Chaillou, S.; Ouaini, N.; Rutledge, D.N.; Stien, D.; Kassouf, A.; Leonti, M.; Iriti, M. Chemical Variability of the Essential Oil of Origanum ehrenbergii Boiss. from Lebanon, Assessed by Independent Component Analysis (ICA) and Common Component and Specific Weight Analysis (CCSWA). Int. J. Mol. Sci. 2019, 20, 1026.
Note that from the first issue of 2016, MDPI journals use article numbers instead of page numbers. See further details here.
Related Articles
Comments
[Return to top]