Understanding the Impact of Aberrant Splicing in Coagulation Factor V Deficiency
1
Department of Biomedical Sciences, Humanitas University, Via Rita Levi Montalcini 4, Pieve Emanuele, 20090 Milan, Italy
2
Humanitas Clinical and Research Center, IRCCS, Via Manzoni 56, Rozzano, 20089 Milan, Italy
3
Angelo Bianchi Bonomi Haemophilia and Thrombosis Centre, Fondazione IRCCS Ca' Granda Ospedale Maggiore Policlinico, and Luigi Villa Foundation, 20100 Milan, Italy
4
Department of Pathophysiology and Transplantation, Università degli Studi di Milano, 20100 Milan, Italy
*
Author to whom correspondence should be addressed.
Received: 28 January 2019 / Revised: 15 February 2019 / Accepted: 16 February 2019 / Published: 20 February 2019
Abstract
Rare inherited coagulation disorders (RICDs) are congenital deficiencies of the plasma proteins that are involved in blood coagulation, which generally lead to lifelong bleeding manifestations. These diseases are generally qualitative and/or quantitative defects that are associated with monoallelic or biallelic mutations in the relevant gene. Among RICDs, factor V (FV) deficiency is one of the least characterized at the molecular level. Here, we investigated four unrelated patients with reduced plasma FV levels (three severe, one mild), which were associated with a moderately severe bleeding tendency. Sequence analysis of the FV gene identified seven different variants, five hitherto unknown (p.D1669G, c.5789-11C>A, c.5789-12C>A, c.5789-5T>G, and c.6528G>C), and two previously reported (c.158+1G>A and c.5789G>A). The possible pathogenic role of the newly identified missense variant was studied by in silico approaches. The remaining six genetic defects (all putative splicing mutations) were investigated for their possible effects on pre-mRNA splicing by transient transfection experiments in HeLa cells with plasmids expressing appropriate hybrid minigenes. The preparation of minigene constructs was instrumental to demonstrate that the two adjacent variants c.5789-11C>A and c.5789-12C>A are indeed present in cis in the analyzed FV-deficient patient (thus leading to the c.5789-11_12CC>AA mutation). Ex vivo experiments demonstrated that each variant causes either a skipping of the relevant exon or the activation of cryptic splice sites (exonic or intronic), eventually leading to the introduction of a premature termination codon.
View Full-Text
►

▼

Figures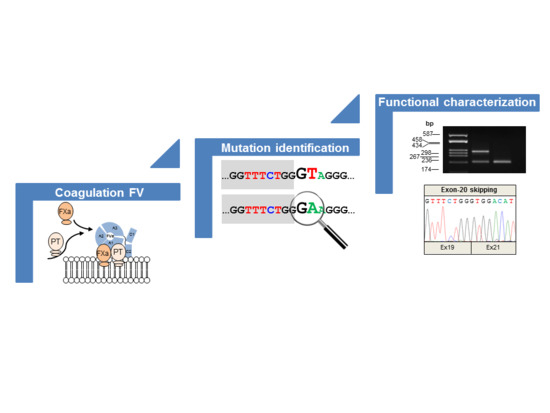 Graphical abstract
This is an open access article distributed under the
Creative Commons Attribution License
which permits unrestricted use, distribution, and reproduction in any medium, provided the original work is properly cited (CC BY 4.0).

Share & Cite This Article
MDPI and ACS Style
Paraboschi, E.M.; Menegatti, M.; Peyvandi, F.; Duga, S.; Asselta, R. Understanding the Impact of Aberrant Splicing in Coagulation Factor V Deficiency. Int. J. Mol. Sci. 2019, 20, 910.
Note that from the first issue of 2016, MDPI journals use article numbers instead of page numbers. See further details here.
Related Articles
Comments
[Return to top]