Open Access This article is
freely available
re-usable
Article
Lipid–Protein Interactions in Niemann–Pick Type C Disease: Insights from Molecular Modeling
1
School of Pharmacy, De Montfort University, The Gateway, Leicester LE1 9BH, UK
2
Leicester Institute of Structural and Chemical Biology, Henry Wellcome Building, University of Leicester, Lancaster Road, Leicester LE1 7RH, UK
3
Department of Molecular and Cell Biology, Henry Wellcome Building, University of Leicester, Lancaster Road, Leicester LE1 7RH, UK
*
Author to whom correspondence should be addressed.
Received: 16 January 2019 / Accepted: 3 February 2019 / Published: 7 February 2019
Abstract
:
The accumulation of lipids in the late endosomes and lysosomes of Niemann–Pick type C disease (NPCD) cells is a consequence of the dysfunction of one protein (usually NPC1) but induces dysfunction in many proteins. We used molecular docking to propose (a) that NPC1 exports not just cholesterol, but also sphingosine, (b) that the cholesterol sensitivity of big potassium channel (BK) can be traced to a previously unappreciated site on the channel's voltage sensor, (c) that transient receptor potential mucolipin 1 (TRPML1) inhibition by sphingomyelin is likely an indirect effect, and (d) that phosphoinositides are responsible for both the mislocalization of annexin A2 (AnxA2) and a soluble NSF (N-ethylmaleimide Sensitive Fusion) protein attachment receptor (SNARE) recycling defect. These results are set in the context of existing knowledge of NPCD to sketch an account of the endolysosomal pathology key to this disease.
Keywords:
Niemann–Pick; lipids; NPC1; BK; TRPML1; Annexin A2; SNARE
1. Introduction
Such docking requires a structural model of the protein in question, which can be gained by experiment (X-ray, cryoEM, or NMR) or derived from such a structure (by homology modeling or threading). Lipid binding to specific sties of the protein can then be estimated with the protein mostly rigid, but giving flexibility to some designated side chains, while the lipid is allowed to vary its position, orientation, and bond angles. We started our calculations with the bond angles in an energy-minimized state; the docking software randomly selects a starting position and orientation. All these parameters are then systematically altered until an energetically favorable binding "pose"—assessed by an energy scoring function—is discovered, if possible. This procedure is repeated multiple times. and the results are ranked to show more or less energetically favorable binding poses. These poses are grouped into clusters defined by root-mean-square (RMS) difference of atomic positions with the cut-off for membership of a cluster set at >2 Å. The calculations examine only a sample of all possible combinations of parameters and are limited by the accuracy of the scoring function. Thus, the results are hypotheses that need to be inspected and tested—a binding pose with a favorable energy score might be biologically impossible.
We made our calculations more computationally tractable by neglecting the membrane; thus, we assessed only lipid–protein interactions. Lipid–protein interactions considered in isolation may be energetically favorable with the lipid in perpendicular or antiparallel situations. As the lipid starting position and orientation are randomized, some of the iterations of the docking calculations will start with the lipid in a position perpendicular or antiparallel to the lipophilic section of the membrane. Thus, some docking runs will start with the lipid in an orientation that is energetically favorable when considered in isolation but energetically disfavorable when considered in the context of the membrane as a whole. Such an orientation is biologically implausible. Energetic refinement of this orientation will not necessarily result in the lipid adopting a parallel orientation. Therefore, some docking runs may result in binding poses that appear energetically favorable because they only consider lipid–protein interactions but would be energetically disfavorable overall and, thus, biologically implausible. This is a consequence of the randomization of the initial position of the lipid, and not a flaw in the docking experiments.
3. Discussion
We argued here that the accumulation of cholesterol in the LEL compartment results from dysfunctional NPC1 and affects some proteins directly (e.g., BK). At the same time, it triggers the secondary build-up of other lipids which affect other proteins (e.g., AnxA2). Thus, the misdistribution of lipids in the LEL membrane results in widespread protein dysfunction. Ultimately, these defects manifest as errors at the cellular level (
Figure 1
). The account presented here concerns proteins of the LEL membrane and, even on that restricted basis, is a simplification as, to say nothing of other organelles and processes, there is evidence that AnxA6 [
90
], CLC-6 [
26
,
79
], mTOR [
55
], rab9 [
91
,
92
], and TPC1 [
60
] are also involved. The absence of high-quality structural data and/or inconclusive in vitro results meant a modeling approach was inappropriate for these proteins at this time.
Author Contributions
Conceptualization, S.W. and D.S.; investigation, S.W.; writing—original draft preparation, S.W.; writing—review and editing, S.W., R.S., and D.S.; supervision, R.S. and D.S.
Funding
This research received no external funding.
Conflicts of Interest
The authors declare no conflicts of interest.
Abbreviations
| | |
| --- | --- |
| Anx | Annexin |
| BK | Big potassium |
| CRAC | Cholesterol recognition amino-acid consensus |
| ER | Endoplasmic reticulum |
| LDL | Low-density lipoprotein |
| LEL | Late endolysosome |
| LSD | Lysosomal Storage Disorder |
| MCS | Membrane contact site |
| mTOR | mechanistic Target of Rapamycin |
| NPC | Niemann–Pick type C |
| NPCD | Niemann–Pick type C disease |
| NSF | N-ethylmaleimide Sensitive Fusion |
| NTD | N-terminal domain |
| PI(3,5)P2 | Phosphatidylinositol-3,5-bisphosphate |
| PI(4,5)P2 | Phosphatidylinositol-4,5-bisphosphate |
| RCK | Regulation of conductance by potassium |
| RMS | Root mean square |
| SM | Sphingomyelin |
| SNARE | Soluble NSF protein attachment receptor |
| Sph | Sphingosine |
| SSD | Sterol-sensing domain |
| Stx | Syntaxin |
| TPC | Two-pore channel |
| TRPML | Transient receptor potential mucolipin |
| VAMP | Vesicle-associated membrane protein |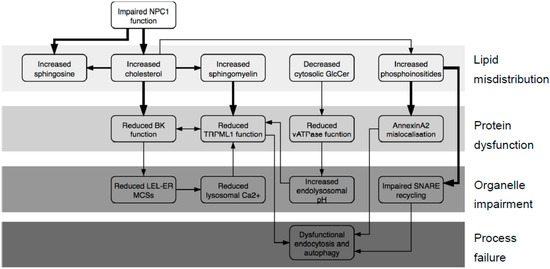 Figure 1. Pathological cascade in Niemann–Pick type C disease (NPCD). All steps are supported by at least one published report referenced in the text; steps shown with bold arrows are the subject of this publication.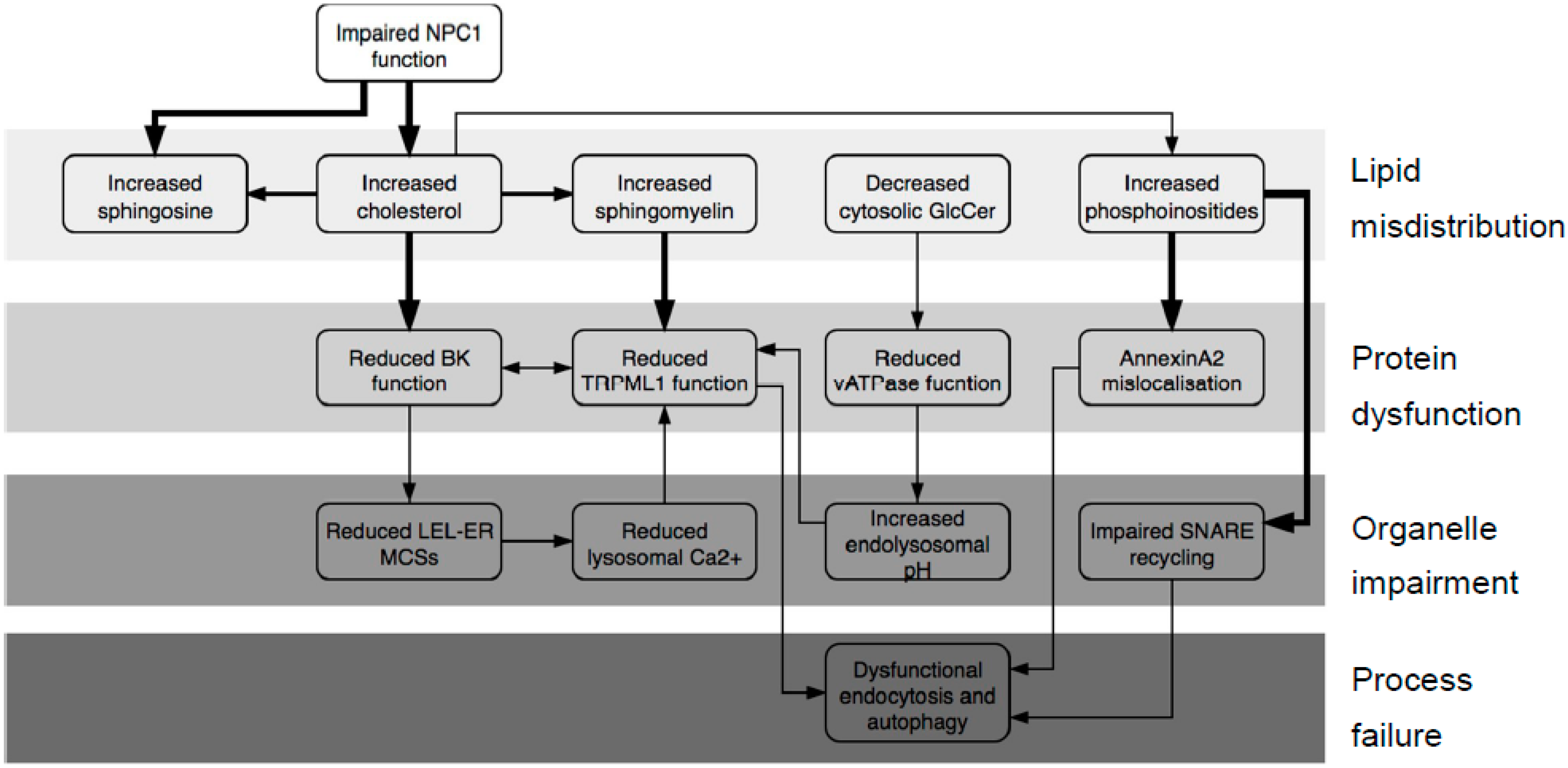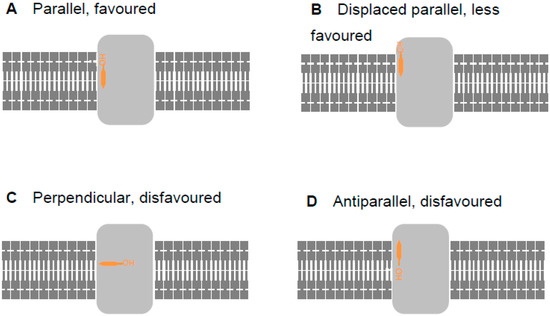 Figure 2. Four possibilities for cholesterol binding to a trans-membrane protein displayed in cartoon form. Trans-membrane proteins (light grey) are embedded in the lipid bilayer (dark grey). Cholesterol (orange) may bind parallel to the membrane (A, energetically favored), parallel to the membrane but vertically displaced from it (B, energetically less favored), perpendicular to the membrane (C, energetically disfavored), or antiparallel (D, energetically disfavored).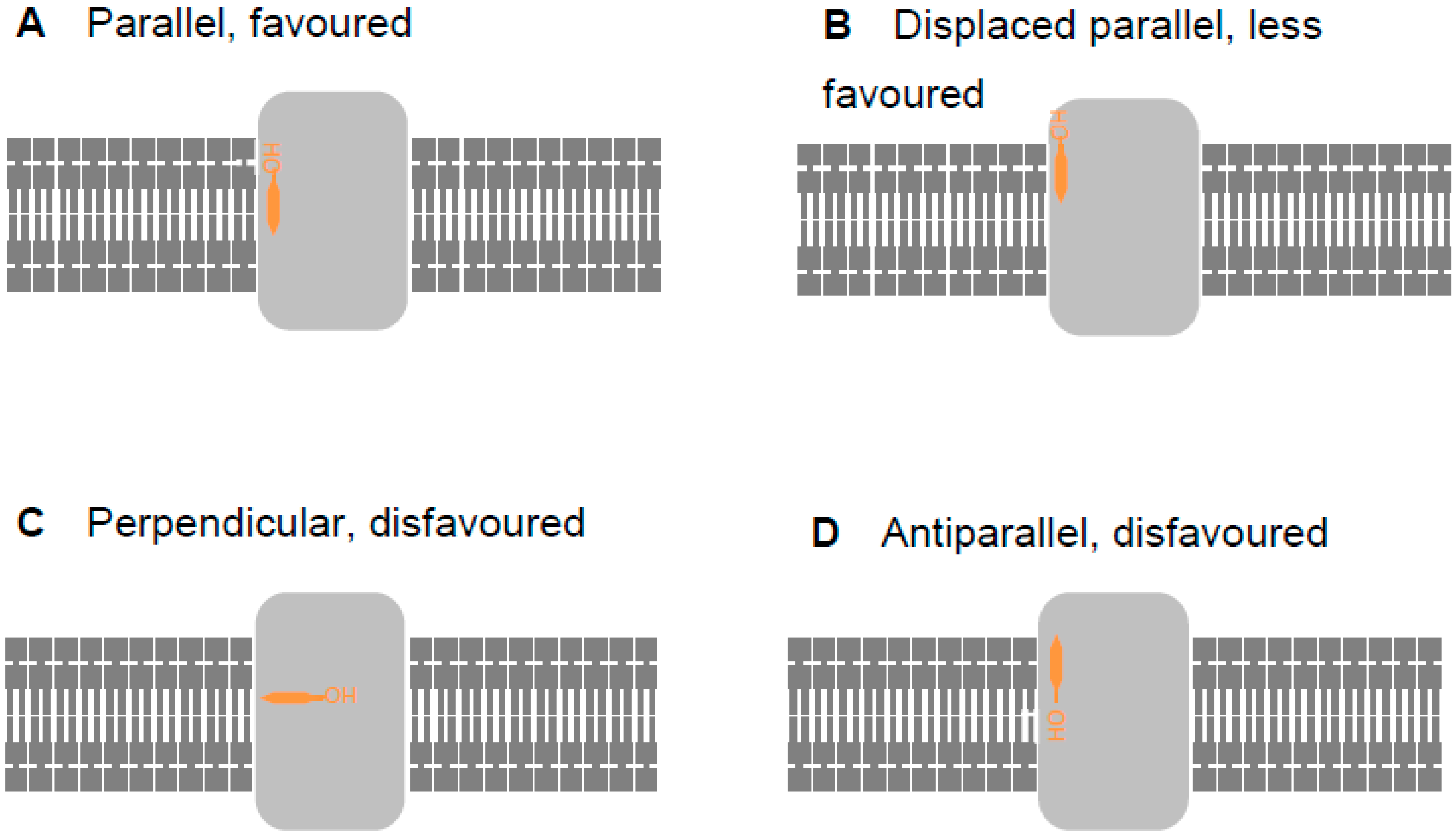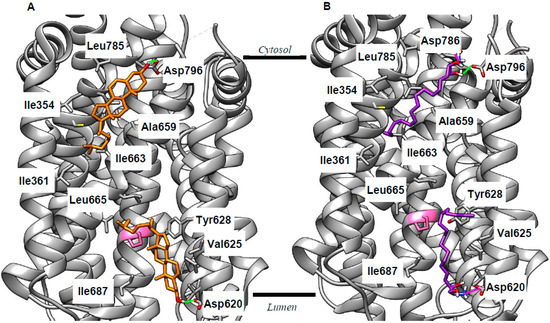 Figure 3.
Docking identifies two putative binding pockets on NPC1 aligned to each side of the lysosomal membrane. Sample poses for both cholesterol (orange,
A
) and sphingosine (purple,
B
) show binding in these pockets consistent with evidence of NPC1's role as an exporter of both lipids. Selected interacting residues are labeled; H-bonds are shown in green (Sph and cholesterol), and ionic interactions are shown in magenta (Sph only). Pro691 is shown in pink; mutation of this residue results in reduced cholesterol binding [
53
,
54
]. Lines indicate the approximate position of the membrane (derived from the Orientation of Proteins in Membranes OPM database [
51
]).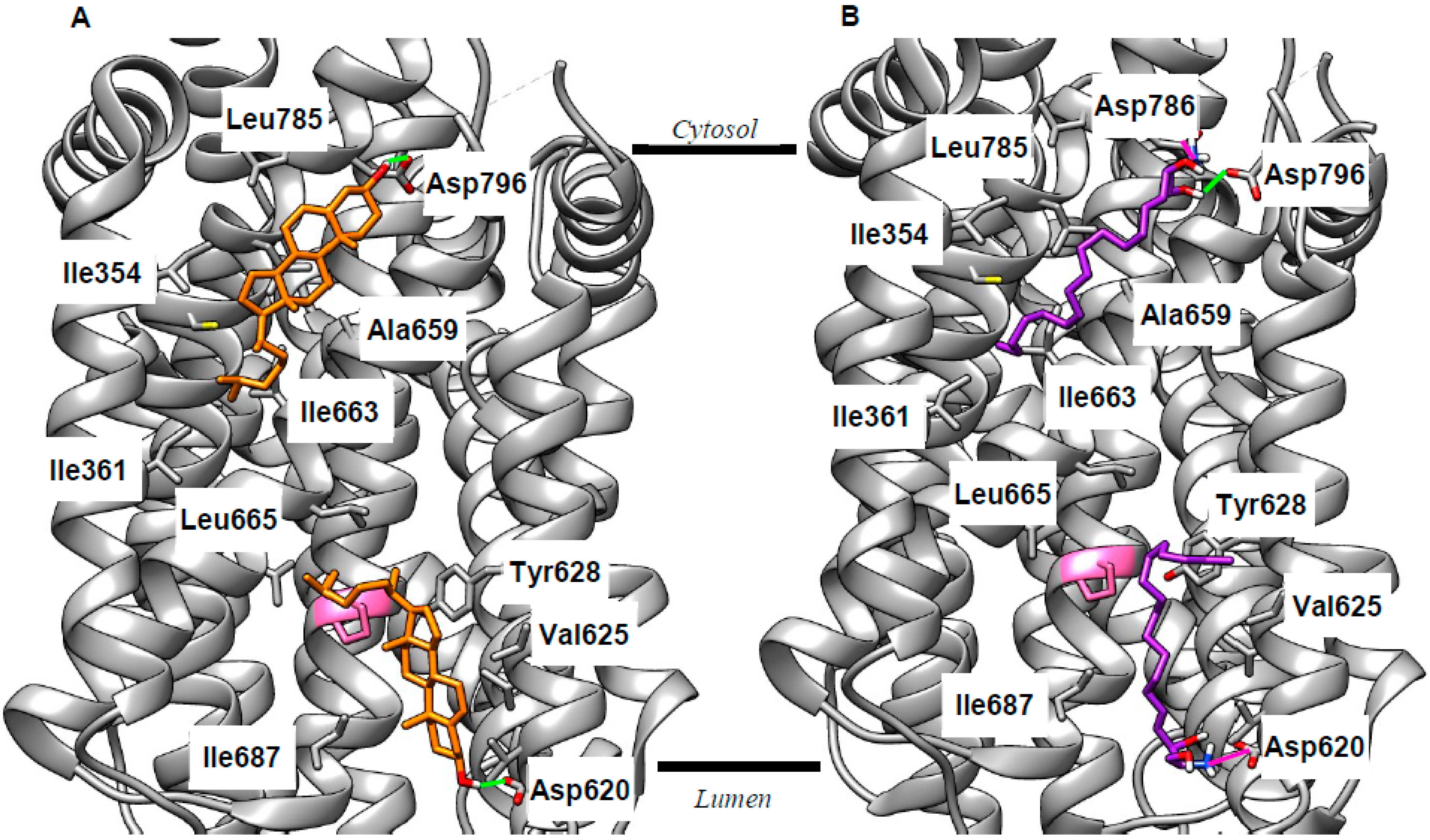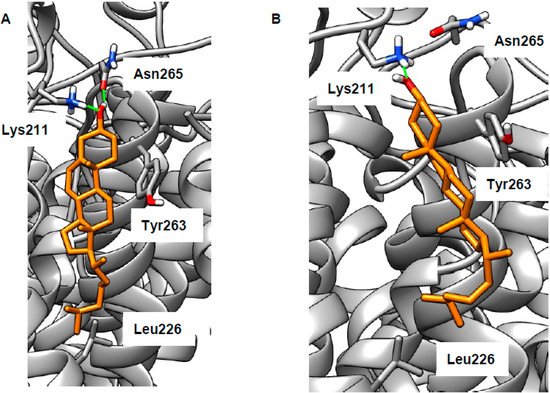 Figure 4. Sample cholesterol-binding poses at the putative binding site on the voltage sensor of big potassium channel (BK). Cholesterol (orange) is able to form H-bonds (green) with Lys211 (A,B) and Asn265 (A), a CH–π interaction with Tyr263 (B), and a hydrophobic interaction with Leu226 (A,B).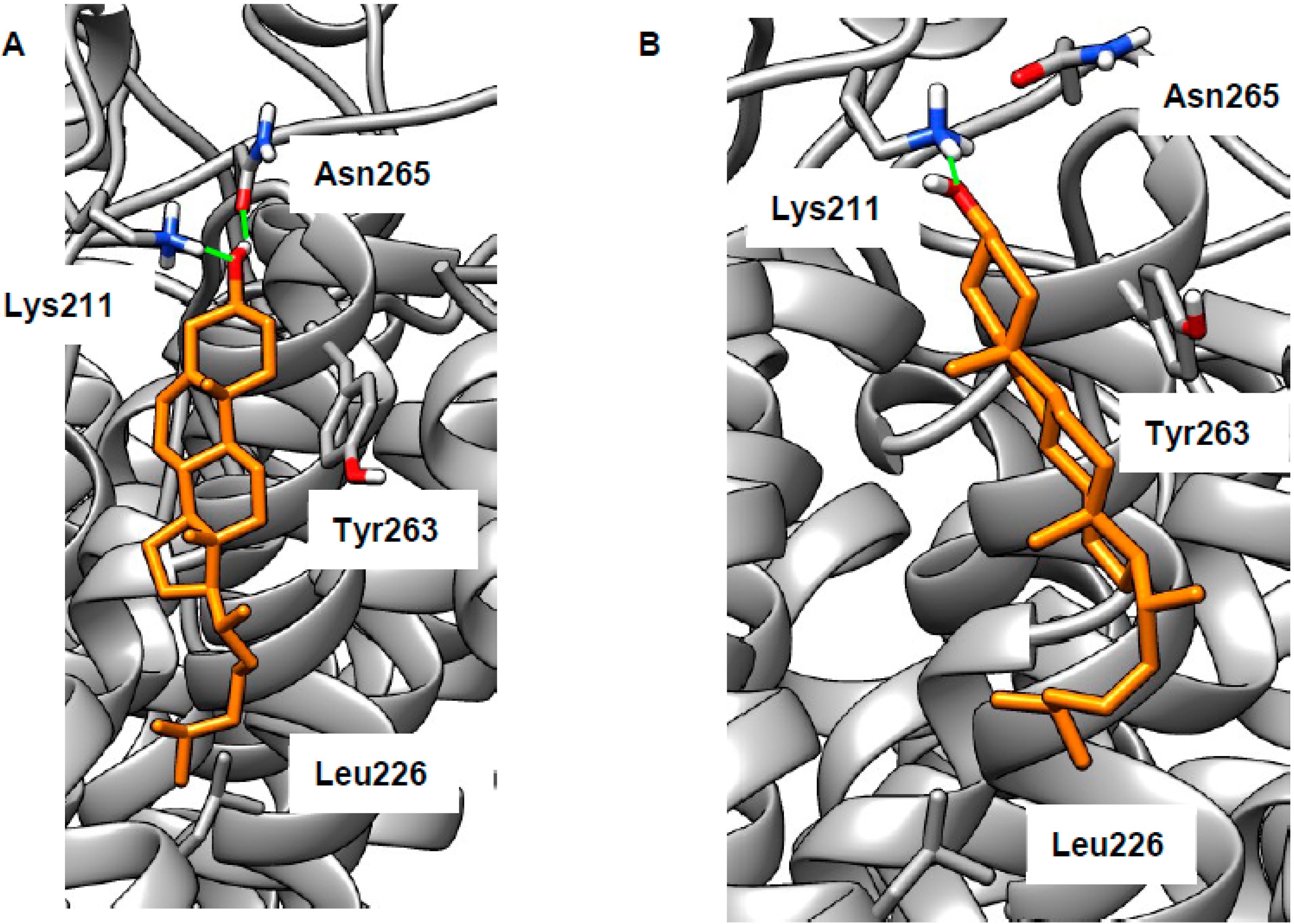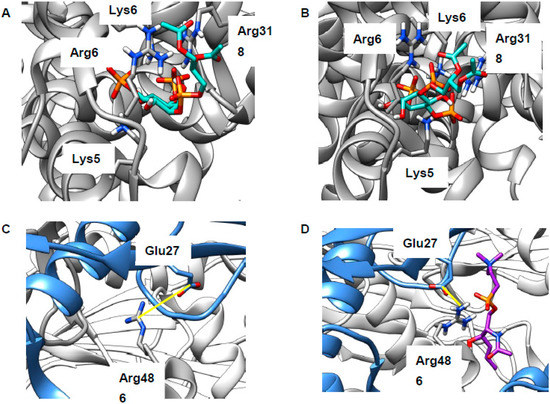 Figure 5.
Putative binding sites of lipids at Transient receptor potential mucolipin 1 (TRPML1). (
A
,
B
) Modeling supports mutagenesis experiments identifying a polybasic region as key the binding site for phosphatidylinositol-3,5-bisphosphate (PI(3,5)P
2
) (green,
A
) and PI(4,5)P
2
(green,
B
). (
C
) Glu276 from one chain (blue) forms a charged interaction with Arg486 from another (grey); interatomic distance: 3.77 Å. (
D
) Modeling suggests plausible binding poses for SM (purple, typical example shown), but these do not disturb the inter-residue interactions present in the apo state; interatomic distance: 2.97 Å. Protein oriented as in
Figure S3
; distance markers are shown in yellow.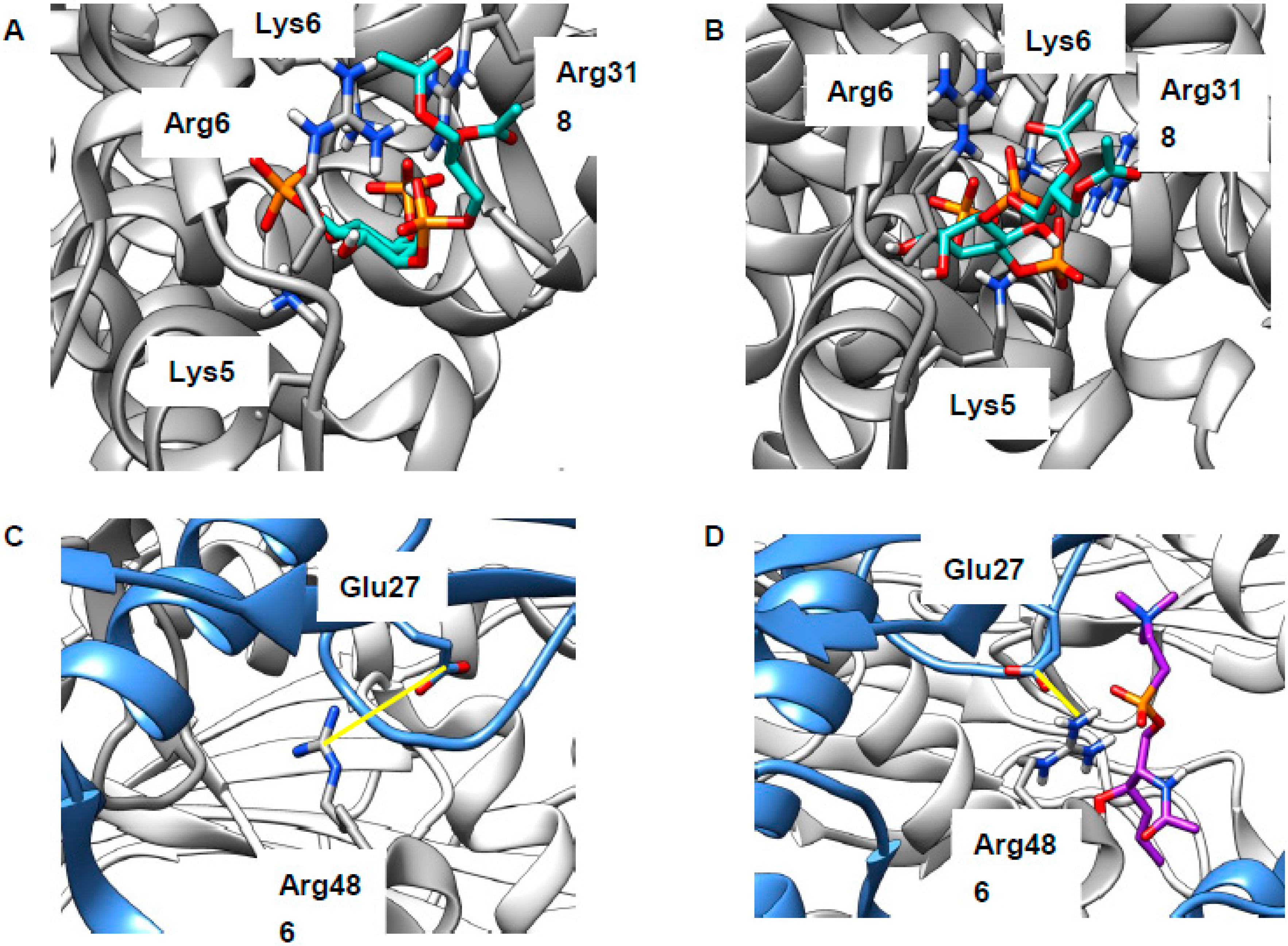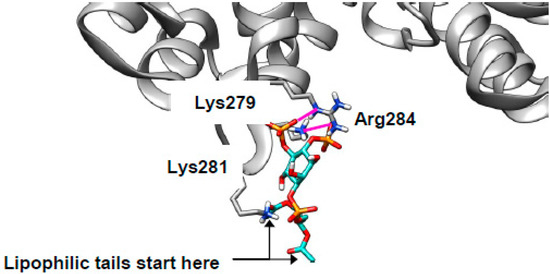 Figure 6. PI(4,5)P2 can bind to annexin A2 (AnxA2). PI(4,5)P2 (turquoise) can bind to the convex face of AnxA2 (grey) driven by zwitterionic interactions (magenta) with Lys279, Lys281, and Arg284.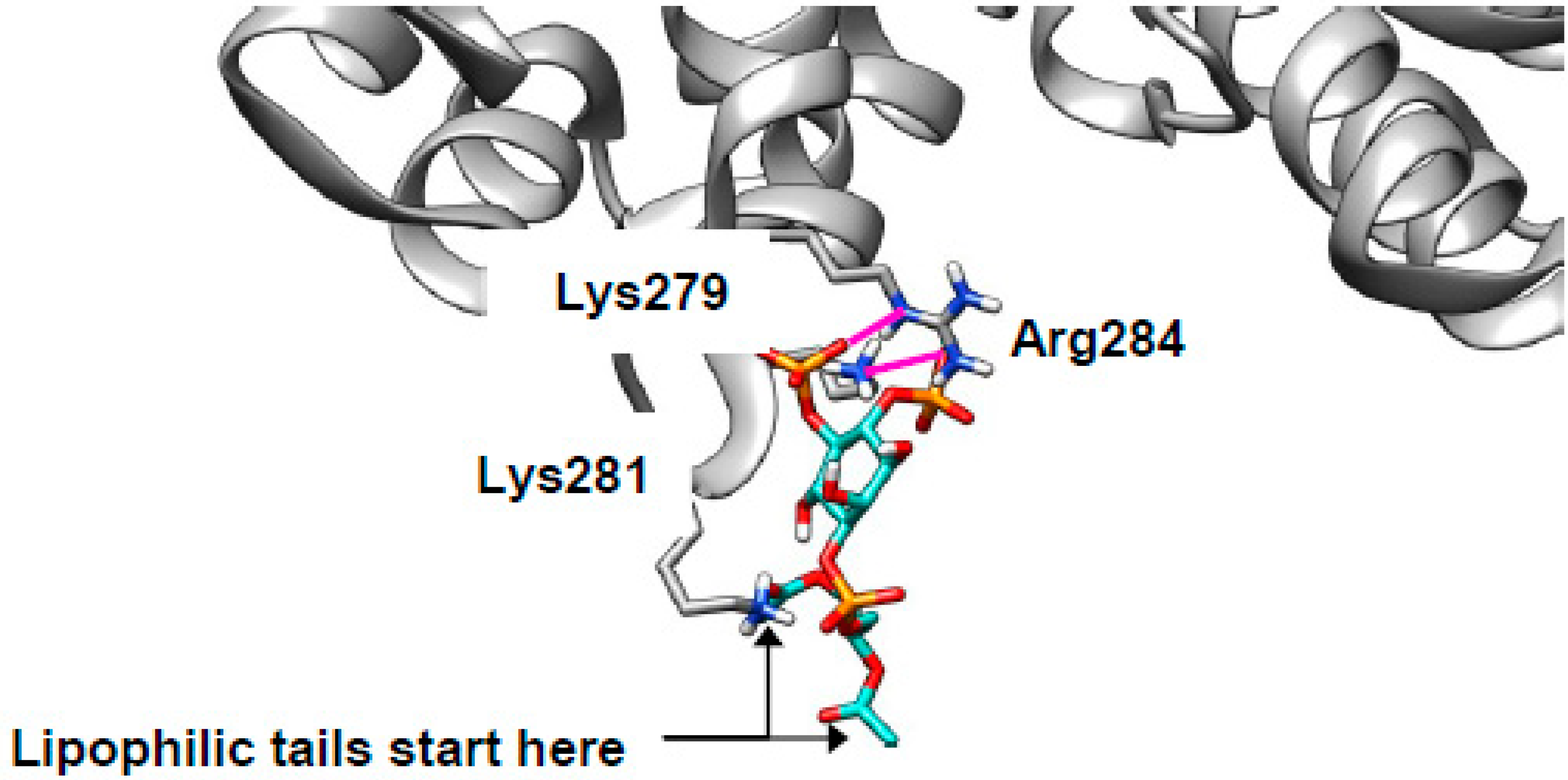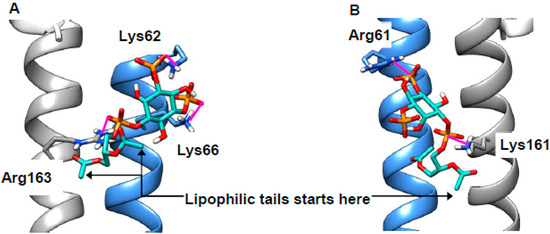 Figure 7. PI(4,5)P2 can bind to two members of a SNARE bundle simultaneously. Sample poses of PI(3,5)P2 (turquoise) bridging vesicle-associated membrane protein 8( VAMP8) (blue) and syntaxin 7 (grey) in the assembled Soluble NSF (N-ethylmaleimide Sensitive Fusion) protein attachment receptor (SNARE) bundle with zwitterionic interactions (magenta) (A,B).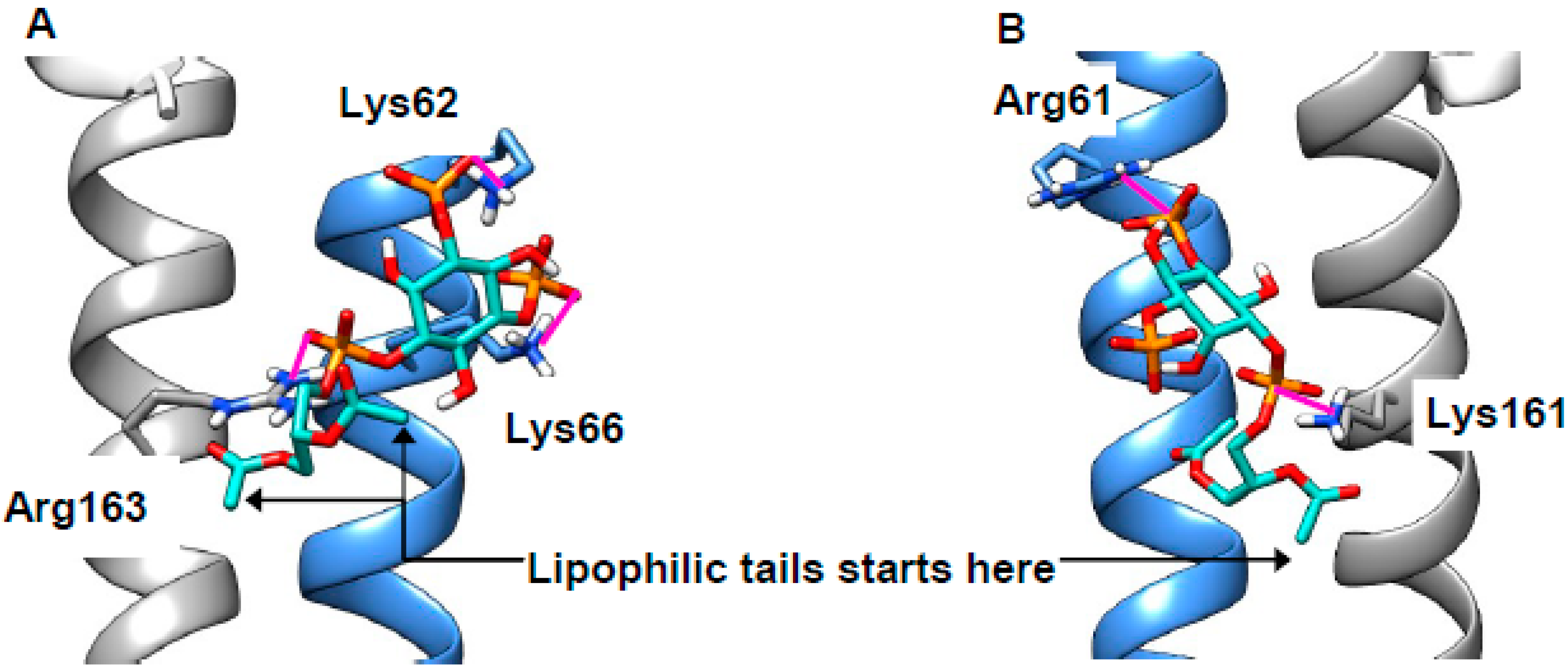 © 2019 by the authors. Licensee MDPI, Basel, Switzerland. This article is an open access article distributed under the terms and conditions of the Creative Commons Attribution (CC BY) license (http://creativecommons.org/licenses/by/4.0/).