Anti-Inflammatory Activity of A Polyphenolic Extract from
Arabidopsis thaliana

in In Vitro and In Vivo Models of Alzheimer's Disease

1

Department of Biology and Biotechnology "Charles Darwin", Sapienza University of Rome, 00185 Roma, Italy

2

Department of Biochemical Sciences, Sapienza University of Rome, 00185 Roma, Italy

3

Department of Bioorganic Chemistry, Leibniz Institute of Plant Biochemistry, 06120 Halle (Saale), Germany

4

Department of Experimental Medicine, Sapienza University of Rome, 00185 Roma, Italy

*

Authors to whom correspondence should be addressed.

†

These authors contributed equally to this work.

Received: 7 January 2019 / Revised: 1 February 2019 / Accepted: 3 February 2019 / Published: 7 February 2019
Abstract
Alzheimer's disease (AD) is the most common neurodegenerative disorder and the primary form of dementia in the elderly. One of the main features of AD is the increase in amyloid-beta (Aβ) peptide production and aggregation, leading to oxidative stress, neuroinflammation and neurodegeneration. Polyphenols are well known for their antioxidant, anti-inflammatory and neuroprotective effects and have been proposed as possible therapeutic agents against AD. Here, we investigated the effects of a polyphenolic extract of
Arabidopsis thaliana
(a plant belonging to the Brassicaceae family) on inflammatory response induced by Aβ. BV2 murine microglia cells treated with both Aβ
25–35
peptide and extract showed a lower pro-inflammatory (
IL-6
,
IL-1β
,
TNF-α
) and a higher anti-inflammatory (
IL-4
,
IL-10
,
IL-13
) cytokine production compared to cells treated with Aβ only. The activation of the Nrf2-antioxidant response element signaling pathway in treated cells resulted in the upregulation of heme oxygenase-1 mRNA and in an increase of NAD(P)H:quinone oxidoreductase 1 activity. To establish whether the extract is also effective against Aβ-induced neurotoxicity in vivo, we evaluated its effect on the impaired climbing ability of AD Drosophila flies expressing human Aβ
1–42
. Arabidopsis extract significantly restored the locomotor activity of these flies, thus confirming its neuroprotective effects also in vivo. These results point to a protective effect of the Arabidopsis extract in AD, and prompt its use as a model in studying the impact of complex mixtures derived from plant-based food on neurodegenerative diseases.
View Full-Text
►

▼

Figures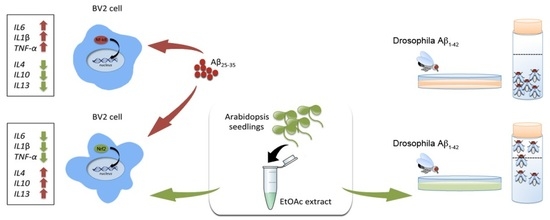 Graphical abstract
This is an open access article distributed under the
Creative Commons Attribution License
which permits unrestricted use, distribution, and reproduction in any medium, provided the original work is properly cited (CC BY 4.0).

Share & Cite This Article
MDPI and ACS Style
Mattioli, R.; Francioso, A.; d'Erme, M.; Trovato, M.; Mancini, P.; Piacentini, L.; Casale, A.M.; Wessjohann, L.; Gazzino, R.; Costantino, P.; Mosca, L. Anti-Inflammatory Activity of A Polyphenolic Extract from Arabidopsis thaliana in In Vitro and In Vivo Models of Alzheimer's Disease. Int. J. Mol. Sci. 2019, 20, 708.
Note that from the first issue of 2016, MDPI journals use article numbers instead of page numbers. See further details here.
Related Articles
Comments
[Return to top]