Different Signaling Pathways Define Different Interferon-Stimulated Gene Expression during Mycobacteria Infection in Macrophages
Institute of Molecular Immunology, School of Laboratory Medicine and Biotechnology, Southern Medical University, Guangzhou 510515, China
*
Author to whom correspondence should be addressed.
†
These authors contributed equally to this work.
Received: 24 January 2019 / Revised: 31 January 2019 / Accepted: 31 January 2019 / Published: 3 February 2019
Abstract
Tuberculosis (TB) caused by
Mycobacterium tuberculosis
(Mtb) represents one of the greatest threats to human health., Interferons (IFNs) in combination with the first-line of anti-TB drugs have been used for treating TB for decades in the clinic, but how Mtb infection regulates interferon-stimulated genes (ISGs) in human macrophages (Mϕs) remains unknown. In this study, we investigated the expression-signature and associated innate signaling mechanisms of ISGs in Mtb-infected human monocyte-derived Mϕs (hMDMs) and THP-1-derived Mϕs (THP-1-Mϕs). Among 28 of the detected ISGs, 90% of them exerted a significant increase in Mtb-infected Mϕs. Additionally, we found that cytosolic cyclic (GMP-AMP) synthase (cGAS), toll-like receptor-2 (TLR-2) and TLR-4 signaling pathways participated in ISG induction. Their downstream elements of TANK-binding kinase 1 (TBK1), nuclear factor-kappa B (NF-κB), mitogen-activated protein kinase (MAPK), and Janus kinase-signal transducer and activator of transcription (JAK-STAT) were selectively involved in Mtb-mediated ISG production. Finally, the numerous types of ISG expression in hMDMs of TB patients were more susceptible to restimulation of Mtb infection or/and IFN treatment than that of healthy people. Hence, different signaling pathways define different ISG expression during Mtb infection and this helps to illustrate how ISGs are elucidated and to better understand the host immune responses to Mtb infection in Mϕs.
View Full-Text
►

▼

Figures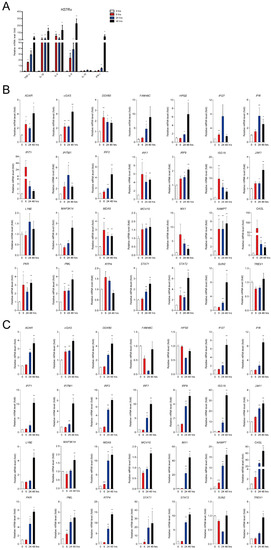 Figure 1
This is an open access article distributed under the
Creative Commons Attribution License
which permits unrestricted use, distribution, and reproduction in any medium, provided the original work is properly cited (CC BY 4.0).

Share & Cite This Article
MDPI and ACS Style
Zhou, X.; Yang, J.; Zhang, Z.; Zhang, L.; Zhu, B.; Lie, L.; Huang, Y.; Ma, R.; Zhou, C.; Hu, S.; Wen, Q.; Ma, L. Different Signaling Pathways Define Different Interferon-Stimulated Gene Expression during Mycobacteria Infection in Macrophages. Int. J. Mol. Sci. 2019, 20, 663.
Note that from the first issue of 2016, MDPI journals use article numbers instead of page numbers. See further details here.
Related Articles
Comments
[Return to top]