Open Access This article is
freely available
re-usable
Review
Advanced Materials and Devices for the Regulation and Study of NK Cells
Department of Materials Engineering, Ilse Katz Institute for Nanoscale Science & Technology, Ben-Gurion University of the Negev, Beer Sheva 84105, Israel
*
Author to whom correspondence should be addressed.
Received: 18 December 2018 / Accepted: 29 January 2019 / Published: 2 February 2019
Abstract
:
Natural Killer (NK) cells are innate lymphocytes that contribute to immune protection by cytosis, cytokine secretion, and regulation of adaptive responses of T cells. NK cells distinguish between healthy and ill cells, and generate a cytotoxic response, being cumulatively regulated by environmental signals delivered through their diverse receptors. Recent advances in biomaterials and device engineering paved the way to numerous artificial microenvironments for cells, which produce synthetic signals identical or similar to those provided by the physiological environment. In this paper, we review recent advances in materials and devices for artificial signaling, which have been applied to regulate NK cells, and systematically study the role of these signals in NK cell function.
Keywords:
NK cells; immune signaling; biomaterials; nanodevices; artificial immune synapse
1. Introduction
Recent years have seen a great development in novel materials and devices designed to regulate and study living cells. These materials and devices are diverse in their structure, size, chemistry, and functionality, but are all aimed at providing cells with synthetic environmental cues identical or similar to the cues provided to cells by their natural environment, such as extracellular matrix or adjunct cells. These synthetic cues, in turn, stimulate cells as natural cues do, and regulate vital cell functions. Some of these functions such as adhesion, motility, proliferation, differentiation, and death are generic for all cells, while others are exclusive for certain cell types. For instance, lymphocyte immune function, which is tightly regulated by activating, co-stimulating, and inhibitory signals, can be stimulated by an artificial environment that mimics the surface of an antigen presenting cell.
3. Nanopatterned Ligands
The lipid bilayers described in the previous section allow free 2D movement of the incorporated ligands, and thus provide a convenient platform to study receptor clustering at the cell membrane. An alternative approach to elucidate the role of receptor clustering in cell function is by fixing ligands in controlled arrangements, and thereby creating tightly regulated conditions for receptor clustering. By changing the ligand arrangement and tracking the cell response to these changes, the role of receptor arrangement in various cell functions can thus be elucidated.
5. Devices for Physical Guidance of Cells
6. Nanomaterials for the Interaction with NK Cells in 3D
7. Nanodevices for the Mechanical Studies of NK Cells
8. Future Perspective
NK cell activation is regulated by a subtle balance between activating and inhibitory signals. Understanding the molecular mechanism of this balance, and especially its spatiotemporal aspects, is an importance challenge. Overcoming this challenge can be largely aided by artificial cell environments that simultaneously control the arrangement of different receptors. However, state-of-the-art platforms used for the study of receptor clustering in NK cell, such as ligand-functionalized nanodots arrays, are designed to spatially control one receptor type. Recently, nanodots arrays functionalized with two ligands for T cell stimulation were reported [
100
,
101
], in spite of which one ligand was tethered to controllably positioned nanodots, and the second ligand was randomly distributed on the background. Nanoarrays with two or more ligands—all spatially controlled—can be implemented, through heterogeneous pattern of nanodots of different materials, which are selectively functionalized with different ligands. Realization of such nanoarrays still remains a challenge, since it requires a nanopatterning of two or more lithographic layers with sub-10 nm features and nanoscale registry. Furthermore, it requires downscaling of orthogonal functionalization approaches, which so far has been demonstrated on micron-scale patterns, to nanometric patterns. Once realized, such multifunctional nanoarrays can address basic questions regarding the spatial cross talk between interacting receptors (e.g., activating and inhibitory, or activating, and costimulatory), such as: Does their interaction and signalling integration depends on their spatial proximity? Another aspect of NK cell function, which is still largely unexplored, is their mechanical activity. State-of-the-art devices for study of cells mechanics, which have been briefly mentioned in the last section of this review, have been applied to various cells including T cells and B cells. The same experimental platforms can provide fundamental insights onto the role of mechanical forces in the function of NK cells. Finally, microfluidic devices for NK cell sorting, which are able to isolate "serial killer cells", are essential for further studies of NK cell heterogeneity. Furthermore, isolating "serial killer cells" might be useful for an ameliorated immunotherapeutic outcome. Alternatively, these cells might be too active, and need to be discriminated to alleviate the adverse impact of immunotherapy. Currently, similar microfluidic approaches have been explored for preclinical screening of T cells in immunotherapy [
102
,
103
]. Still, these devices are used for screening, and their future therapeutic applications will likely require their combination with existing cell expansion technologies. Overall, further application of state-of the-art materials and devices for the study of NK cells, as well as the development of new materials and devices specifically tailored for NK cells, will provide important fundamental insights on their function, and allow the rational design of future immunotherapies.
Conflicts of Interest
The authors declare no conflicts of interest.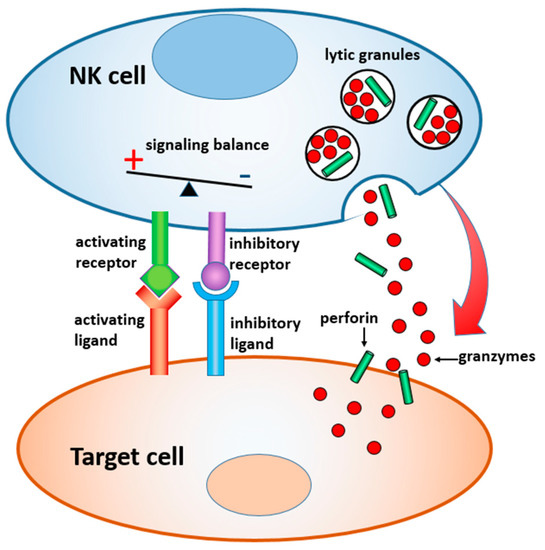 Figure 1. Scheme of the lytic immune synapse formed between a NK cell and a target cell. Degranulation is represented by the red arrow.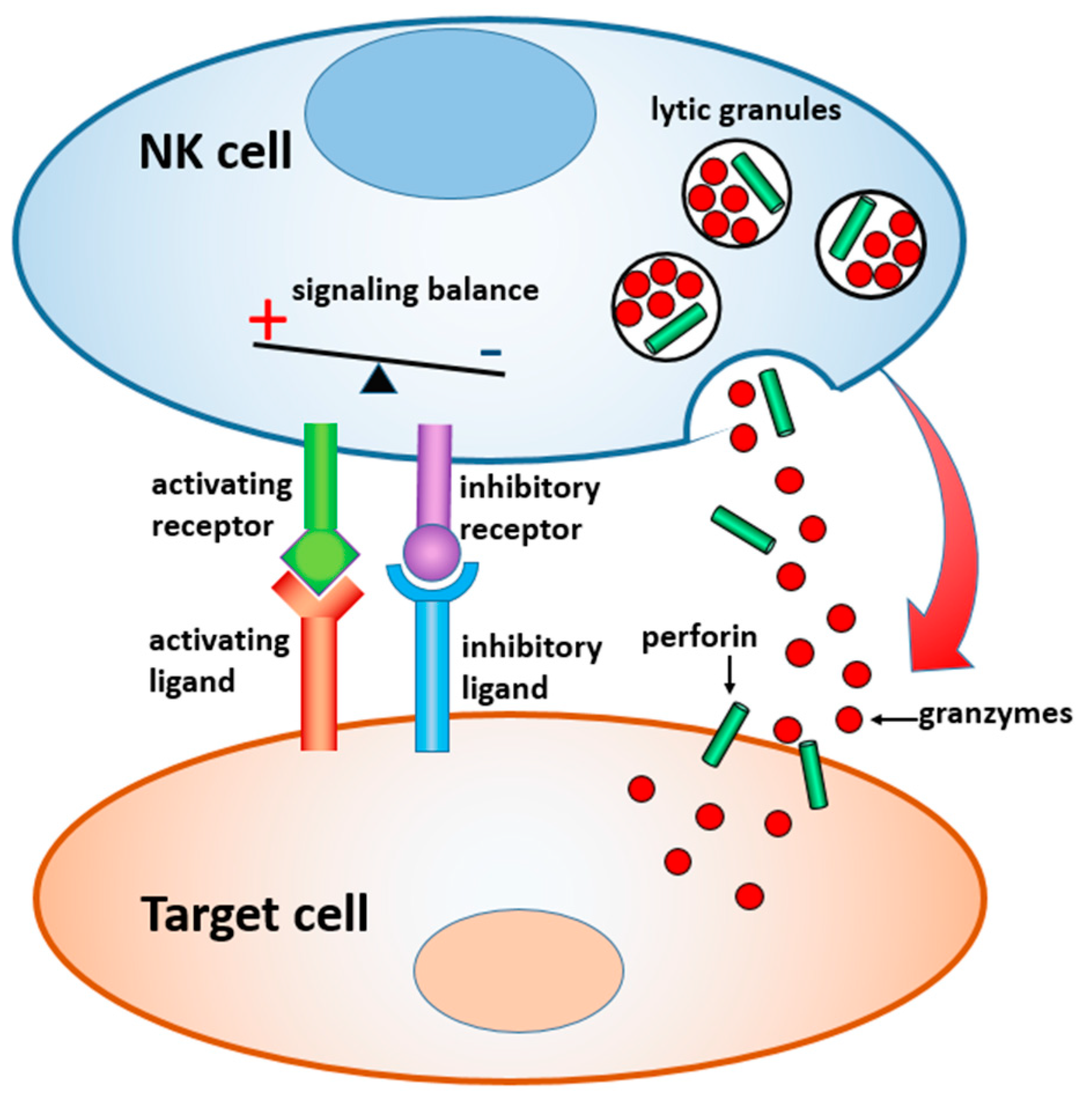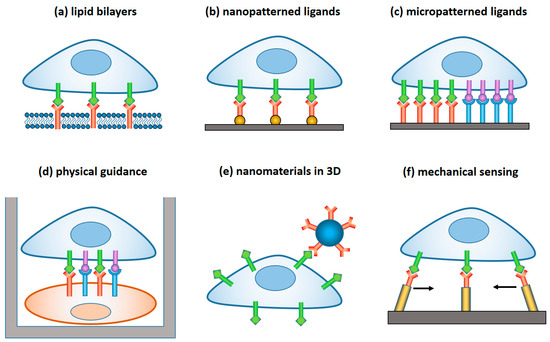 Figure 2.
Advanced materials and devices for the study and regulation of NK cells: (
a
) Lipid bilayer with incorporated ligands that mimic the surface of target cells. (
b
) Ligands tethered to a pattern of nanodots that determine arrangement individual receptors onto a fixed 2D architecture. (
c
) Surface with ligand micropatterns that determine receptor clustering. (
d
) Devices for physical guidance and confinement of NK cells, alone as well as in a pair with target cells. (
e
) Nanomaterials for controlled ligand delivery on 3D (
f
) devices for mechanical stimulation of NK cells. Activating or inhibitory ligand-receptor pairs are schematized as in
Figure 1
.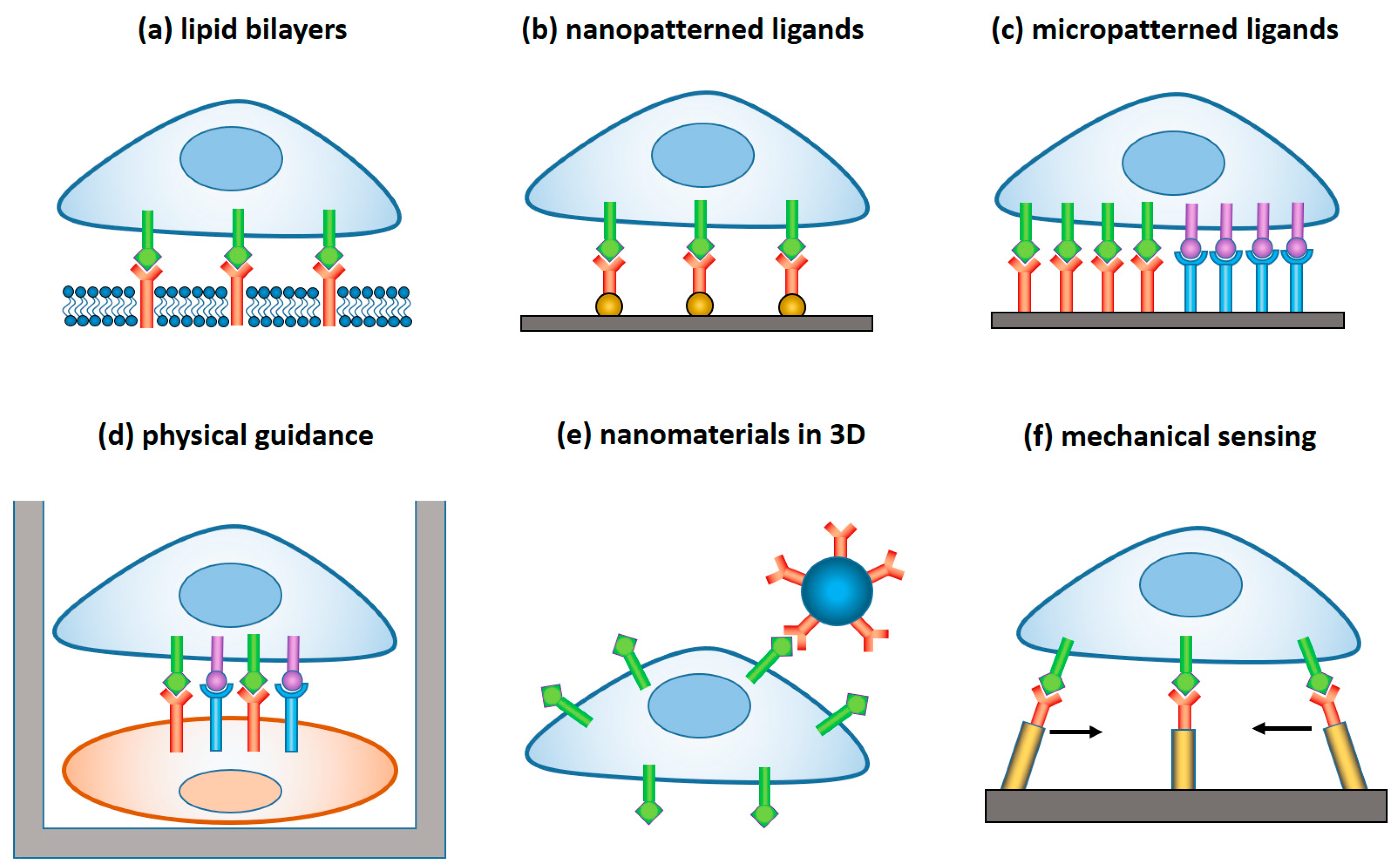 Figure 3.
(
a
) Schematic illustration of an artificial immune synapse between NK cell and supported lipid bilayer. Reproduced with permission from Reference [
32
]. The bilayer includes incorporated ligands recognized by NK cell receptor. The planar interface between the cell membrane and the bilayer enables facile microscopic imaging of the synapse. (
b
) STED imaging of NK synapse on supported lipid bilayer. NK cells were activated on lipid bilayer with incorporated anti-CD16 (red), fixed, permeabilized, and stained with perforin (blue), and anti-(F-actin) (green). Scale bar: 1 µm. Reprinted with permission from Reference [
31
].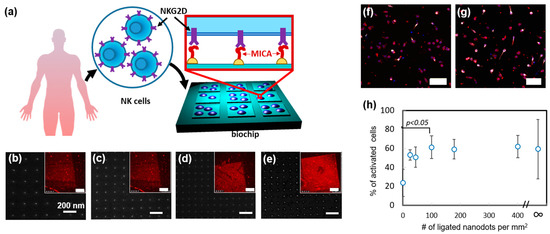 Figure 4.
Nanoimprinted chip for the study of the role of the spatial distribution of activating receptors in the immune activation of NK cells. (
a
) Scheme of the chip (
b
–
e
) SEM images of nanodot in different matrices with the periodicity of 200, 150, 100, and 50 nm, receptively. Scale bar: 200 nm. Insets: Florescent image of the matrices functionalized wit MICA and immunostained with AlexaFluor 568 tagged antibody. Scale bar in insets: 50 µm. (
f
,
g
). Fluorescent imaging of CD107a (white) in the NK cells activated on the matrices with 400 nanodots per μm
2
and 50 nanodots per μm
2
, respectively. The cells were also stained for cytoskeleton (red), nuclei (blue). Scale bars: 50 μm (
h
) % of activated cells vs. the nanodot density. Here ∞ means continues AuPd layer functionalized with MICA, providing the maximal ligand density. Analysis of variance was performed to assess the significant changes in the percentage of activated cells on different matrices. The results were considered significant for
p
< 0.05. Reproduced from Reference [
45
] with permission from The Royal Society of Chemistry.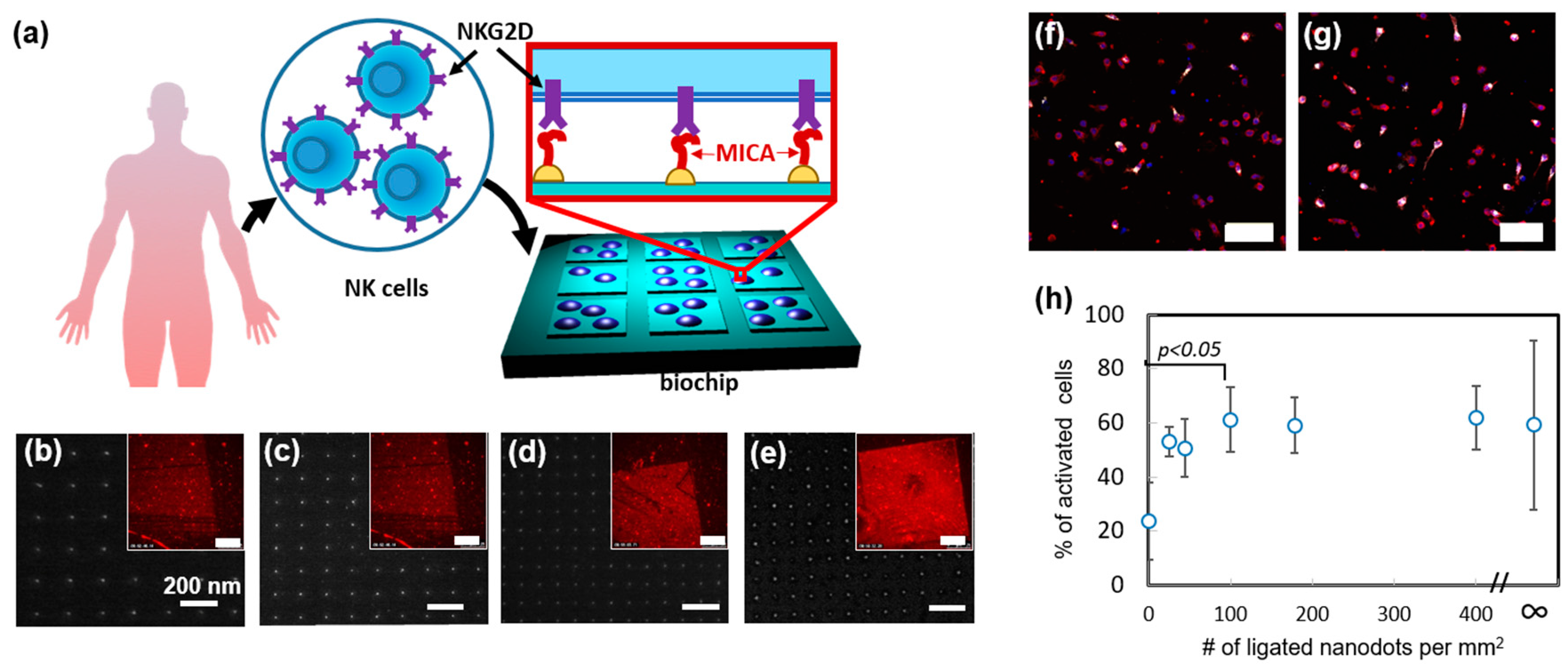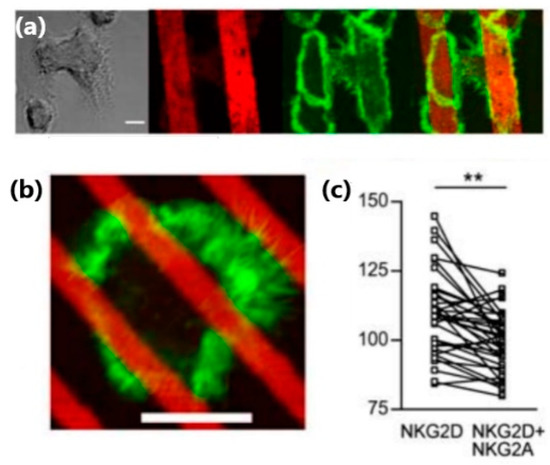 Figure 5.
(
a
) NK cells on alternating strips of activating and inhibitory antibodies produced by microcontact printing. NK cells on strips of anti-NKG2D with isotope control mAb (bright filed), antiNKG2D strips (red), f-actin (phalloidin AlexaGluor4888, green), and mixture of the two latter. Scale bar: 25 µm. (
b
) NK cells on narrow lines of anti-NKG2D (red) interspersed with mixed anti-NKG2D and anti-NKG2A. Scale bar: 5 mm (
c
) F-actin distribution in regions of cells in contact with anti-NKG2D stripes or with a mixture of anti-NKG2A and anti-NKG2D (***,
p
< 0.001;
n
= 31 cells, paired
t
-test). Reproduced from Reference [
48
].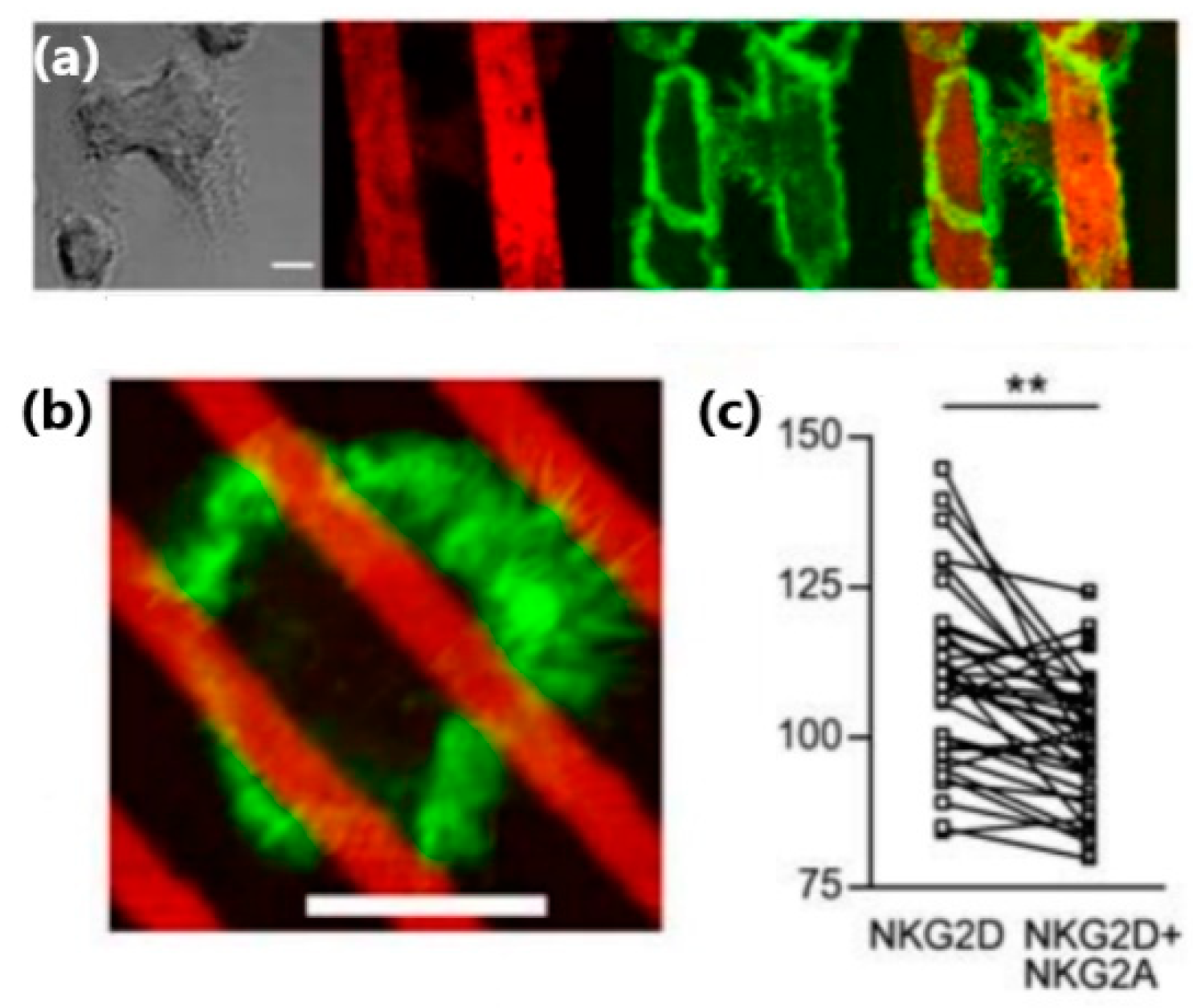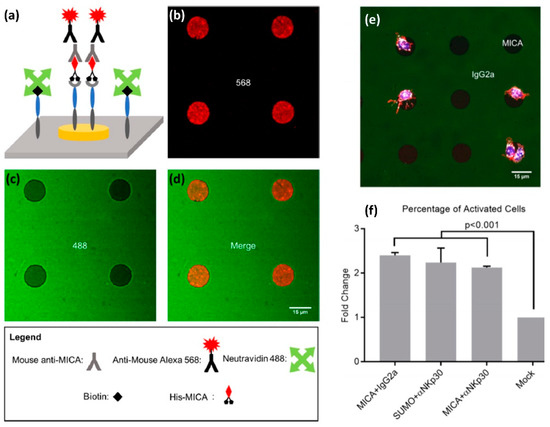 Figure 6.
Site-selective functionalization of a photolithographic pattern with two ligands for NK cell receptors. (
a
) Orthogonal functionalization of TiO2/Au surface (
b
) Fluorescent image of Au disks functionalized with His-MICA, and stained with mouse anti-MICA and anti-mouse Alexa 568. (
c
) Fluorescent image of TiO
2
background functionalized with Oregon Green 488-labeled NeutrAvidin. (
d
) Merging images (
c
,
d
) confirm the site-selective functionalization. (
e
) Primary NK cells stained with Alexa Fluor 555 phalloidin to visualize the cytoskeleton, DAPI for nuclei, and APC-labeled anti-CD107a as a marker for NK cell activation (
f
) Percentage of CD107a positive cells on various regions of the substrates. Analysis of variance and Tukey's post hoc test were performed to assess the significant changes in behavior. The results were considered significant for
p
< 0.05.
p
-Values are also reported for comparisons of interest. Reprinted with permission from Reference [
50
].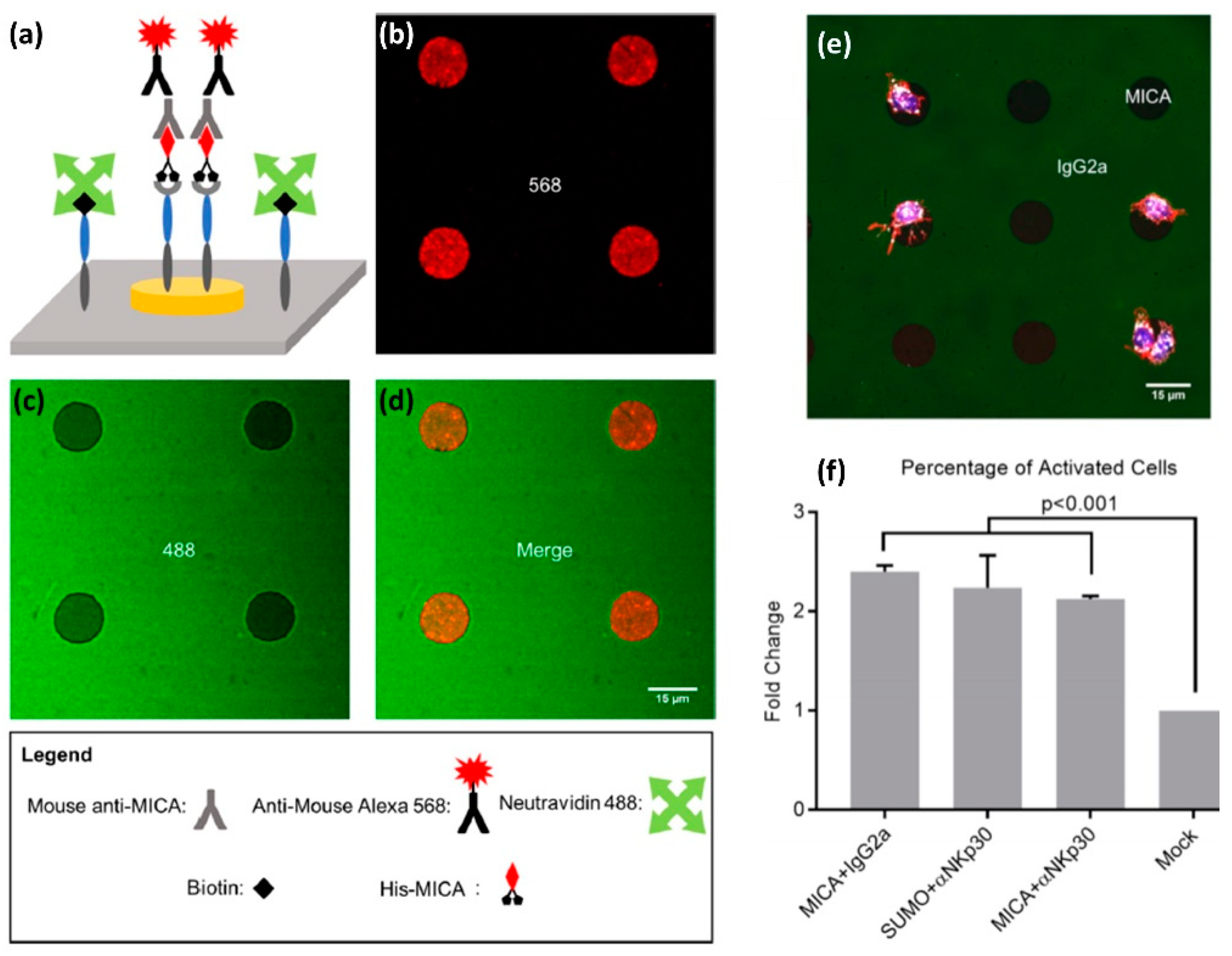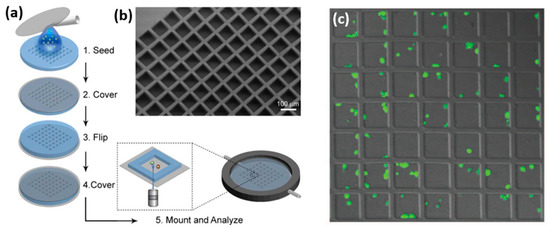 Figure 7.
Chip with microwells for confinement. (
a
) Chip fabrication. (
b
) Scanning electron microscope of the chip structure. (
c
) NK cells within the chip after 2 h of incubation. Reproduced from Reference [
55
].
Figure 8.
Microfluidic well arrays with microtraps for NK cells. (
a
) Scheme of the microfluidic device (
b
) Merged bright file and fluorescent images after the cell loading into the device; (
b
) red and green channels correspond to K562 and KHYG-1 cells, respectively. Scale bar, 100 µm (left) and 20 µm (right). (
c
) Immune synapse imaged by confocal microscopy at the interface of vertically stacked of NK—target cell pair. The cells are fixed, permeabilized, and stained for F-actin (red), perforin (green), and alfa-tubulin (cyan). Scale bars: 5 µm. Reproduced with permission from Reference [
65
].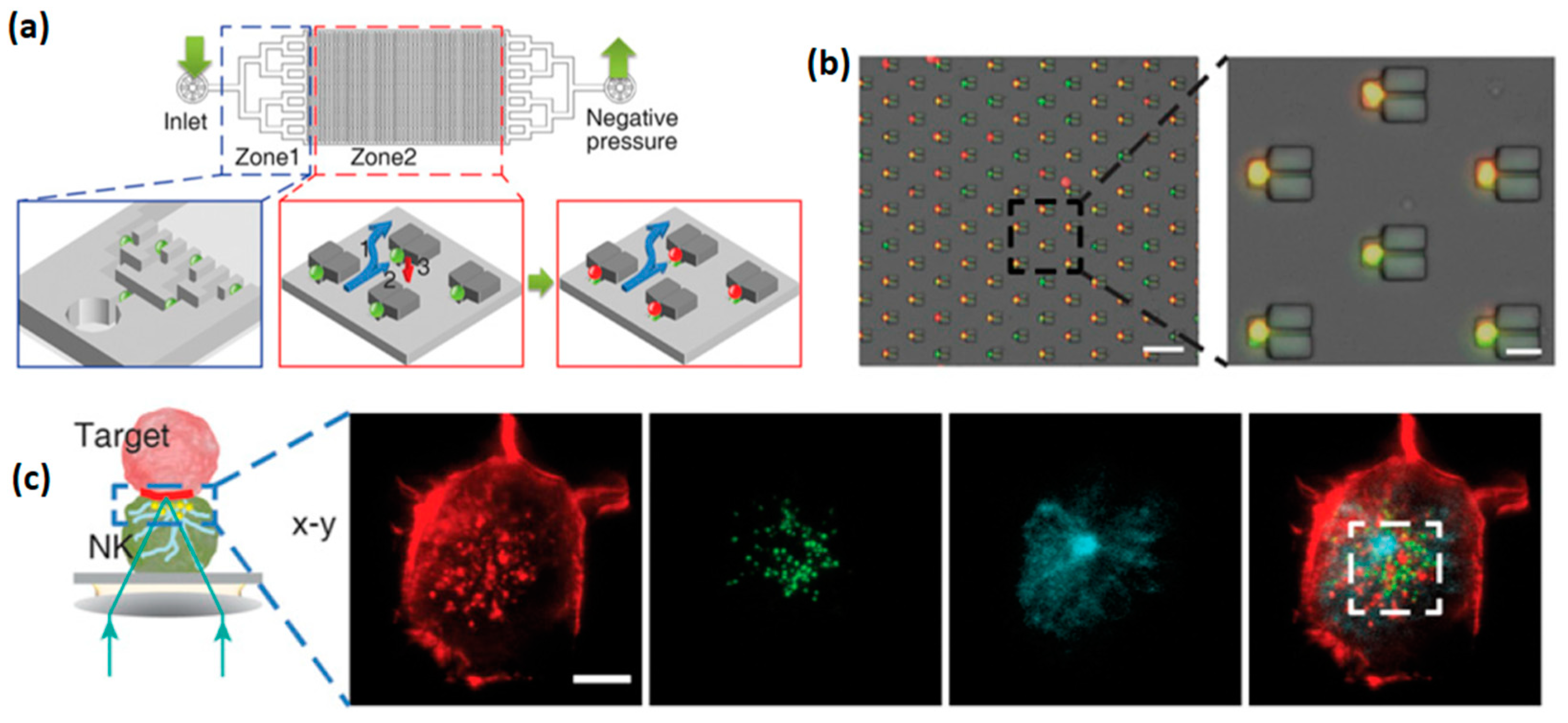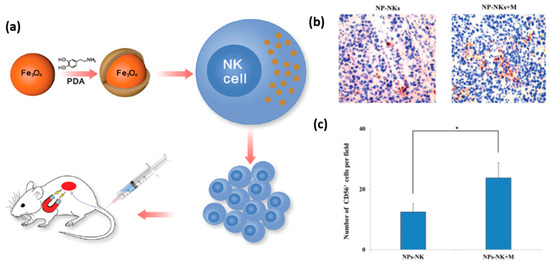 Figure 9.
Functionalized nanoparticles for magnetically guided delivery of NK cells. (
a
) Scheme of the entire experimental setup. (
b
,
c
) Distribution and quantitative analysis of the particle labeled NK cells administered by intravenous injection and accumulated at the tumor site after 12 h, with and without magnetic field (Mag: 200×; *
p
< 0.05). Reproduced from Reference [
74
].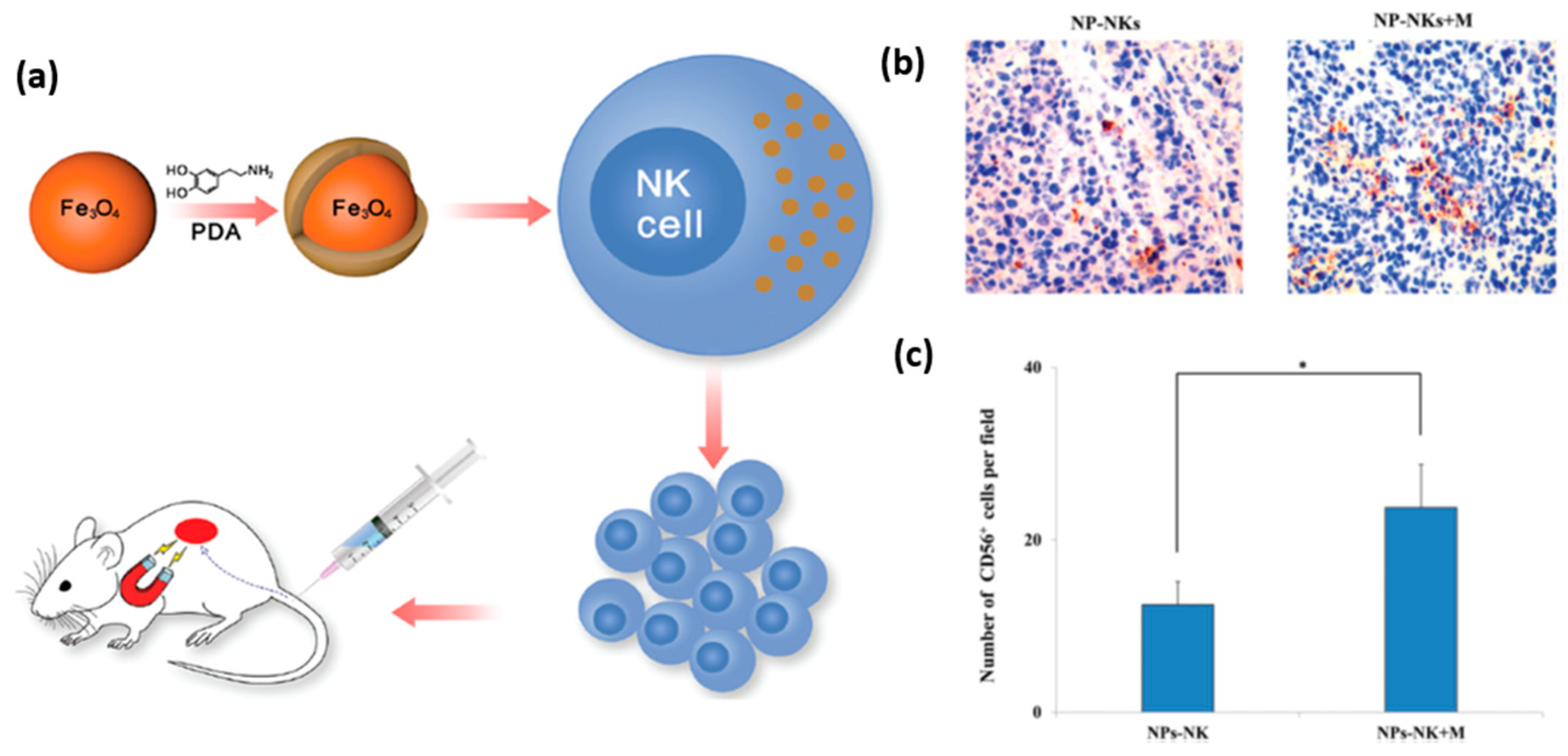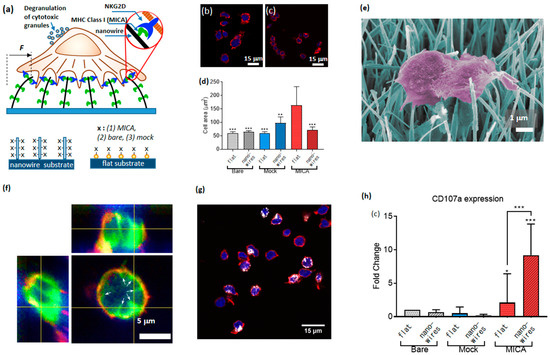 Figure 10.
Nanowire platform for the assessment of NK cell mechanosensing. (
a
) Cartoon of the experimental setup, and 6 conditions used to assess NK cell mechanical activity. (
b
,
c
) NK cells spread on flat MICA and nanowire-MICA surfaces, respectively, (
d
) Quantification of NK cell spreading on the tested surfaces (**
p
< 0.001, ***
p
< 0.0001) (
e
) Scanning electron microscope image of NK cell applying forces into adjacent nanowires. (
f
)
Z
stack of confocal microscopy of NK cells with tagged membrane onto MICA-functionalized, bare, and mock-functionalized nanowires, respectively. Cell membrane (green) and actin (red). The white arrows point onto the projected invaginations of the nanowires in the cell membrane. (
g
) NK cells stimulated on MICA-functionalized nanowire. Here, CD107a expression was quantified by measuring the fluorescence intensity of the APC-labeled anti-CD107a (in white). (
h
) Percentage of CD107a positive NK cells on different surfaces normalized surfaces with bare nanoparticles (*
p
< 0.05, ***
p
< 0.0001) Copyright Wiley-VCH Verlag GmbH & Co. KGaA. Reproduced with permission [
90
].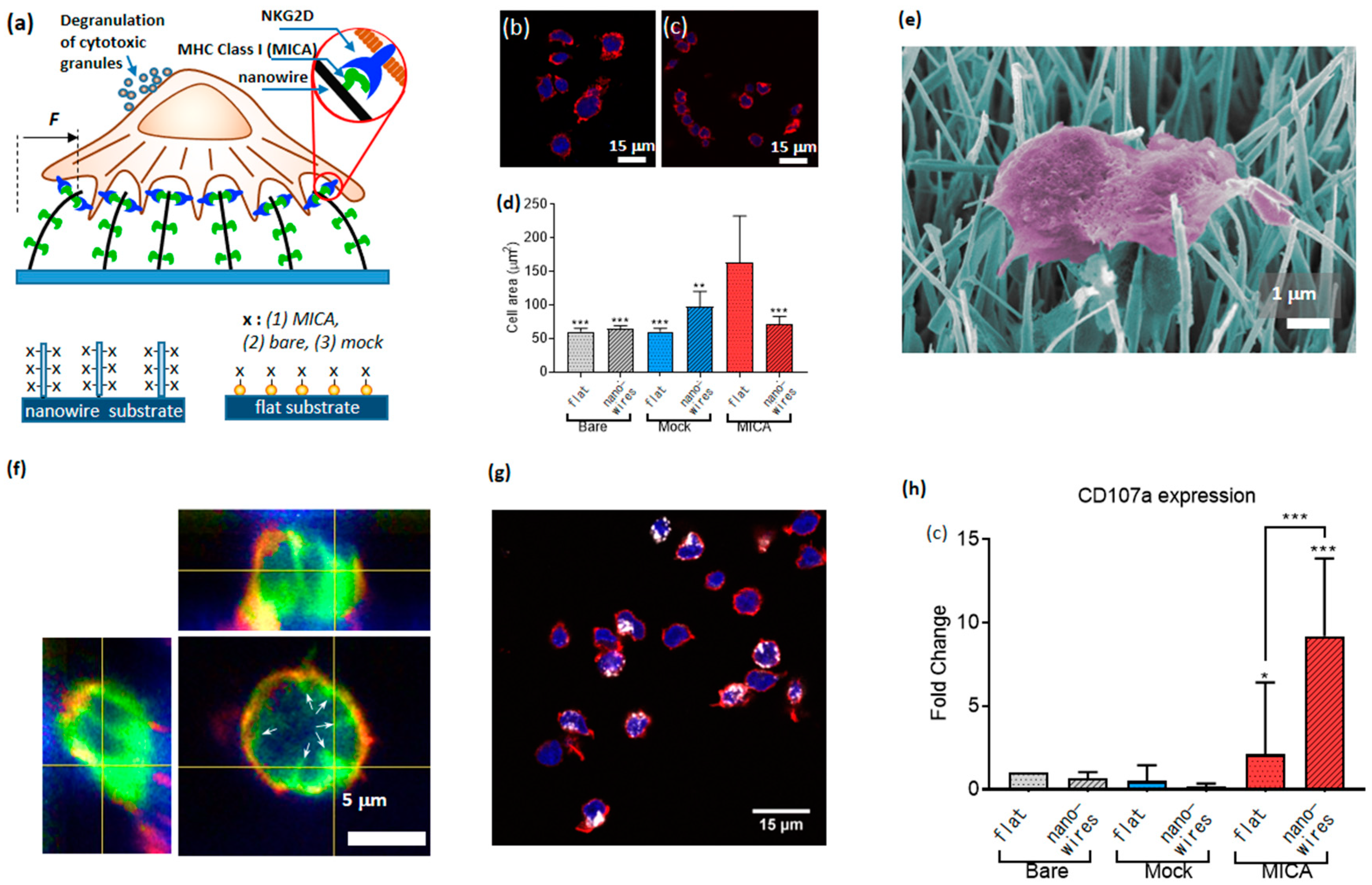 | Type | Function | Major Contribution | General References | References on Application for NK Cells |
| --- | --- | --- | --- | --- |
| Planar lipid bilayer | Mimic the membrane of target sell, and provide supporting 2D medium for mobile ligands | Describing receptor clustering in NK immune synapse | [25,26,27,28,29] | [30,31,32,33,34,35] |
| Ligand nanopatterns | Mimic the spatial distribution of discrete ligands within the membrane of target cell | Elucidating the role of antigen spatial organization in NK cell activation | [36,37,38,39,40,41,42,43] | [44,45] |
| Ligand Micropatterns | Mimic the clustering of ligands within the membrane of target cells | Revealing of the response of NK cells to antigen spatial segregation | [14,46,47] | [48,49,50] |
| Devices for physical guidance of cells | Confine or guide cells for their high-resolution microscopy | Observing the immune response of individual NK cells, and screening of NK cell sub-populations | [51,52,53,54] | [55,56,57,58,59,60,61,62,63,64,65,66,67,68,69] |
| Nanomaterials for the interaction with cells in 3D | Targeted delivery of controllably clustered ligands | Improving the specificity and efficacy of anti-tumor treatment | [70] | [71,72,73,74,75,76,77] |
| Nanodevices for the study of cell mechanical activity | Characterize forces applied by cells and its role in the cell immune function | Exploring mechanosensing in NK cells | [78,79,80,81,82,83,84,85,86,87,88,89] | [90] |

© 2019 by the authors. Licensee MDPI, Basel, Switzerland. This article is an open access article distributed under the terms and conditions of the Creative Commons Attribution (CC BY) license (http://creativecommons.org/licenses/by/4.0/).