Open Access This article is
freely available
re-usable
Review
The Roles of Auxin Biosynthesis YUCCA Gene Family in Plants
1
College of Biotechnology, Jiangsu University of Science and Technology, Zhenjiang 212003, China
2
Key Laboratory of Silkworm and Mulberry Genetic Improvement, Ministry of Agricultural and Rural Areas, Sericultural Research Institute, Chinese Academy of Agricultural Sciences, Zhenjiang 212018, China
*
Author to whom correspondence should be addressed.
Received: 2 November 2019 / Accepted: 12 December 2019 / Published: 16 December 2019
Abstract
:
Auxin plays essential roles in plant normal growth and development. The auxin signaling pathway relies on the auxin gradient within tissues and cells, which is facilitated by both local auxin biosynthesis and polar auxin transport (PAT). The TRYPTOPHAN AMINOTRANSFERASE OF ARABIDOPSIS (TAA)/YUCCA (YUC) pathway is the most important and well-characterized pathway that plants deploy to produce auxin. YUCs function as flavin-containing monooxygenases (FMO) catalyzing the rate-limiting irreversible oxidative decarboxylation of indole-3-pyruvate acid (IPyA) to form indole-3-acetic acid (IAA). The spatiotemporal dynamic expression of different YUC gene members finely tunes the local auxin biosynthesis in plants, which contributes to plant development as well as environmental responses. In this review, the recent advances in the identification, evolution, molecular structures, and functions in plant development and stress response regarding the YUC gene family are addressed.
Keywords:
auxin; local auxin biosynthesis; YUCCA; development; stress response
Author Contributions
X.C. and J.C. conceptualized the paper; X.C. and H.Y. wrote the paper; C.S. and S.M. prepared the figures; and L.L. and J.C. revised the paper and provided supervision. All the authors read and approved the final manuscript.
Funding
This research was financially supported by the National Natural Science Foundation of China (Grant No. 31670306 and 31700527), Research Fund of Jiangsu University of Science and Technology (Grant No. 1732931608), and China Agriculture Research System (Grant No. CARS-18).
Conflicts of Interest
The authors declare no conflict of interest. The funders had no role in the design of the study; in the collection, analyses, or interpretation of data; in the writing of the manuscript; or in the decision to publish the results.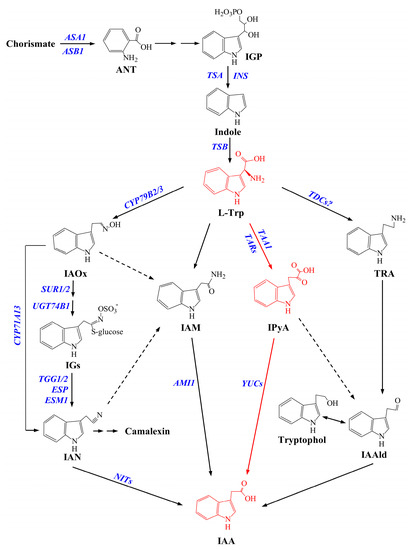 Figure 1.
The auxin biosynthesis pathways identified in plants: Solid arrows indicate pathways in which the enzymes, genes, or intermediates are known, and dashed arrows indicate pathways that are not well defined. The TRYPTOPHAN AMINOTRANSFERASE OF ARABIDOPSIS /YUCCA (TAA/YUC) pathway is depicted in red. Gene abbreviations of the enzymes catalyzing the metabolic reactions are given in blue upper-case italics.
AMI1
: amidase 1; ANT: anthranilate;
ASA1
: anthranilate synthase α subunit 1;
ASB1
: anthranilate synthase β subunit 1;
CYP71A13
: indoleacetaldoxime dehydratase 71A13;
CYP79B
: cytochrome P450 monooxygenase 79B;
ESM
: epithiospecifier modifier;
ESP
: epithiospecifier; IAA: indole-3-acetic acid; IAAld: indole-3-acetaldehyde; IAM: indole-3-acetamide; IAN: indole-3-acetonitrile; IAOx: indole-3-acetaldoxime; IGP: indole-3-glycerol phosphate; IGs: indole glucosinolates;
INS
: indole synthase; IPyA: indole-3-pyruvic acid;
l
-Trp:
l
-tryptophan;
NITs
: nitrilase;
SUR
: S-alkyl-thiohydroximate lyase;
TAA1
: tryptophan aminotransferase of Arabidopsis 1;
TARs
: tryptophan aminotransferases;
TDCs
: tryptophan decarboxylases;
TGG
: myrosinase; TRA: tryptamine;
TSA
: tryptophan synthase subunit A;
TSB
: tryptophan synthase subunit B;
UGT74B1
: UDP-glycosyltransferase 74B1;
YUCs
: YUCCAs.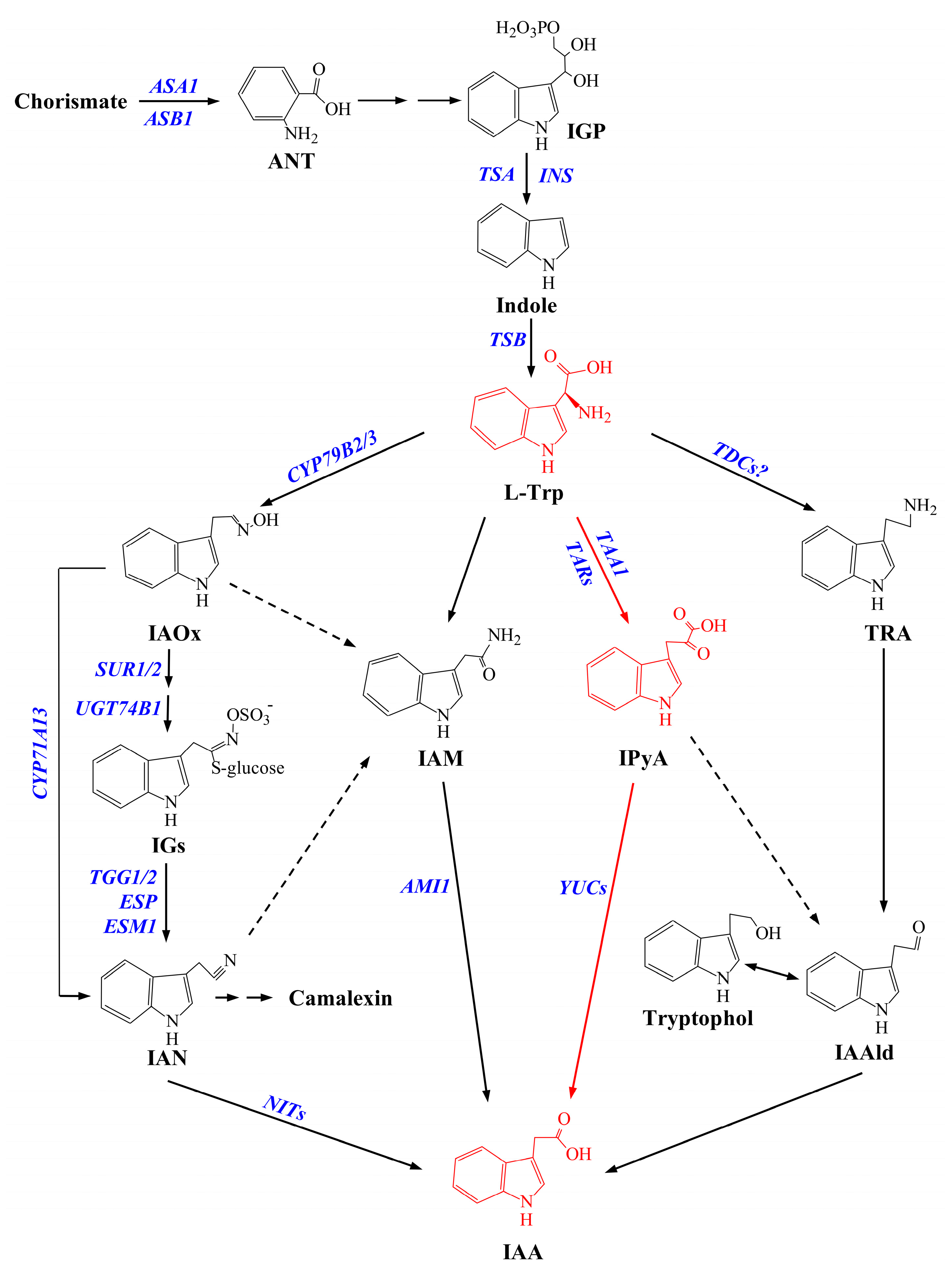 Figure 2. The molecular structure of flavin-containing monooxygenases (FMO) proteins in plants: Several conserved domains closely related to their functions have been identified, including one flavin adenine dinucleotide (FAD)-binding motif, one GG motif, two ATG-containing motifs, one FMO-identify sequence, and one nicotinamide adenine dinucleotide phosphate (NADPH)-binding motif.

Species
Genome
Size (Mb)
Protein No.
Reference
Species
Genome Size (Mb)
Protein No.
Reference

Arabidopsis thaliana

135
11
[15,31,50,51]

Phyllostachys heterocycla

2050
13
[36]

Arabidopsis lyrata

207
11
[44]

Physcomitrella patens

473
6
[44,52]

Amborella trichopoda

748
7
[44]

Phtheirospermum japonicum

-
4
[53]

Brassica rapa

284
18
[44]

Picea abies

20,000
14
[44]

Carica papaya

135
7
[44]

Pinus lambertiana

-
8
[44]

Cucumis sativus

203
10
[54]

Prunus persica

227
7
[44]

Cucumis melo

375
9
[32]

Populus trichocarpa

422.9
12
[37]

Fragaria vesca

240
8
[23,37]

Solanum tuberosum

723
8
[55,56]

Glycine max

978
22
[34,35]

Theobroma cacao

346
7
[44]

Nelumbo nucifera

929
11
[44]

Selaginella moellendorffii

213
3
[44]

Marchantia polymorpha

226
2
[57]

Solanum lycopersicum

900
6
[41]

Medicago truncatula

360
14
[34]

Vitis vinifera

487
8
[44]

Musa acuminate

523
21
[44]

Zea mays

2300
14
[39]

Oryza sativa

372
14
[58]

© 2019 by the authors. Licensee MDPI, Basel, Switzerland. This article is an open access article distributed under the terms and conditions of the Creative Commons Attribution (CC BY) license (http://creativecommons.org/licenses/by/4.0/).