Open Access This article is
freely available
re-usable
Article
Secondary Structural Model of Human MALAT1 Reveals Multiple Structure–Function Relationships
1
Department of Chemistry and Biochemistry, University of Notre Dame, Notre Dame, IN 46556, USA
2
Department of Chemistry and Biochemistry, Biomolecular Science and Engineering Program, University of California at Santa Barbara, Santa Barbara, CA 93106, USA
*
Author to whom correspondence should be addressed.
Received: 24 October 2019 / Accepted: 7 November 2019 / Published: 9 November 2019
Abstract
:
Human metastasis-associated lung adenocarcinoma transcript 1 (MALAT1) is an abundant nuclear-localized long noncoding RNA (lncRNA) that has significant roles in cancer. While the interacting partners and evolutionary sequence conservation of MALAT1 have been examined, much of the structure of MALAT1 is unknown. Here, we propose a hypothetical secondary structural model for 8425 nucleotides of human MALAT1 using three experimental datasets that probed RNA structures in vitro and in various human cell lines. Our model indicates that approximately half of human MALAT1 is structured, forming 194 helices, 13 pseudoknots, five structured tetraloops, nine structured internal loops, and 13 intramolecular long-range interactions that give rise to several multiway junctions. Evolutionary conservation and covariation analyses support 153 of 194 helices in 51 mammalian MALAT1 homologs and 42 of 194 helices in 53 vertebrate MALAT1 homologs, thereby identifying an evolutionarily conserved core that likely has important functional roles in mammals and vertebrates. Data mining revealed that RNA modifications, somatic cancer-associated mutations, and single-nucleotide polymorphisms may induce structural rearrangements that sequester or expose binding sites for several cancer-associated microRNAs. Our findings reveal new mechanistic leads into the roles of MALAT1 by identifying several intriguing structure–function relationships in which the dynamic structure of MALAT1 underlies its biological functions.
Keywords:
long noncoding RNA; secondary structure; MALAT1; m
6
A; cancer
1. Introduction
Over 15,000 long noncoding RNAs (lncRNAs) have been discovered in humans, yet little is known about their structure and function [
1
,
2
]. Metastasis-associated lung adenocarcinoma transcript 1 (MALAT1), also known as nuclear-enriched abundant transcript 2 (NEAT2), is an 8708-nucleotide (nt) lncRNA that is conserved in vertebrates and localizes to nuclear speckles [
3
,
4
]. Aberrant MALAT1 expression is implicated in cancer progression and in metastasis [
5
,
6
,
7
]. How MALAT1 coordinates these various processes is gradually being elucidated from the interacting partners of MALAT1, such as proteins, U1 small nuclear RNA (snRNA), and microRNAs (miRNAs or miRs) [
7
,
8
,
9
,
10
,
11
,
12
,
13
,
14
,
15
]. Roles for MALAT1 in alternative splicing are mediated via interactions with serine/arginine (SR) splicing factors, heterogeneous nuclear ribonucleoprotein (hnRNP) C and hnRNPG, and the U1 snRNA [
8
,
11
,
12
,
13
]. Furthermore, MALAT1 acts as a competitive endogenous RNA, whereby miRNAs are sponged by MALAT1 rather than their mRNA targets [
7
,
16
]. For example, increased MALAT1 expression leads to sponging of miR-217 in pancreatic cancer cells, increasing oncogenic
KRAS
expression [
16
]. Collectively, these interactions with proteins, U1 snRNA, miRNAs, and other factors are likely modulated in part by the MALAT1 structure. While the structure of MALAT1 is largely unknown, four local structures have been determined to date. These structures include hairpins at nts 2509–2537 and 2556–2586, which are binding sites for hnRNPG and C, respectively [
11
,
12
]. At the 3′ end of MALAT1, a triple helix protects mature MALAT1 from a rapid nuclear RNA decay pathway, while a tRNA-like structure, known as MALAT1-associated small cytoplasmic RNA (mascRNA), facilitates 3′-end processing by RNase P [
17
,
18
]. Both the triple helix and mascRNA are highly conserved structures that enabled the discovery of unannotated MALAT1 homologs and MALAT1-like lncRNAs [
4
,
19
,
20
].
Various in vitro and in vivo high-throughput RNA structural mapping techniques have been used to model the secondary structures of human lncRNAs [
2
]. One method is parallel analysis of RNA structure (PARS) whereby RNA is extracted from cells and folded in vitro [
21
]. RNA is then treated with either RNase S1, which cleaves unstructured or single-stranded RNA (ssRNA), or RNase V1, which cleaves structured or double-stranded RNA (dsRNA) before the digested RNA is subjected to RNA-sequencing (RNA-seq) to identify unstructured and structured regions in the transcriptome [
21
]. Another method, dimethyl sulfate-sequencing (DMS-seq), uses DMS to chemically modify unpaired adenosine and cytidine residues in vivo [
22
]. Harvested RNA then undergoes RNA-seq. DMS-reacted bases cause reverse transcriptase to stop, which indicates the presence of unprotected ssRNA [
22
]. DMS-seq has been used to model the structures of HOTAIR,
Xist
, and NEAT1 lncRNAs [
23
,
24
,
25
]. Methods have also been developed to identify RNA–RNA interacting partners. Psoralen analysis of RNA interactions and structures (PARIS) identifies both intra- and intermolecular RNA-RNA interactions in vivo [
26
]. A cell-permeable psoralen derivative, 4-aminomethyl-triloxsalen, intercalates into and photocrosslinks to dsRNA upon exposing living cells to UV light [
26
,
27
]. The crosslinked RNAs are protected from RNase S1 digestion and subjected to RNA-seq. PARIS has been useful at mapping long-range dsRNA interactions in vivo [
26
]. These methods and similar ones provide a foundation for modeling lncRNA secondary structures [
21
,
22
,
23
,
24
,
25
,
26
,
27
,
28
,
29
,
30
,
31
].
Here, we constructed a secondary structural model of human MALAT1 using PARS, DMS-seq, and PARIS datasets along with a minimum free energy (MFE) computational analysis [
21
,
22
,
26
,
27
,
32
]. A phylogenetic sequence analysis of 53 MALAT1 homologs from human through non-mammalian vertebrates revealed that 42 helices out of 194 are found in vertebrates. Furthermore, we mapped known protein-binding sites, intermolecular RNA interaction sites for miRNAs and other RNAs, RNA modifications, somatic cancer-associated mutations, and single-nucleotide polymorphisms (SNPs) to relate structure to prior functional observations of MALAT1. Most notably, this analysis revealed a long-range intramolecular RNA–RNA interaction whose formation likely depends upon the methylation of A5044 and would sequester binding sites for two cancer-associated miRNAs, miR-101 and miR-217. With a working secondary structural model of human MALAT1, this study provides a platform to begin experimentally testing structure–function relationships potentially implicated in cancer and/or metastasis.
3. Discussion
An emerging theme from our study is that the structure of MALAT1, which can be perturbed by RNA modifications, mutations in cancer, and SNPs, plays a critical role in mediating MALAT1–miRNA interactions in cancer. We further demonstrated, with the first secondary structural model of the 8425-nt human MALAT1 lncRNA, that biocomputational approaches can be used to deduce working models of lncRNA secondary structures. Our model suggests that various structures and interacting partners may contribute to MALAT1 function beyond being a simple miRNA or protein sponge. Rather, our model suggests that MALAT1, and perhaps many other lncRNAs, may function like a rheostat or an RNA-based regulator of numerous genes based on dynamic interacting partners and dynamic structures of the lncRNA.
Data Availability Statement
Author Contributions
Conceptualization, P.J.M. and J.A.B.; Methodology, P.J.M.; Formal Analysis, P.J.M., M.C.W., L.J., J.A.B.; Data Curation, P.J.M.; Writing—Original Draft Preparation, P.J.M.; Writing—Review & Editing, P.J.M., M.C.W., L.J., J.A.B.; Supervision, L.J., J.A.B.; Funding Acquisition, L.J., J.A.B.
Acknowledgments
This study was supported by startup funds from the University of Notre Dame and the Clare Boothe Luce Program of the Henry Luce Foundation to J.A.B. L.J. was supported by the UCSB Academic Senate for Intramural Research Grants from UCSB. We wish to thank the members of the Brown laboratory and Linda Kawentel for their valuable comments and feedback. We thank Kyle Dubiak and Leah Campbell for assistance with
Figure 1
. We thank the Notre Dame Institute for Advanced Study for supporting L.J. We acknowledge that some of the publicly available data used in this study were obtained using HEK and hESC cell lines; the authors do not agree with nor encourage research performed on these particular cell lines.
Conflicts of Interest
The authors declare no conflicts of interest.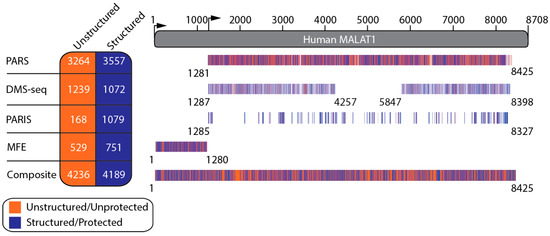 Figure 1.
Overview of structural assignments for each nucleotide in human MALAT1. PARS data [
21
], DMS-seq data [
22
], PARIS data [
26
,
27
], and minimum free energy (MFE) calculations [
29
,
32
] were collectively used to construct a composite structural landscape for each nucleotide in MALAT1 (nts 1–8425). The orange lines represent individual nucleotide positions that were designated as unstructured based on PARS datasets and MFE calculations and unprotected adenosine or cytidine residues based on the DMS-seq dataset. The blue bars represent individual nucleotide positions that were designated as structured based on PARS datasets and MFE calculations and as protected adenosine or cytidine residues based on the DMS-seq dataset. The number of nucleotides that are unstructured/unprotected (orange column) or structured/protected (blue column) for PARS, DMS-seq, PARIS, MFE, and the composite model are listed in the table to the left. PARIS data that overlap with unstructured or structured regions of the MALAT1 transcript are presented as either orange or blue, respectively. The short arrow represents the transcription start site of the full-length
malat1
gene (nts 1–8708), while the tall arrow represents the transcription start site of the major variant of the
malat1
gene (nts 1284–8708).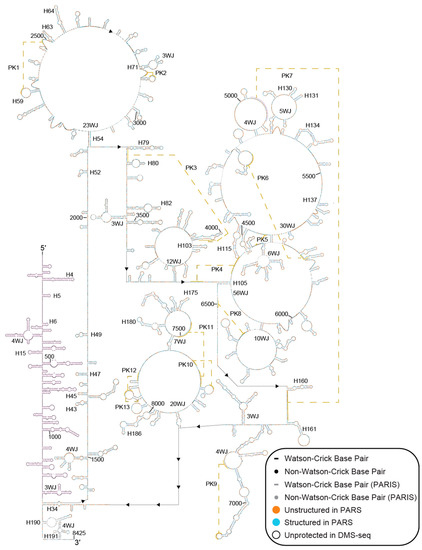 Figure 2.
The secondary structural model of human MALAT1. The secondary structures for the composite model are shown with PARS, DMS-seq, and PARIS data annotated as follows: Watson–Crick base pairing (line) and non-Watson–Crick base pairing (dots) are black unless detected by PARIS (gray lines and dots); nucleotide positions with orange and blue circles represent nucleotides that were unstructured and structured, respectively, in PARS and the black outline denotes adenosine and cytidine residues considered unprotected in DMS-seq. The structure of nts 1–1280 (purple) was determined only using MFE calculations from RNAfold [
32
]. Secondary structures are labeled as follows: H for helix, PK for pseudoknot, and multiway junction as WJ, which is preceded by the number of junctions (e.g., 3WJ for a three-way junction). Each secondary structure is numbered in order of appearance from 5′ to 3′. For clarity, only helices specifically mentioned in the text are labeled; see
Table S1
for a complete list of named structures. The solid lines with an arrowhead in the middle of the line denote 0 nt distance. The yellow dashed lines indicate RNA–RNA interactions in helices or pseudoknots. SAVoR and VARNA were used to visualize the model [
33
,
34
].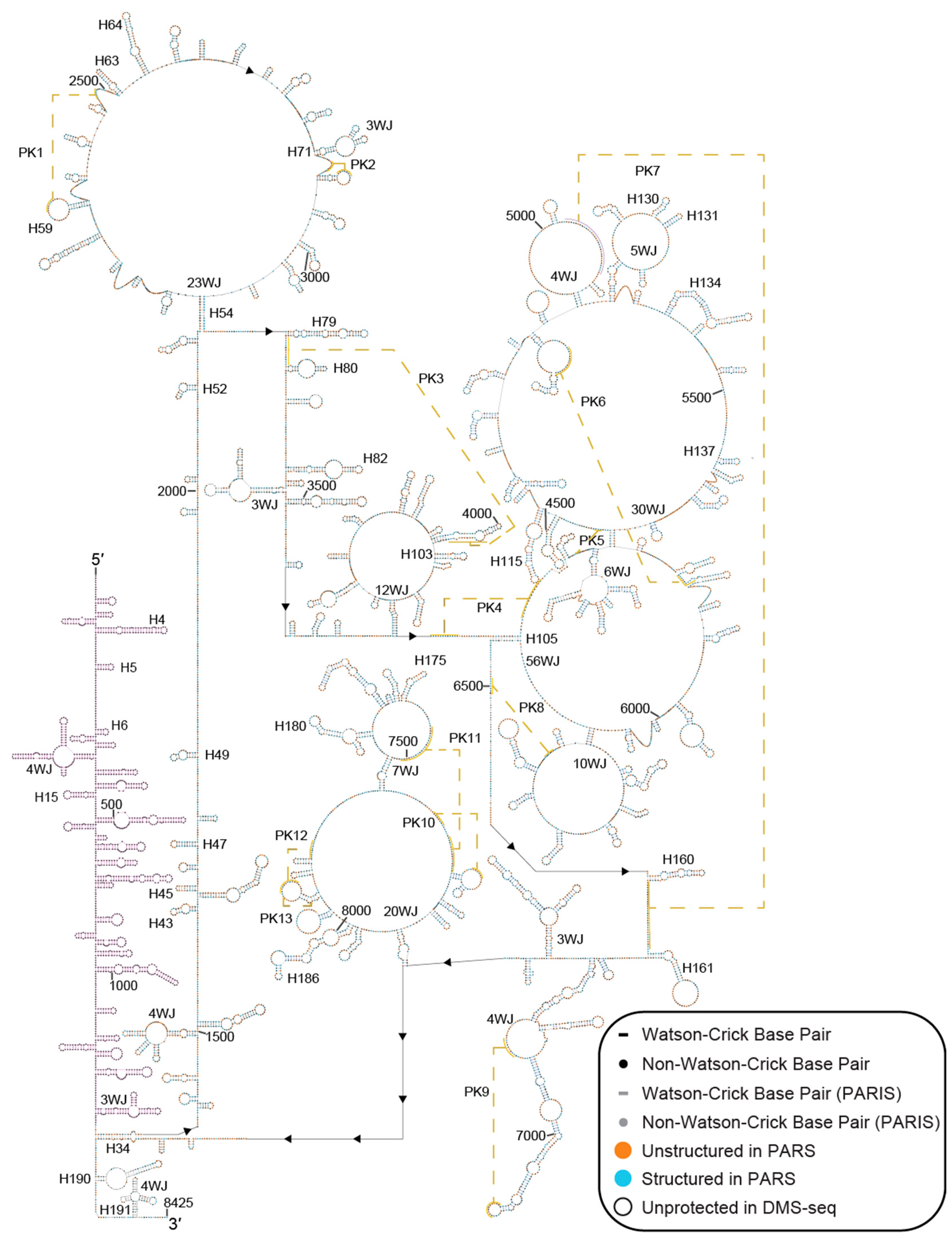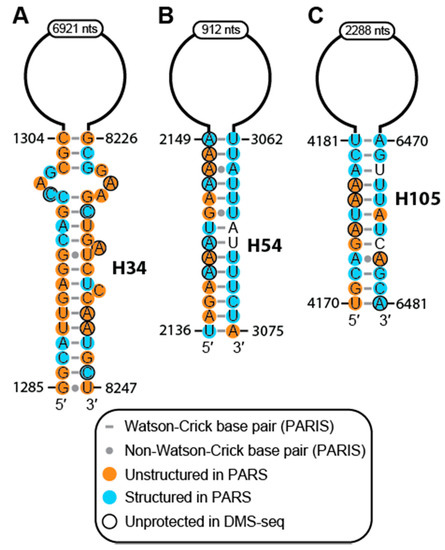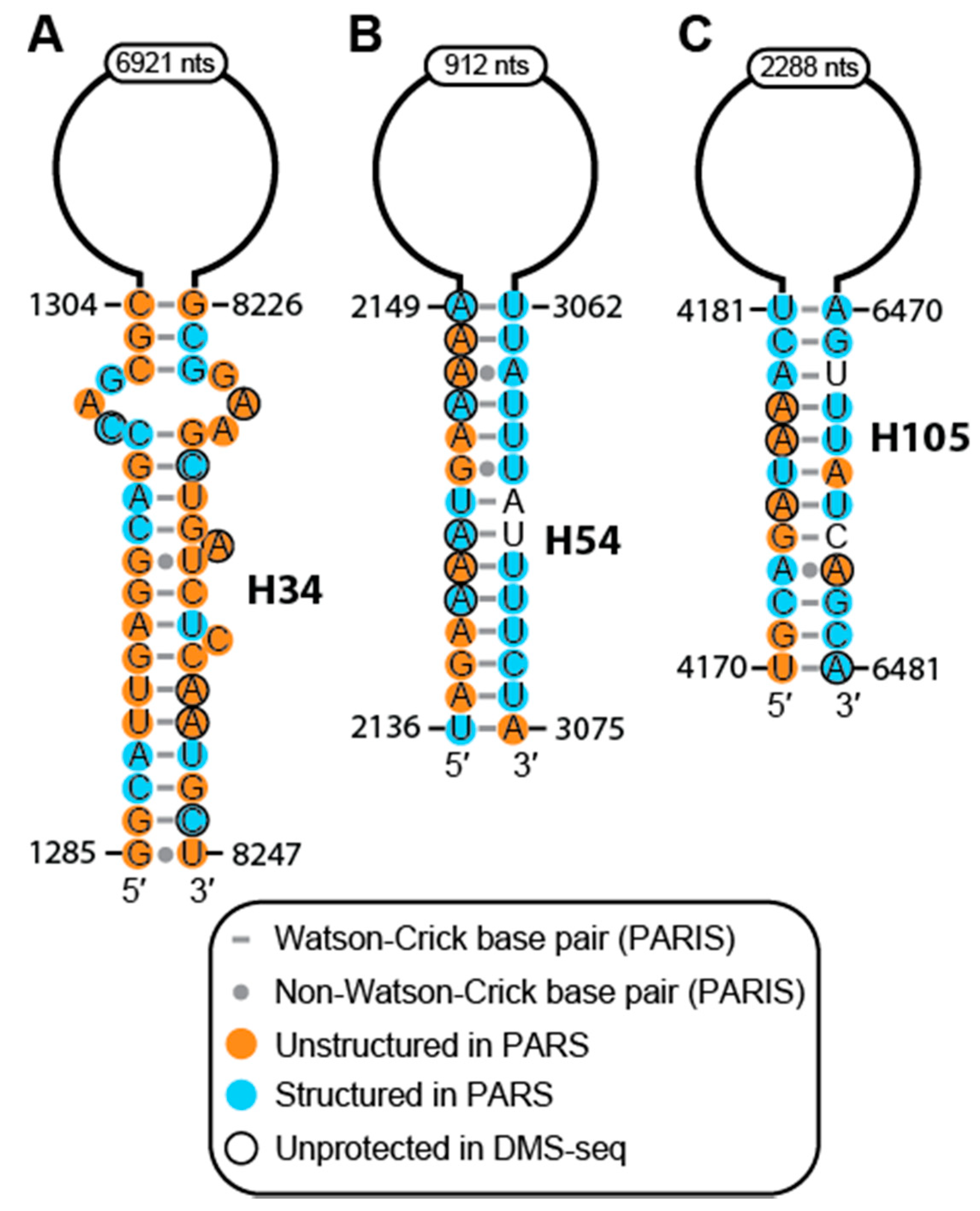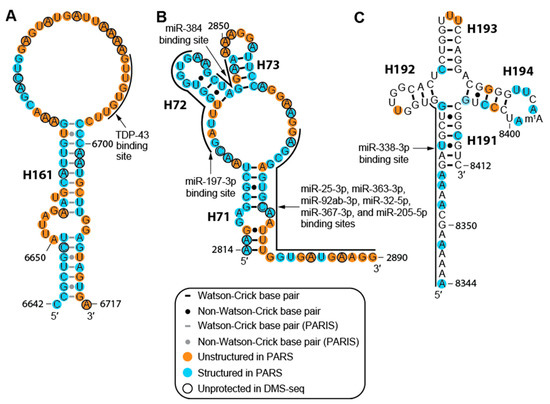 Figure 4.
Select protein- and miRNA-binding sites mapped onto the MALAT1 structural model. (
A
) The TDP-43 binding site at the predicted loop of H161 consists of single-stranded UG/GU repeats [
10
]. (
B
) H71-H73 have eight miRNA-binding sites. Of these, miR-25-3p, miR-205-5p, and miR-363-3p have been experimentally validated, while the other miRNA binding sites are predicted based on starBase, a repository of putative and experimentally validated interacting partners of RNAs [
15
,
44
,
45
,
46
]. (
C
) Select triple helix-forming nts (8345–8355) and the 5′ stem of H191 contain a validated binding site for miR-338-3p [
47
]. All PARS, DMS-seq, and PARIS data are annotated as in
Figure 2
.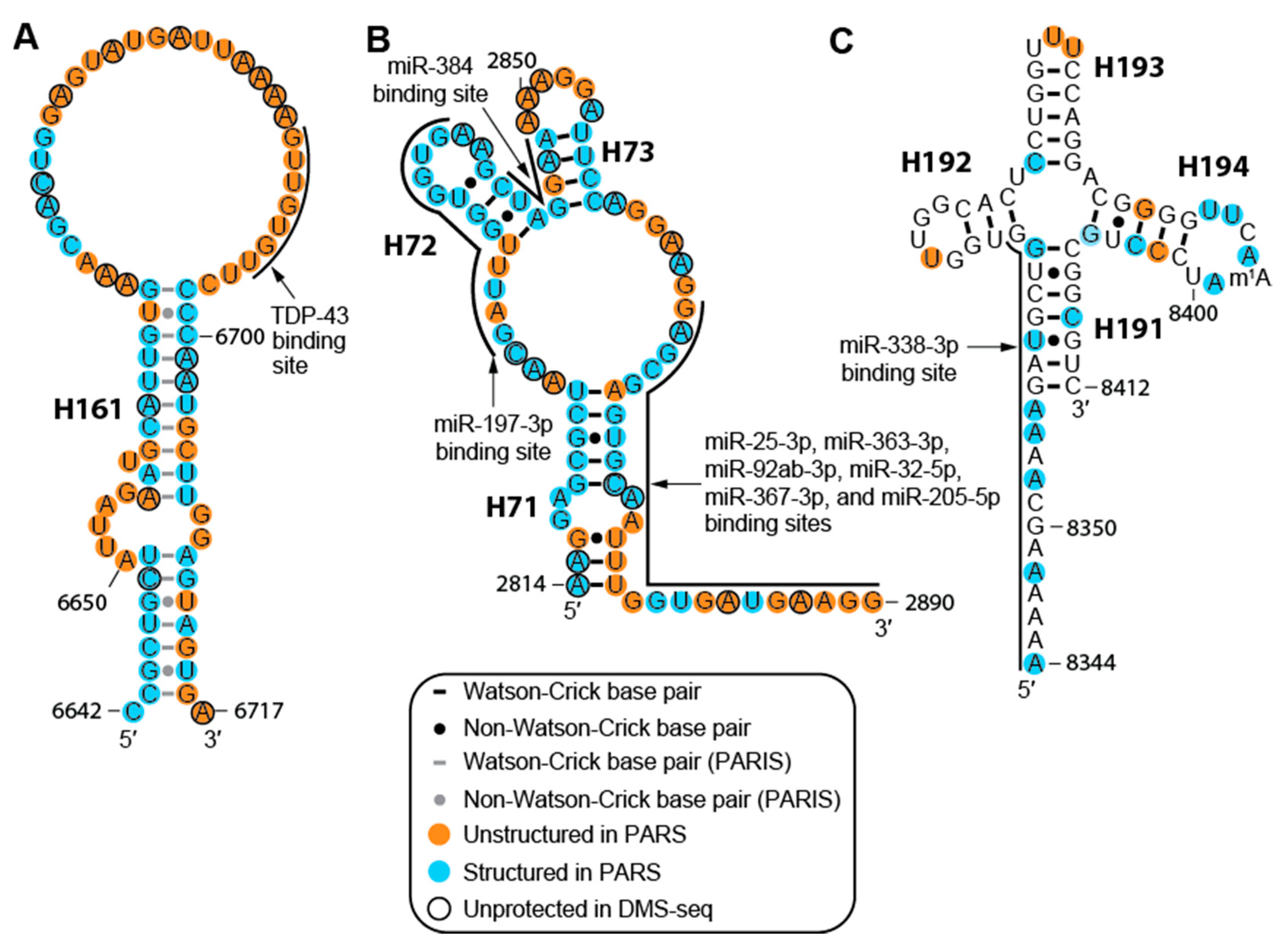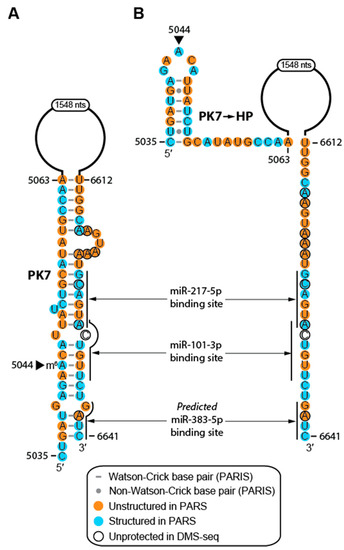 Figure 5.
m
6
A status of A5044 differentially regulates the structure of PK7 in human cells. (
A
) PK7 is a helix that bridges 1548 nts in MALAT1 and was detected by PARIS in HEK293T cells. m
6
A5044 (marked by a caret, ►) was observed by prior (m
6
A/MeRIP-seq) experiments in HEK293T cells [
43
]. Binding sites for miR-217-5p, miR-101-3p, and the predicted binding site for miR-383-5p were determined from prior experiments [
15
,
16
,
61
,
62
]. (
B
) PK7→HP is the predicted structure that forms based on PARIS experiments in HeLa cells [
26
,
27
]. The m
6
A5044 mark has not been detected in HeLa cells [
43
]. All PARS, DMS-seq, and PARIS data are annotated as described in
Figure 2
.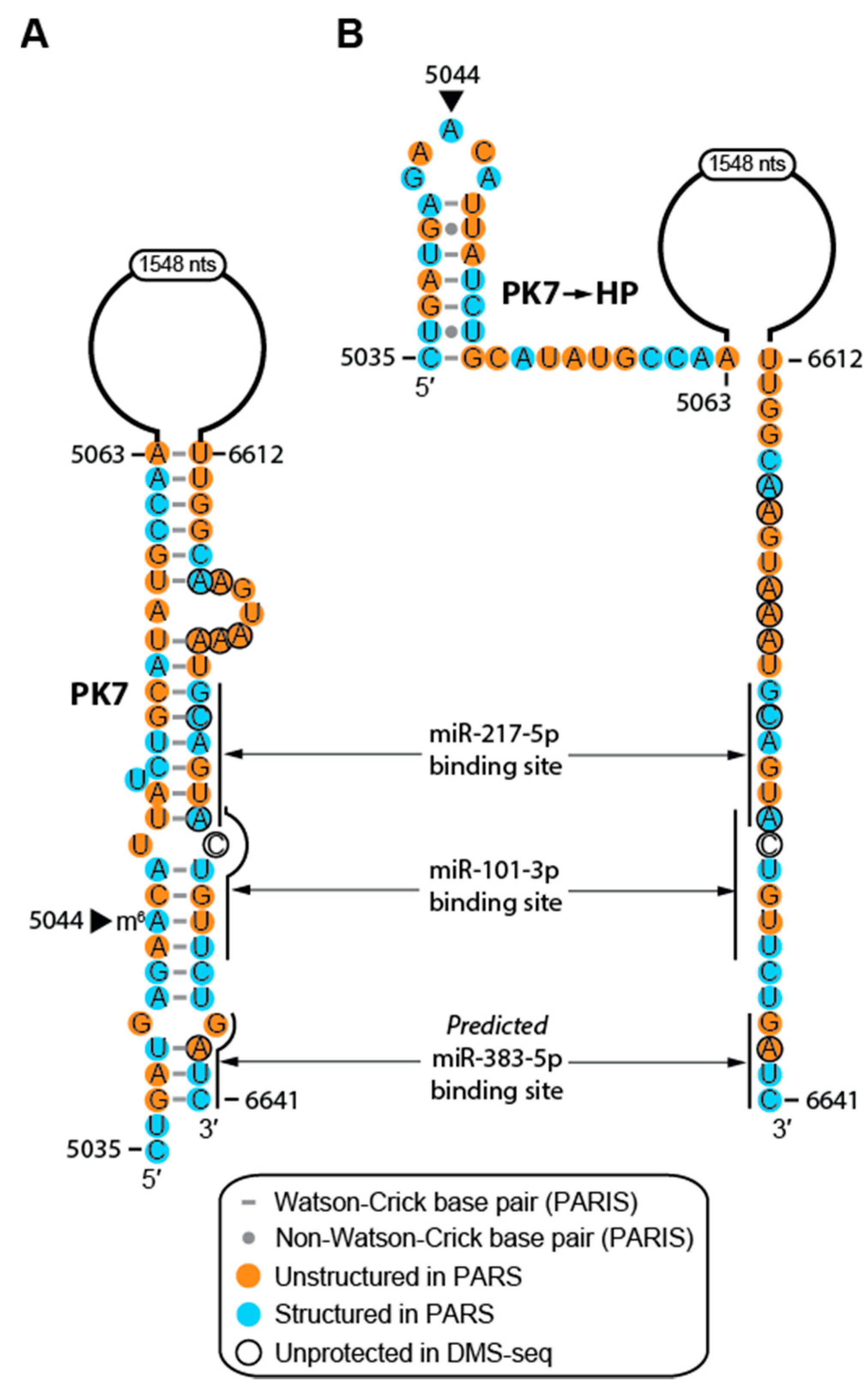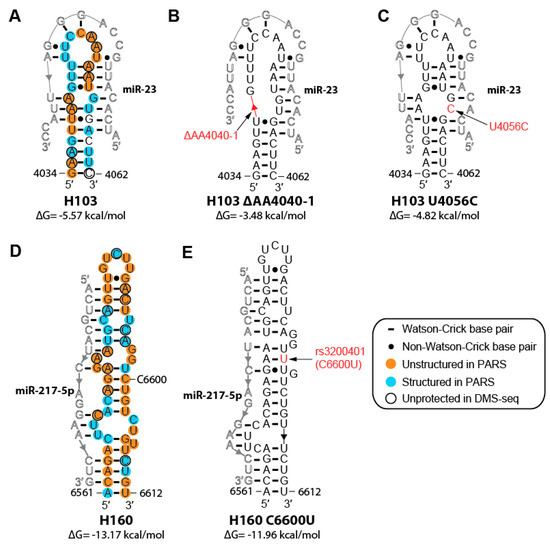 Figure 6.
Predicted structural changes of helices and miRNA-binding sites by cancer-associated mutations and by SNP rs3200401. Schematics of the secondary structure of human H103 interacting with miR-23 [
65
,
66
] for (
A
) WT MALAT1, (
B
) the A4040/A4041 double deletion (red line) in breast invasive carcinoma (BRCA) [
63
], and (
C
) the U4056C substitution (red) in uterine corpus endometrial carcinoma (UCEC) [
63
]. Schematics of the secondary structure of human H160 interacting with miR-217-5p [
16
] for (
D
) WT MALAT1 and (
E
) the C6600U (red) SNP. All PARS and DMS-seq data are annotated as described in
Figure 2
. Predicted secondary structures and ΔG values of H103 and H160 mutants were determined using RNAfold [
32
].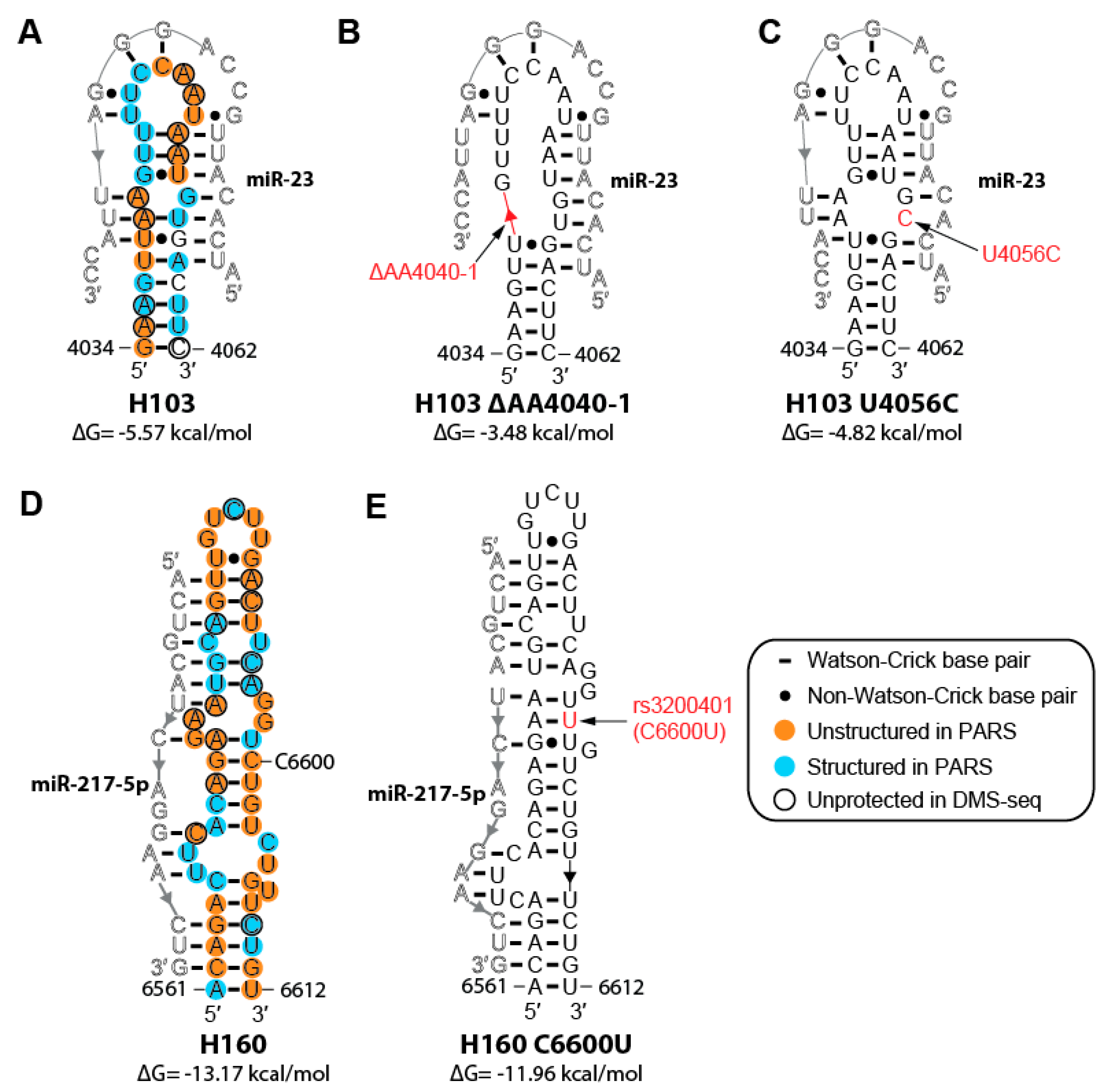 Table 1.
m
6
A marks in MALAT1 isolated from several human cell lines. All data were obtained from the m
6
AVar database [
42
,
43
,
59
]. "+" represents the presence of an m
6
A mark and "-" represents the absence of an m
6
A mark. Abbreviations for select human cell lines are as follows: CD8T are CD8-positive T cells, GM are GM12878 cells, hESC are human embryonic stem cells, Neuro are neuroprogenitor cells, and PA-HeLa indicates that photoactivatable crosslinks were generated in HeLa cells when preparing RNA for sequencing.
m6A
CD8T
GM
HEK
293T
hESC
Neuro
A549
AML
H1299
HepG2
HeLa
PA-HeLa
1763
-
-
+
-
-
-
-
-
-
-
-
2414
-
-
+
-
-
-
-
-
-
-
-
2515
+
-
+
+
+
+
+
+
+
+
-
2577
+
+
+
+
+
+
+
+
+
+
-
2611
+
+
+
+
+
+
+
+
+
+
+
2720
+
-
+
-
-
+
-
-
-
+
+
3752
-
-
+
-
-
-
-
-
-
-
-
4457
-
-
+
-
-
-
-
-
-
-
+
5044
+
-
+
-
+
+
-
-
-
-
-
6924
-
-
+
-
-
-
-
-
-
-
-
8181
+
-
+
-
-
-
-
-
-
-
-
8290
-
-
+
-
-
-
-
-
-
-
-
Normal
Cancer

© 2019 by the authors. Licensee MDPI, Basel, Switzerland. This article is an open access article distributed under the terms and conditions of the Creative Commons Attribution (CC BY) license (http://creativecommons.org/licenses/by/4.0/).