Open Access This article is
freely available
re-usable
Article
RNA-Seq-Based Comparative Transcriptome Analysis Highlights New Features of the Heat-Stress Response in the Extremophilic Bacterium
Deinococcus radiodurans
1
Biotechnology Research Institute, Chinese Academy of Agricultural Sciences, Beijing 100081, China
2
Microbial Processes and Interactions (MiPI), TERRA Teaching and Research Centre, Gembloux Agro-Bio Tech, University of Liège, 5030 Gembloux, Belgium
3
School of Food and Pharmaceutical Engineering, Nanjing Normal University, Nanjing 210023, China
4
Department of Plant Science, School of Agriculture and Biology, Shanghai Jiao Tong University, Shanghai 200240, China
5
College of Life Science and Engineering, Southwest University of Science and Technology, Mianyang 621000, China
*
Authors to whom correspondence should be addressed.
Received: 5 September 2019 / Accepted: 7 November 2019 / Published: 9 November 2019
Abstract
:
Deinococcus radiodurans
is best known for its extraordinary resistance to diverse environmental stress factors, such as ionizing radiation, ultraviolet (UV) irradiation, desiccation, oxidation, and high temperatures. The heat response of this bacterium is considered to be due to a classical, stress-induced regulatory system that is characterized by extensive transcriptional reprogramming. In this study, we investigated the key functional genes involved in heat stress that were expressed and accumulated in cells (R48) following heat treatment at 48 °C for 2 h. Considering that protein degradation is a time-consuming bioprocess, we predicted that to maintain cellular homeostasis, the expression of the key functional proteins would be significantly decreased in cells (RH) that had partly recovered from heat stress relative to their expression in cells (R30) grown under control conditions. Comparative transcriptomics identified 15 genes that were significantly downregulated in RH relative to R30, seven of which had previously been characterized to be heat shock proteins. Among these genes, three hypothetical genes (
dr_0127
,
dr_1083
, and
dr_1325
) are highly likely to be involved in response to heat stress. Survival analysis of mutant strains lacking DR_0127 (a DNA-binding protein), DR_1325 (an endopeptidase-like protein), and DR_1083 (a hypothetical protein) showed a reduction in heat tolerance compared to the wild-type strain. These results suggest that DR_0127, DR_1083, and DR_1325 might play roles in the heat stress response. Overall, the results of this study provide deeper insights into the transcriptional regulation of the heat response in
D. radiodurans
.
Keywords:
Deinococcus radiodurans
; recovery; RNA-Seq; heat stress; novel heat-related gene; cell wall damage
4. Materials and Methods
4.1. Strain and Growth Conditions
D. radiodurans
was obtained from the China General Microbiological Culture Collection Center (CGMCC 1.633, Beijing, China).
D. radiodurans
was cultured at 30 °C in TGY medium (1% tryptone, 0.5% yeast extract, and 0.1% glucose) with shaking at 220 rpm/min.
4.2. Heat Stress Treatment of D. radiodurans and Recovery Conditions
Bacterial cells were pre-cultured in TGY to an OD
600
= 2, were harvested by centrifugation at 7000×
g
for 3 min, washed twice in sterile phosphate-buffered saline (PBS, 0.02% KH
2
PO
4
, 0.29% Na
2
HPO
4
·12H
2
O, 0.8% NaCl, 0.02% KCl, pH 7.5), and resuspended in fresh TGY broth to the same cell density. For heat stress, cells were incubated at 48 °C for 2 h. They were then collected by centrifugation and resuspended to the same OD in TGY pre-conditioned at 30 °C. Bacteria were transferred to a second incubator pre-set at 30 °C and grown as a recovery culture for 0.5, 1, 1.5, or 2 h. A total of 100 μL was collected for dilution and plating onto solid TGY medium to calculate the number of colony-forming units (CFU). Cells that did not receive the heat treatment (2 h of growth at 30 °C) served as controls.
For transcriptomics, cells were treated at 48 °C for 2 h and then divided into two samples (1 and 2). Cells from sample 1 that were harvested by centrifugation at 12,000×
g
for 3 min and stored at −80 °C served as heat-treated group (R48). Cells from sample 2 that were centrifuged at 7000×
g
for 3 min, washed twice in PBS, and transferred to fresh TGY medium for recovery growth at 30 °C for 2 h served as the recovery group (RH). The restored cells were harvested by centrifugation at 12,000×
g
for 3 min and stored at −80 °C. Untreated
D. radiodurans
bacteria were used as the control (R30). All assays were performed in triplicate.
4.3. TEM and Fluorescence Assay
For TEM analysis, cells grown to OD
600
= 2.0 were washed twice with PBS. The cells in the three treatment groups were collected and fixed overnight with 2.5% glutaraldehyde at 4 °C and then embedded in 2% agarose after centrifugation at 3000×
g
. Thin sections of the samples were stained with uranyl acetate for 15 min and observed using a Hitachi H-7650 transmission electron microscope (Hitach, Tokyo, Japan).
Cell viability after heat treatment was studied by staining with specific fluorochromes followed by epifluorescence microscopy. Cells were stained using a BacLight
TM
RedoxSensor
TM
Green Vitality Kit (ThermoFisher, MA, USA) containing PI and RSG.
D. radiodurans
cells were washed with PBS. This kit is convenient and easy-to-use for monitoring the viability of bacterial populations as a function of cell membrane integrity. Cells with a compromised membrane, which are considered dead or dying, stain red (PI), whereas cells with an intact membrane stain green (RSG). A fluorescence assay was performed using a 100× oil immersion lens with a
Nikon
T
i
2 inverted fluorescence microscope and processed with the NIS-Elements (
Nikon
, Tokyo, Japan).
4.4. Total RNA Extraction, complementary DNA (cDNA) Library Preparation, and Sequencing
Total cellular RNA was extracted from
D. radiodurans
using TRIzol reagent (Invitrogen, Thermo Fisher, MA, USA), Lysing Matrix Tubes (MP Bio, CA, USA), and the PureLink RNA Mini Kit (Invitrogen, Thermo Fisher, MA, USA) following the manufacturer's instructions. RNA purity was assessed using a NanoDrop
®
spectrophotometer (Thermo Fisher, MA, USA). The RNA concentration was measured using a Qubit
®
RNA Assay Kit and a Qubit
®
3.0 Fluorometer (Life Technologies, CA, USA). RNA integrity (RIN) was assessed using an RNA Nano 6000 Assay Kit and the Bioanalyzer 2100 system (Agilent Technologies, CA, USA), RIN > 9.5.
A total of 1 μg of high-quality RNA per sample was used as the input material for library preparation. Sequencing libraries were generated using a VAHTS Total RNA-Seq Library Prep Kit for Illumina® (Vazyme, NR603), following the manufacturer's recommendations. Following purification, the RNA was fragmented into small pieces using divalent cations under an elevated temperature. The cleaved RNA fragments were copied into first-strand cDNA using reverse transcriptase and random primers. Strand specificity was achieved by replacing dTTP with dUTP in 2nd strand marking buffer, followed by second-strand cDNA synthesis using DNA Polymerase I and RNase H. Then, the cDNA fragments were end-repaired with the addition of a single "A" base at the 3′-end of each strand and subsequently ligated to special sequencing adapters (Vazyme, N803). PCR was performed, and the products were purified. The library concentration was measured using a Qubit® RNA Assay Kit in Qubit® 3.0 for preliminary quantification. The sizes of the inserted fragments were assessed using the Agilent Bioanalyzer 2100 system, and high-quality insert fragments were accurately amplified using qPCR with the StepOne Plus Real-Time PCR system (ABI, USA). Clustering of the index-coded samples was performed on the cBot Cluster Generation System (Illumina, USA) according to the manufacturer's instructions. Then the well-prepared library was sequenced using the Illumina HiSeq X Ten platform with a 150-bp paired-end module. All samples were sequenced three times.
4.5. Assembly and Functional Enrichment Analyses of DEGs
Clean reads with an average length of 150 bp were achieved after removing contaminated, poly-N and low-quality sequences from the raw reads. On average, 30.6 million transcripts were mapped to the reference genome with sample sizes ranging between 28.3 and 40.2 million reads (
Supplementary Table S3
). Pearson correlation analysis showed that the overall expression levels among the three biological replicates of each group were highly similar (R
2
> 0.92;
Supplementary Figures S6 and S7
), indicating that the RNA-Seq data were suitable for pairwise statistical comparisons. The reference genome and gene model annotation files of D. radiodurans were directly collected from the genome website (
https://www.ncbi.nlm.nih.gov/genome/1020?genome_assembly_id=300483
). The reference genome index was built using Bowtie2 (v2.2.9) [
50
], and paired-end clean reads were aligned to the reference genome using TopHat (v2.1.1) [
51
]. The mapped reads of each sample were assembled using Cufflinks (v2.2.1) [
52
] with a reference-based approach. Cufflinks uses a probabilistic model to simultaneously assemble and quantify the expression levels of a minimal set of isoforms, which provides a maximum likelihood explanation of the expression data for a given locus. Cuffdiff (v1.3.0) [
52
] was used to calculate the FPKMs of the coding genes in each sample. The gene FPKMs were computed by summing the FPKMs of the transcripts in each gene group. Cuffdiff (v2.2.1) [
52
] provides statistical routines for determining differential expression in a digital transcript or gene expression dataset using a model based on a negative binomial distribution. Genes with corrected
p
-values less than 0.05 and absolute log
2
values (fold changes) >1.5 were considered significant DEGs.
4.6. GO and KEGG Enrichment Analysis
GO is a standardized system for classifying gene functionality and provides a dynamically-updated controlled vocabulary for fully characterizing gene properties and products in organisms. GO analysis is classified into three domains: biological processes, cellular components, and molecular functions of gene products. GO enrichment analysis of the DEGs was performed with the Perl module (GO::TermFinder) [
53
]. GO terms with a corrected
p
-values less than 0.05 were considered to be significantly enriched among the DEGs. In vivo, different genes coordinate with each other to perform their biological functions, and pathway-based analysis is helpful to understand the biological functions of gene interactions in various pathways. KEGG is a major public database containing manually-drawn pathway maps representing knowledge of molecular interactions and reaction networks. R functions (phyper and
q
-value) were used to test for the statistical enrichment of the DEGs among the KEGG pathways. KEGG pathways with corrected
p
-values less than 0.05 were considered to be significantly enriched for the DEGs.
4.7. qRT-PCR Validation
We randomly selected several genes with or without detectably differential expression for subsequent qRT-PCR analysis to verify the quality of the sequencing data. Total RNA was extracted as described for the cDNA library preparation, and RNA was used for cDNA synthesis using a PrimeScript
TM
RT reagent kit with gDNA Eraser (TaKaRa) as described in the manufacturer's protocol. Subsequently, qRT-PCR was performed using ChamQ SYBR qPCR Master Mix (Vazyme Biotech Co., Ltd., China) on a 7500 Fast Real-time PCR System (Applied Biosystems, USA). The primers are listed in
Supplementary Table S4
. The 16S rRNA gene was used as the endogenous reference control to normalize differences in total RNA quantity, and relative gene expression was quantified by the 2
−ΔΔ

C

T
method. Three biological replicates for each condition were conducted.
4.8. Construction of Gene Deletion Mutant Strains and Heat Stress Phenotype Assays
Mutant strains lacking
dr_0127
,
dr_1325
, and
dr_1083
were constructed by fusion PCR recombination of a spectinomycin resistance cassette into the genome as previously described [
54
]. Briefly, fusion PCR products for the
dr_0127
,
dr_1325
, and
dr_1083
deletions were constructed in two steps. In the first step, three different PCRs were used to generate fragments complementary to the spectinomycin-resistance gene from the plasmid pKatAAD2 (896 bp) and the upstream and downstream regions (500 bp each) of the
dr_0127
,
dr_1325
, and
dr_1083
sequences using the appropriate primer pairs (
Supplementary Table S4
). In the second step, the upstream, spectinomycin-resistance gene and downstream fragments were annealed at their overlapping regions and PCR amplified as a single fragment using the outer primers (1896 bp). The resulting PCR fragment was directly transformed into
D. radiodurans
. Colonies resistant to spectinomycin (340 μg/mL) were selected, and these mutants were subsequently verified by PCR and DNA sequencing, and named Δ
dr_0127
, Δ
dr_1325
, and Δ
dr_1083
.
Cells were grown in TGY medium with the appropriate antibiotics to OD600 = 2 at 30 °C and were then shifted to 48 °C for 4 h. Subsequently, 100 μL of the cell suspension was aliquoted into 900 μL of PBS, after which 10-fold serial dilutions were made for all the strains, and 8 µL of each dilution was spotted onto TGY agar plates. These plates were incubated at 30 °C for 3 days before colony growth was observed and calculated. All assays were performed in triplicate.
4.9. Statistical Analysis
All experiments were repeated at least three times with identical or similar results. The mean values from the individual experiments were expressed as averages ± standard deviations (SD). A
p
-value < 0.05 was considered to be significant. R studio and GraphPad Prism 7.0 software were used for the analysis.
Data Accessibility: The sequences were uploaded and deposited in the National Center for Biotechnology Information (NCBI) Sequence Read Archive (SRA) under the accession numbers SRR9851810 to SRR9851818.
Author Contributions
Conceptualization, D.X., M.L., and J.W.; methodology, D.X. and W.L.; validation, D.X., Y.C., and J.L.; formal analysis, D.X. and W.L.; investigation, D.X.; writing—original draft preparation, D.X.; writing—review and editing, D.X., W.L., Y.C., Y.L., J.H., X.G., J.L., S.J., Z.Z., W.Z., M.C., M.L., M.O., and J.W.; supervision, J.W. and M.O.
Funding
This study was supported by Key Research and Development Projects (numbers 2018YFA0901000 and 2018YFA0901003), the Ministry of Agriculture Transgenic Program (number 2016ZX08009003-002), and the National Natural Science Foundation of China (numbers 31800061, 31570080, and 31500063). We also appreciate the support of the Agricultural Science and Technology Innovation Program of CAAS.
Conflicts of Interest
The authors declare no conflicts of interest.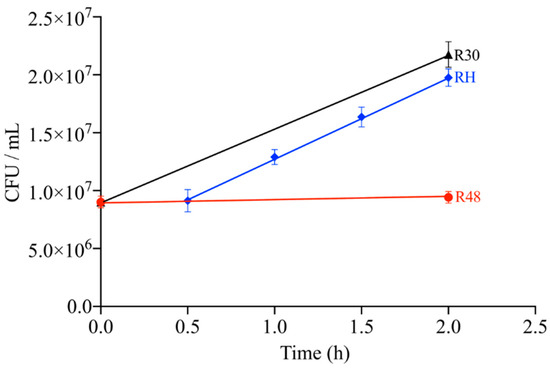 Figure 1. Correlation analysis of the cell viability and the different treatments using three biological replicates. The triangle symbol with the black line represents the untreated group (R30), the circles with the red line represent the heat treatment group (R48), and the diamond dots with the blue line represent the recovery treatment group at various incubation periods (RH). Error bars represent the SD calculated from three sets of independent experiments.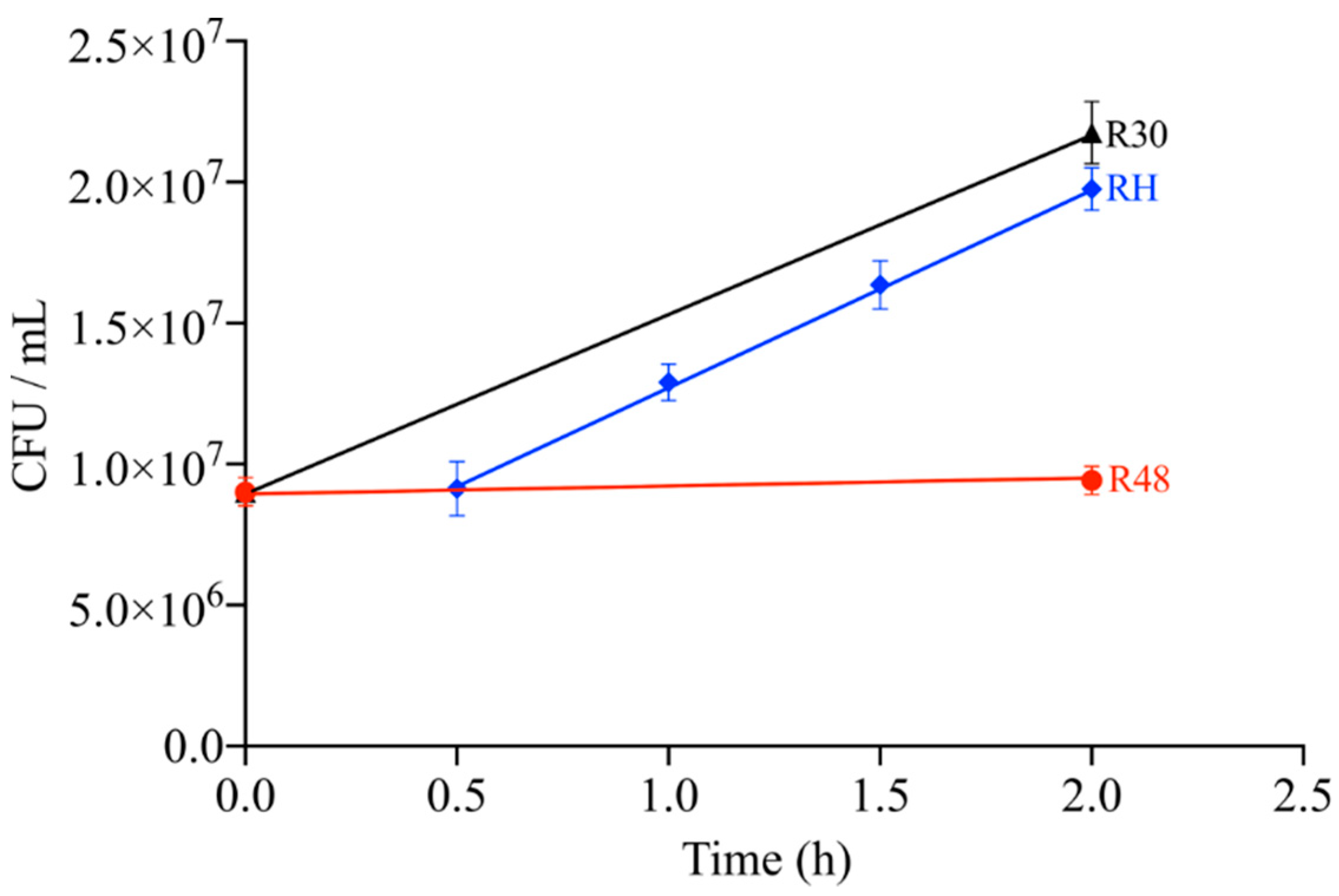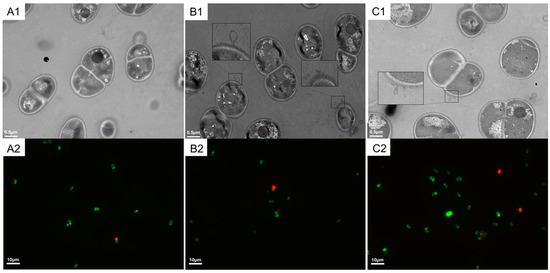 Figure 2.
TEM and fluorescence images of the heat-induced lesions on
Deinococcus radiodurans
cells following exposure to 48 °C for 2 h. (
A1
,
B1
,
C1
) represent the TEM results; (
A2
,
B2
,
C2
) represent the fluorescence analysis results. (
A1
,
A2
)
D. radiodurans
cells at 30 °C (control samples), (
B1
,
B2
)
D. radiodurans
cells at 48 °C (heat-treated samples), and (
C1
,
C2
)
D. radiodurans
cells recovered at 30 °C after the heat treatment (recovery samples). The inset diagram (
B1
,
C1
) show an amplified region of the cell envelope. Living cells were stained by Redox Sensor Green (RSG) (green), and dead cells were stained by propidium iodide (PI) (red). The scale bars indicate the corresponding lengths.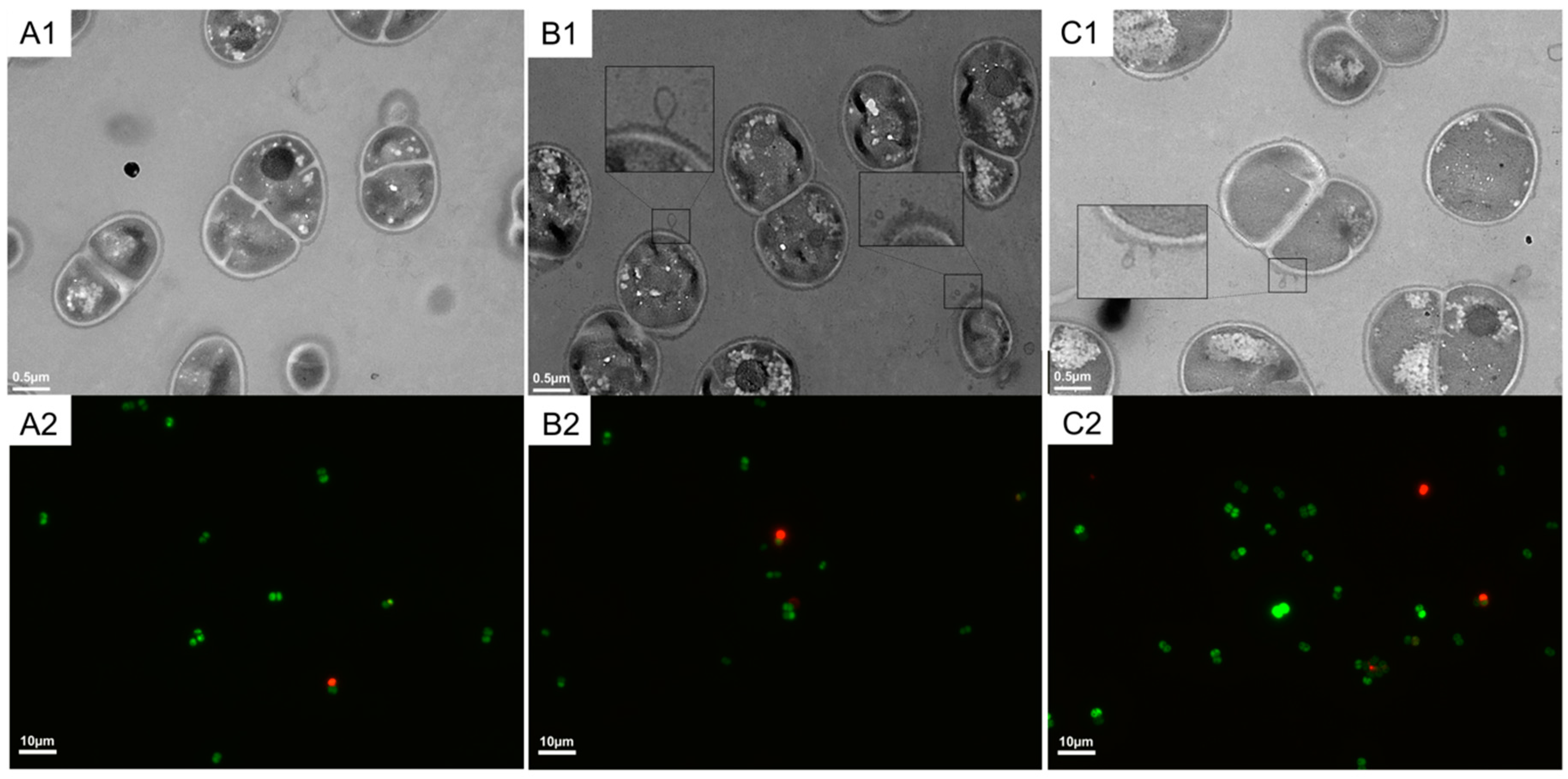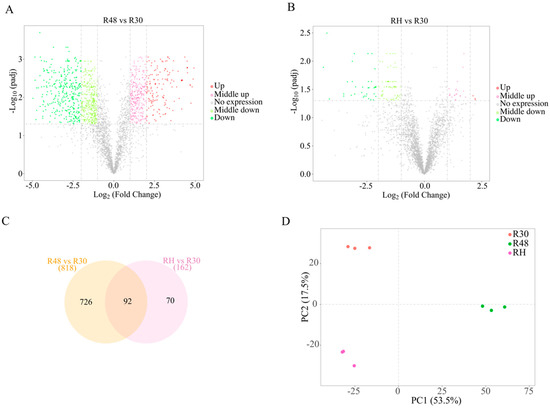 Figure 3.
Differential expression levels among the three treatment groups. Each point represents a unigene. The
x
-axis represents the log
10
values of the normalized expression level (FPKM) of the unigenes in each group. The red and green points indicate significant changes in the absolute value of log
2
(the FPKM ratio in two groups) ≥ 1.5 and FDR ≤ 0.05, respectively; i.e., the red points indicate upregulated unigenes, and the green points indicate downregulated unigenes in the two groups, with the differential expression levels presented along the
X
-axis. The gray points indicate nonsignificant, differentially expressed unigenes. (
A
) R48 versus R30; (
B
) RH versus R30. (
C
) Venn diagram showing significant gene expression changes in response to heat. (
D
) Principal component analysis based on the FPKM expression values among the three treatment groups.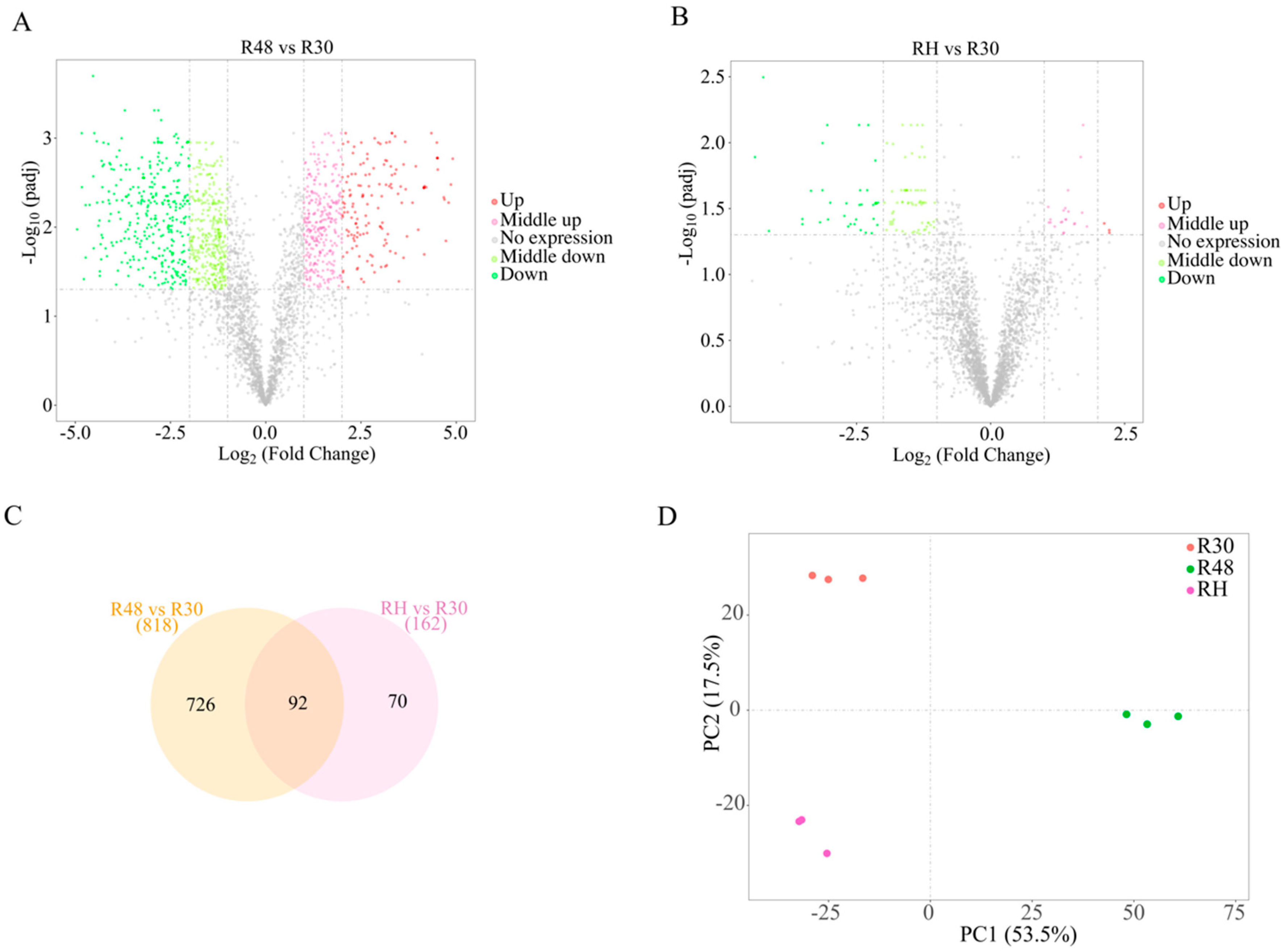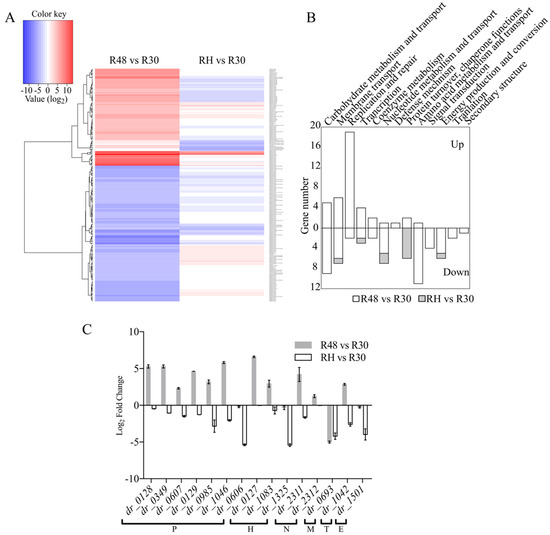 Figure 4. (A) Heatmap of the log2-fold changes (LFCs) among R30, R48, and RH. Included are 257 genes with fold changes >8. The dendrogram represents hierarchical clustering of the LFCs. (B) Likert chart of the KEGG functional categorizations of the differentially expressed genes between R48 versus R30 and RH versus R30. (C) qRT-PCR analysis of the high differentially expressed genes; P: protein turnover and chaperone functions, H: hypothetical protein, N: nucleotide metabolism and transport, M: membrane transport, T: transcription, E: energy production and conversion.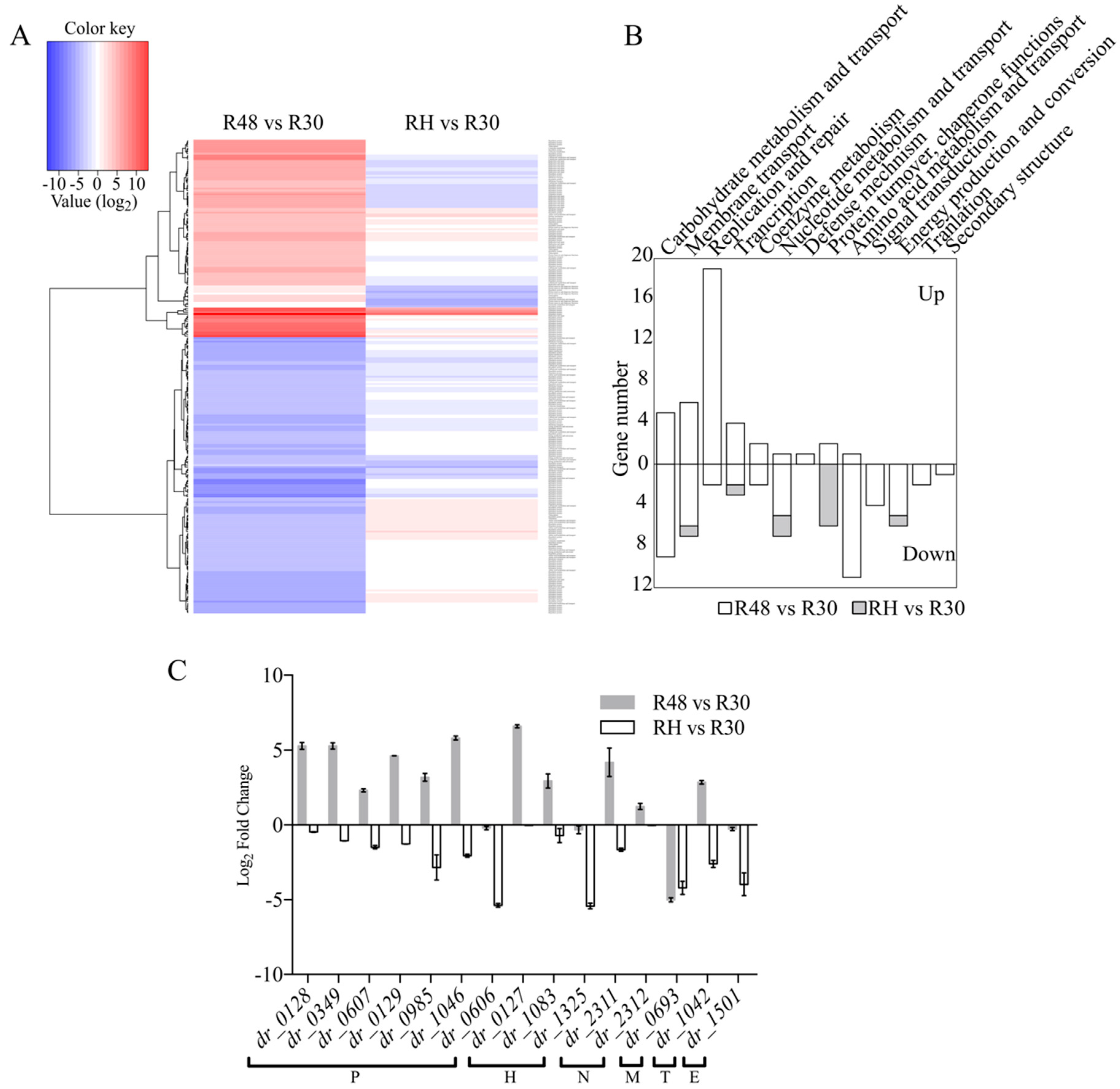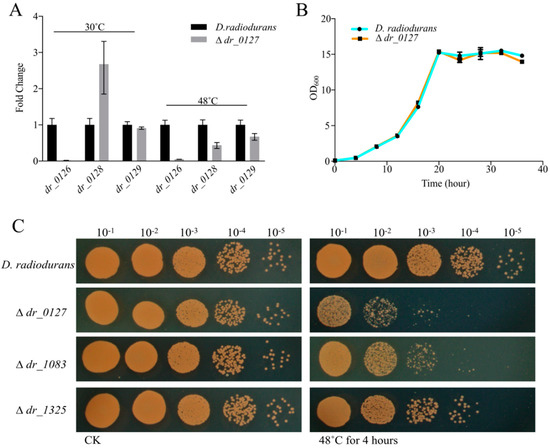 Figure 5.
The effect of the
dr_0127
deletion on the expression of its flanking genes and survival phenotype plate assay upon heat stress. (
A
) The effect of the
dr_0127
deletion on the expression of its flanking genes (
dr_0126
,
dr_0128
, and
dr_0129
) under normal growth and heat stress conditions. The relative levels of transcripts are presented as the mean values ± standard deviations, calculated from three sets of independent experiments and normalized to levels in the wild-type strain. (
B
) Growth curves in TGY broth of wild type and ∆
dr_0127
. The error bars represent the standard deviations of the measurements of three biological replicates. (
C
) Serial, 10-fold dilutions of OD-standardized
D. radiodurans
and three mutants (∆
dr_0127
, ∆
dr_1083
, and ∆
dr_1325
) spotted on TGY plates after exposure to 48 °C. CK, untreated culture control. All experiments were performed three times.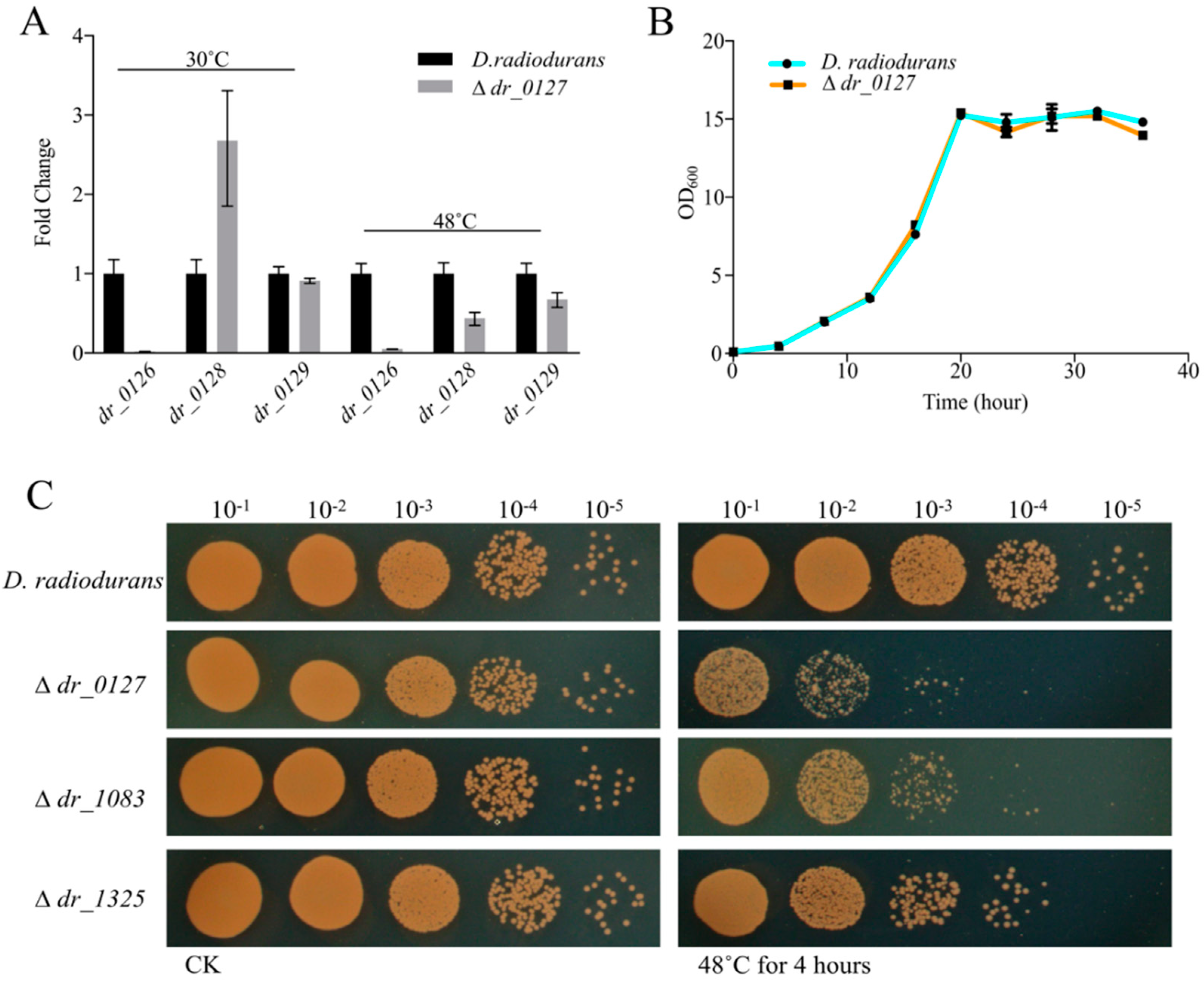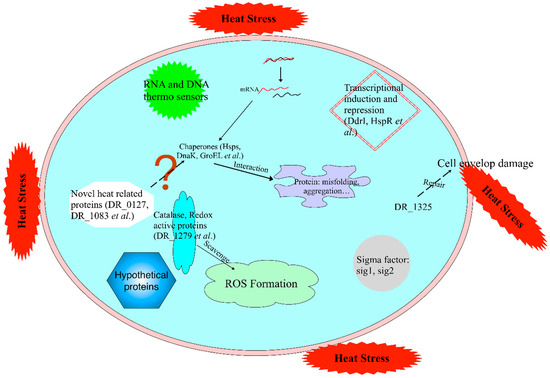 Figure 6.
Molecular response of
D. radiodurans
under high temperature conditions. Chaperones, RNA and DNA thermosensors, transcription induction and repression, sigma factors, catalase and redox active proteins, and hypothetical proteins regulate the molecular mechanism of the heat stress response in cells. Chaperones mediate the correct folding of other polypeptides, such as hsp20 and DnaK; RNA and DNA thermosensors sense the temperature change; transcription induction and repression is involved in heat stress regulation, such as by HspR; sigma factors (sig1 and sig 2) that control heat-shock regulons have evolved to respond to protein misfolding; and catalase and redox active proteins scavenge the ROS caused by high temperature. Solid arrows and dashed lines represent the known and unknown mechanisms, respectively.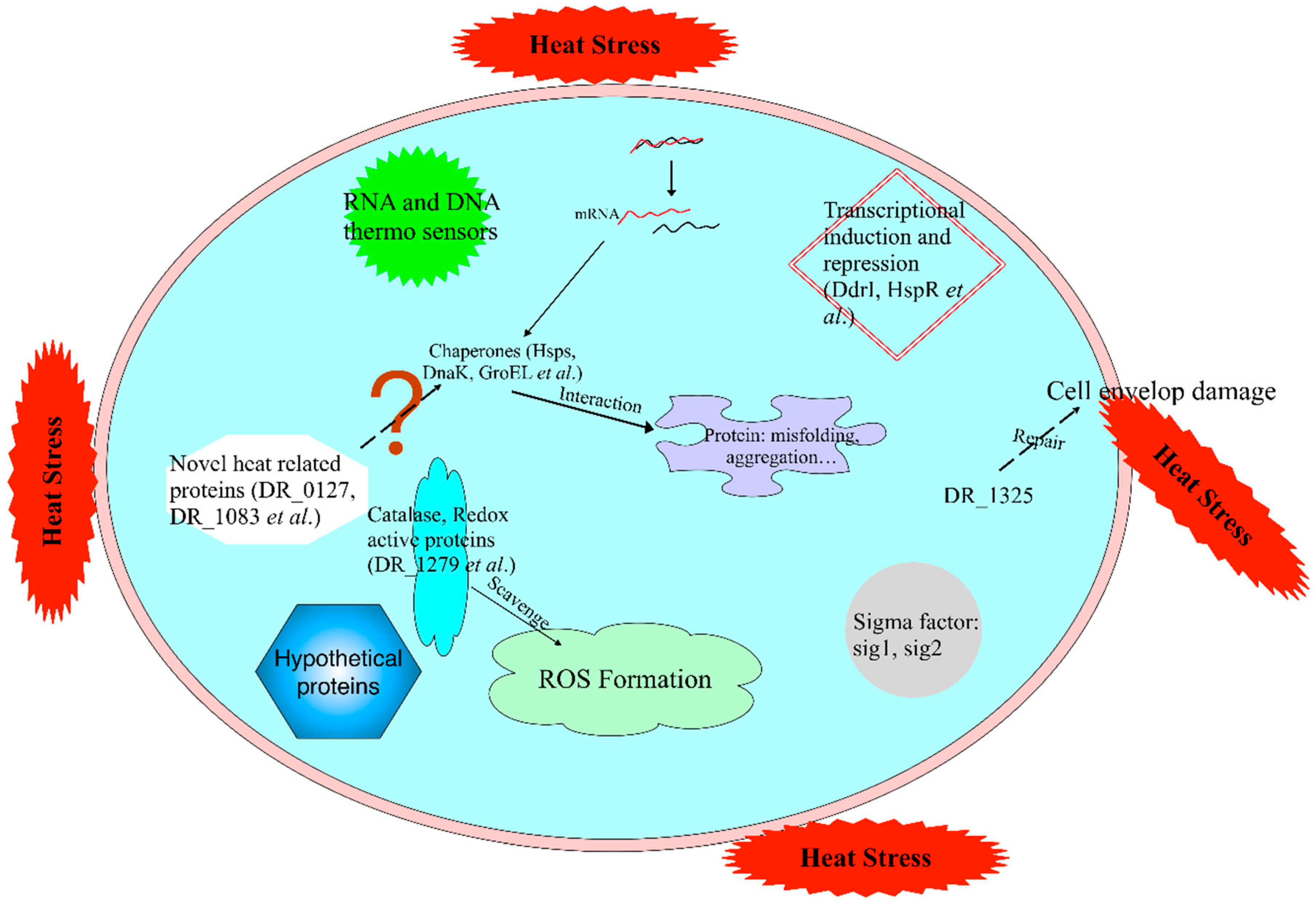 Table 1. The top 30 most upregulated and downregulated genes when exposed to heat stress (R48 versus R30).
Gene ID
Log2 (Fold Change)

p

Value
Function Description
References
DR_A0081
13.0548
0.02115134
Hypothetical protein
DR_A0078
9.3231
0.01952321
Hypothetical protein
DR_2307
8.5243
1.16 × 10−5
Multidrug-efflux transporter, putative
[10]
DR_0518
8.3853
0.00804687
Hypothetical protein
DR_0524
8.1827
0.00604411
Hypothetical protein
DR_A0082
7.8581
0.02528407
Hypothetical protein
DR_A0079
7.745
0.0212175
Hypothetical protein
DR_A0080
7.6759
0.0183724
Hypothetical protein
DR_A0083
7.4529
0.02027402
Hypothetical protein
DR_A0086
7.3763
0.01788636
Hypothetical protein
DR_0519
7.3405
0.00011836
Hypothetical protein
DR_A0101
7.2857
0.0161855
Hypothetical protein
DR_A0077
7.1326
0.01621666
Hypothetical protein
DR_A0075
6.9708
0.04170709
Transposase, putative
DR_A0087
6.5568
0.01613077
Hypothetical protein
DR_B0072
6.0839
5.39 × 10−6
Salicylate monooxygenase-related protein
DR_B0074
6.0164
7.87 × 10−7
1-Phosphofructokinase
DR_B0073
5.8393
1.1 × 10−5
PTS system, fructose-specific IIBC component
DR_A0085
5.833
0.02305785
Hypothetical protein
DR_A0211
5.5236
4.38 × 10−6
Transcriptional regulator, GntR family
DR_C0023
5.1883
2.24 × 10−5
Hypothetical protein
DR_A0076
5.1069
0.02545438
ATP-dependent target DNA activator
DR_B0141
5.0516
9 × 10−5
HicB-related protein
DR_B0142
4.9077
5.11 × 10−5
Hypothetical protein
DR_0422
4.8592
0.00024562
Trans-aconitate 2-methyltransferase
DR_A0182
4.799
0.00068635
Hypothetical protein
[13]
DR_0516
4.7289
0.00382339
Hypothetical protein
DR_2374
4.6897
0.0005564
Ribonucleoside-diphosphate reductase-related protein
[13]
DR_0532
4.6735
0.00051046
Hypothetical protein
DR_0423
4.5152
0.00011999
Hypothetical protein
DR_A0364
−4.3096
5.93 × 10−5
Oxidoreductase, short-chain dehydrogenase/reductase family
[13]
DR_0201
−4.321
0.00785386
Hypothetical protein
DR_0392
−4.3342
0.00434331
Hypothetical protein
[10]
DR_0334
−4.3572
0.01241591
Lipase, putative
DR_B0038
−4.3573
0.01463299
Hypothetical protein
DR_A0352
−4.3662
0.00155047
Methyl-accepting chemotaxis protein
DR_2240
−4.3942
0.00195473
Hypothetical protein
DR_2527
−4.4273
0.00068251
Hypothetical protein
[10]
DR_A0233
−4.4361
1.05 × 10−5
Oxidoreductase, iron-sulfur subunit
[13]
DR_1987
−4.4998
3.18 × 10−6
Hypothetical protein
DR_A0231
−4.5169
0.00510755
Oxidoreductase
[13]
DR_1778
−4.5277
0.00016505
3-Isopropylmalate dehydratase, large subunit
DR_2263
−4.5338
6.47 × 10−8
DNA-binding stress response protein, Dps family
[10]
DR_2563
−4.6247
0.00080366
Hypothetical protein
DR_1712
−4.7284
0.00739225
Extracellular solute-binding protein, family 5
[13]
DR_A0232
−4.7289
0.00081206
Oxidoreductase
DR_1277
−4.7754
0.01673083
ABC transporter, periplasmic substrate-binding protein, putative
DR_1711
−4.8264
0.00028517
N-Acyl-L-amino acid amidohydrolase
DR_1067
−4.8305
5.2 × 10−6
Hypothetical protein
DR_0791
−4.9522
0.00226901
Chloride peroxidase, putative
DR_0644
−5.4271
0.00078552
Hypothetical protein
DR_2560
−5.4566
0.0002672
Hypothetical protein
DR_1315
−5.4743
0.00327873
Hypothetical protein
[10,13]
DR_0105
−5.4893
1.54 × 10−6
Hypothetical protein
DR_1066
−5.6713
0.02719424
Hypothetical protein
DR_1483
−5.8009
0.00071264
Hypothetical protein
DR_1790
−5.8218
1.62 × 10−6
Yellow-related protein
DR_0465
−5.8342
0.00052829
Conserved hypothetical protein
DR_1314
−6.1749
0.00281391
Conserved hypothetical protein
[10]
DR_0891
−6.4635
0.00113242
DNA-binding response regulator
Note: the previously reported genes involved in heat stress are indicated in bold font.

Table 2. Descriptions of the 16 genes with altered expression in cells recovered from heat stress compared with non-stressed cells (RH versus R30).
Gene ID
Gene Name
Functions
Log2(Fold Change)

p

Value
DR_A0101
Hypothetical protein
6.7807
0.00190534
DR_0128

grpE

Protein turnover and chaperone function
−3.1812
0.00160996
DR_0349

lon

Protein turnover and chaperone function
−3.5087
0.00188947
DR_0607

groEL

Protein turnover and chaperone function
−3.5102
0.00128474
DR_0129

dnaK

Protein turnover and chaperone function
−3.9169
0.04542787
DR_0985
Protein turnover and chaperone function
−4.1346
0.00249103
DR_1046

clpB

Protein turnover and chaperone function
−4.4467
0.01832036
DR_0606

groES

Protein turnover and chaperone function
−3.3489
0.00035202
DR_0127
DNA-binding protein
−3.0322
0.00135957
DR_1083
Hypothetical protein
−3.1333
4.23 × 10−5
DR_1325
LysM peptidoglycan-binding protein
−3.3623
0.00886153
DR_2311
Nucleotide metabolism and transport function
−4.3949
9.48 × 10−5
DR_2312
Nucleotide metabolism and transport function
−4.2404
1.03 × 10−6
DR_1501
Energy production and conversion
−3.1352
0.00033852
DR_0693
Membrane transport
−3.7209
0.00754623
DR_1042

padR

Transcription
−3.0467
1.6 × 10−5

© 2019 by the authors. Licensee MDPI, Basel, Switzerland. This article is an open access article distributed under the terms and conditions of the Creative Commons Attribution (CC BY) license (http://creativecommons.org/licenses/by/4.0/).