Open Access This article is
freely available
re-usable
Review
MicroRNA Networks Modulate Oxidative Stress in Cancer
Liver Research Center, Chang Gung Memorial Hospital, Linkou, Taoyuan 333, Taiwan
Received: 20 August 2019 / Accepted: 9 September 2019 / Published: 11 September 2019
Abstract
:
Imbalanced regulation of reactive oxygen species (ROS) and antioxidant factors in cells is known as "oxidative stress (OS)". OS regulates key cellular physiological responses through signal transduction, transcription factors and noncoding RNAs (ncRNAs). Increasing evidence indicates that continued OS can cause chronic inflammation, which in turn contributes to cardiovascular and neurological diseases and cancer development. MicroRNAs (miRNAs) are small ncRNAs that produce functional 18-25-nucleotide RNA molecules that play critical roles in the regulation of target gene expression by binding to complementary regions of the mRNA and regulating mRNA degradation or inhibiting translation. Furthermore, miRNAs function as either tumor suppressors or oncogenes in cancer. Dysregulated miRNAs reportedly modulate cancer hallmarks such as metastasis, angiogenesis, apoptosis and tumor growth. Notably, miRNAs are involved in ROS production or ROS-mediated function. Accordingly, investigating the interaction between ROS and miRNAs has become an important endeavor that is expected to aid in the development of effective treatment/prevention strategies for cancer. This review provides a summary of the essential properties and functional roles of known miRNAs associated with OS in cancers.
Keywords:
oxidative stress; MicroRNA; signal transduction; therapeutic target
Funding
This work was supported by grants from Chang Gung Memorial Hospital, Taoyuan, Taiwan (CMRPG3H0721, CMRPG3H0722, NZRPG3G0171, NZRPG3G0172, NZRPG3G0173, NMRPG3H0561, NRRPG3J0141 to YHL) and the Ministry of Science and Technology of the Republic of China (MOST 106-2321-B-182A-004-MY3, MOST 107-2320-B-182A-028-, MOST 108-2320-B-182A-004- to YHL).
Conflicts of Interest
The author has no conflict of interest to disclose.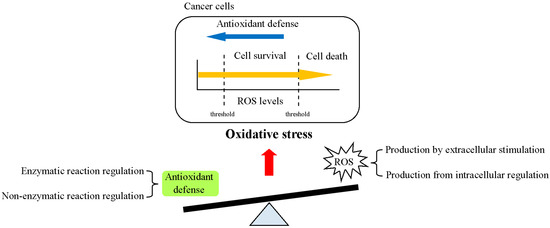 Figure 1. Reactive oxygen species (ROS) production and antioxidant defense in the control of redox homeostasis in cancer cells. Disruption of redox homeostasis by ROS (intra- or extracellular signals) and antioxidant defense (enzymatic or non-enzymatic reactions) induces oxidative stress (OS) and results in various cell functions. The physiological function of ROS is dependent on its concentration. Elevated ROS production and accumulation lead to cell apoptosis. On the other hand, medium levels of ROS promote cell survival and progression.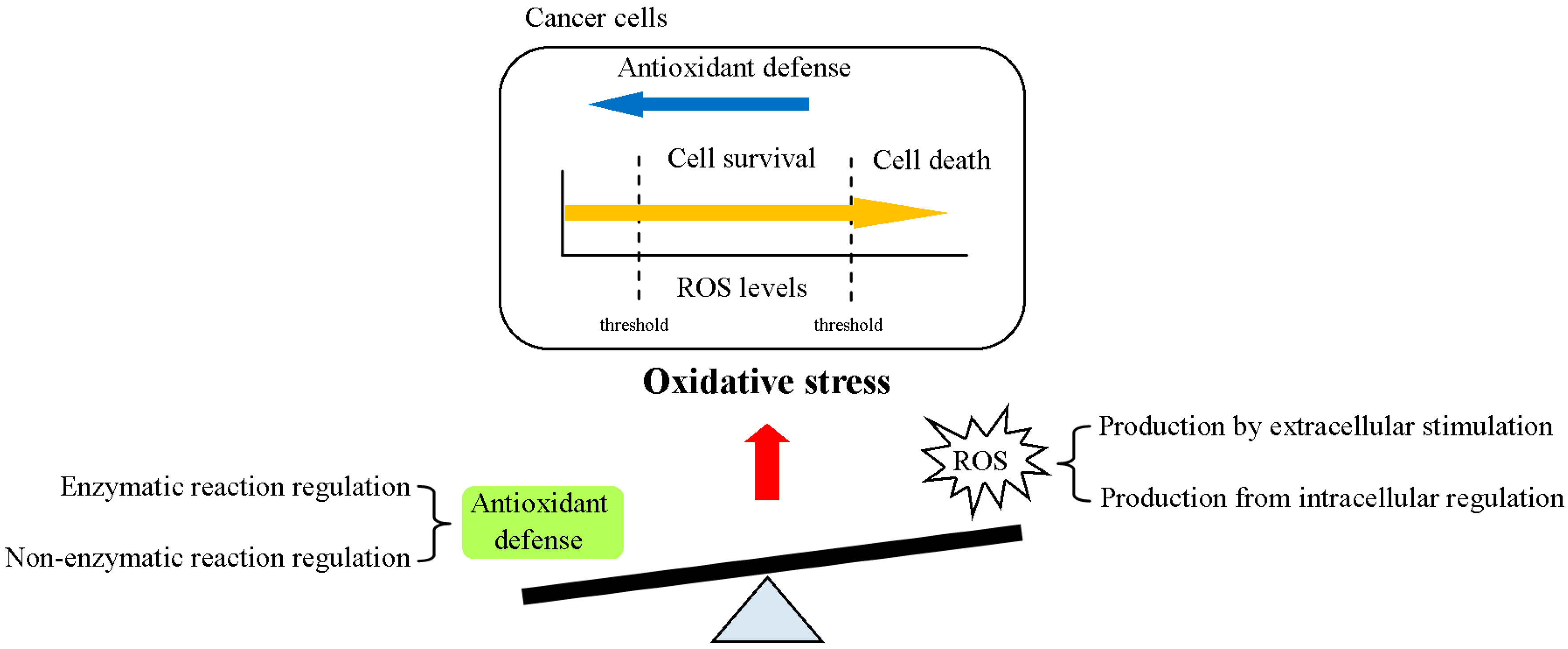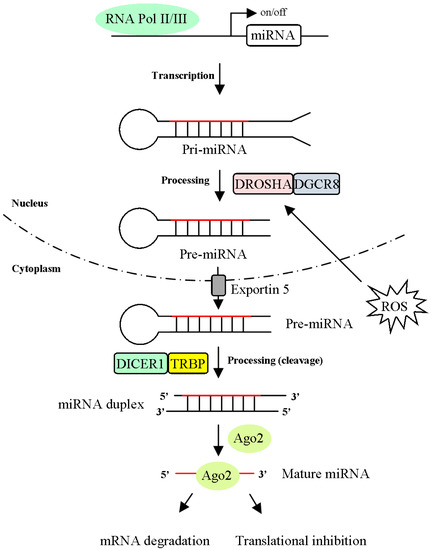 Figure 2. The biogenesis and regulation mechanisms of microRNAs (miRNAs). MiRNAs are transcribed by RNA polymerase II/III and generated the primary miRNA transcript (pri-miRNA). The pri-miRNAs are cleaved into precursor miRNA transcript (pre-miRNA) by the microprocessor complex, a combination of DROSHA and DGCR8. Pre-miRNA is exported to cytoplasm via exportin 5 and further processed by the RNase III enzyme Dicer with the cofactor protein TRBP to generate an approximately 18-25-nt duplex. Either 5p or 3p strand of the mature miRNA (red line) interacts with Argonaute (Ago) protein and forms a miRNA-induced silencing complex (miRISC). There are two models (mRNA degradation and translational repression) of miRNA-mediated gene silencing.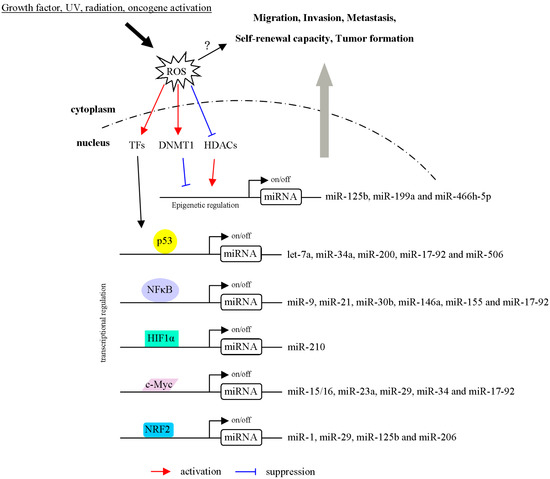 Figure 3. Schematic model showing mechanisms in which ROS regulates the biogenesis and transcription of miRNAs. ROS activate or inhibit epigenetic, transcriptional regulations of miRNA expression. For example, miRNAs are regulated by ROS through modulation of chromatin remodeling factors (DNMT1 and HDACs). In addition, ROS induces or represses transcriptional factor (p53, NFκB, HIF1α, c-Myc and NRF2) to regulate miRNA expressions. Furthermore, ROS/TF/miRNA axis controls cell migration, invasion, metastasis, self-renewal capacity and tumor formation.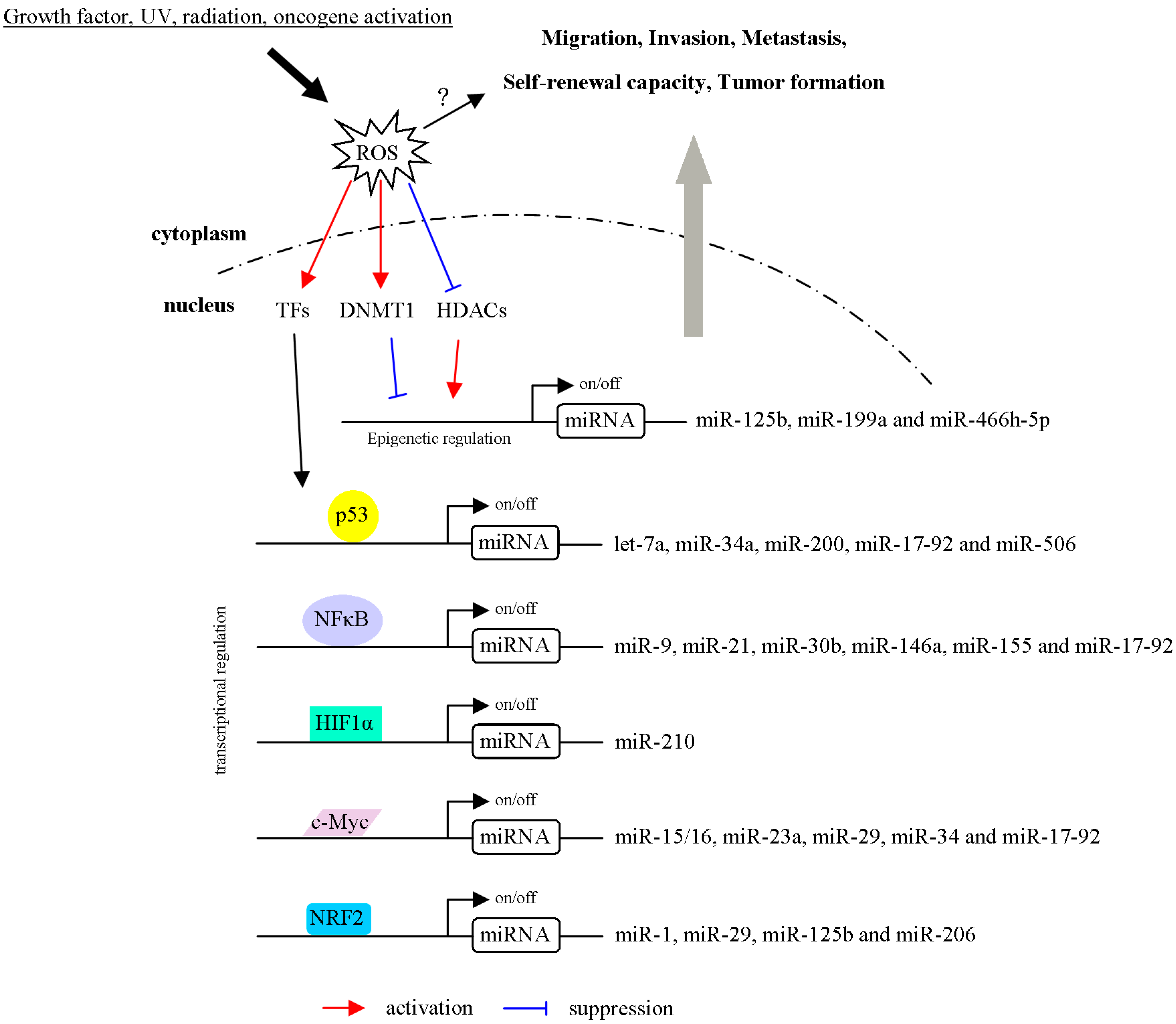 miRNA
Regulation
Mechanism a
ROS Production b
Expression in Cancer c
Cell/Cancer Types
Molecules, Cellular Processes and Signaling Pathways Involved d
References
Let-7a
OS, p53
✓
Down
CSC, prostate cancer, pancreatic cancer
PTEN, LIN28b
[105,135]
miR-1
NRF2, HDAC4
✓
Down
Non-small cell lung cancer
NRF2, KEAP1, glucose metabolism, tumor growth
[49]
miR-15/16
c-Myc
✓
Down
Skin, colon cancer
FGF2, HIF-2α, senescence-like phenotype, angiogenesis, metastasis
[30]
miR-21
Glucose, NFκB, STAT3
✓
Up
CSCs, lung cancer, liver cancer, colorectal cancer
MAPK pathway, cell migration, invasion and EMT phenotype, self-renewal ability
[41,110]
miR-23a
c-Myc
✓
-
Cardiac disease, myeloma
Glutaminase, MnSOD, apoptosis, cell growth
[136,137,138]
miR-29
c-Myc, H2O2, NRF2
✓
Dual role
Ovarian cancer, lung cancer, lymphoma
SIRT1, senescence, proliferation, apoptosis
[50,139,140,141,142]
miR-33a/b
-
✓
Down
Liver
HDL biosynthesis, apoptosis, OS resistance
[103]
miR-34
OS, c-Myc, p53
✓
Down
Stromal cells, CSC, bladder cancer, lung cancer
CD44, EMT markers, SIRT1, senescence, metastasis
[33,111,143]
miR-17-92
c-Myc, p53, NFκB
✓
Up
Lung cancer,
Vitamin D, Senescence, apoptosis
[120,144,145,146]
miR-92a
-
✓
Up
Endothelial cells
SIRT1, KLF2, KLF4
[124,125]
miR-125b
DNMT1, H2O2, NRF2
✓
Dual role
Ovarian cancer, liver
Epigenetic regulation
[51,57]
miR-181
-
✓
Up
Macrophagy, HCC
SIRT1, insulin sensitivity, NFκB activity, apoptosis
[80]
miR-199a
DNMT1, H2O2
✓
Down, (hypermethylation)
Ovarian cancer
HIF1α, SIRT1, Epigenetic regulation
[57,83]
miR-200
P53, H2O2
✓
Down
CSC, breast cancer, liver cancer
Bmil-1, Suz12, Notch-1, self-renewal capacity, EMT markers, senescence
[34,35]
miR-210
Hypoxia
✓
Up
CSCs
E-cadherin, Hypoxia, proliferation, self-renewal capacity, migration and invasion, senescence
[65,109] [113]
miR-217
-
-
Dual role
Endothelial cells
SIRT1, Angiogenesis, premature senescence-like phenotype
[123]
miR-466h-5p
ROS, HDAC2
-
-
Mouse ovarian epithelial
BCL2L2, apoptosis
[58]
MiR-506
P53
✓
Down
Lung cancer
NFκB signaling pathway
[44]
miR-509
-
✓
Down
Breast cancer
SOD2, Cell growth, migration and invasion
[94]
a: MiRNAs are regulated by upstream transcriptional factor, ROS or hypoxia, as indicated. -: Information is unavailable. b: ✓: MiRNAs are responsible for producing ROS. -: Information is unavailable. c: Expression level of miRNAs in cancer. Up: upregulated in cancer, Down: downregulated in cancer, Dual role: up- or downregulated in cancer. d: Downstream molecules, signaling pathways and phenotypes involved in miRNA-mediated functions.

© 2019 by the author. Licensee MDPI, Basel, Switzerland. This article is an open access article distributed under the terms and conditions of the Creative Commons Attribution (CC BY) license (http://creativecommons.org/licenses/by/4.0/).