Open Access This article is
freely available
re-usable
Article
Avian Expression Patterns and Genomic Mapping Implicate Leptin in Digestion and TNF in Immunity, Suggesting That Their Interacting Adipokine Role Has Been Acquired Only in Mammals
1
Department of Animal Science, Agricultural Research Organization, Volcani Center, P.O. Box 15159, Rishon LeTsiyon 7528809, Israel
2
Department of Developmental Biology, Faculty of Science, Charles University, 12843 Prague, Czech Republic
3
Department of Biology, Faculty of Science, McMaster University, Hamilton, ON L8S4K1, Canada
4
GenPhySE, Université de Toulouse, INRA, ENVT, 31326 Castanet Tolosan, France
5
Institute of Molecular Genetics of the Czech Academy of Sciences, 14220 Prague, Czech Republic
6
Department of Medical Biochemistry and Microbiology, Uppsala University, SE-75123 Uppsala, Sweden
7
Department of Animal Breeding and Genetics, Swedish University of Agricultural Sciences, SE-75007 Uppsala, Sweden
8
Department of Veterinary Integrative Biosciences, College of Veterinary Medicine and Biomedical Sciences, Texas A&M University, College Station, TX 77843-4458, USA
*
Author to whom correspondence should be addressed.
Received: 31 July 2019 / Accepted: 6 September 2019 / Published: 11 September 2019
Abstract
:
In mammals, leptin and tumor-necrosis factor (TNF) are prominent interacting adipokines mediating appetite control and insulin sensitivity. While TNF pleiotropically functions in immune defense and cell survival, leptin is largely confined to signaling energy stores in adipocytes. Knowledge about the function of avian leptin and TNF is limited and they are absent or lowly expressed in adipose, respectively. Employing radiation-hybrid mapping and FISH-TSA, we mapped
TNF
and its syntenic genes to chicken chromosome 16 within the major histocompatibility complex (MHC) region. This mapping position suggests that avian TNF has a role in regulating immune response. To test its possible interaction with leptin within the immune system and beyond, we compared the transcription patterns of
TNF
, leptin and their cognate receptors obtained by meta-analysis of GenBank RNA-seq data. While expression of leptin and its receptor (
LEPR
) were detected in the brain and digestive tract,
TNF
and its receptor mRNAs were primarily found in viral-infected and LPS-treated leukocytes. We confirmed leptin expression in the duodenum by immunohistochemistry staining. Altogether, we suggest that whereas leptin and TNF interact as adipokines in mammals, in birds, they have distinct roles. Thus, the interaction between leptin and TNF may be unique to mammals.
Keywords:
radiation-hybrid mapping; FISH-TSA; chicken; TNF; immune system; leptin; digestive tract; duodenum
3. Discussion
The immunostaining of leptin in the duodenum and the finding of its presence in mucosal cells (enterocytes and goblet cells), provided a critical proof that the low expression of leptin mRNA (0.3 RPKM) in J-line duodenum is significant. Our finding of leptin in the digestive system raised the possibility that chicken leptin may operate in short term regulation of appetite based on the digestive activity. This may take place either via the afferent vagus nerve or through the blood circulation or both. However, more work is needed to evaluate this possibility.
4. Materials and Methods
4.1. RH-Mapping
PCR amplifications were carried out for each marker (
Table S1
) in 15 μL solution containing 25 ng DNA from the RH panel [
37
], 0.4 μM of each primer, 0.25 units Taq polymerase (GoTaq, Promega Madison, WI, USA), 2 mM MgCl2, 0.2 mM dNTP, using the Applied Biosystems 2720 thermal cycler. The first 5 min denaturation step was followed by 35 cycles, of denaturation at 94 °C for 30 s, annealing at Tm (see
Table S1
) for 30 s and elongation at 72 °C for 30 s. Each marker was genotyped twice and a third genotyping was performed in case of discrepancy between the first two determinations. The RH map was built as previously described [
59
] using the Carthagene software [
60
] and drawn with MapChart 2.0 [
61
].
4.3. Bioinformatic Analysis
Deducing the sequence of the chicken ortholog of
AHBD16A
was performed using the human
AHBD16A
sequence for BLAST searches using RNA-seq datasets (study PRJEB7620). Sequence reads were assembled with CLC genomics workbench, Qiagen, Bustehrad, Czech republic and with Lasergene SeqMan (DNASTAR, Madison, WI, USA).
4.4. Animals and Tissue Sampling
Commercial females of the Leghorn breed (layers) were purchased from commercial husbandries (Hasolelim, Israel) at the age of 1 d and grown at the Volcani Center according to recommended husbandry and feeding conditions (NRC 1994) with free access to food and water. Maintenance conditions and feeding formulas were according to the Lohmann guideline (
http://www.hylinena.com/userdocs/products/lohmann_brown_lite_commercials_2011.pdf
), as detailed previously [
29
]. At the age of first egg, lay (about four months of age) tissue samples were snap-frozen in liquid nitrogen, after neck dislocation. All animal procedures were carried out in accordance with the National Institutes of Health Guidelines on the Care and Use of Animals and Protocol IL732/17 (1.11.17), obtained by the Animal Experimentation Ethics Committee of the Agricultural Research Organization, Volcani Center.
4.5. Antibodies and Western Analysis
A custom-made antibody directed against chicken leptin-peptide (amino acid sequence: PPRAEKLRADARSLSRTLSARLGD) was prepared in rabbits and affinity purified by HY Laboratories LTD, Rehovot Israel. Anti alpha tubulin antibody was purchased from ABCAM (ab89984, Zotal, Tel-Aviv, Israel).
Protein concentration was measured by Bradford assay (Sigma, Yavne, Israel). Total proteins (20 mg) were subjected to 12% SDS-PAGE and transferred to a nitrocellulose membrane.
4.6. IHC Analysis
Chicken duodenum was fixed in buffered formalin for ~48 h. Fixed specimens were dehydrated through graded ethanol concentrations, cleared in xylene and embedded into paraffin. Five micrometers longitudinal sections were prepared and mounted onto positively charged glass slides. For immunohistochemical staining sections were deparaffinized in xylene and rehydrated through descending ethanol concentrations. Rehydrated sections were incubated with rabbit polyclonal antibodies to chicken leptin diluted 1:600 in TBST (10mM Tris-HCl, 150 mM NaCl, 0.1% Tween-20, pH 7.5) for 1 h at room temperature. After washing in TBST (5 times for 2 min) sections were incubated with anti-rabbit ZytoChem Plus HRP-Polymer (Zytomed Biotest, Kfar Saba, Israel) for 30 min. Then sections were washed in TBST and peroxidase activity was revealed by incubation in a mixture of 0.05% diaminobenzidine hydrochloride (Sigma-Aldrich, Rehobot, Israel) with 0.03% hydrogen peroxide in 0.1 M Tris-HCl, 10 mM imidazole (pH 7.5). Sections were slightly stained with Gill's hematoxylin, dehydrated, cleared in xylene and mounted in DPX (Sigma-Aldrich). Digital microphotographs were prepared using SPOT InSight CMOS camera attached to BX51 microscope (Olympus, Japan). This analysis was conducted by Smart Assays, Ness Ziona, Israel.
4.7. Statistical Analyses
Statistical analyses of the qRT-PCR analysis and leptin bioassay were performed by one-way ANOVA and Tukey-Kramer honestly significant difference test (
p ≤
0.05); means ± SEs are reported.
Author Contributions
M.K., D.E. and V.K. performed the FISH-TSA analysis, F.P., S.L. and M.M. performed the RH-mapping. S.Y. and S.G. did the bioinformatic, qPCR, leptin bioassay and western analysis, S.M. helped with the bioinformatic analysis, M.R. was responsible for growing and physiological characterization of the chickens. M.F.-E., E.S. and L.A. designed the experiments and wrote the paper. All authors read and corrected the final drafts.
Funding
This research was funded by the Israel National Science Foundation (grant 1294/17, to MFE and ES) and by the Ministry of Education, Youth and Sports of the Czech Republic (project NPU I No. LO1419, to DE).
Conflicts of Interest
The authors declare no conflict of interest.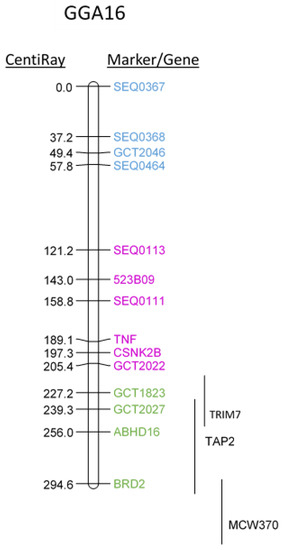 Figure 1.
RH mapping of TNF to the q arm of GGA16. Positions of markers included in the comprehensive map are indicated with error bars on the right. Putative assignments [
5
,
6
] of nucleolus organizer regions (NOR; blue), major histocompatibility complex (MHC-Y; pink), and MHC-B (green) are indicated.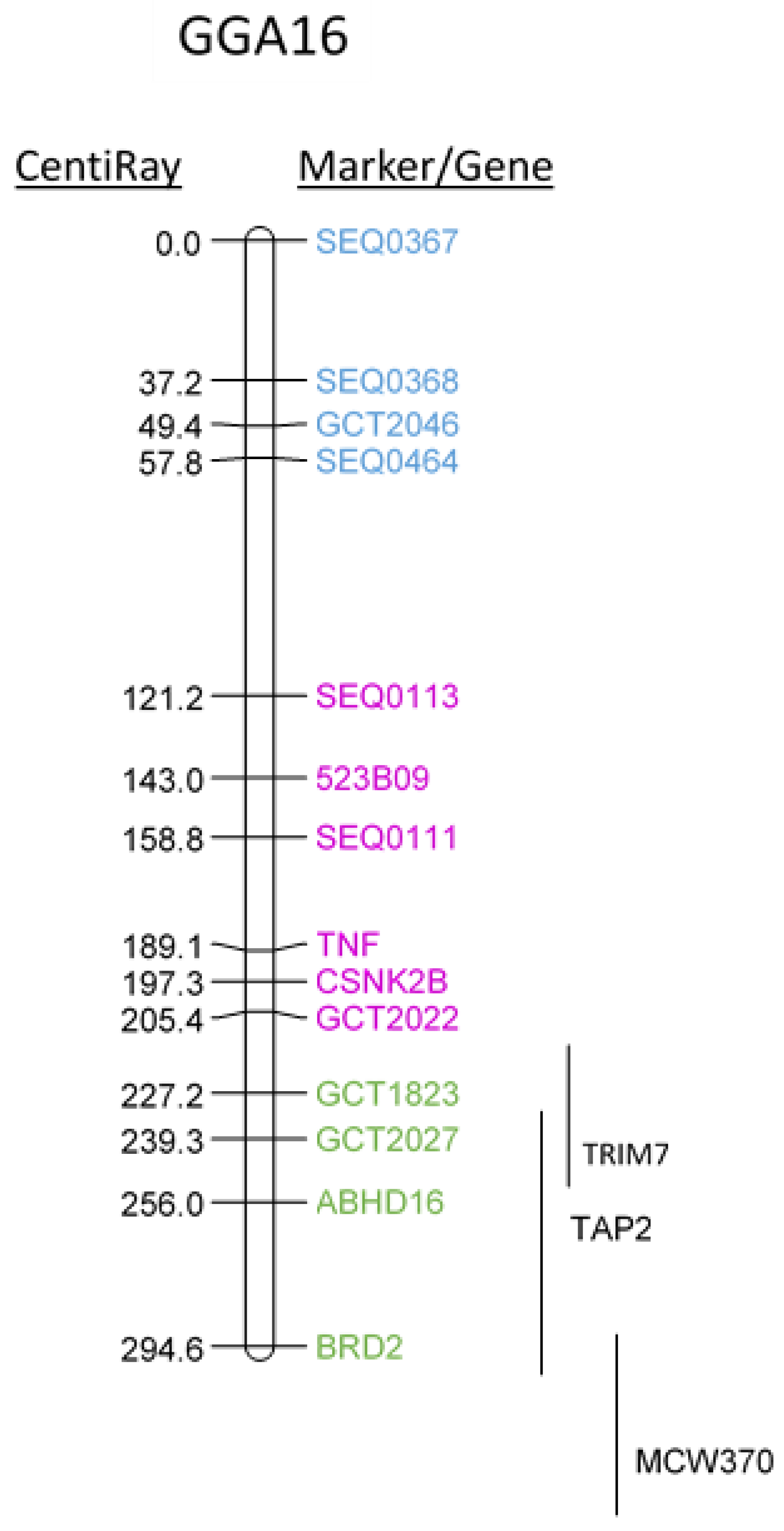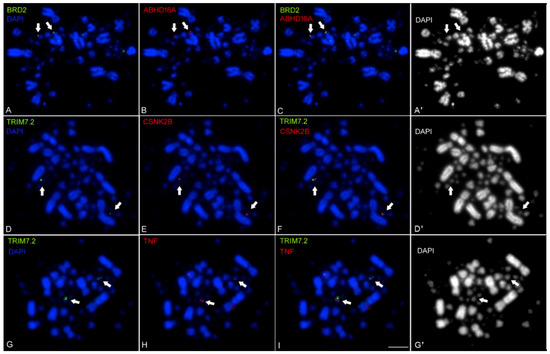 Figure 2. Detection of single-copy sequences in metaphase chromosomes by double color FISH-TSA. Somatic chromosomes prepared from a primary line of chicken embryo fibroblast (CEF) were used for hybridization with the indicated probes. Panels C,F,I were generated by merging of panels A,B,D,E,G,H, respectively, using red-green-blue color mode. For better visualization of the microchromosomes stained by 4' 6-diamidino-2-phenylindole (DAPI), contrast-enhanced monochromatic images of A,D,G are shown in A',D',G', respectively. Arrows indicate the two genes that were analyzed in each panel. Each gene locus was indicated in two copies on homologous chromosome pairs. Scale bar represents 10 µm.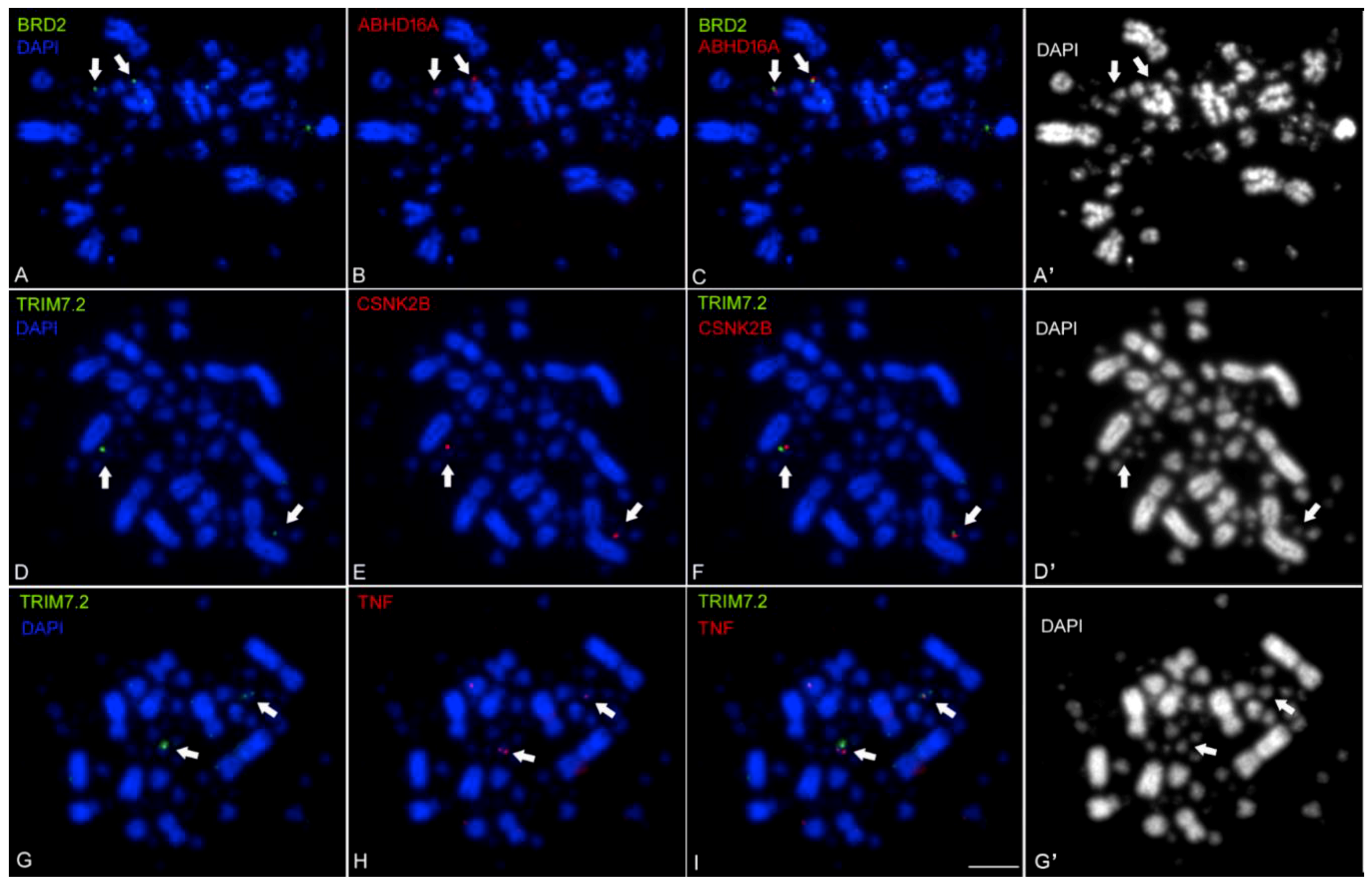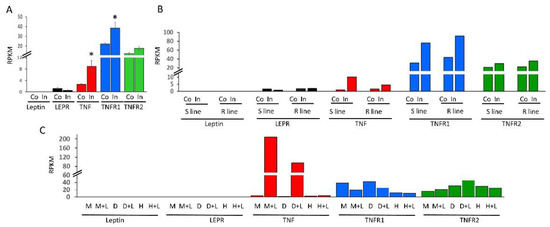 Figure 3.
Meta-analysis of mRNA expression of chicken leptin,
TNF
and their cognate receptors in RNA-seq datasets from:
A
. *
p
< 0.05. Spleens of chickens intra-nasally administrated with PBS (Co) or very virulent infectious bursal disease virus (In); BioProject accession no. PRJEB7219 (
n
= 3 for each treatment).
B
. Spleens from 10 days old Leghorn lines susceptible (S line) or resistant (R line) to infection by Marek's disease virus, five days after challenge with highly virulent Marek's disease virus (In), or not challenged (Co) ([
43
]; BioProject accession no. PRJNA344896).
C
. Bone marrow-derived macrophages (M) and dendritic cells (D) from six-week-old broiler chickens and heterophils (H) isolated from blood of day-old broiler chicks (Ross), at the absence (M, D, H) or presence of lipopolysaccharide (+L) ([
45
]; BioProject accession no. PRJEB7475).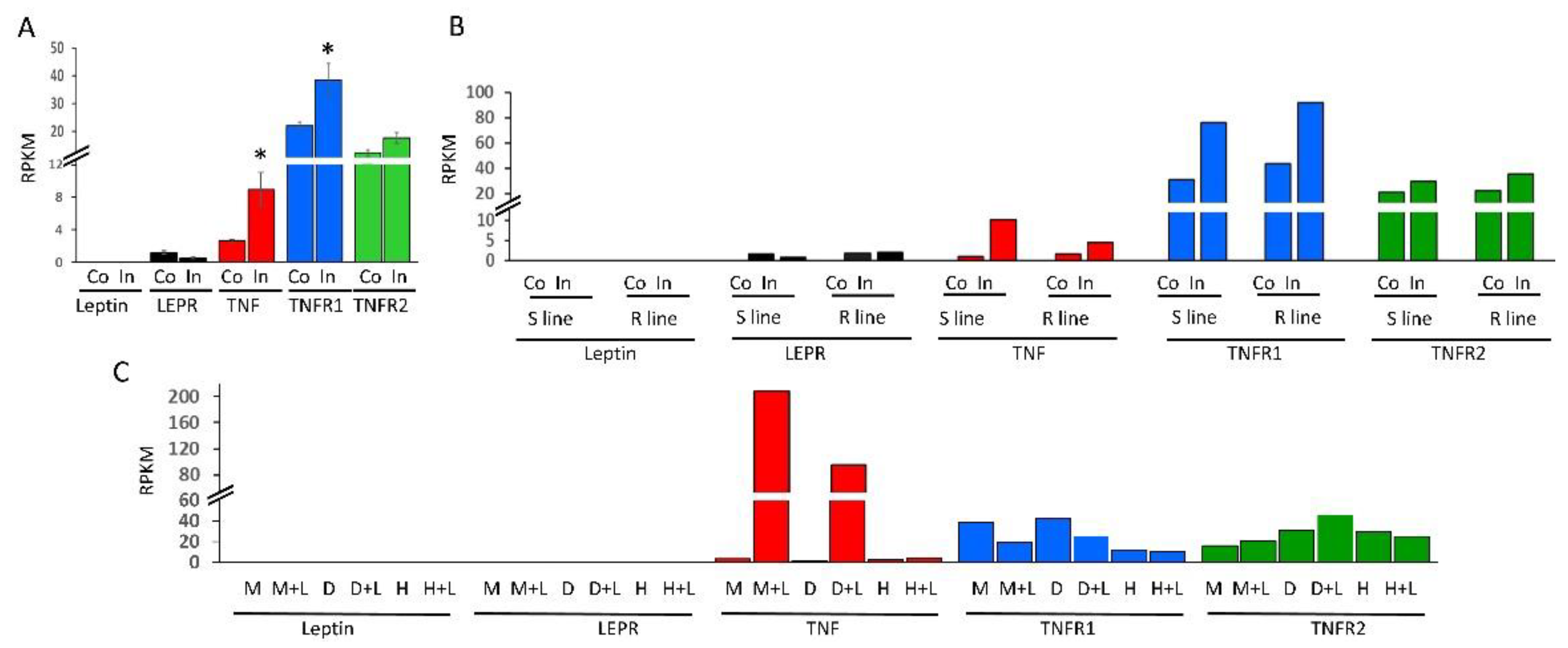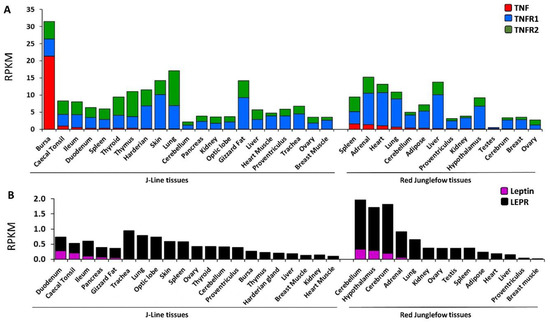 Figure 4.
Meta-analysis of the expression patterns of
TNF
, leptin and their cognate receptors in adult J-Line and Red junglefowl chickens. A. Chicken
TNF
,
TNFR1
and
TNFR2
full-length sequences (accessions MF000729, NM_204439, and NM_001030779, respectively) were used as baits for BLASTN searching the SRA databases of 9 female 16 to 17 weeks of age J-line chickens (BioProject accession no. PRJEB12891) and two-year-old female and male red junglefowls (BioProject accession no. PRJNA204941). B. Chicken leptin and
LEPR
full-length sequences (accessions: LN794246 and NM_204323, respectively), were used as baits for BLASTN searching the same databases as in A. Results are presented as RPKM.

Figure 5.
Immunohistochemistry analysis of leptin in chicken duodenum.
A
. Low power microphotographs of parallel non retrieved duodenum sections from mature leghorn chickens incubated with leptin antibody diluted from 1:1600 or processed without the primary antibody (no AB). Staining is observed in the mucosa in both enterocytes (absorbing cells) and goblet cells (mucosa secreting cells, distinctive by the presence of vacuoles). Crypts are indicated by arrow heads. U&PC are undifferentiated cells and Paneth cells. BG stands for Brunner's gland.
B.
Higher magnification of a microvillus from B showing more clearly the absence of staining in the lamina propria (LP).
C.
The specificity of the leptin antibody was demonstrated by western analysis (top), using conditioned medium from 293 cells expressing exogenously administrated leptin minigenes of human, duck and chicken or mock transfected (hL, dL, and cL and MT, respectively) as described in details by Seroussi et al. [
15
]. Staining the same blot with tubulin antibody (middle panel) demonstrated that similar amounts of protein were loaded onto the gel wells, and the graph at the bottom indicated that a similar level of leptin activity was present in the three samples of conditioned medium (detected using LEPR based bioassay [
15
]).

Gene Name
Position RH-Mapping (CentiRay)
Linkage by FISH
Position GGA16
Position HSA6

TRIM 7.2

Tripartite motif containing 7

200–240
CSNK2B, TNF
2,482,253..2,492,415

BRD2

Bromodomain containing 2

294.6
ABHD16A
2,574,363..2,583,216
32968594..32981505

TAP2

Transporter 2, ATP-binding cassette

220–300
2,601,162..2,604,724
32821833..32838823

C4A

Complement 4

2,610,038..2,624,392
31982057..32002680

TNF

Tumor Necrosis Factor

189.1
Unknown
31575565..31578336

CSNK2B

Casein kinase II subunit beta

197.3
Unknown
31665880..31670070

ABHD16A

Abhydrolase domain containing 16A

256
Unknown
31686949..31703360

© 2019 by the authors. Licensee MDPI, Basel, Switzerland. This article is an open access article distributed under the terms and conditions of the Creative Commons Attribution (CC BY) license (http://creativecommons.org/licenses/by/4.0/).