Open Access This article is
freely available
re-usable
Review
Zebrafish and Medaka: Two Teleost Models of T-Cell and Thymic Development
Department of Oncology, Hematology, Immunology and Rheumatology, University Hospital Tübingen, 72076 Tübingen, Germany
†
These authors contributed equally to this work.

Received: 24 July 2019 / Accepted: 16 August 2019 / Published: 26 August 2019
Abstract
:
Over the past two decades, studies have demonstrated that several features of T-cell and thymic development are conserved from teleosts to mammals. In particular, works using zebrafish (
Danio rerio
) and medaka (
Oryzias latipes
) have shed light on the cellular and molecular mechanisms underlying these biological processes. In particular, the ease of noninvasive in vivo imaging of these species enables direct visualization of all events associated with these processes, which are, in mice, technically very demanding. In this review, we focus on defining the similarities and differences between zebrafish and medaka in T-cell development and thymus organogenesis; and highlight their advantages as two complementary model systems for T-cell immunobiology and modeling of human diseases.
Keywords:
T-cell development; thymopoiesis; zebrafish; medaka; imaging
Author Contributions
A.M.D., A.C. and L.D. contributed to the conception of the manuscript, participated in critical review of the literature and co-wrote this article. N.A. provided scientific discussion. B.B. provided scientific discussion, contributed to the conception of the manuscript and critical revision for important intellectual content and final approval. All authors read and edited the manuscript.
Funding
The work in the B.B.'s laboratory is supported by Deutsche Forschungsgemeinschaft (BA 5766/3-1), Deutsche José Carreras Leukämie-Stiftung (DJCLS11 R/2018), and Wilhelm-Sander-Stiftung.
Acknowledgments
We acknowledge support by Deutsche Forschungsgemeinschaft (DFG) and Open Access Publishing Fund of University of Tübingen.
Conflicts of Interest
The authors declare no conflict of interest. The funders had no role in the design of the study; in the collection, analyses, or interpretation of data; in the writing of the manuscript, or in the decision to publish the results.
Abbreviations
| | |
| --- | --- |
| AIRE | Autoimmune regulator |
| dpf | Days post-fertilization |
| ETP | Early T-cell progenitor |
| RTE | Recent thymic emigrants |
| T-ALL | T-cell acute lymphoblastic leukemia |
| TCR | T-cell receptor |
| TEC | Thymic epithelial cell |
| T-LBL | T-lymphoblastic lymphoma |
| VLR | Variable lymphocyte receptor |
| wpf | Weeks post-fertilization |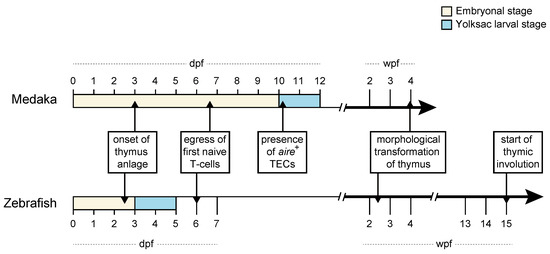 Figure 1.
Comparative timeline of medaka and zebrafish T-cell and thymic development. The onset of thymus anlage was defined by the expression of
foxn1
, as shown previously [
31
,
32
]. The time window for the egress of first naïve T-cells into the periphery was determined using live in vivo imaging in medaka [
43
] and zebrafish [
31
]. The expression of
autoimmune regulator
(
aire
) gene, a marker for medullary TECs have been described in medaka yolksac larvae [
43
] but not yet in zebrafish. Note that medaka possesses a fully functional thymus with T-cells in the periphery shortly before hatching around 10 days post-fertilization (dpf) [
43
]. At later stages, the thymus undergoes a morphological transformation, which occurs in zebrafish between 2- and 3-wpf [
39
] and in medaka at 4 wpf [
48
]. Based on histological studies, the age-related thymic regression is prominent in zebrafish at 15 wpf [
39
]. In medaka, however, the starting point of thymus involution is not clear. Based on one study, the thymic regression in medaka continues until five years of age [
48
].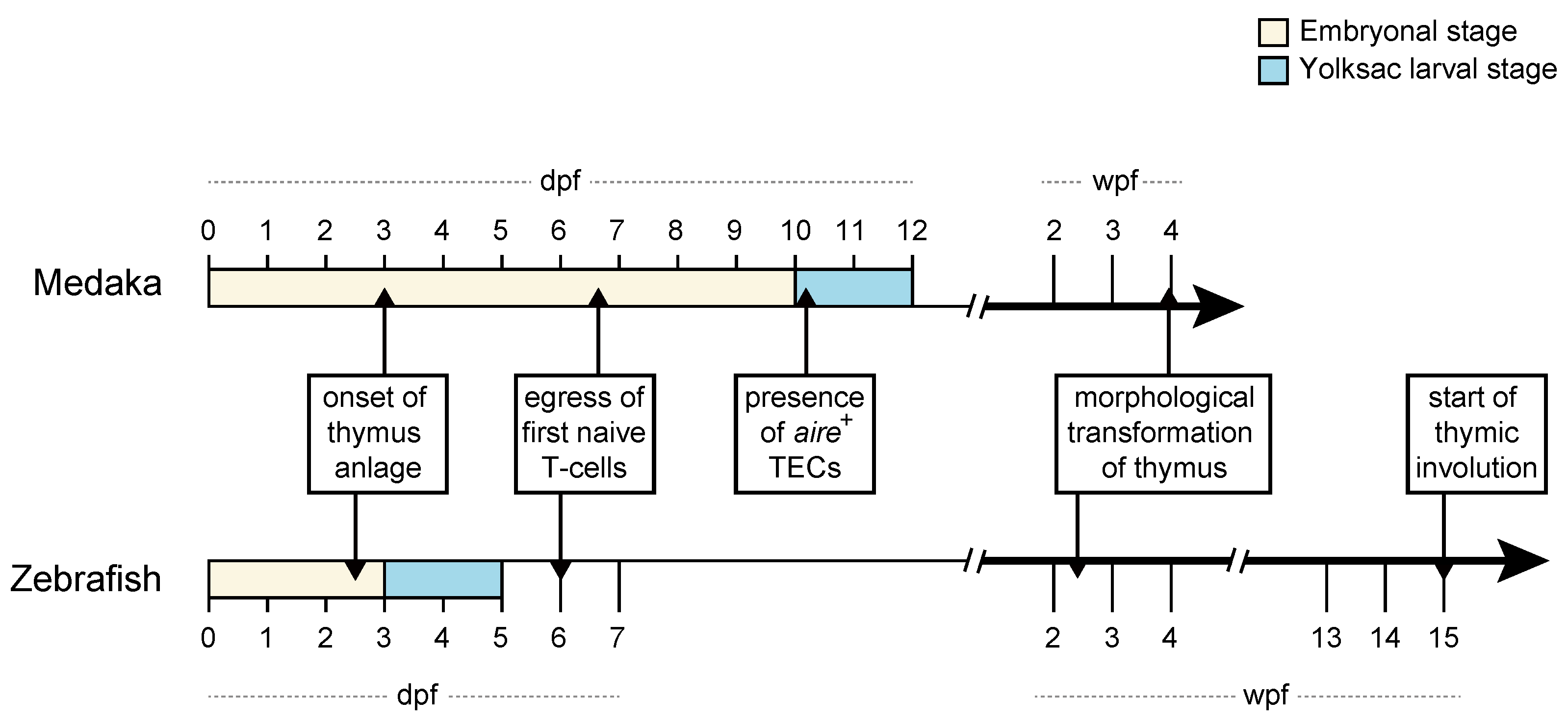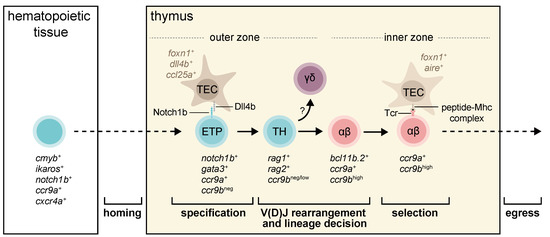 Figure 2.
The current model of T-cell development in teleosts. A schematic illustration of stages of T-cell development in zebrafish and medaka, highlighting the expression of marker genes at each developmental stage based on previous studies [
31
,
32
,
43
]. Dashed arrows mean migration into and out of the thymus. Arrows mean development into a next stage. Abbreviations: ETP, early T-cell progenitor; TEC, thymic epithelial cells; TH, thymocytes.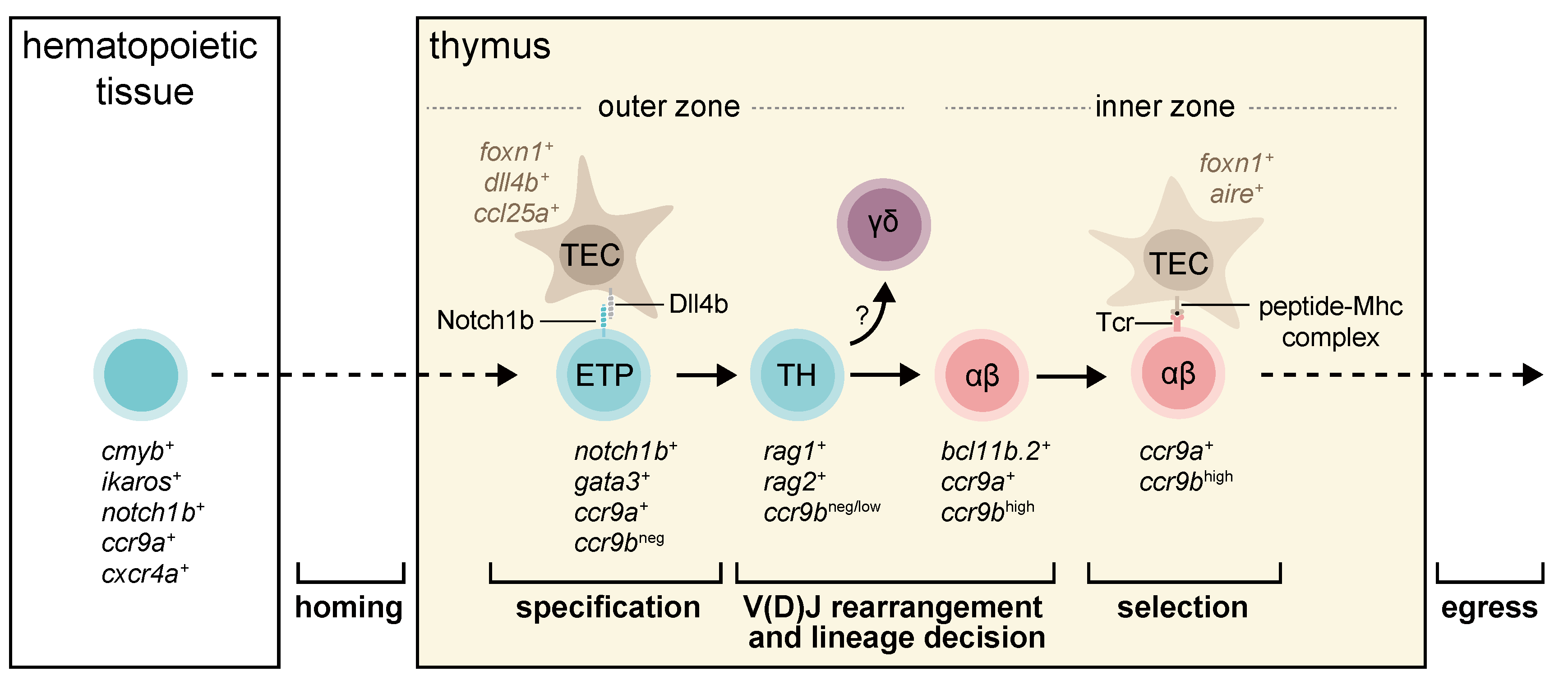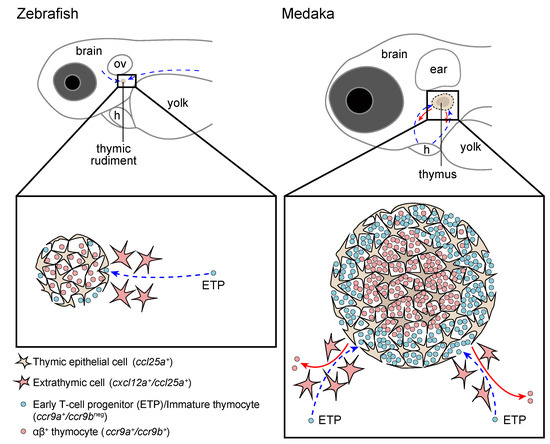 Figure 3.
Early colonization of the thymus by lymphoid progenitors in freshly hatched zebrafish and medaka larvae. A schematic illustration of the migratory paths of thymus colonization in zebrafish (left panel) and medaka (right panel) at the time when they hatch out of the chorion according to previous studies [
30
,
31
,
42
,
48
]. Blue dashed arrows indicate the migration path of cells from the extrathymic mesenchyme into the thymus. Red arrows indicate the migratory pathways of RTEs into the periphery. Abbreviations: h, heart; ov, otic vesicle.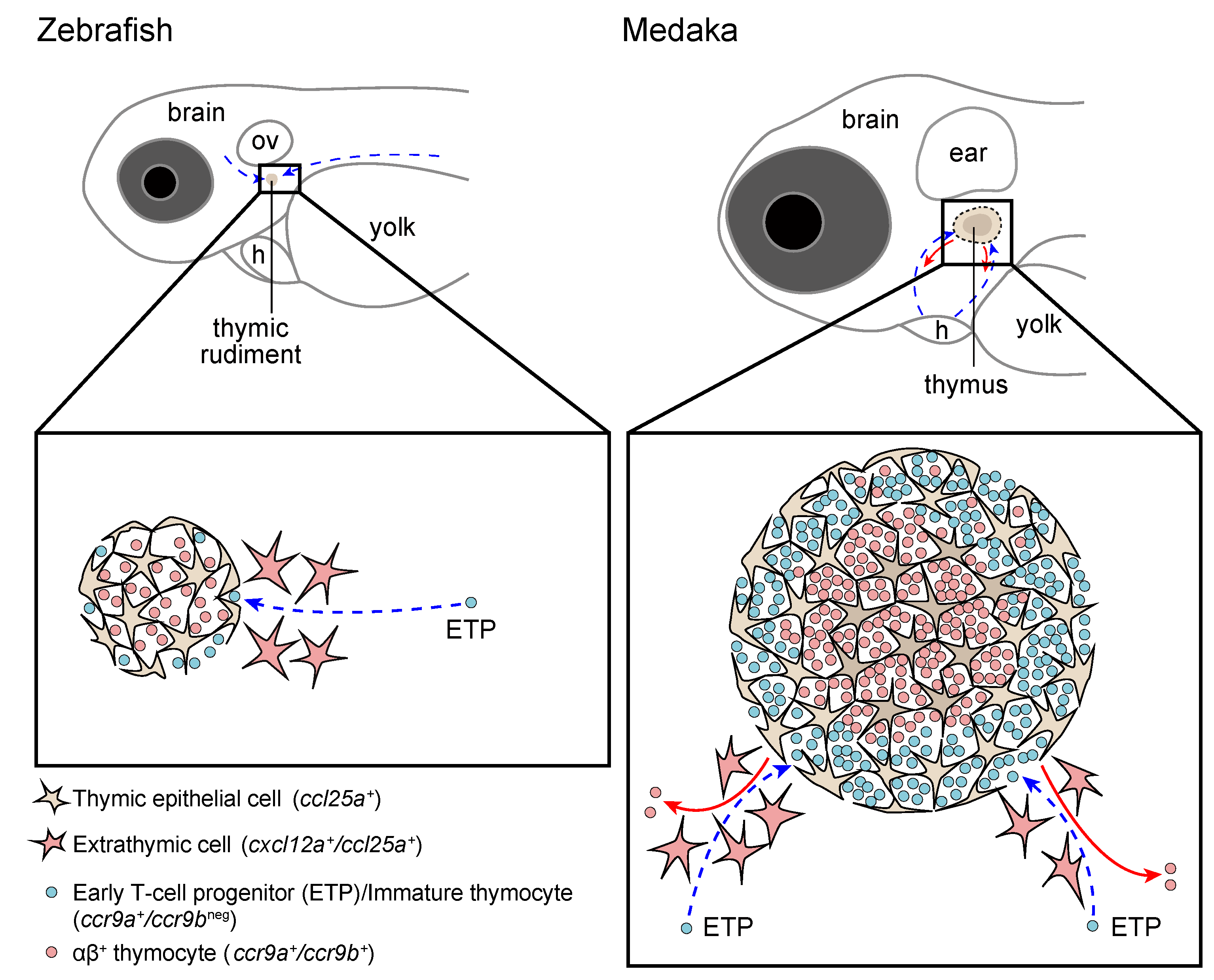 © 2019 by the authors. Licensee MDPI, Basel, Switzerland. This article is an open access article distributed under the terms and conditions of the Creative Commons Attribution (CC BY) license (http://creativecommons.org/licenses/by/4.0/).