Open Access This article is
freely available
re-usable
Review
Rett Syndrome and Other Neurodevelopmental Disorders Share Common Changes in Gut Microbial Community: A Descriptive Review
1
Department of Health Sciences, Università degli Studi di Milano, 20142 Milan, Italy
2
Child Neuropsychiatry Unit, ASST Santi Paolo Carlo Hospital, 20142 Milan, Italy
*
Authors to whom correspondence should be addressed.
Received: 13 July 2019 / Accepted: 24 August 2019 / Published: 26 August 2019
Abstract
:
In this narrative review, we summarize recent pieces of evidence of the role of microbiota alterations in Rett syndrome (RTT). Neurological problems are prominent features of the syndrome, but the pathogenic mechanisms modulating its severity are still poorly understood. Gut microbiota was recently demonstrated to be altered both in animal models and humans with different neurodevelopmental disorders and/or epilepsy. By investigating gut microbiota in RTT cohorts, a less rich microbial community was identified which was associated with alterations of fecal microbial short-chain fatty acids. These changes were positively correlated with severe clinical outcomes. Indeed, microbial metabolites can play a crucial role both locally and systemically, having dynamic effects on host metabolism and gene expression in many organs. Similar alterations were found in patients with autism and down syndrome as well, suggesting a potential common pathway of gut microbiota involvement in neurodevelopmental disorders.
Keywords:
neurodevelopment; Rett syndrome; autism spectrum disorder; gut microbiota;
Clostridium
;
Sutterella
1. Introduction
The commensal microbial community inhabiting the mammalian gastrointestinal tract, microbiota, has been demonstrated to exert important functions both prenatally and postnatally [
1
]. Several studies on germ-free mice established that, at the local level, the presence of pioneering microorganisms triggers the correct development and maturation of the gut-associated lymphoid tissue. Indeed, in the absence of microbiota, animals fail to complete Peyer patches and mesenteric lymph nodes maturation and display longer and thinner villi with a reduced vascular network [
2
]. This intuitive and intimate relationship between the gut and its microbiota during development also applies to distant districts, with the brain as the most counterintuitive and intriguing. Microbial-derived signals are crucial for the physiological brain development, promoting neurotrophins secretion [
3
], microglia maturation [
4
], blood-brain barrier functionality (by enhancing tight-junction expression) [
5
], and correct myelination [
6
]. Brain development is tremendously vulnerable to environmental factors, and events occurring in early phases might have long-term effects later in life [
7
]. Beside the described role in early infancy, the microbiota-gut-brain axis was recently recognized to be a highly complex and tightly regulated bidirectional network. From top to bottom, it encompasses the central nervous system (CNS), the sympathetic and parasympathetic branches of the autonomic nervous system, the enteric nervous system, and the neuroendocrine and neuroimmune systems [
8
]. This complex network is enriched by the gut microbial community exerting a bottom-up modulation by interacting mainly with the vagus nerve and the neuroendocrine and neuroimmune systems [
9
].
In this review, we will focus on gut microbiota changes in Rett syndrome (RTT), the most prevalent neurodevelopmental disorder in females, whose pathogenic mechanisms are still poorly understood and whose genetic background cannot fully explain the phenotypic heterogeneity.
2. Gut Microbiome Alterations in Neurodevelopmental Disorders
3. Gut Microbiome Alterations in Rett Syndrome
4. Gut Microbiome Alterations in Epilepsy
Despite the growing number of studies on the KD and its impact on microbiota in epilepsy, the findings should be interpreted with caution because of the small number of patients involved, the different epilepsy etiology, and the specific diet composition. Nevertheless, the accumulating evidence suggests the need for a better understanding of the state of dysbiosis to establish strategies to possibly counterbalance it.
5. Discussion
Most of the literature has focused either on the clinical aspect or on the microbiome alterations. Nevertheless, NDs are characterized by multifaceted phenotypes that might contribute to the observed differences in the microbiota among various cohorts. A comprehensive approach, combining detailed clinical description with microbiological data, is needed to better understand underlying relationships between symptoms and specific microbial alterations.
6. Conclusions
Although microbiome studies in RTT patients are in their early stages, several authors have investigated this aspect in ASD, which shares several clinical similarities with RTT. Main changes in the gut microbial community suggest enrichment in pro-inflammatory species that could promote alterations in the gut permeability and its barrier function. Within the context of the gut-brain axis, these microbiota-dependent modifications could trigger common behavioral and neurodevelopmental features.
The observation of the presence of a dysbiosis in patients with NDs, especially ASD, triggers the development of innovative therapeutic strategies throughout microbiome-based treatment. Nevertheless, clinical trials with probiotic supplementation are currently limited and lack standardized probiotic regimen, i.e., different administered strains or concentrations and duration of treatment. No clinical trials have been carried out on RTT cohorts thus far.
In addition to probiotic intervention, a careful diet survey on large cohorts of RTT patients would allow the development of diet recommendations that might mitigate microbiome alterations per se.
Author Contributions
E.B. and A.V. conceptualized, wrote, and reviewed the article.
Funding
The FFABR 2017 grant by the Italian Ministry of Education, Universities and Research to A.V. covered the costs to publish in open access.
Acknowledgments
The authors thank Angela Peron for reviewing the manuscript.
Conflicts of Interest
The authors declare no conflict of interest.
Abbreviations
| | |
| --- | --- |
| AED | Antiepileptic drug |
| ASD | Autism spectrum disorder |
| BCFA | Branched-chain fatty acids |
| CDKL5 | Cyclin-dependent kinase-like 5 |
| CNS | Central nervous system |
| CSS | Clinical severity score |
| DS | Down syndrome |
| GABA | Gamma aminobutyric acid |
| GI | Gastrointestinal tract |
| ID | Intellectual disability |
| KD | Ketogenic diet |
| MeCP2 | Methyl CpG binding protein 2 |
| ND | Neurodevelopmental disorder |
| RTT | Rett syndrome |
| SCFA | Short-chain fatty acids |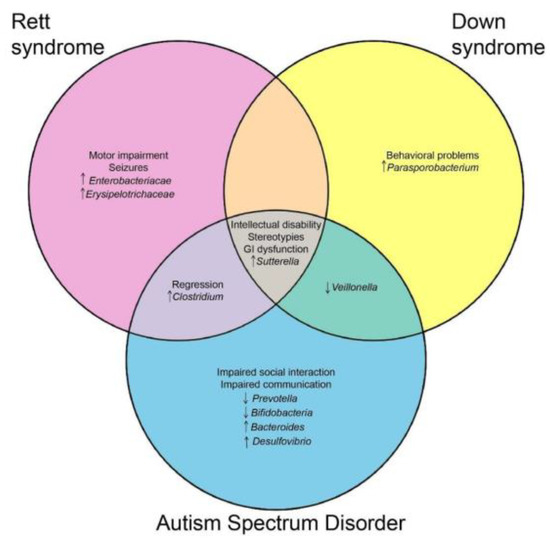 Figure 1. Venn diagram presenting the shared clinical and microbial features between Rett Syndrome, autism spectrum disorder, and down syndrome.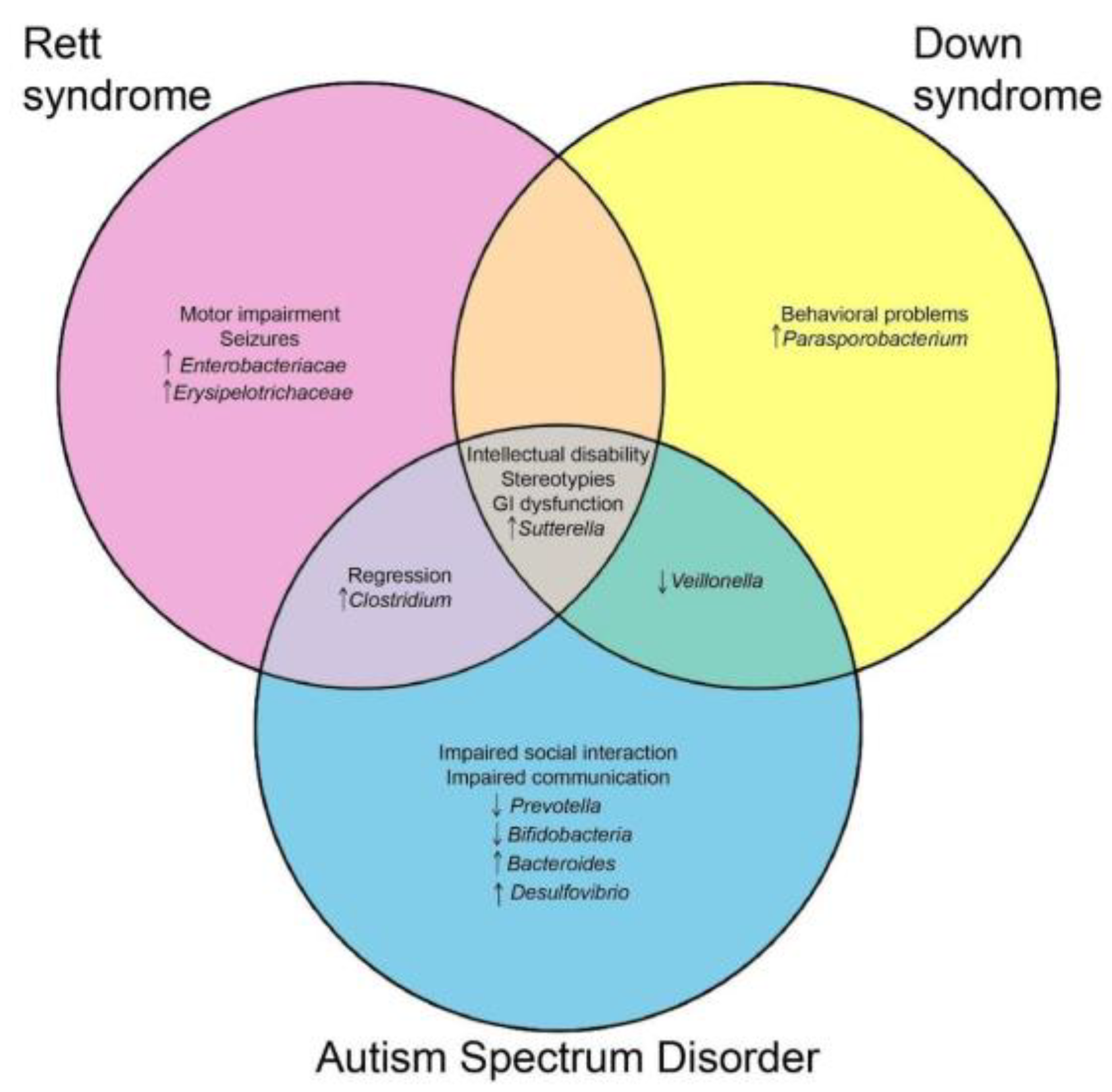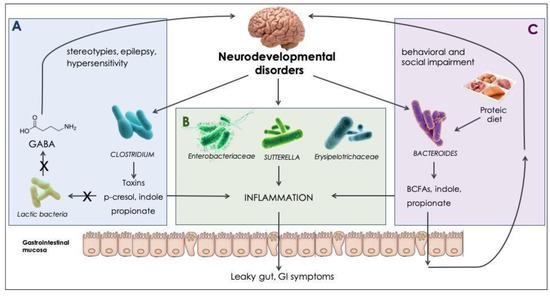 Figure 2.
Microbial modulation in neurodevelopmental disorders. Effects driven directly or indirectly by gut microbes, found to be increased in NDs and their products. (
A
) Clostridia are spore-forming, toxigenic bacteria, with proteolytic ability [
53
]; digestion of aromatic amino acids results in phenol, p-cresol, and indole production. High indole concentrations can suppress bifidobacteria and lactobacilli growth [
77
]. Lactic bacteria are known to endogenously produce gamma-aminobutyric acid (GABA) [
78
]. GABA decrease has been reported as an underlying mechanism for stereotypies occurrence [
79
], ASD hypersensitivity [
80
], and epilepsy [
81
]. (
B
)
Enterobacteriaceae
[
87
],
Sutturella
spp. [
76
], and
Erysipelotrichaceae
[
88
] have been reported to exert a pro-inflammatory effect, which can alter gastrointestinal homeostasis and alter the gastrointestinal (GI) barrier permeability. (
C
)
Bacteroides
are nutritionally versatile bacteria, with both saccharolytic and proteolytic activity [
53
]; a rich-protein diet promotes the production of branched-chain fatty acids (BCFAs) and propionate [
89
]. High propionate concentrations have demonstrated to exert behavioral and social impairment in animal models [
31
].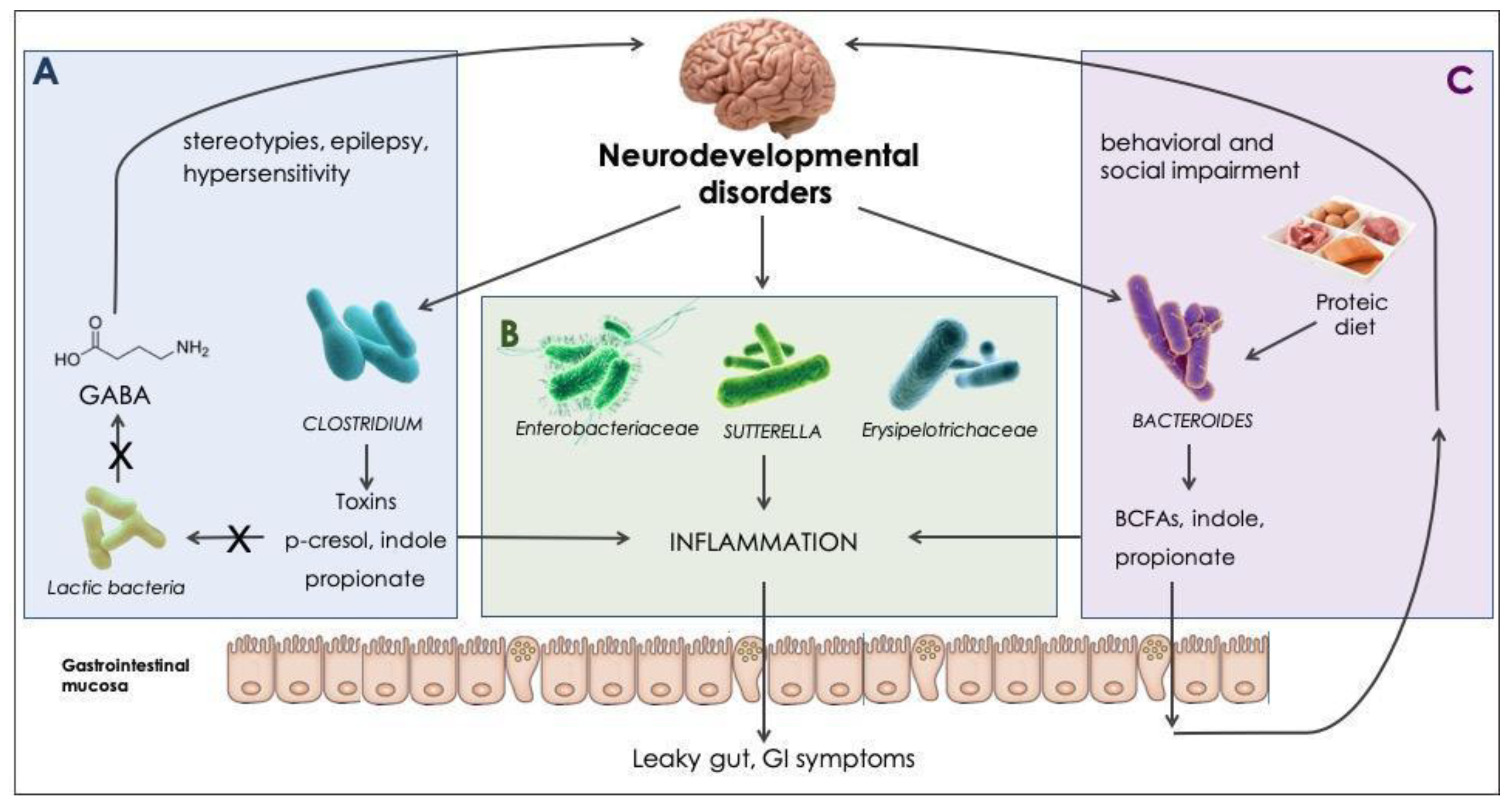 Reference
Cohort
Mean Age (years)
Age Range
GIa Symptoms (%)
Methods
Results (RTT vs HCb)
Strati et al., 2017
50 RTT
12.6 ± 7.3
1.5–32
68%

16S rRNA sequencing

:
V3-V5 hypervariable regions;
454 pyrosequencing platform; Greengenes
Version 13.05
↓ α-diversityc
β- diversityd (

p

≤ 0.003)

↑ Actinobacteria
↓ Bacteroidetes
↑

Bifidobacterium

spp.
↑

Clostridium

spp.

, Enterococcus,




Erysipelotrichaceae incertae sedis, Escherichia/Shigella

and

Megasphaera



↑

Candida

spp.
(MECp2; n = 48)
(CDKL5; n=2)
29 HCb
17.4 ± 9.6
1.5–32
SCFAe quantification:
Gas chromatography
↑ Propionate,

iso

-butyrate and

iso-

valerate (in feces)
Borghi et al., 2017
8 RTT
23.0 ± 8.7
9–39
100%

16S rRNA sequencing

:
V3-V4 hypervariable regions; MiSeq Illumina platform; Greengenes
Version 13.8
↓ α-diversityc (a severity-related decrease)
β- diversityd (

p

≤ 0.05, only severe RTT vs HC)

↑

Bacteroides

spp.
↑

Clostridium

spp.
↑

Sutterella

spp.
↓

Faecalibacterium

spp.
↓

Roseburia

spp.
↓

Prevotella

spp.

↑

Enterobacteriacae, B

acteroidaceae


and

Erysipelotrichaceae

(severity-related)
(MECp2; n = 8)
10 HCb
24.5 ± 6.6
18–41
SCFAe quantification:
Gas chromatography
↑ Propionate, butyrate,

iso

-butyrate and

iso-

valerate (in feces)
aGI, Gastrointestinal tract; bHC, healthy controls; cα-diversity, the diversity in the bacterial composition within each sample; dβ- diversity, the diversity between sample groups; eSCFA, short-chain fatty acids.

© 2019 by the authors. Licensee MDPI, Basel, Switzerland. This article is an open access article distributed under the terms and conditions of the Creative Commons Attribution (CC BY) license (http://creativecommons.org/licenses/by/4.0/).