Open Access This article is
freely available
re-usable
Article
Characterization of the First Bacterial and Thermostable GDP-Mannose 3,5-Epimerase
Centre for Synthetic Biology, Department of Biotechnology, Ghent University, Coupure links 653, 9000 Gent, Belgium
*
Author to whom correspondence should be addressed.
Received: 27 June 2019 / Accepted: 18 July 2019 / Published: 19 July 2019
Abstract
:
GDP-mannose 3,5-epimerase (GM35E) catalyzes the conversion of GDP-mannose towards GDP-
l
-galactose and GDP-
l
-gulose. Although this reaction represents one of the few enzymatic routes towards the production of
l
-sugars and derivatives, it has not yet been exploited for that purpose. One of the reasons is that so far only GM35Es from plants have been characterized, yielding biocatalysts that are relatively unstable and difficult to express heterologously. Through the mining of sequence databases, we succeeded in identifying a promising bacterial homologue. The gene from the thermophilic organism
Methylacidiphilum fumariolicum
was codon optimized for expression in
Escherichia coli
, resulting in the production of 40 mg/L of recombinant protein. The enzyme was found to act as a self-sufficient GM35E, performing three chemical reactions in the same active site. Furthermore, the biocatalyst was highly stable at temperatures up to 55 °C, making it well suited for the synthesis of new carbohydrate products with application in the pharma industry.
Keywords:
Methylacidiphilum fumariolicum
; biocatalysis; GDP-mannose 3,5-epimerase;
l
-sugars; recombinant expression
Supplementary Materials
The following are available online at
https://www.mdpi.com/1422-0067/20/14/3530/s1
, Figure S1: SDS-PAGE of
Mf
GM35E purification; Figure S2: Melting curves obtained through DSF; Figure S3: Genomic context of GM35E in
Methylacidiphilum fumariolicum
strain SolV.
Author Contributions
Conceptualization, O.G.; T.D.; S.V.O. and K.B.; methodology, O.G.; validation, S.V.O.; T.D. and K.B.; formal analysis, O.G.; investigation, O.G.; data curation, O.G.; writing—original draft preparation, O.G.; writing—review and editing, T.D.; S.V.O. and K.B.; visualization, O.G.; supervision, T.D. and K.B.; project administration, O.G.
Funding
This research was funded by the Fund for Scientific Research Flanders (FWO-Vlaanderen) via a doctoral scholarship for OG (grant NO. 1S16817N) and the EpiSwitch project (grant NO. G0F3417N).
Conflicts of Interest
The authors declare no conflict of interest.
Abbreviations
GM35E
GDP-mannose 3,5-epimerase
Gal4E
UDP-glucose 4-epimerase
CEP
carbohydrate epimerase
GDP-Man
GDP-

d

-mannose
GDP-

l

-Gal
GDP-

l

-galactose
GDP-

l

-Gul
GDP-

l

-gulose

l

-AA

l

-ascorbic acid
LPS
lipopolysaccharide
SDR
short-chain dehydrogenase/reductase
ACN
acetonitrile
EtOH
ethanol
MeOH
methanol
LB
lysogeny broth
IPTG
isopropyl β-

d

-thiogalactopyranoside
PMSF
phenylmethane sulfonyl fluoride
DSF
differential scanning fluorimetry
FRET
fluorescence resonance energy transfer

Figure 1.
Mechanism of the GDP-mannose 3,5-epimerase. The epimerization reaction results in an equilibrium between GDP-
d
-mannose (GDP-Man), GDP-
l
-galactose (GDP-L-Gal), and GDP-
l
-gulose GDP-L-Gul.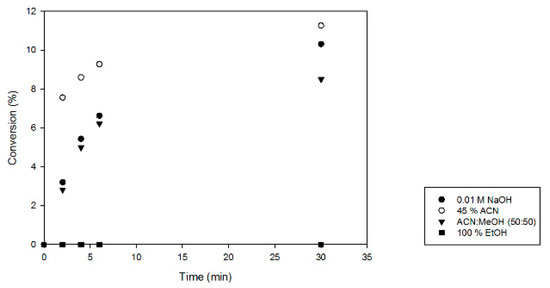 Figure 2. Evaluation of enzyme inactivation methods. Reaction mixtures (2 mM GDP-Man, 0.01 mg/mL MfGM35E, pH 8) were incubated at 37 °C. At defined time points, samples were 10× diluted in various inactivation solutions (0.01 M NaOH, 45% acetonitrile (ACN), acetonitrile/methanol (MeOH) (50:50), or 100% ethanol (EtOH)). The y-axis represents the conversion of GDP-Man towards GDP-L-Gal.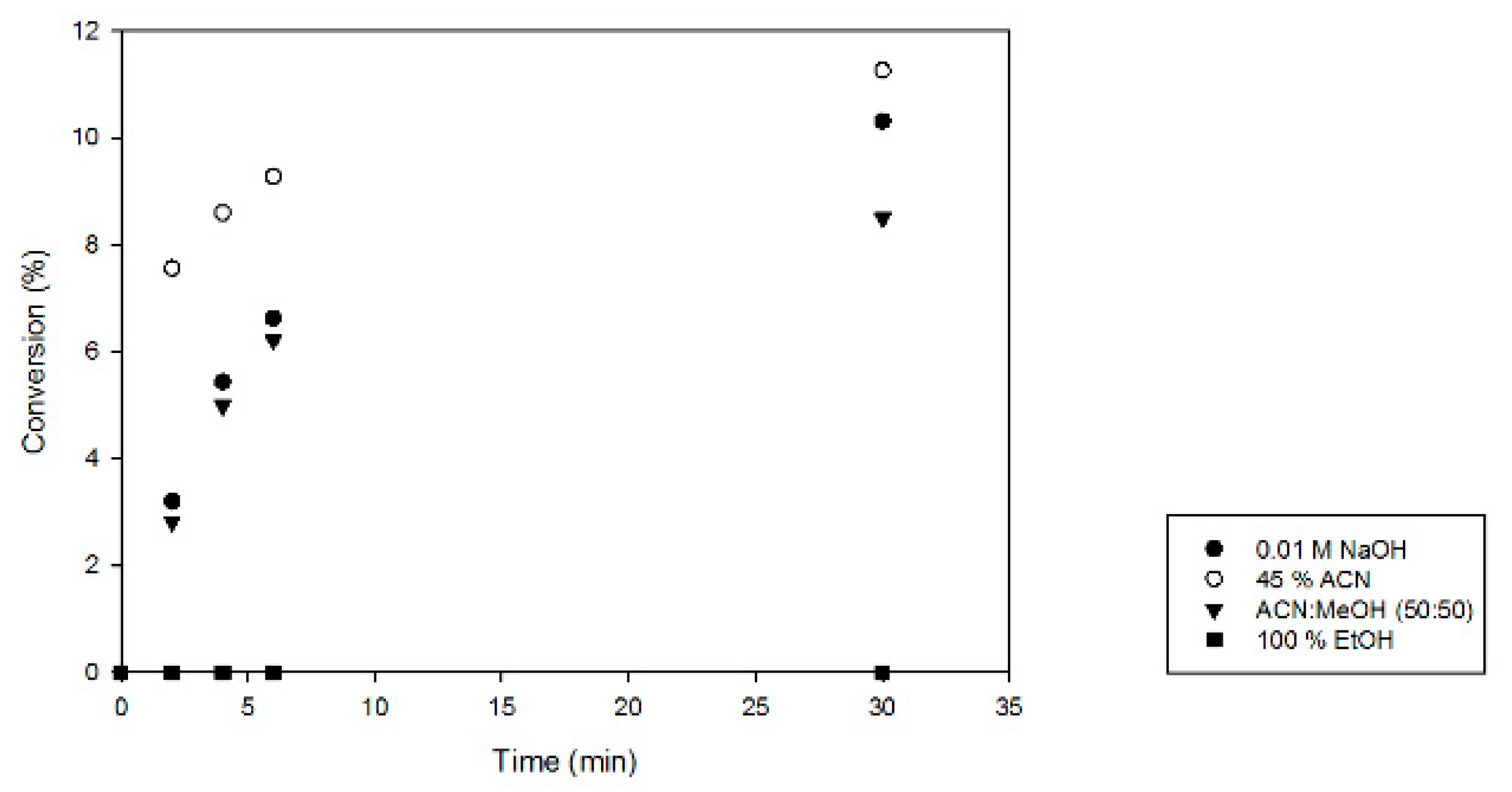 Figure 3. The effect of (a) temperature and (b) pH on MfGM35E activity. The pH and temperature profiles were determined in the presence of 2 mM GDP-Man at 40 °C and pH 8, respectively.


Figure 4.
Sequence and structural analysis of MfGM35E. (
a
) Multiple sequence alignment of the GM35Es from
Methylacidiphilum fumariolicum
(Mf),
Arabidopsis thaliana
(At),
Oryza sativa
subsp.
japonica
(Os_j), and
Oryza sativa
subsp.
indica
(Os_i). Yellow, GxxGxxG motif; blue, YxxxK motif and upstream serine (S); green, catalytic cysteine (C) and lysine (K); purple, conserved arginine (R). (
b
) Representation of the active site of MfGM35E (blue) and AtGM35E (yellow). The catalytic C and K are highlighted, as well as the conserved R. GDP-mannose is colored by element (green).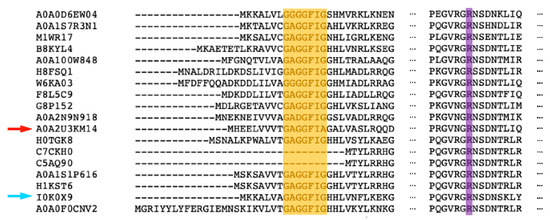 Figure 5.
Multiple sequence alignment of the 18 putative bacterial GM35Es found in UniProt. The GxxGxxG motif is highlighted in yellow, whereas the conserved arginine (R) is colored in purple. The variants are represented by their UniProt code. The bacterial GM35E displaying the alternative GxxGxxA motif is marked by a red arrow, and
Mf
GM35E is indicated by a blue arrow.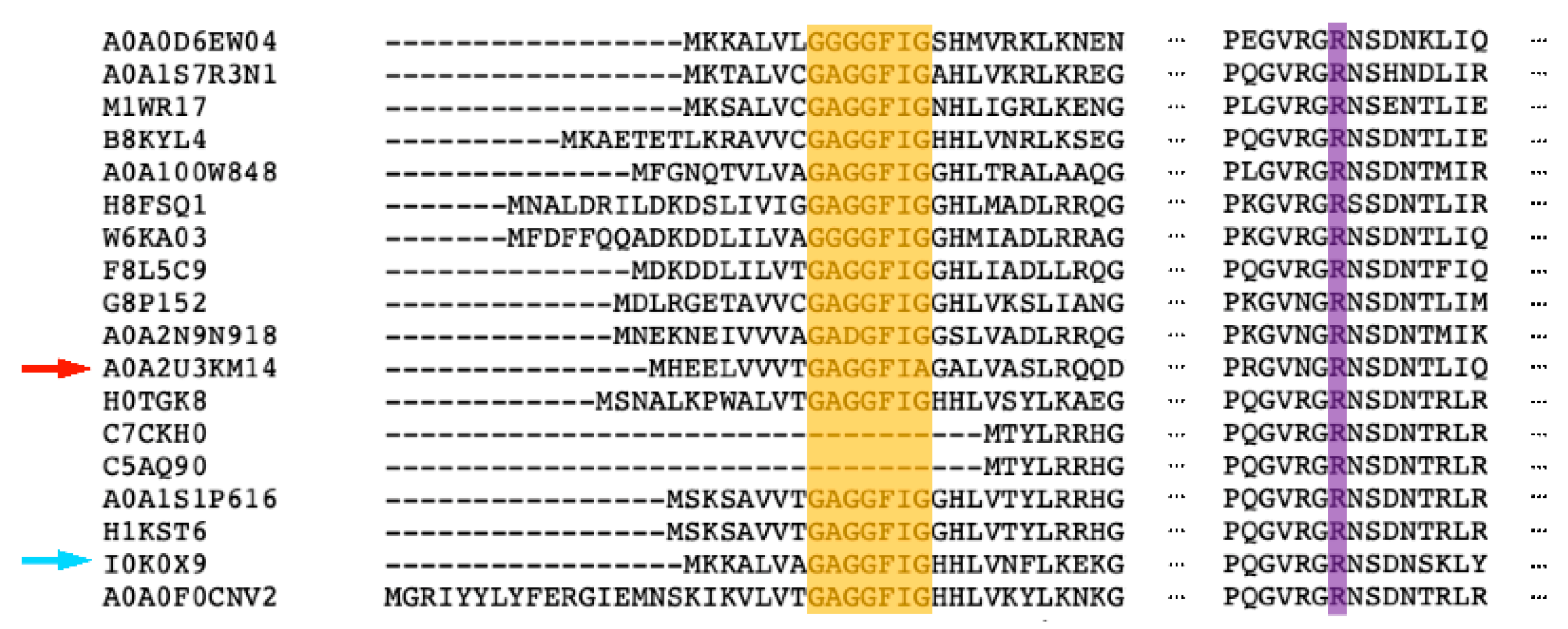 © 2019 by the authors. Licensee MDPI, Basel, Switzerland. This article is an open access article distributed under the terms and conditions of the Creative Commons Attribution (CC BY) license (http://creativecommons.org/licenses/by/4.0/).