Glucagon-Like Peptide-1 Receptor Agonist Attenuates Autophagy to Ameliorate Pulmonary Arterial Hypertension through Drp1/NOX- and Atg-5/Atg-7/Beclin-1/LC3β Pathways
1
Division of Plastic Surgery, Department of Surgery, Kaohsiung Medical University Hospital, Kaohsiung 80708, Taiwan
2
Ph.D. Program in Translational Medicine, Kaohsiung Medical University and Academia Sinica, Taipei 11564, Taiwan
3
Research Center of Regenerative Medicine and Cell Therapy, Kaohsiung Medical University, Kaohsiung 80708, Taiwan
4
Translational Research Center, Department of Medical Research, Kaohsiung Medical University Hospital, Kaohsiung 80708, Taiwan
5
Center of Teaching and Research, Kaohsiung Municipal Ta-Tung Hospital, Kaohsiung 80145, Taiwan
6
Department of Surgery, School of Medicine, College of Medicine, Kaohsiung Medical University, Kaohsiung 80708, Taiwan
7
Department of Internal Medicine, Kaohsiung Municipal Ta-Tung Hospital, Kaohsiung 80145, Taiwan
8
Division of Endocrinology and Metabolism, Department of Internal Medicine, Kaohsiung Medical University Hospital, 807 Kaohsiung 80708, Taiwan
9
Department of Pharmacology, School of Medicine, College of Medicine, Kaohsiung Medical University, Kaohsiung 80708, Taiwan
10
Department of Medical Research, Kaohsiung Medical University Hospital, Kaohsiung 80708, Taiwan
*
Authors to whom correspondence should be addressed.
†
These authors contributed equally to this study.
Received: 27 June 2019 / Revised: 9 July 2019 / Accepted: 11 July 2019 / Published: 12 July 2019
Abstract
Mitochondrial dysfunction is associated with cardiovascular diseases and diabetes. Pulmonary arterial hypertension (PAH) is characterized by pulmonary vascular remodeling, and the abnormal proliferation, apoptosis and migration of pulmonary arterial smooth muscle cells (PASMCs). The glucagon-like peptide-1 (GLP-1) receptor agonist, liraglutide, has been shown to prevent pulmonary hypertension in monocrotaline-exposed rats. The aim of this study was to investigate the effect of liraglutide on autophagy, mitochondrial stress and apoptosis induced by platelet-derived growth factor BB (PDGF-BB). PASMCs were exposed to PDGF-BB, and changes in mitochondrial morphology, fusion-associated protein markers, and reactive oxygen species (ROS) production were examined. Autophagy was assessed according to the expressions of microtubule-associated protein light chain 3 (LC3)-II, LC3 puncta and Beclin-1. Western blot analysis was used to assess apoptosis, mitochondrial stress and autophagy markers. Liraglutide significantly inhibited PDGF-BB proliferation, migration and motility in PASMCs. PDGF-BB-induced ROS production was mitigated by liraglutide. Liraglutide increased the expression of α-smooth muscle actin (α-SMA) and decreased the expression of p-Yes-associated protein (p-YAP), inhibited autophagy-related protein (Atg)-5, Atg-7, Beclin-1 and the formation of LC3-β and mitochondrial fusion protein dynamin-related (Drp)1. Therefore, liraglutide can mitigate the proliferation of PASMCs via inhibiting cellular Drp1/nicotinamide adenine dinucleotide phosphate (NADPH) oxidases (NOX) pathways and Atg-5/Atg-7/Beclin-1/LC3β-dependent pathways of autophagy in PAH.
View Full-Text
►

▼

Figures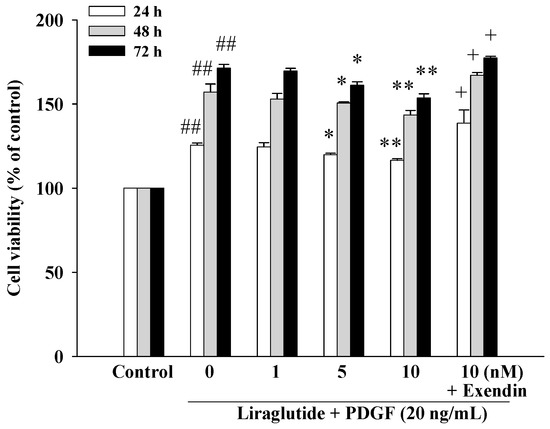 Figure 1
This is an open access article distributed under the
Creative Commons Attribution License
which permits unrestricted use, distribution, and reproduction in any medium, provided the original work is properly cited (CC BY 4.0).

Share & Cite This Article
MDPI and ACS Style
Wu, Y.-C.; Wang, W.-T.; Lee, S.-S.; Kuo, Y.-R.; Wang, Y.-C.; Yen, S.-J.; Lee, M.-Y.; Yeh, J.-L. Glucagon-Like Peptide-1 Receptor Agonist Attenuates Autophagy to Ameliorate Pulmonary Arterial Hypertension through Drp1/NOX- and Atg-5/Atg-7/Beclin-1/LC3β Pathways. Int. J. Mol. Sci. 2019, 20, 3435.
Note that from the first issue of 2016, MDPI journals use article numbers instead of page numbers. See further details here.
Related Articles
Comments
[Return to top]