Protective Effects of Curcumin Ester Prodrug, Curcumin Diethyl Disuccinate against H2O2-Induced Oxidative Stress in Human Retinal Pigment Epithelial Cells: Potential Therapeutic Avenues for Age-Related Macular Degeneration
1
Pharmaceutical Chemistry and Natural Products Program, Faculty of Pharmaceutical Sciences, Chulalongkorn University, Bangkok 10330, Thailand
2
Natural Products for Ageing and Chronic Diseases Research Unit, Chulalongkorn University, Bangkok 10330, Thailand
3
Department of Eye and Vision Science, Institute of Ageing and Chronic Disease, University of Liverpool, Liverpool L7 8TX, UK
4
Department of Food and Pharmaceutical Chemistry, Faculty of Pharmaceutical Sciences, Chulalongkorn University, Bangkok 10330, Thailand
*
Authors to whom correspondence should be addressed.
†
These authors contributed equally to this work.
Received: 12 June 2019 / Revised: 3 July 2019 / Accepted: 5 July 2019 / Published: 9 July 2019
Abstract
Oxidative stress-induced damage to the retinal pigmented epithelium (RPE), a specialised post-mitotic monolayer that maintains retinal homeostasis, contributes to the development of age-related macular degeneration (AMD). Curcumin (Cur), a naturally occurring antioxidant, was previously shown to have the ability to protect RPE cells from oxidative stress. However, poor solubility and bioavailability makes Cur a poor therapeutic agent. As prodrug approaches can mitigate these limitations, we compared the protective properties of the Cur prodrug curcumin diethyl disuccinate (CurDD) against Cur in relation to oxidative stress induced in human ARPE-19 cells. Both CurDD and Cur significantly decreased H
2
O
2
-induced reactive oxygen species (ROS) production and protected RPE cells from oxidative stress-induced death. Both drugs exerted their protective effects through the modulation of p44/42 (ERK) and the involvement of downstream molecules Bax and Bcl-2. Additionally, the expression of antioxidant enzymes HO-1 and NQO1 was also enhanced in cells treated with CurDD and Cur. In all cases, CurDD was more effective than its parent drug against oxidative stress-induced damage to ARPE-19 cells. These findings highlight CurDD as a more potent drug compared to Cur against oxidative stress and indicate that its protective effects are exerted through modulation of key apoptotic and antioxidant molecular pathways.
View Full-Text
►

▼

Figures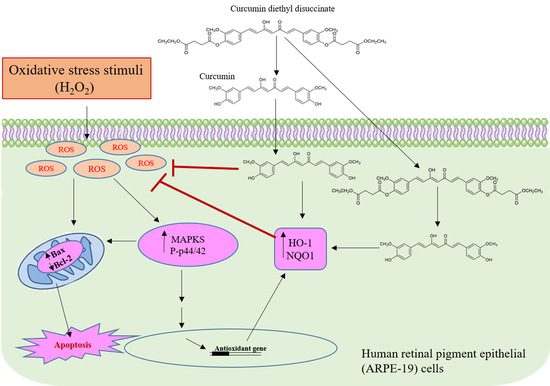 Graphical abstract
This is an open access article distributed under the
Creative Commons Attribution License
which permits unrestricted use, distribution, and reproduction in any medium, provided the original work is properly cited (CC BY 4.0).

Share & Cite This Article
MDPI and ACS Style
Muangnoi, C.; Sharif, U.; Ratnatilaka Na Bhuket, P.; Rojsitthisak, P.; Paraoan, L. Protective Effects of Curcumin Ester Prodrug, Curcumin Diethyl Disuccinate against H2O2-Induced Oxidative Stress in Human Retinal Pigment Epithelial Cells: Potential Therapeutic Avenues for Age-Related Macular Degeneration. Int. J. Mol. Sci. 2019, 20, 3367.
Note that from the first issue of 2016, MDPI journals use article numbers instead of page numbers. See further details here.
Related Articles
Comments
[Return to top]