Alterations in Galanin-Like Immunoreactivity in the Enteric Nervous System of the Porcine Stomach Following Acrylamide Supplementation
Department of Clinical Physiology, Faculty of Veterinary Medicine, University of Warmia and Mazury in Olsztyn, Olsztyn, Poland, Oczapowskiego Str. 13, 10-718 Olsztyn, Poland
*
Author to whom correspondence should be addressed.
Received: 31 May 2019 / Revised: 1 July 2019 / Accepted: 4 July 2019 / Published: 8 July 2019
Abstract
In recent years, a significant increase in the consumption of products containing large amounts of acrylamide (e.g., chips, fries, coffee), especially among young people has been noted. The present study was created to establish the impact of acrylamide supplementation, in tolerable daily intake (TDI) dose and a dose ten times higher than TDI, on the population of galanin-like immunoreactive (GAL-LI) stomach neurons in pigs. Additionally, in the present study, the possible functional co-operation of GAL with other neuroactive substances and their role in acrylamide intoxication was investigated. Using double-labelling immunohistochemistry, alterations in the expression of GAL were examined in the porcine stomach enteric neurons after low and high doses of acrylamide supplementation. Generally, upregulation in GAL-LI immunoreactivity in both myenteric and submucous plexuses was noted in all stomach fragments studied. Additionally, the proportion of GAL-expressing cell bodies simultaneously immunoreactive to vasoactive intestinal peptide (VIP), neuronal nitric oxide synthase (nNOS) and cocaine- and amphetamine- regulated transcript peptide (CART) also increased. The results suggest neurotrophic or/and neuroprotective properties of GAL and possible co-operation of GAL with VIP, nNOS, CART in the recovery processes in the stomach enteric nervous system (ENS) neurons following acrylamide intoxication.
View Full-Text
►

▼

Figures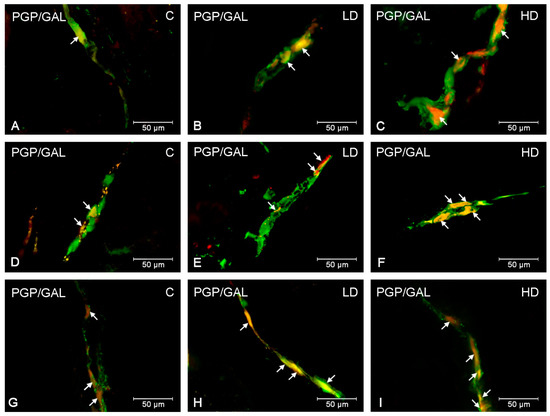 Figure 1
This is an open access article distributed under the
Creative Commons Attribution License
which permits unrestricted use, distribution, and reproduction in any medium, provided the original work is properly cited (CC BY 4.0).

Share & Cite This Article
MDPI and ACS Style
Palus, K.; Makowska, K.; Całka, J. Alterations in Galanin-Like Immunoreactivity in the Enteric Nervous System of the Porcine Stomach Following Acrylamide Supplementation. Int. J. Mol. Sci. 2019, 20, 3345.
Note that from the first issue of 2016, MDPI journals use article numbers instead of page numbers. See further details here.
Related Articles
Comments
[Return to top]