Carboplatin Enhances the Activity of Human Transient Receptor Potential Ankyrin 1 through the Cyclic AMP-Protein Kinase A-A-Kinase Anchoring Protein (AKAP) Pathways
1
Division of Cancer Pathophysiology, National Cancer Research Institute, Tokyo 104-0045, Japan
2
Emergency Life-Saving Technique Academy of Tokyo (ELSTA TOKYO), Hachioji-shi, Tokyo 192-0364, Japan
3
Department of Anesthesiology and Critical Care Medicine, Jichi Medical University, Tochigi 329-0498, Japan
4
Laboratory of Molecular Pathology and Metabolic Disease, Faculty of Pharmaceutical Sciences, Tokyo University of Science, Chiba 278-8510, Japan
5
Department of Anesthesiology, Nagasaki University Graduate School of Biomedical Sciences, Nagasaki 852-8501, Japan
6
Translational Research Center, Research Institute of Science and Technology, Tokyo University of Science, Chiba 278-8510, Japan
7
Division of Supportive Care Research, Exploratory Oncology Research and Clinical Trial Center, National Cancer Center, Tokyo 104-0045, Japan
8
Innovation Center for Supportive, Palliative and Psychosocial Care, National Cancer Center, Tokyo 104-0045, Japan
9
Department of Comprehensive Oncology, Nagasaki University Graduate School of Biomedical Sciences, Nagasaki 852-8523, Japan
*
Author to whom correspondence should be addressed.
Received: 14 June 2019 / Revised: 1 July 2019 / Accepted: 2 July 2019 / Published: 3 July 2019
Abstract
Carboplatin, an anticancer drug, often causes chemotherapy-induced peripheral neuropathy (PN). Transient receptor potential ankyrin 1 (TRPA1), a non-selective cation channel, is a polymodal nociceptor expressed in sensory neurons. TRPA1 is not only involved in pain transmission, but also in allodynia or hyperalgesia development. However, the effects of TRPA1 on carboplatin-induced PN is unclear. We revealed that carboplatin induced mechanical allodynia and cold hyperalgesia, and the pains observed in carboplatin-induced PN models were significantly suppressed by the TRPA1 antagonist HC-030031 without a change in the level of TRPA1 protein. In cells expressing human TRPA, carboplatin had no effects on changes in intracellular Ca
2+
concentration ([Ca
2+
]
i
); however, carboplatin pretreatment enhanced the increase in [Ca
2+
]
i
induced by the TRPA1 agonist, allyl isothiocyanate (AITC). These effects were suppressed by an inhibitor of protein kinase A (PKA). The PKA activator forskolin enhanced AITC-induced increase in [Ca
2+
]
i
and carboplatin itself increased intracellular cyclic adenosine monophosphate (cAMP) levels. Moreover, inhibition of A-kinase anchoring protein (AKAP) significantly decreased the carboplatin-induced enhancement of [Ca
2+
]
i
induced by AITC and improved carboplatin-induced mechanical allodynia and cold hyperalgesia. These results suggested that carboplatin induced mechanical allodynia and cold hyperalgesia by increasing sensitivity to TRPA1 via the cAMP-PKA-AKAP pathway.
View Full-Text
►

▼

Figures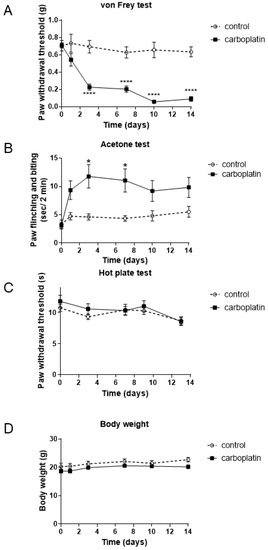 Figure 1
This is an open access article distributed under the
Creative Commons Attribution License
which permits unrestricted use, distribution, and reproduction in any medium, provided the original work is properly cited (CC BY 4.0).

Share & Cite This Article
MDPI and ACS Style
Miyano, K.; Shiraishi, S.; Minami, K.; Sudo, Y.; Suzuki, M.; Yokoyama, T.; Terawaki, K.; Nonaka, M.; Murata, H.; Higami, Y.; Uezono, Y. Carboplatin Enhances the Activity of Human Transient Receptor Potential Ankyrin 1 through the Cyclic AMP-Protein Kinase A-A-Kinase Anchoring Protein (AKAP) Pathways. Int. J. Mol. Sci. 2019, 20, 3271.
Note that from the first issue of 2016, MDPI journals use article numbers instead of page numbers. See further details here.
Related Articles
Comments
[Return to top]