Influence of
ABO

Locus on PFA-100 Collagen-ADP Closure Time Is Not Totally Dependent on the Von Willebrand Factor. Results of a GWAS on GAIT-2 Project Phenotypes

1

Thrombosis and Hemostasis Research Group, Institute of Biomedical Research (IIB-Sant Pau), 08025 Barcelona, Spain

2

Department of Medicine, Universitat Autònoma de Barcelona, 08025 Barcelona, Spain

3

Unit of Genomics of Complex Diseases, Institute of Biomedical Research (IIB-Sant Pau), 08025 Barcelona, Spain

4

Cardiovascular Medicine Unit, Department of Medicine, Center of Molecular Medicine, Karolinska Institutet, SE-17177 Stockholm, Sweden

5

Unit of Hemostasis and Thrombosis, Hospital de la Santa Creu i Sant Pau, 08025 Barcelona, Spain

*

Author to whom correspondence should be addressed.

Received: 6 June 2019 / Revised: 24 June 2019 / Accepted: 27 June 2019 / Published: 30 June 2019
Abstract
(1) Background: In a previous study, we found that two phenotypes related to platelet reactivity, measured with the PFA-100 system, were highly heritable. The aim of the present study was to identify genetic determinants that influence the variability of these phenotypes: closure time of collagen-ADP (Col-ADP) and of collagen-epinephrine (Col-Epi). (2) Methods: As part of the GAIT-2 (Genetic Analysis of Idiopathic Thrombophilia (2) Project, 935 individuals from 35 large Spanish families were studied. A genome-wide association study (GWAS) with ≈ 10 M single nucleotide polymorphisms (SNPs) was carried out with Col-ADP and Col-Epi phenotypes. (3) Results: The study yielded significant genetic signals that mapped to the
ABO
locus. After adjusting both phenotypes for the
ABO
genotype, these signals disappeared. After adjusting for von Willebrand factor (VWF) or for coagulation factor VIII (FVIII), the significant signals disappeared totally for Col-Epi phenotype but only partially for Col-ADP phenotype. (4) Conclusion: Our results suggest that the
ABO
locus exerts the main genetic influence on PFA-100 phenotypes. However, while the effect of the
ABO
locus on Col-Epi phenotype is mediated through VWF and/or FVIII, the effect of the
ABO
locus on Col-ADP phenotype is partly produced through VWF and/or FVIII, and partly through other mechanisms.
View Full-Text
►

▼

Figures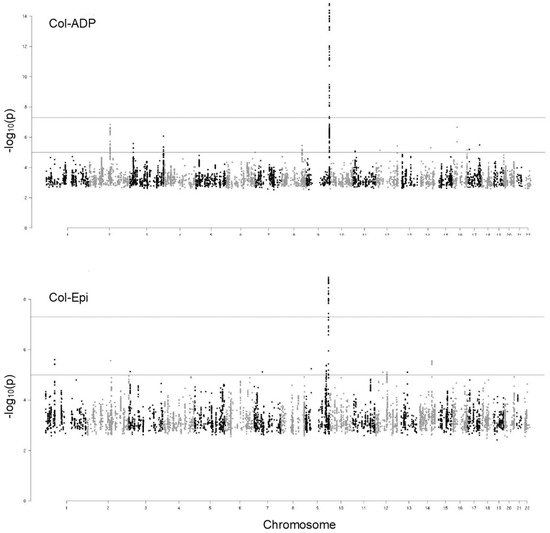 Figure 1
This is an open access article distributed under the
Creative Commons Attribution License
which permits unrestricted use, distribution, and reproduction in any medium, provided the original work is properly cited (CC BY 4.0).

Share & Cite This Article
MDPI and ACS Style
Pujol-Moix, N.; Martinez-Perez, A.; Sabater-Lleal, M.; Llobet, D.; Vilalta, N.; Hamsten, A.; Souto, J.C.; Soria, J.M. Influence of ABO Locus on PFA-100 Collagen-ADP Closure Time Is Not Totally Dependent on the Von Willebrand Factor. Results of a GWAS on GAIT-2 Project Phenotypes. Int. J. Mol. Sci. 2019, 20, 3221.
Note that from the first issue of 2016, MDPI journals use article numbers instead of page numbers. See further details here.
Related Articles
Comments
[Return to top]