Open Access This article is
freely available
re-usable
Review
Small RNA Functions as a Trafficking Effector in Plant Immunity
1
Shanghai Center for Plant Stress Biology and Center of Excellence for Molecular Plant Sciences, Chinese Academy of Sciences, Shanghai 201602, China
2
The University of Chinese Academy of Sciences, Beijing 100049, China
*
Author to whom correspondence should be addressed.
Received: 23 April 2019 / Accepted: 6 June 2019 / Published: 9 June 2019
Abstract
:
Small RNAs represent a class of small but powerful agents that regulate development and abiotic and biotic stress responses during plant adaptation to a constantly challenging environment. Previous findings have revealed the important roles of small RNAs in diverse cellular processes. The recent discovery of bidirectional trafficking of small RNAs between different kingdoms has raised many interesting questions. The subsequent demonstration of exosome-mediated small RNA export provided a possible tool for further investigating how plants use small RNAs as a weapon during the arms race between plant hosts and pathogens. This review will focus on discussing the roles of small RNAs in plant immunity in terms of three aspects: the biogenesis of extracellular small RNAs and the transportation and trafficking small RNA-mediated gene silencing in pathogens.
Keywords:
Small RNAs; Cross-kingdom RNA silencing; Host-induced gene silencing (HIGS)
2. Biosynthesis of sRNA Induced by Pathogen Invasion
2.1. sRNAs in Plant-Virus Interaction
Virus-induced gene silencing (VIGS) is a common phenomenon during plant interactions with DNA or RNA viruses [
28
,
29
]. DCL-dependent production of virus-derived siRNAs is a marker of RNA-based immunity during plant-virus interactions (
Figure 1
) [
30
]. In
Arabidopsis
, 4 DCL proteins function differently in plant anti-RNA virus versus anti-DNA virus immunity. Among them, DCL2 and DCL4, the two major DCLs in defense against RNA viruses, function hierarchically in antiviral immunity [
28
,
29
]. In insects or fungi, only specific DCL proteins confer anti-viral activity [
19
]. The
Arabidopsis dcl2
/
dcl4
double mutant (resulting in the disappearance of 21/22 nt vsiRNAs) shows greater virus accumulation compared to wild-type plants [
31
]. DCL4-dependent secondary 21 nt vsiRNAs, rather than DCL2-dependent 22 nt vsiRNAs, seem to be more effective in plant anti-viral immunity during turnip crinkle virus (TCV) or cucumber mosaic virus (CMV) infection [
32
,
33
]. For DNA viruses (geminiviruses or pararetroviruses), 24 nt vsiRNAs enhance plant resistance through targeting the viral genome for DNA methylation modification, leading to TGS of viral genes [
34
,
35
]. This TGS regulation is carried out by the DCL3-dependent 24 nt siRNA-AGO4 complex [known as the RNA-directed DNA methylation (RdDM) machinery]. Loss of function of DCL3, AGO4 and double-stranded RNA binding protein 3 (DRB3) results in a significant increase in nuclear geminivirus minichromosome accumulation [
34
,
36
].
Despite primary vsiRNA synthesis, the amplification of secondary vsiRNAs by RDRs is also crucial for plant anti-viral immunity (
Figure 1
). There are 6 RDRs (RDR1~6) in
Arabidopsis
. RDR1, RDR2 and RDR6 play major roles in counteracting RNA viruses [
37
]. The RDR6-DCL4-DCL1 module is responsible for the biogenesis of transacting siRNAs (tasiRNAs) and natural antisense siRNAs (nat-siRNAs), which function similarly to miRNAs [
38
]. Systemic RNA silencing in
Arabidopsis
requires RDR1 and RDR6 for the amplification of CMV-derived sRNAs. CMV utilizes 2b proteins [viral suppressors of RNA silencing (VSR)] to suppress the slicer activity of plant AGO1 or AGO4 and RDR6-dependent RNA silencing [
39
]. A mutant form of CMV that does not express 2b proteins is nonpathogenic in wild-type and single-RDR-knockout
Arabidopsis
plants, but becomes highly virulent in
rdr1
/
6
double-knockout plants and
rdr1/2/6
triple-knockout plants [
37
]. Recently, two aminophospholipid-transporting ATPases 1 (ALA1 and ALA2) were identified through forward genetic screening of 2b-lacking CMV infection-sensitive mutants. ALA1 and ALA2 work together to enhance the RDR1 and RDR6-dependent synthesis of secondary vsiRNAs [
40
]. In addition, viruses can induce plant
RDR1
transcription, which is essential for the plant antiviral RNA silencing pathway [
41
]. Rice stripe virus (RSV) induces miR444 accumulation in rice to target three
MADS
genes that play repressive roles in
RDR1
transcription [
42
]. Compared to RNA viruses, RDR3, RDR4 and RDR5 might be responsible for the secondary vsiRNA synthesis of DNA viruses [
35
], as the
rdr1
/
rdr2
/
rdr6
triple mutant shows the same level of geminivirus accumulation as the wild-type [
35
]. Therefore, DCL protein-dependent vsiRNA and RDR-dependent secondary vsiRNA biogenesis in plants is highly flexible when a plant confronts different kinds of viruses.
RNA silencing-based immunity also exhibits cross-talk with R protein-mediated innate immunity during ETI [
20
]. In various plant species,
R
genes encoding NBS-LRR proteins (divided in two clusters of proteins, with a coiled-coil domain or TIR domain) that have been associated with ETI exhibit varying numbers [
16
]. Although R proteins confer robust resistance in contributing to the plant anti-pathogen interaction, unmanaged accumulation of R proteins results in autoimmunity, which inhibits plant growth and seriously negatively impacts agricultural production. It has been reported that several miRNAs directly target R genes for PTGS silencing [
43
,
44
,
45
]. Moreover, some R gene-targeting miRNAs are capable of inducing the production of RDR6-DCL3-dependent phased siRNAs (phasiRNAs) at cleaved R gene sites, resulting in trans-acting silencing (
Figure 1
). miR6019-miR6020-DCL4 mediated phasiRNA synthesis through the cleavage of
N
transcripts (encoding R proteins) in the absence of TMV infection is a fine-tuning process, showing how plants use miRNAs as a master regulator to achieve normal growth. Upon TMV infection, these two miRNAs were significantly decreased, increasing N protein-dependent immunity against TMV [
43
]. A subsequent study showed that the inverse relation between
N
transcript levels and miR6019/miR6020 levels dynamically changes during plant growth. Thus, in natural conditions, older tobacco plants show improved resistance against TMV infection compared to younger ones [
45
]. Interestingly, a recent study even showed that another
R
gene-encoding protein, SNC1, can translocate to the nucleus and repress the transcription of miRNA and phasiRNA loci, probably through the transcriptional corepressor TPR1. This repression indicated a potential SNC1-miRNA-phasiRNA module that reinforces plant immune responses upon virus infection [
44
]. Thus, miRNA-
R
gene-phasiRNAs is an important module for plant immunity against virus infection, but more effort should be focused on determining the conservation of this module upon infection by different virus species.
2.2. sRNAs in Plant-Bacteria Interaction
Recent reports have revealed that several specific miRNAs or siRNAs can be induced in plants during bacterial infection upon the perception of PAMPs or effectors [
46
,
47
]. For example, miR393 was significantly induced by flg22 in
Arabidopsis
, thereby increasing the silencing of auxin signaling receptor target genes and the host PTI response [
48
]. Deep sequencing data for AGO1-bound sRNAs induced by flg22 treatment indicated that upregulated miRNAs positively regulate plant immunity through the silencing of auxin receptor genes. Whether other PAMPs can trigger plant miRNA or siRNA accumulation is unknown. In another report, miR393b* induced by
Pseudomonas syringae
carrying the effector avrRpt2 conferred increased exocytosis of antimicrobial pathogenesis-related protein 1 (PR1) through AGO2-mediated silencing of the
MEMB12
gene [
49
]. Similarly, the endogenous phased, secondary siRNA (phasiRNA) nat-siRNAATGB2, which is DCL1 but not DCL4 dependent and can confer robust anti-bacterial resistance in plants, is significantly induced in
Arabidopsis
by avrRpt2 [
50
]. Interestingly, the effector avrRpt2, but not avrRpm1 or avrRps4, can induce 30–40 nt-long siRNAs (lsiRNAs) that are capable of silencing the resistance-related gene
AtRAP
[
51
]. Considering that the divergence of virulent or avirulent bacterial strains mainly depends on gain or loss of effectors [
52
], we assume that bacterially induced siRNA synthesis in plants is closely related to these different effectors.
2.3. sRNAs in Plant-Fungi and Plant-Oomycetes Interaction
Studies addressing sRNA synthesis induced by fungi or oomycetes were once rare because the contribution of these sRNAs to plant immunity was debated until recent years.
Efforts to identify the RNA silencing suppressor activity of
Phytophthora
(an important model oomycete) effectors showed that two effectors, Phytophthora Suppressor of RNA Silencing 1 (PSR1) and PSR2, can suppress transgene-mediated
GFP
silencing in
GFP
-transgenic
N. benthamiana
by inhibiting the biogenesis of plant sRNAs [
53
]. Functional analysis of PSR1 indicated that its binding to the RNA helicase PSR1-Interacting Protein 1 (PINP1) impairs the biogenesis of both miRNA and siRNA, possibly through disassembly of dicing complexes (PSR1) [
54
]. A recent study demonstrated that miR161 (but not miR173)-mediated phasiRNA synthesis is crucial for
Arabidopsis
immunity upon
Phytophthora
invasion (42). However, this defense can be suppressed by the presence of PSR2, which has been shown to exhibit silencing suppressor activity through its interaction with the host DRB4 protein [
55
]. However, this mechanism is strain dependent, as no similar phenomenon has been observed in other
Phytophthora
strains (lacking the PSR2-encoding gene) with different host preferences [
56
].
Verticillium dahliae
is a vascular invasive fungus [
57
]. A recent study indicated that the expression of 4 miRNAs was remarkably increased in
Arabidopsis
post-
Verticillium dahliae
infection. These 4 miRNAs target
ARF10
,
NAC1
,
PHV
and
ARF6
, in
Arabidopsis
[
23
]. Interestingly, this finding was similar to the interaction of
Arabidopsis
with
Pseudomonas syringae
infection, in which auxin signaling is involved (32). sRNA sequencing data from tomato plants infected by
Botrytis cinerea
(causal agent of gray mold) showed that induced phasiRNAs were most abundant; however, the biological functions of their corresponding target genes are still elusive [
22
]. Similarly, the accumulation of 51 miRNAs was upregulated in oilseed rape upon infection by
Sclerotinia sclerotiorum
(causing
Sclerotinia
stem rot). However, the functions of the target genes of these miRNAs are unknown [
58
]. In these cases, which effectors or PAMPs are responsible for the induction of sRNA biogenesis in plant is still elusive. Whether plants counteract the silencing suppressor activity of fungi or oomycete effectors is also not clear. These cases indicate that sRNAs are involved in modulating plant immunity against oomycetes and fungi, but more attention should be given to signal transduction in sRNA biosynthesis and the biological function of sRNAs targeting genes.
3. The Transportation of Trafficking sRNAs in Plants
3.1. sRNA Transportation within Plants
Since many components involved in sRNA transportation within plants are also key players in plant-antiviral immunity, this transportation mechanism could provide guidance in studying the cross-kingdom transportation of plant sRNAs.
3.2. Cross-Kingdom Transportation of Plant sRNAs through Extracellular Vesicles (EVs)
4. Plant Mobile sRNA-Mediated Gene Silencing in Pathogens
4.1. The Working Mechanism of Plant sRNA in Fungi
The plant–fungus interaction is an ideal system for dissecting the molecular mechanism of plant mobile sRNA-mediated gene silencing in pathogen cells (
Figure 2
). Unlike the situation in plants and animals, RNAi in fungi is well studied not only in fission yeast and
Neurospora crassa
(
N. crassa
) but not also in invasive plant fungi such as
Magnaporthe oryzae
(
M
.
oryzae
),
Botrytis
and
Fusarium graminearum
(
F. graminearum
). RNAi is achieved mainly through two pathways known as quelling (repetitive transgene-induced gene silencing) and meiotic silencing (unpaired DNA induced-gene silencing) in
N. crassa
[
110
]. Genetic studies of the key components in these two pathways demonstrated similar working mechanisms despite the difference in the initiation of dsRNA precursors [
110
]. This rule has also been found to apply in limited RNAi studies in other plant-invasive fungi such as
Aspergillus nidulans
,
Cryphonectria parasitica
and
M
.
oryzae
[
110
]. Plant mobile sRNA might use the RNAi machinery of fungi or other pathogens to silence virulence-related genes; however, the answers to questions concerning the functional molecular form of plant mobile sRNA in fungal cells and the existence of a plant mobile sRNA-fungus AGO complex are far from clear.
To date, no evidence has revealed the determinate molecular form of mobile sRNA (long dsRNA or ssRNA) within plant or fungal cells. The molecular form of plant endogenous sRNAs derived from heterochromatin regions or
TAS
mRNA precursors transported by EVs is also elusive. In plant grafting assay, even long dsRNA precursors in roots can be transported and mediate RNA silencing in ectopic shoots, and NRPD1a, RDR2 and DCL3 are required in this process [
111
]. In vitro synthesis of
YFP
fluorescein-labeled RNAs absorbed by
Botrytis
cells indicated that both sRNA duplexes and long double-stranded RNAs are capable of triggering
DCL1
and
DCL2
silencing [
25
]. The possibility that fungal DCLs might process plant mobile sRNA into a functional molecular form has only been confirmed in the barley–
F. graminearum
interaction. DCL1 is not required for successful barley leaf infection by
F. graminearum
, but it is crucial for fungal gene silencing mediated by artificial dsRNA absorption. The sRNA sequencing of
dcl1
and wild-type strains grown in axenic medium with artificial dsRNA further showed abundance of sRNAs derived from artificial dsRNAs only in the wild-type strain and not in the
dcl1
strain [
112
].
When plant mobile sRNAs are translocated into fungus cells, it is important to understand whether these sRNAs are directly loaded into fungus AGO to form a silencing complex. Thus, it is important to understand the characteristics of functional sRNAs (length and 5′ terminal nucleotide bias) in fungal AGO proteins. The systemic analysis of
Mo
AGO1-3 showed that all three AGO proteins are not required for the appropriate growth rate, germination, appressorium formation and infectivity. However, AGO1 and AGO3 are indispensable in gene silencing and resistance to mycoviruses. The sRNAs of the three AGO proteins sequenced via AGO-IP assays are typically 19-20 nt with a 5′-U bias, similar to the AGO1 protein in
Arabidopsis
[
113
]. It is possible that plant mobile sRNAs processed by the fungal DCL protein with a 5′-U bias could be loaded into a fungal AGO protein for gene silencing. However, there is little evidence supporting this hypothesis thus far. The analysis of sRNA abundance derived from artificial dsRNAs in fungi will be a good first step in a future study.
Taken together, the functional molecular form of plant mobile sRNAs in fungal cells and the existence of plant mobile sRNA-fungus AGO complexes are important hints for elucidating the functional mechanism of plant sRNAs in fungi. To reveal the detailed mechanism underlying trafficking sRNA-mediated cross-kingdom silencing, an ideal genetic screening system is desperately needed for studies on plant-pathogen interactions.
4.2. Application of Trafficking sRNAs in Improving Plant Resistance
Two widely accepted goals in anti-pathogen crop breeding are to reduce insecticide or germicide use and achieve broader-spectrum pathogen resistance. The arms race between plants and pathogens allows rapid evolution of pathogen virulence, which usually causes substantial economic loss worldwide. Recently, the application of the spray-induced gene silencing (SIGS) approach (spraying with artificial dsRNAs targeting pathogen virulence-related genes) to control fungi and pest populations in plants was introduced. SIGS is different from HIGS because no transgenic methods are required for SIGS. Despite the higher cost of dsRNA synthesis and the shorter effective period, SIGS shows that the future use of siRNA as a biopesticide is promising compared to the long period required for anti-pathogen crop breeding to achieve stable transgenic lines [
114
]. However, the quantity of sRNAs that is sufficient for triggering gene silencing in fungi is not clear. One study indicated that spraying only 20 μg of synthetic sRNAs (including dsRNA and siRNA) on the surface of an individual plant could inhibit the invasion and growth of
Botrytis
[
25
]. Spraying one barley leaf (local) with 10 μg of artificial dsRNA targeting three
F. graminearum
cytochrome P450 lanosterol C-14α-demethylases (required for the biosynthesis of fungal ergosterol) inhibits fungal growth in both directly sprayed (local) and nonsprayed (distal) leaves [
112
]. However, whether these quantities are also effective in other plant fungi or parasites is unknown. Interestingly, dsRNA loaded on layered double hydroxide (LDH) clay nanosheets shows sustained release and stable storage characteristics and is effective in inhibiting CMV [
115
]. Combining dsRNA with nanomaterials is now recognized as promising approach in crop breeding applications. Moreover, attention still needs to be focused on how much siRNA transportation efficiency can be improved. Spraying is obviously an easier approach in practice, but recent studies involving human exosome-mediated therapy [
116
] might provide another alternative. This approach involves the injection of exosomes with proteins or RNAs of interest to form the "cargo". This cargo is then injected back into mammalian cells, which works effectively in cancer therapy [
116
]. If the introduction of desired siRNAs to plant exosomes can be successfully carried out, reduction of the number of RNAs, a lower chance of degradation and a higher silencing efficiency might be achieved. Once mobile sRNAs are translocated to guide specific gene silencing in pathogen cells, the remaining question will be whether this mobile sRNA-mediated silencing could be inherited in transgenerational manner. Thus, future efforts toward improving SIGS efficiency and developing a new sRNA transportation medium might be key in crop anti-pathogen breeding.
5. Concluding Remarks and Future Perspectives
The finding that plant mobile sRNAs can trigger cross-kingdom silencing in pathogen cells is of great interest and provides a novel layer of regulation for the interplay between plant hosts and pathogens (
Figure 2
). There are three components of this process: sRNA biogenesis in host plants, sRNA transportation from host plants to pathogen cells and sRNA-mediated gene silencing in pathogen cells. Knowledge concerning the transportation and molecular mechanisms of mobile sRNA-mediated gene silencing in pathogen cells is scarce; therefore, we think that the following question should be addressed in future work:
(1)

What are the common molecular components (effectors or small molecular compounds) involved in pathogen-induced sRNA biogenesis in plants?

(2)

Is any RBP involved in transporting plant sRNAs into pathogen cells?

(3)

How are trafficking sRNAs selected? In other words, what is the selective criterion for sRNA translocation in EVs?

(4)

How do EVs establish connections with fungus or parasite cells? How are sRNAs released from plant cells and absorbed by pathogen cells?

(5)

What is the molecular form of plant mobile sRNAs in pathogen cells?

(6)

Which components are required for plant mobile sRNA-mediated gene silencing in pathogen cells?
Acknowledgments
The work of C.G.D was supported by the Strategic Priority Research Program of the Chinese Academy of Sciences (XDB27040203 to C.G.D.), and by the National Science Foundation of China (No. 31570155).
Conflicts of Interest
The authors declare no conflict of interest.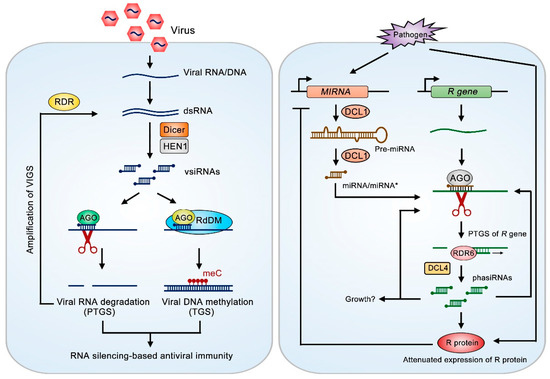 Figure 1.
RNA silencing-based immunity and its cross-talk with
R
gene-mediated immunity. Left panel: RNA silencing-based immunity. Replication of viral RNA triggers the synthesis of dsRNAs, which are then processed by Dicer RNase into 21–24 nt siRNAs. Some 21–22 nt vsiRNAs are loaded onto Argonaute-RNA-induced silencing complex (AGO-RISC) complex (such as AGO1 in Arabidopsis) to mediate sequence-specific degradation of viral RNAs (PTGS). Virus-induced gene silencing (VIGS) can be amplified by RDR-dependent formation of dsRNA from the cleaved target mRNA. 24 nt vsiRNAs are loaded onto AGO-RdDM silencing complex to target viral DNA for DNA methylation modification, thereby leading to silencing of viral genes at TGS level. Some pathogens are capable of interfering with miRNA biogenesis to facilitate infection. Right panel: In plants, miRNA is firstly transcribed from
MIRNA
gene by pol II and processed into pre-miRNA, the stem loop precursor, and then processed into miRNA/miRNA* duplex by DCL1. Mature miRNA is loaded into AGO-RISC complex to trigger degradation of R gene mRNA, leading to attenuated expression of R protein. Some R gene-targeting miRNAs is capable of triggering the production of RDR6 and DCL3-dependent phased secondary siRNA (phasiRNAs) from the cleavage site of R gene mRNA. The R gene-derived phasiRNA can induce trans-acting silencing of R gene or other target genes (such as growth-related gene). In addition, perception of pathogen infection will activate the expression of R genes, and R protein can also exert a negative regulation on the expression of
MIRNA
gene.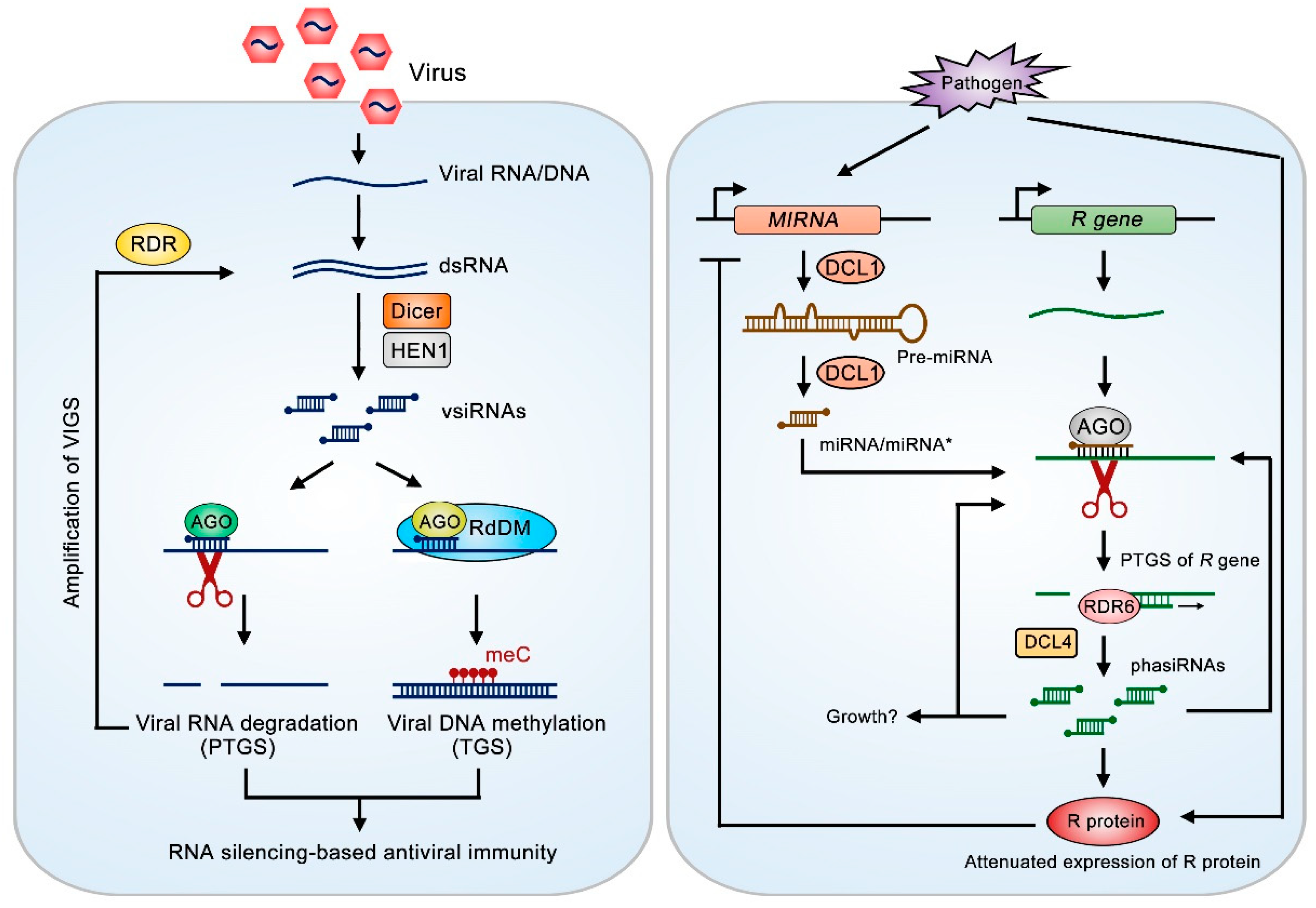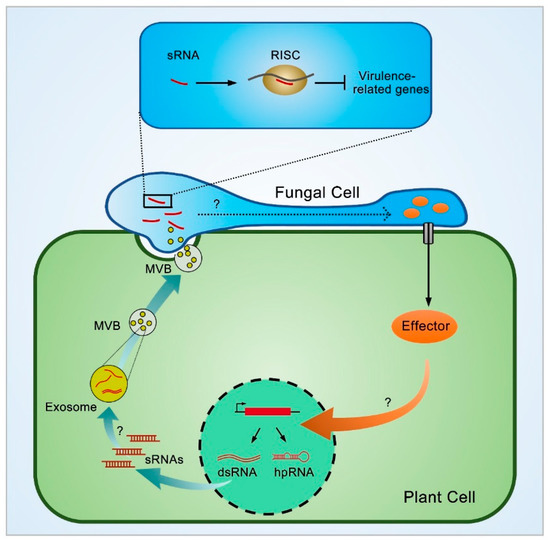 Figure 2. A working model of trafficking sRNA-dependent regulation of plant immunity during plant–fungus interaction. DsRNA and folded hairpin (hp) RNA are firstly produced from exogenous transgenes or endogenous host genes, and then sRNAs are processed by Dicer from the above dsRNA precursors. Through an unknown mechanism, specific sRNAs are loaded into exosomes with unknown isoform. sRNA-containing exosomes are assembled into multivesicular bodies (MVB) and translocated into fungal cell through transcytosis-mediating exosome release. Then plant trafficking sRNAs cooperate with fungal RISC to silence virulence related genes and improve plant resistance. Meanwhile, fungi can secret effectors into plant cells to interfere with host RNA silencing pathway, thereby disrupting host immunity. MVB, multivesicular bodies, RISC, RNA-induced silencing complex. Solid arrow indicates the direction of the working model. The dashed arrow indicates the possible mechanisms.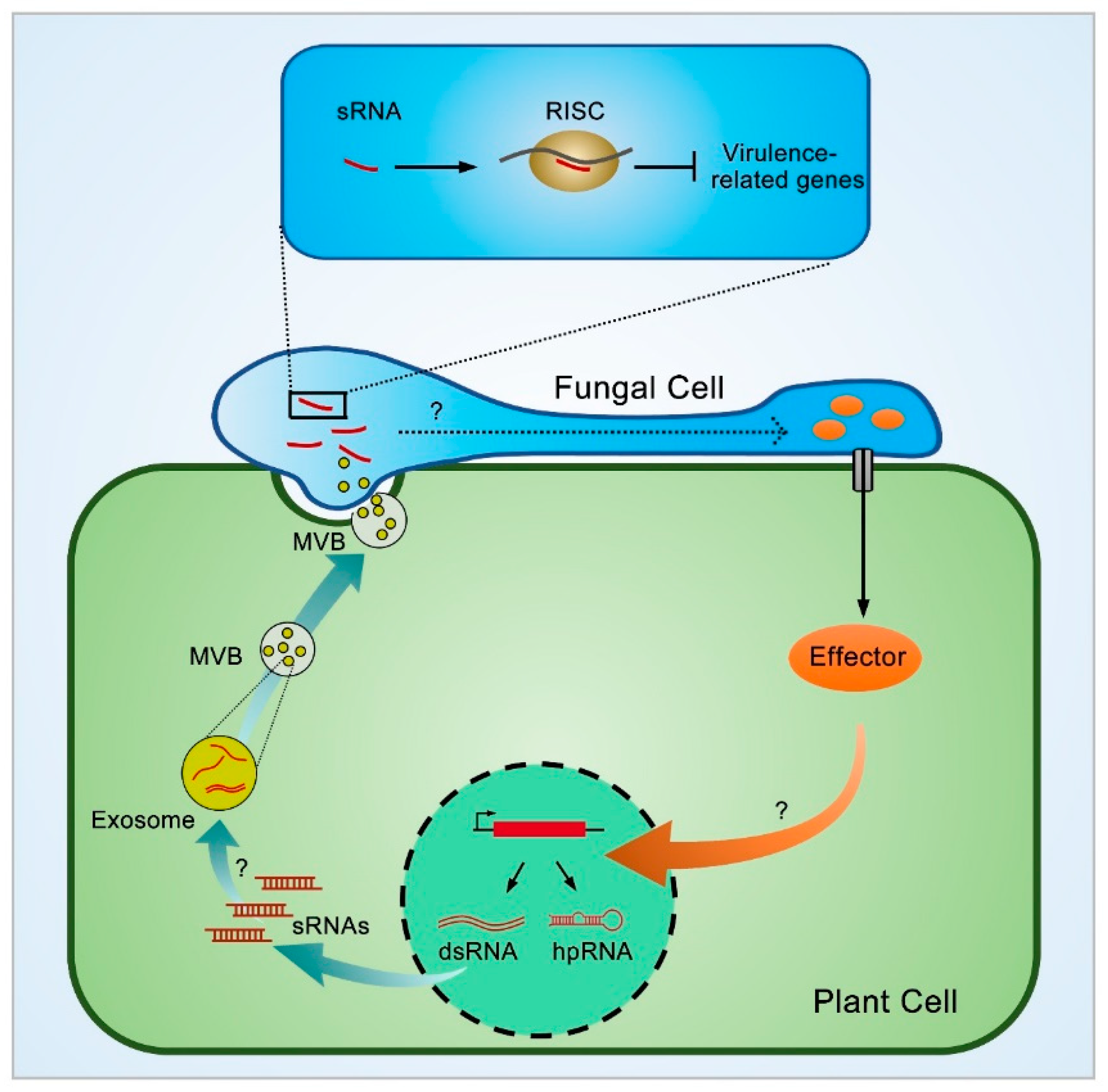 sRNAs
Origination
Interaction
Target Genes
Reference
siR1310

Arabidopsis

Arabidopsis-Phytophthora

fungal virulence gene
[55]
miR166

Gossypium

Gossypium-Verticillium

fungal virulence gene
[65]
miR159

Gossypium

Gossypium-Verticillium

fungal virulence gene
[65]
TAS1c-siR483

Arabidopsis

Arabidopsis-Botrytis

fungal virulence gene
[66]
TAS2-siR453

Arabidopsis

Arabidopsis-Botrytis

fungal virulence gene
[66]
IGN-siR1

Arabidopsis

Arabidopsis-Botrytis

Unknown
[66]
BcsiR3.1

Botrytis

Arabidopsis-Botrytis

host

PRXIIF

gene
[24]
BcsiR3.2

Botrytis

Arabidopsis-Botrytis

host

MPK1

/

MPK2

genes
[24]
BcsiR5

Botrytis

Arabidopsis-Botrytis

host

WAK

gene
[24]
BcsiR37

Botrytis

Arabidopsis-Botrytis

Eight host genes
[68]
Pst-milR1

Puccinia

Triticum-Puccinia

PR2

gene
[69]
miR12495

Cuscuta

Arabidopsis-Cuscuta

host

BIK1

gene
[67]
miR12497a

Cuscuta

Arabidopsis-Cuscuta

host

TIR1/AFB2/AFB3

genes
[67]
miR12463b

Cuscuta

Arabidopsis-Cuscuta

host

BIK1

gene
[67]
miR12480

Cuscuta

Arabidopsis-Cuscuta

host

SEOR1

gene
[67]

© 2019 by the authors. Licensee MDPI, Basel, Switzerland. This article is an open access article distributed under the terms and conditions of the Creative Commons Attribution (CC BY) license (http://creativecommons.org/licenses/by/4.0/).