P2X7 Receptor Signaling in Stress and Depression
1
Department of Biochemistry, Chemistry Institute, University of Sao Paulo, Sao Paulo SP 05508-000, Brazil
2
Department of Pharmacology, School of Medicine of Ribeirao Preto, University of Sao Paulo, Ribeirao Preto 14049-900, Brazil
3
Department of Physics and Chemistry, School of Pharmaceutical Sciences of Ribeirao Preto, University of Sao Paulo, Ribeirao Preto 14040-903, Brazil
4
Translational Neuropsychiatry Unit (TNU), Department of Clinical Medicine, Aarhus University, DK-8240 Risskov, Denmark
5
AUGUST Centre, Department of Clinical Medicine, Aarhus University, DK-8000 Aarhus C, Denmark
6
Aarhus Institute of Advanced Studies (AIAS), Aarhus University, DK-8000 Aarhus C, Denmark
*
Authors to whom correspondence should be addressed.
Received: 29 April 2019 / Revised: 3 June 2019 / Accepted: 3 June 2019 / Published: 6 June 2019
Abstract
Stress exposure is considered to be the main environmental cause associated with the development of depression. Due to the limitations of currently available antidepressants, a search for new pharmacological targets for treatment of depression is required. Recent studies suggest that adenosine triphosphate (ATP)-mediated signaling through the P2X7 receptor (P2X7R) might play a prominent role in regulating depression-related pathology, such as synaptic plasticity, neuronal degeneration, as well as changes in cognitive and behavioral functions. P2X7R is an ATP-gated cation channel localized in different cell types in the central nervous system (CNS), playing a crucial role in neuron-glia signaling. P2X7R may modulate the release of several neurotransmitters, including monoamines, nitric oxide (NO) and glutamate. Moreover, P2X7R stimulation in microglia modulates the innate immune response by activating the NLR family pyrin domain containing 3 (NLRP3) inflammasome, consistent with the neuroimmune hypothesis of MDD. Importantly, blockade of P2X7R leads to antidepressant-like effects in different animal models, which corroborates the findings that the gene encoding for the P2X7R is located in a susceptibility locus of relevance to depression in humans. This review will discuss recent findings linked to the P2X7R involvement in stress and MDD neuropathophysiology, with special emphasis on neurochemical, neuroimmune, and neuroplastic mechanisms.
View Full-Text
►

▼

Figures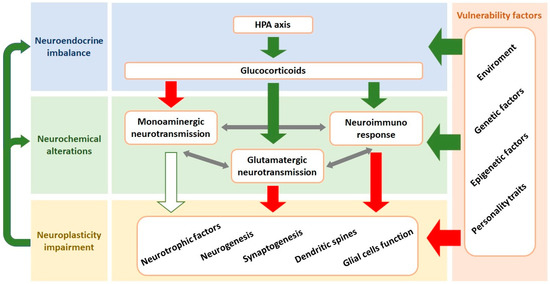 Figure 1
This is an open access article distributed under the
Creative Commons Attribution License
which permits unrestricted use, distribution, and reproduction in any medium, provided the original work is properly cited (CC BY 4.0).

Share & Cite This Article
MDPI and ACS Style
Ribeiro, D.E.; Roncalho, A.L.; Glaser, T.; Ulrich, H.; Wegener, G.; Joca, S. P2X7 Receptor Signaling in Stress and Depression. Int. J. Mol. Sci. 2019, 20, 2778.
Note that from the first issue of 2016, MDPI journals use article numbers instead of page numbers. See further details here.
Related Articles
Comments
[Return to top]