Coupling Genome-wide Transcriptomics and Developmental Toxicity Profiles in Zebrafish to Characterize Polycyclic Aromatic Hydrocarbon (PAH) Hazard
1
Department of Environmental and Molecular Toxicology, Oregon State University, Corvallis, OR 97331, USA
2
Biological Sciences Division, Pacific Northwest Laboratory, 902 Battelle Boulevard, P.O. Box 999, Richland, WA 99352, USA
*
Author to whom correspondence should be addressed.
†
These authors contributed equally to this manuscript.
Received: 6 May 2019 / Revised: 23 May 2019 / Accepted: 23 May 2019 / Published: 25 May 2019
Abstract
Polycyclic Aromatic Hydrocarbons (PAHs) are diverse environmental pollutants associated with adverse human health effects. Many studies focus on the carcinogenic effects of a limited number of PAHs and there is an increasing need to understand mechanisms of developmental toxicity of more varied yet environmentally relevant PAHs. A previous study characterized the developmental toxicity of 123 PAHs in zebrafish. Based on phenotypic responses ranging from complete inactivity to acute mortality, we classified these PAHs into eight bins, selected 16 representative PAHs, and exposed developing zebrafish to the concentration of each PAH that induced 80% phenotypic effect. We conducted RNA sequencing at 48 h post fertilization to identify gene expression changes as a result of PAH exposure. Using the Context Likelihood of Relatedness algorithm, we inferred a network that links the PAHs based on coordinated gene responses to PAH exposure. The 16 PAHs formed two broad clusters: Cluster A was transcriptionally more similar to the controls, while Cluster B consisted of PAHs that were generally more developmentally toxic, significantly elevated
cyp1a
transcript levels, and induced Ahr2-dependent Cyp1a protein expression in the skin confirmed by gene-silencing studies. We found that
cyp1a
transcript levels were associated with transcriptomic response, but not with PAH developmental toxicity. While all cluster B PAHs predominantly activated Ahr2, they also each enriched unique pathways like ion transport signaling, which likely points to differing molecular events between the PAHs downstream of Ahr2. Thus, using a systems biology approach, we have begun to evaluate, classify, and define mechanisms of PAH toxicity.
View Full-Text
►

▼

Figures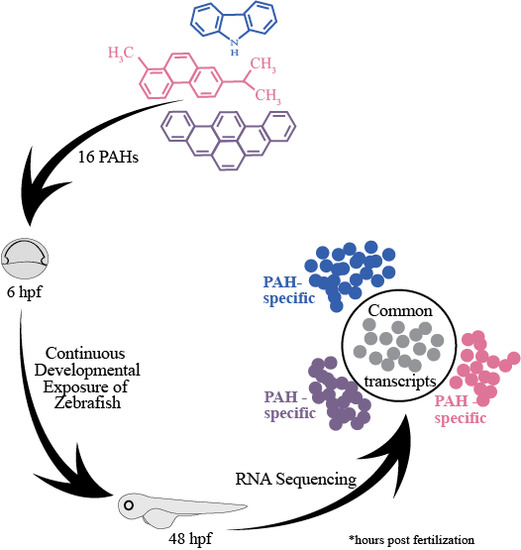 Graphical abstract
This is an open access article distributed under the
Creative Commons Attribution License
which permits unrestricted use, distribution, and reproduction in any medium, provided the original work is properly cited (CC BY 4.0).

Share & Cite This Article
MDPI and ACS Style
Shankar, P.; Geier, M.C.; Truong, L.; McClure, R.S.; Pande, P.; Waters, K.M.; Tanguay, R.L. Coupling Genome-wide Transcriptomics and Developmental Toxicity Profiles in Zebrafish to Characterize Polycyclic Aromatic Hydrocarbon (PAH) Hazard. Int. J. Mol. Sci. 2019, 20, 2570.
Note that from the first issue of 2016, MDPI journals use article numbers instead of page numbers. See further details here.
Related Articles
Comments
[Return to top]