The Crowded Crosstalk between Cancer Cells and Stromal Microenvironment in Gynecological Malignancies: Biological Pathways and Therapeutic Implication
1
Department of Tissues and Organs Transplantation and Cellular Therapies, D.E.O.T., University of Bari "Aldo Moro", Piazza G. Cesare, 11-Policlinico 70124 Bari, Italy
2
Department of Biosciences, Biotechnologies and Biopharmaceutics, University of Bari "Aldo Moro", Via E. Orabona, 4, 70125 Bari, Italy
3
Department of Biomedical and Human Oncological Science, 2nd Unit of Obstetrics and Gynecology, University of Bari "Aldo Moro", Piazza G. Cesare, 11-Policlinico 70124 Bari, Italy
4
Interventional Oncology Unit with Integrate Section of Translational Medical Oncology, IRCCS, Istituto Tumori Giovanni Paolo II, 70124 Bari, Italy
5
Gynaecologic Oncology Unit, IRCCS, Istituto Tumori Giovanni Paolo II, 70142 Bari, Italy
*
Authors to whom correspondence should be addressed.
Received: 17 April 2019 / Revised: 12 May 2019 / Accepted: 13 May 2019 / Published: 15 May 2019
Abstract
The tumor microenvironment plays a pillar role in the progression and the distance dissemination of cancer cells in the main malignancies affecting women—epithelial ovarian cancer, endometrial cancer and cervical cancer. Their
milieu
acquires specific properties thanks to intense crosstalk between stromal and cancer cells, leading to a vicious circle. Fibroblasts, pericytes, lymphocytes and tumor associated-macrophages orchestrate most of the biological pathways. In epithelial ovarian cancer, high rates of activated pericytes determine a poorer prognosis, defining a common signature promoting ovarian cancer proliferation, local invasion and distant spread. Mesenchymal cells also release chemokines and cytokines under hormonal influence, such as estrogens that drive most of the endometrial cancers. Interestingly, the architecture of the cervical cancer
milieu
is shaped by the synergy of high-risk Human Papilloma Virus oncoproteins and the activity of stromal estrogen receptor α. Lymphocytes represent a shield against cancer cells but some cell subpopulation could lead to immunosuppression, tumor growth and dissemination. Cytotoxic tumor infiltrating lymphocytes can be eluded by over-adapted cancer cells in a scenario of immune-tolerance driven by T-regulatory cells. Therefore, the tumor microenvironment has a high translational potential offering many targets for biological and immunological therapies.
View Full-Text
►

▼

Figures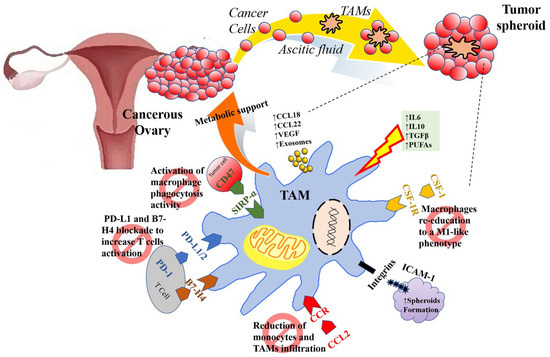 Figure 1
This is an open access article distributed under the
Creative Commons Attribution License
which permits unrestricted use, distribution, and reproduction in any medium, provided the original work is properly cited (CC BY 4.0).

Share & Cite This Article
MDPI and ACS Style
De Nola, R.; Menga, A.; Castegna, A.; Loizzi, V.; Ranieri, G.; Cicinelli, E.; Cormio, G. The Crowded Crosstalk between Cancer Cells and Stromal Microenvironment in Gynecological Malignancies: Biological Pathways and Therapeutic Implication. Int. J. Mol. Sci. 2019, 20, 2401.
Note that from the first issue of 2016, MDPI journals use article numbers instead of page numbers. See further details here.
Related Articles
Comments
[Return to top]