Role of Mitochondrial DNA Damage in ROS-Mediated Pathogenesis of Age-Related Macular Degeneration (AMD)
1
Department of Ophthalmology, University of Eastern Finland, 70211 Kuopio, Finland
2
Department of Ophthalmology, Kuopio University Hospital, 70029 Kuopio, Finland
3
Department of Orthodontics, Medical University of Lodz, 92-216 Lodz, Poland
4
Department of Pediatric Dentistry, Medical University of Lodz, 92-216 Lodz, Poland
5
Department of Infectious and Liver Diseases, W. Bieganski Hospital, 91-347 Lodz, Poland
6
Department of Molecular Genetics, Faculty of Biology and Environmental Protection, University of Lodz, 90-236 Lodz, Poland
*
Author to whom correspondence should be addressed.
Received: 18 February 2019 / Revised: 17 April 2019 / Accepted: 28 April 2019 / Published: 14 May 2019
Abstract
Age-related macular degeneration (AMD) is a complex eye disease that affects millions of people worldwide and is the main reason for legal blindness and vision loss in the elderly in developed countries. Although the cause of AMD pathogenesis is not known, oxidative stress-related damage to retinal pigment epithelium (RPE) is considered an early event in AMD induction. However, the precise cause of such damage and of the induction of oxidative stress, including related oxidative effects occurring in RPE and the onset and progression of AMD, are not well understood. Many results point to mitochondria as a source of elevated levels of reactive oxygen species (ROS) in AMD. This ROS increase can be associated with aging and effects induced by other AMD risk factors and is correlated with damage to mitochondrial DNA. Therefore, mitochondrial DNA (mtDNA) damage can be an essential element of AMD pathogenesis. This is supported by many studies that show a greater susceptibility of mtDNA than nuclear DNA to DNA-damaging agents in AMD. Therefore, the mitochondrial DNA damage reaction (mtDDR) is important in AMD prevention and in slowing down its progression as is ROS-targeting AMD therapy. However, we know far less about mtDNA than its nuclear counterparts. Further research should measure DNA damage in order to compare it in mitochondria and the nucleus, as current methods have serious disadvantages.
View Full-Text
►

▼

Figures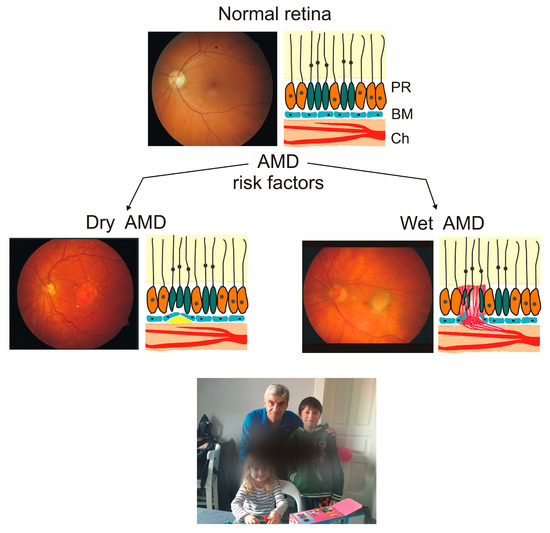 Figure 1
This is an open access article distributed under the
Creative Commons Attribution License
which permits unrestricted use, distribution, and reproduction in any medium, provided the original work is properly cited (CC BY 4.0).

Share & Cite This Article
MDPI and ACS Style
Kaarniranta, K.; Pawlowska, E.; Szczepanska, J.; Jablkowska, A.; Blasiak, J. Role of Mitochondrial DNA Damage in ROS-Mediated Pathogenesis of Age-Related Macular Degeneration (AMD). Int. J. Mol. Sci. 2019, 20, 2374.
Note that from the first issue of 2016, MDPI journals use article numbers instead of page numbers. See further details here.
Related Articles
Comments
[Return to top]