Comparative Transcriptomic and Physiological Analyses of
Medicago sativa

L. Indicates that Multiple Regulatory Networks Are Activated during Continuous ABA Treatment

1

The State Key Laboratory of Grassland Agro-ecosystems, Key Laboratory of Grassland Livestock Industry Innovation, Ministry of Agriculture, College of Pastoral Agriculture Science and Technology, Lanzhou University, Lanzhou, 730020, China

2

Institute of Animal Sciences, Chinese Academy of Agricultural Sciences, Beijing 100000, China

3

Core Research & Transformation, Noble Research Institute, Ardmore, OK 73401, USA

*

Authors to whom correspondence should be addressed.

†

These authors contributed equally to this work.

Received: 3 November 2018 / Revised: 18 December 2018 / Accepted: 20 December 2018 / Published: 22 December 2018
Abstract
Alfalfa is the most extensively cultivated forage legume worldwide. However, the molecular mechanisms underlying alfalfa responses to exogenous abscisic acid (ABA) are still unknown. In this study, the first global transcriptome profiles of alfalfa roots under ABA treatments for 1, 3 and 12 h (three biological replicates for each time point, including the control group) were constructed using a BGISEQ-500 sequencing platform. A total of 50,742 isoforms with a mean length of 2541 bp were generated, and 4944 differentially expressed isoforms (DEIs) were identified after ABA deposition. Metabolic analyses revealed that these DEIs were involved in plant hormone signal transduction, transcriptional regulation, antioxidative defense and pathogen immunity. Notably, several well characterized hormone signaling pathways, for example, the core ABA signaling pathway, was activated, while salicylic acid, jasmonate and ethylene signaling pathways were mainly suppressed by exogenous ABA. Moreover, the physiological work showed that catalase and peroxidase activity and glutathione and proline content were increased after ABA deposition, which is in accordance with the dynamic transcript profiles of the relevant genes in antioxidative defense system. These results indicate that ABA has the potential to improve abiotic stress tolerance, but that it may negatively regulate pathogen resistance in alfalfa.
View Full-Text
►

▼

Figures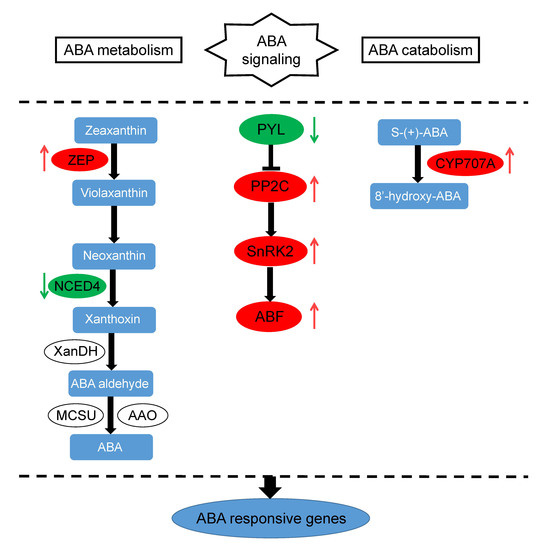 Graphical abstract
This is an open access article distributed under the
Creative Commons Attribution License
which permits unrestricted use, distribution, and reproduction in any medium, provided the original work is properly cited (CC BY 4.0).

Share & Cite This Article
MDPI and ACS Style
Luo, D.; Wu, Y.; Liu, J.; Zhou, Q.; Liu, W.; Wang, Y.; Yang, Q.; Wang, Z.; Liu, Z. Comparative Transcriptomic and Physiological Analyses of Medicago sativa L. Indicates that Multiple Regulatory Networks Are Activated during Continuous ABA Treatment. Int. J. Mol. Sci. 2019, 20, 47.
Note that from the first issue of 2016, MDPI journals use article numbers instead of page numbers. See further details here.
Related Articles
Comments
[Return to top]