High Expression of IL-1RI and EP2 Receptors in the IL-1β/COX-2 Pathway, and a New Alternative to Non-Steroidal Drugs—Osthole in Inhibition COX-2
Department of Biology and Biotechnology, University of Warmia and Mazury, Oczapowskiego 1A Street, 10-719 Olsztyn, Poland
*
Author to whom correspondence should be addressed.
Received: 24 October 2018 / Revised: 7 December 2018 / Accepted: 27 December 2018 / Published: 7 January 2019
Abstract
Background: Osthole (7-methoxy-8-isopentenylcoumarin) is natural coumarin isolated from the fruit of
Cnidium monnieri
(L.)
Cusson
, which is commonly used in medical practice of traditional Chinese medicine (TCM) in various diseases including allergies and asthma disorders. Purpose: Osthole was tested for the anti-histamine, anti-allergic, and inhibitory effects of COX-2 (cyclooxygenase-2) in children with diagnosed allergies. Additionally, we hypothesize that stated alterations in children with diagnosed allergies including increased expression of interleukin 1-β receptor type 1 (
IL-1 type I
) and
E-prostanoid
(
EP
)
2
receptors, as well as raised expression, production, and activity of COX-2 and IL-1β in incubated medium are approximately connected. Furthermore, we establish the mechanisms included in the changed regulation of the COX-2 pathway and determine whether osthole may be COX-2 inhibitor in peripheral blood mononuclear cells (PBMCs). Method: PBMCs were obtained from peripheral blood of healthy children (control, n = 28) and patients with diagnosed allergies (allergy, n = 30). Expression of the autocrine loop components regulating PGE
2
production and signaling namely
IL-1 type I receptor
(
IL-1RI
),
cyclooksygenaze-2
(
COX-2
),
E-prostanoid
(
EP
)
2
, and also
histamine receptor-1
(
HRH-1
) was assessed at baseline and after stimulation with histamine, osthole, and a mixture of histamine/osthole 1:2 (
v/v
). This comprised the expression of histamine receptor 1 (
HRH-1),
IL-1RI, COX-2, EP
2
receptor, and the secretion of IL-1β and COX-2 in cultured media and sera. Results: Compared with control group, basal mRNA expression levels of
HRH-1, IL-1RI, COX-2
, and
EP
2
were higher in the allergy group. Histamine-induced
EP
2
and
COX-2
expression mRNA levels were also increased. Conclusions: Osthole successively inhibits
PGE
2
and
COX-2
mRNA expression. Furthermore, osthole reduces the secretion of COX-2 protein in signaling cellular mechanisms. Changed
EP
2
expression in children with allergies provides higher
IL-1RI
induction, increasing IL-1β capacity to increase COX-2 expression. This effects in higher PGE
2
production, which in turn increases its capability to induce IL-1RI.
View Full-Text
►

▼

Figures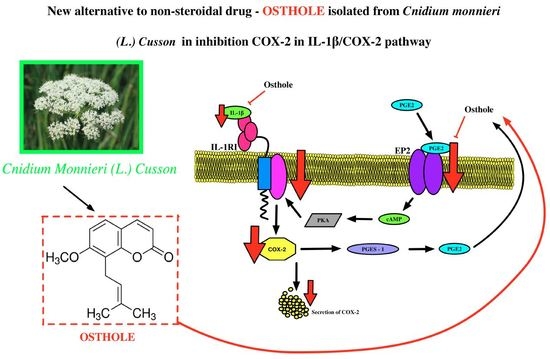 Graphical abstract
This is an open access article distributed under the
Creative Commons Attribution License
which permits unrestricted use, distribution, and reproduction in any medium, provided the original work is properly cited (CC BY 4.0).

Share & Cite This Article
MDPI and ACS Style
Kordulewska, N.K.; Cieślińska, A.; Fiedorowicz, E.; Jarmołowska, B.; Kostyra, E. High Expression of IL-1RI and EP2 Receptors in the IL-1β/COX-2 Pathway, and a New Alternative to Non-Steroidal Drugs—Osthole in Inhibition COX-2. Int. J. Mol. Sci. 2019, 20, 186.
Note that from the first issue of 2016, MDPI journals use article numbers instead of page numbers. See further details here.
Related Articles
Comments
[Return to top]