Modulation of Gene Expression in Liver of Hibernating Asiatic Toads (
Bufo gargarizans

)

1

Key Laboratory of Southwest China Wildlife Resources Conservation (Ministry of Education), China West Normal University, Nanchong 637009, China

2

Key Laboratory of Artificial Propagation and Utilization in Anurans of Nanchong City, China West Normal University, Nanchong 637009, China

3

Institute of Eco-Adaptation in Amphibians and Reptiles, China West Normal University, Nanchong 637009, China

4

Ecological Genetics Research Unit, Department of Biosciences, University of Helsinki, P.O. Box 65, FI-00014, 00100 Helsinki, Finland

*

Author to whom correspondence should be addressed.

Received: 29 June 2018 / Revised: 31 July 2018 / Accepted: 7 August 2018 / Published: 10 August 2018
Abstract
Hibernation is an effective energy conservation strategy that has been widely adopted by animals to cope with unpredictable environmental conditions. The liver, in particular, plays an important role in adaptive metabolic adjustment during hibernation. Mammalian studies have revealed that many genes involved in metabolism are differentially expressed during the hibernation period. However, the differentiation in global gene expression between active and torpid states in amphibians remains largely unknown. We analyzed gene expression in the liver of active and torpid Asiatic toads (
Bufo gargarizans
) using RNA-sequencing. In addition, we evaluated the differential expression of genes between females and males. A total of 1399 genes were identified as differentially expressed between active and torpid females. Of these, the expressions of 395 genes were significantly elevated in torpid females and involved genes responding to stresses, as well as contractile proteins. The expression of 1004 genes were significantly down-regulated in torpid females, most which were involved in metabolic depression and shifts in the energy utilization. Of the 715 differentially expressed genes between active and torpid males, 337 were up-regulated and 378 down-regulated. A total of 695 genes were differentially expressed between active females and males, of which 655 genes were significantly down-regulated in males. Similarly, 374 differentially expressed genes were identified between torpid females and males, with the expression of 252 genes (mostly contractile proteins) being significantly down-regulated in males. Our findings suggest that expression of many genes in the liver of
B. gargarizans
are down-regulated during hibernation. Furthermore, there are marked sex differences in the levels of gene expression, with females showing elevated levels of gene expression as compared to males, as well as more marked down-regulation of gene-expression in torpid males than females.
View Full-Text
►

▼

Figures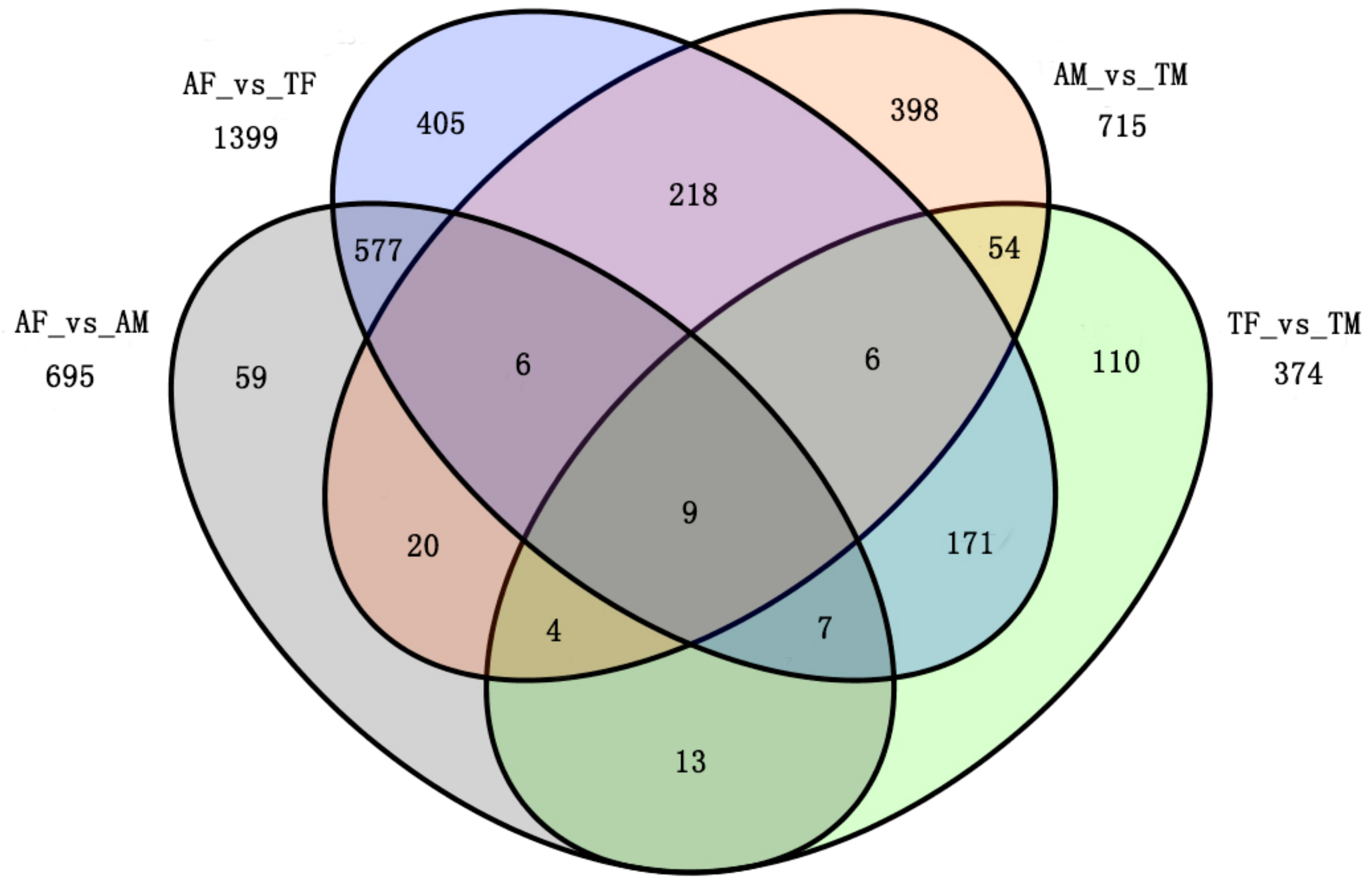 Figure 1
This is an open access article distributed under the
Creative Commons Attribution License
which permits unrestricted use, distribution, and reproduction in any medium, provided the original work is properly cited (CC BY 4.0).

Share & Cite This Article
MDPI and ACS Style
Jin, L.; Yu, J.P.; Yang, Z.J.; Merilä, J.; Liao, W.B. Modulation of Gene Expression in Liver of Hibernating Asiatic Toads (Bufo gargarizans). Int. J. Mol. Sci. 2018, 19, 2363.
Note that from the first issue of 2016, MDPI journals use article numbers instead of page numbers. See further details here.
Related Articles
Comments
[Return to top]