Open Access This article is
freely available
re-usable
Review
Foxn1 in Skin Development, Homeostasis and Wound Healing
Institute of Animal Reproduction and Food Research, Polish Academy of Sciences, 10-748 Olsztyn, Poland
*
Author to whom correspondence should be addressed.
Received: 6 June 2018 / Accepted: 2 July 2018 / Published: 4 July 2018
Abstract
:
Intensive research effort has focused on cellular and molecular mechanisms that regulate skin biology, including the phenomenon of scar-free skin healing during foetal life. Transcription factors are the key molecules that tune gene expression and either promote or suppress gene transcription. The epidermis is the source of transcription factors that regulate many functions of epidermal cells such as proliferation, differentiation, apoptosis, and migration. Furthermore, the activation of epidermal transcription factors also causes changes in the dermal compartment of the skin. This review focuses on the transcription factor Foxn1 and its role in skin biology. The regulatory function of Foxn1 in the skin relates to physiological (development and homeostasis) and pathological (skin wound healing) conditions. In particular, the pivotal role of Foxn1 in skin development and the acquisition of the adult skin phenotype, which coincides with losing the ability of scar-free healing, is discussed. Thus, genetic manipulations with Foxn1 expression, specifically those introducing conditional
Foxn1
silencing in a Foxn1+/+ organism or its knock-in in a Foxn1−/− model, may provide future perspectives for regenerative medicine.
Keywords:
Foxn1; skin; development; wound healing; regeneration
Author Contributions:
Writing Paragraphs 2 and 5, J.B.; Writing Paragraph 4, M.K.; Writing Paragraph 3, K.W.; Original draft preparation, writing abstract, Paragraphs 1 and 5, B.-G.K. All authors approved the final version of the manuscript.
Funding
Funded by KNOW (Leading National Research Centre) Scientific Consortium "Healthy Animal—Safe Food", decision of Ministry of Science and Higher Education No. 05-1/KNOW2/2015.
Conflicts of Interest
The authors declare no conflict of interest.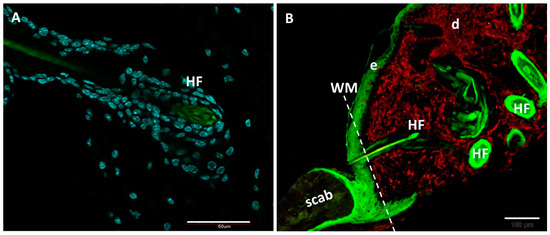 Figure 1. Histological analysis of skin sections collected from transgenic Foxn1::Egfp mice. (A) Confocal microscopy imaging of Foxn1/eGFP localisation in hair follicle (nuclei were counterstained with DAPI); (B) Fluorescent localisation of eGFP (green) and immunofluorescent detection of vimentin (red) in postwounded skin tissues. Foxn1-positive cells accumulated in the post-wounded skin area and in the leading epithelial tongue migrating underneath the scab. Abbreviations: WM—wound margin, HF—hair follicle, e—epidermis, d—dermis. Scale bar 50 µm (A), 100 µm (B).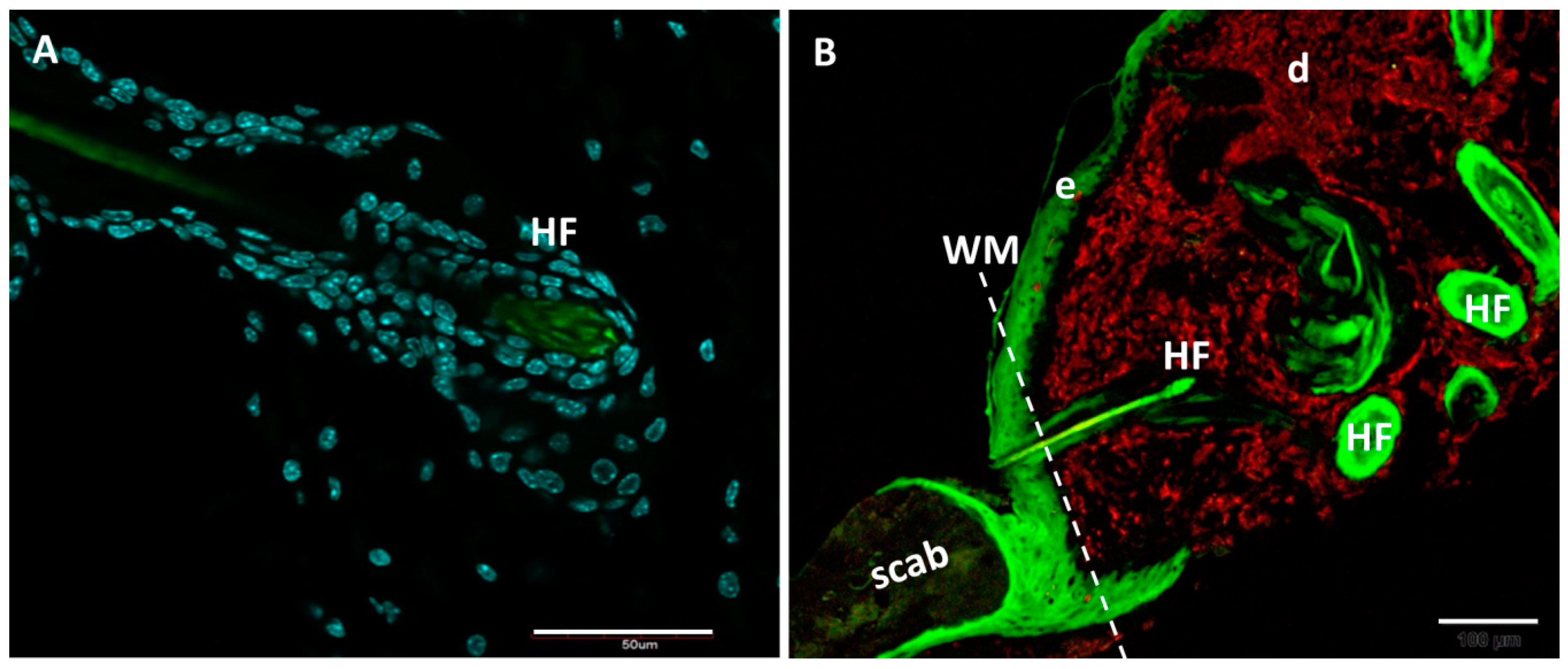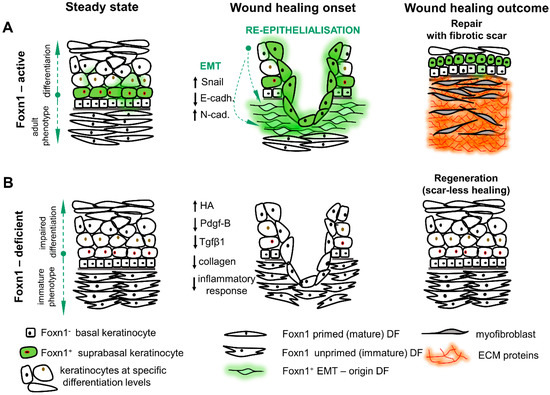 Scheme 1. The scheme illustrates Foxn1 skin localisation and its possible role at steady state and during cutaneous wound healing. (A) The Foxn1 expression in the skin of Foxn1+/+ mice is limited to the suprabasal keratinocytes (green colour), and its action comprises the early stages of keratinocyte differentiation as they move towards the skin surface. However, the Foxn1 action extends beyond the host tissue (epidermis) to the underlying dermal layer. During wound healing, Foxn1 is principally engaged in re-epithelialisation and EMT processes, as manifested by its increase in Mmp-9 activity, Snail and E-cad/N-cad double-positive cell expression (green colour). The process leads to reparative healing occurring with fibrosis and scar formation, a condition characterised by excessive deposition of ECM (red colour); (B) Loss-of-function mutation in the Foxn1 gene results in impaired keratinocytes differentiation and immature (neotenic) skin phenotype; thus, it provides conditions favourable to regeneration when injury occurs. Scar-less healing is accompanied by high levels of hyaluronic acid, low levels of collagen and pro-scarring cytokines (Pdgf-B and Tgfβ1), and a unique, bimodal pattern of Mmp-9 and Mmp-13 expression. Abbreviations: EMT—epithelial to mesenchymal transition; Mmp—matrix metalloproteinase; E-cad—E cadherin; N-cad—N cadherin; ECM extracellular matrix; HA—hyaluronic acid; Pdgf-B—platelet derived growth factor B; Tgfβ1—transforming growth factor β1; DF—dermal fibroblast.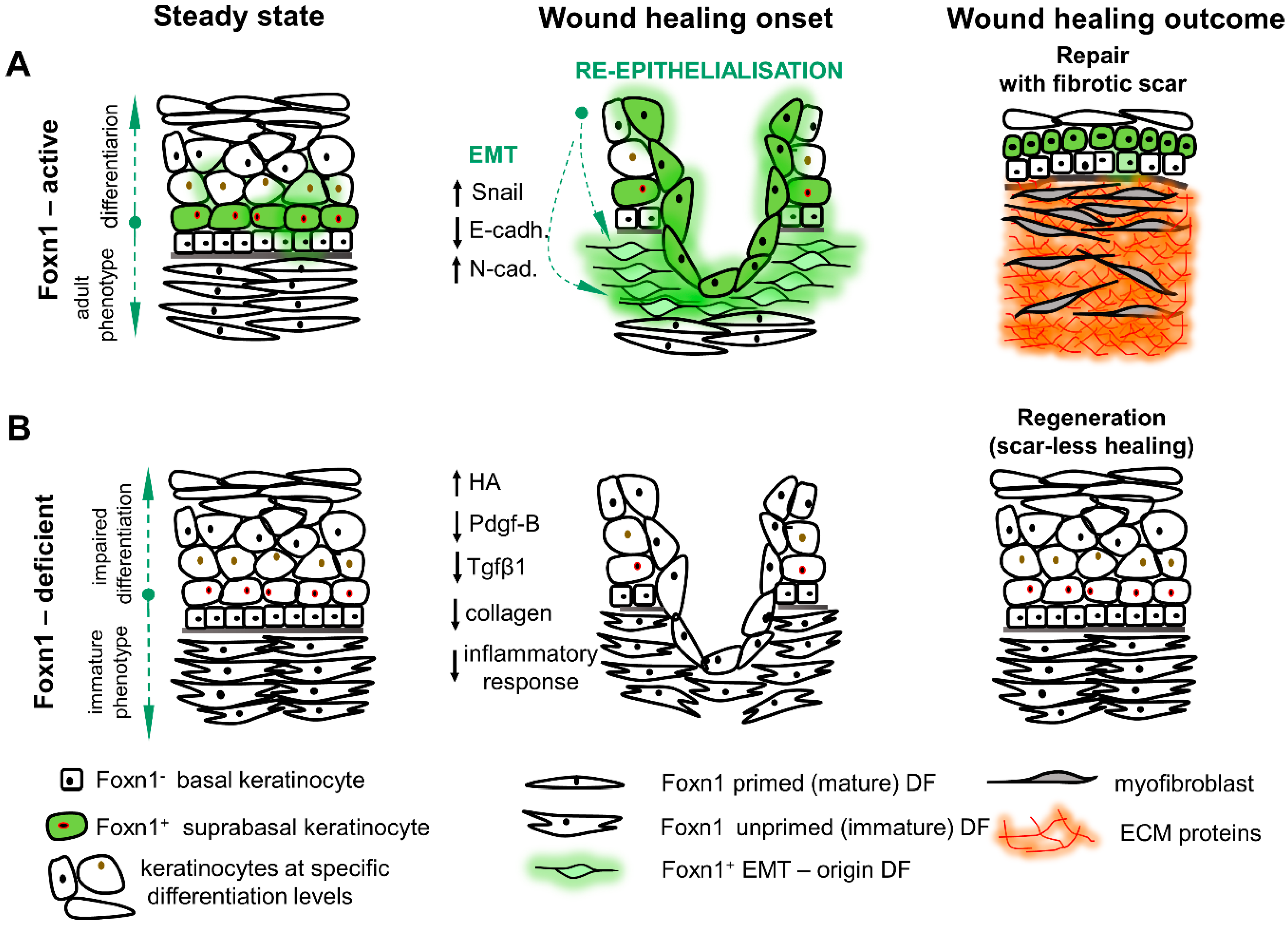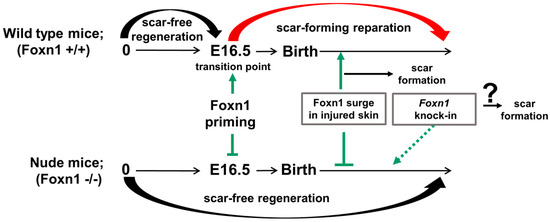 Scheme 2. The scheme depicts differences between patterns of skin wound healing resolutions recognised as reparation (scar-forming) or regeneration (scar-free; perfect healing), attributed to Foxn1-active (Foxn1+/+) and Foxn1-deficient (Foxn1−/−; nude) mice, respectively. Regenerative healing of skin wounds occurs until embryonic day 16.5 (E16.5), when Foxn1 is non-active in both models. Perfect healing begins to diminish from E16.5 in Foxn1+/+ mice due to the Foxn1 expression in the epidermis (Foxn1 priming) that correlates with the physiological transition from scar-free to scar-forming healing (E16.5 transition point). The Foxn1 loss-of-function mutation in nude mice maintains skin regenerative abilities throughout adulthood. The effect of conditional Foxn1 knock-in in the skin of adult Foxn1−/− nude mice would answer the question regarding whether "turning on" Foxn1 activity in mature skin could lead to acquiring a reparative (scar-forming) phenotype or whether there is no effect since the skin of nude mice is not responsive to Foxn1 signals due to a lack of Foxn1 priming at E16.5. The answer to the questions await further research.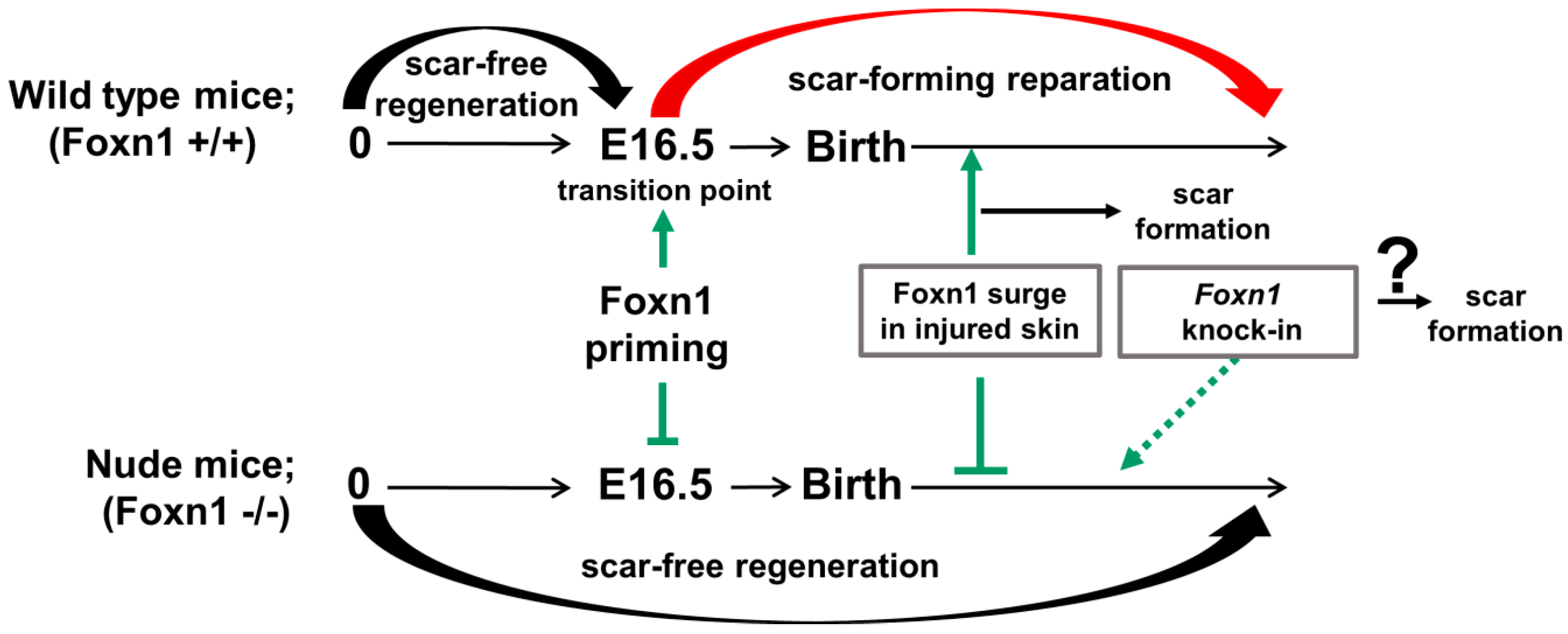 Characteristic of Foxn1 Deficiency
Mouse (Nude)
Human (Nude/SCID)
Mutations in the

Foxn1

gene identified in the mouse allele

nu

, located on chromosomes 11; a single base-pair deletion in the

Foxn1

coding sequence leads to a frame shift and premature termination in the DBD [22,67];
Mutation in human

FOXN1

gene recognised as a homozygous C-to-T transition (CGA to TGA) at nucleotide position 792 resulted in a nonsense mutation at residue 255 (R255X) in exon 5 [70];
The translated FOXN1, Foxn1, proteins are nonfunctional in human and mice, respectively and lead to similar defects [23,24,25];
Pleiotropic mutation categorised into two independent phenotypic responses: (i) impaired skin keratinisation and aberrant HFs development [13,19,23] and (ii) thymus dysgenesis that leads to T-cell deficiency [23,67];
Mutants represent multiple skin defects [13,19]:

(i)

abnormalities in the HF structure manifested by short and bent hair shafts with a lack of cuticles in IRS and ORS and visible abnormal globular aggregates in the hair cortex. Aberrant hair rarely protrudes from the follicles; hence, nude mice fail to grow visible hair;

(ii)

disturbances of keratinisation reflected by a reduced number of tonofilaments in the basal, spinous and granular layers and irregularly arranged lamellae of corneocytes in the stratum corneum [

13

];

(iii)

nails malfunctions (severe onychodystrophy and brachyonychia) reflected by blunt, broken and irregularly ended nails; a thinned nail plate; an altered nail matrix; and loss of Krt1 expression and aberrant expression of Flg [

71

];

Nude phenotype is associated with loss of the expression of the acidic hair keratin 3 gene (

mHA3

) in HFs and

mHb5

is skin, both transcripts are direct Foxn1 targets [33,34].
Foetuses at 15th weeks show tight, shiny and smooth skin associated with a lack of thymus, anencephaly and spina bifida, indicating that beside its role in the thymus and skin epithelium, FOXN1 might also be involved in neurulation in humans [72];
Infant mutants demonstrate complete alopecia of the scalp, eyebrow, and eyelashes and nail dystrophy associated with a primary severe T-cell immunodeficiency [23,73].

Table 2. Characteristic features of skin physiology attributed to Foxn1 activity or Foxn1 deficiency.
Attributes to Foxn1 Activity in the Mice Skin
Attributes to Foxn1 Deficiency in the Mice Skin
Development

Prenatal stage:


Foxn1 expression detected on E13 in the developing nasal region; and by E15.5–16.5 Foxn1 occupied entire epidermis including developing HF of the fur coat [19];
2065 genes differentially regulated (up and down) between skin from B6 embryo at E14 (model of skin regeneration) and E18 (model of skin reparation) [41];


Early neonatal stage:


Foxn1 expression (postpartum days P1–P2) reported in the hair shaft and throughout the developing IRS and in a matrix compartment of hair bulb suggesting that

Foxn1

correlates with the onset of terminal differentiation [19];

Prenatal stage

:
Lack of Foxn1 activity at E16.5 (Foxn1 priming) keeps skin of nude mice in the immature stage resembling the phenomena of neoteny [41];
Homeostasis
Foxn1 expression in epithelial cells (epidermis) initiates terminal differentiation program and stimulates neighboring epithelial cell proliferation in paracrine manner [14,19,51];
Foxn1 participates in the development of skin epithelial cells coloration through activation of epithelial cells to emit signals (FGF-2) recognisable by melanocytes [54];
Epidermal Foxn1 expression impact the skin: (i) decreased levels of anti-fibrotic cytokine Tgfbeta3; (ii) cultured DF exhibited reduced adipogenic differentiation capacity [88];
Impaired keratinisation of epidermis and hair shaft results in "hairless phenotype" [24,25];
Aberrant differentiation of epidermal keratinocytes manifests by inhibition of early differentiation markers (Krt1, -10), overproduction and accumulation of late differentiation markers (profilaggrin, loricrin, involucrin) and abnormal thickening of epidermis [13,14];
Increased amounts of cholesterol sulfate, phospholipids, sphingolipids and fatty acids in the skin when compare to the Foxn1 -active mouse models [89];
Wound healing
The process of healing occurs with fibrosis and scar formation, a condition characterised by excessive deposition of ECM protein rich in collagens [97,98,99];
Foxn1 acts as a key molecular player in re-epithelialisation and EMT processes in post-wounded skin tissues [16].
Perfect healing in the process of regeneration characterised by lack of a scar, high levels of hyaluronic acid, low levels of collagen and pro-scarring cytokines (PDGF-B and TGF β1), and unique bimodal pattern of Mmp-9 and Mmp-13 expression [42,43].

© 2018 by the authors. Licensee MDPI, Basel, Switzerland. This article is an open access article distributed under the terms and conditions of the Creative Commons Attribution (CC BY) license (http://creativecommons.org/licenses/by/4.0/).