Open Access This article is
freely available
re-usable
Review
Translational Regenerative Therapies for Chronic Spinal Cord Injury
1
The Institute for Rehabilitation and Research, Memorial Hermann Texas Medical Centre, Houston, TX 77030, USA
2
Centre for Nanotechnology & Regenerative Medicine, Division of Surgery and Interventional Science, University College of London (UCL), London NW3 2QG, UK
3
Center for Neural Systems Investigations, Massachusetts General Hospital/HST Athinoula A., Martinos Centre for Biomedical Imaging, Harvard Medical School, Boston, MA 02129, USA
4
Faculty of Medical Sciences, UCL Medical School, London WC1E 6BT, UK
5
NanoRegMed Ltd. (Nanotechnology & Regenerative Medicine Commercialization Centre), The London BioScience Innovation Centre, London NW1 0NH, UK
†
These authors contributed equally to this work.

Received: 30 April 2018 / Accepted: 6 June 2018 / Published: 15 June 2018
Abstract
:
Spinal cord injury is a chronic and debilitating neurological condition that is currently being managed symptomatically with no real therapeutic strategies available. Even though there is no consensus on the best time to start interventions, the chronic phase is definitely the most stable target in order to determine whether a therapy can effectively restore neurological function. The advancements of nanoscience and stem cell technology, combined with the powerful, novel neuroimaging modalities that have arisen can now accelerate the path of promising novel therapeutic strategies from bench to bedside. Several types of stem cells have reached up to clinical trials phase II, including adult neural stem cells, human spinal cord stem cells, olfactory ensheathing cells, autologous Schwann cells, umbilical cord blood-derived mononuclear cells, adult mesenchymal cells, and autologous bone-marrow-derived stem cells. There also have been combinations of different molecular therapies; these have been either alone or combined with supportive scaffolds with nanostructures to facilitate favorable cell–material interactions. The results already show promise but it will take some coordinated actions in order to develop a proper step-by-step approach to solve impactful problems with neural repair.
Keywords:
neuroregeneration; chronic spinal cord injury; central nervous system; stem cells; molecular therapies; biomaterials; nanotechnology; nanomaterial
Author Contributions
A.M.S. proposed the review article and M.T., K.D., and A.S. worked on data gathering and drafting the review. All four authors critically analyzed and reviewed the topic and completed the review with future direction of the research.
Acknowledgments
M.T. was supported by Onassis Foundation during that study.
Conflicts of Interest
The authors declare no conflicts of interest.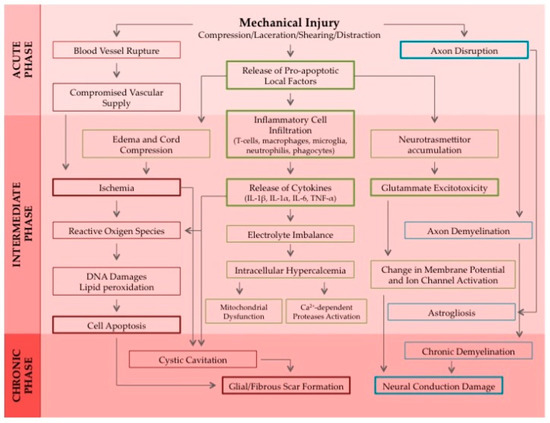 Figure 1.
This is a schematic representation of the cascade of events that are included in the pathophysiological response to a spinal cord injury induced by a mechanical trauma. All the phases from the acute to the sub-acute and chronic SCI are being depicted until cavitation occurs in the lesion site and the glial scar forms. Abbreviations used: IL-1α: Interleukin 1α; IL-1β: Interleukin 1β; IL-6: Interleukin 6; TNF-α: Tumor Necrosis Factor α. Figure reprinted with permission from "Nanofiber Scaffolds as Drug Delivery Systems to Bridge Spinal Cord Injury" by Faccendini et al.,
Pharmaceuticals
2017, 10, 63, licensed under a Creative Commons Attribution license [
4
].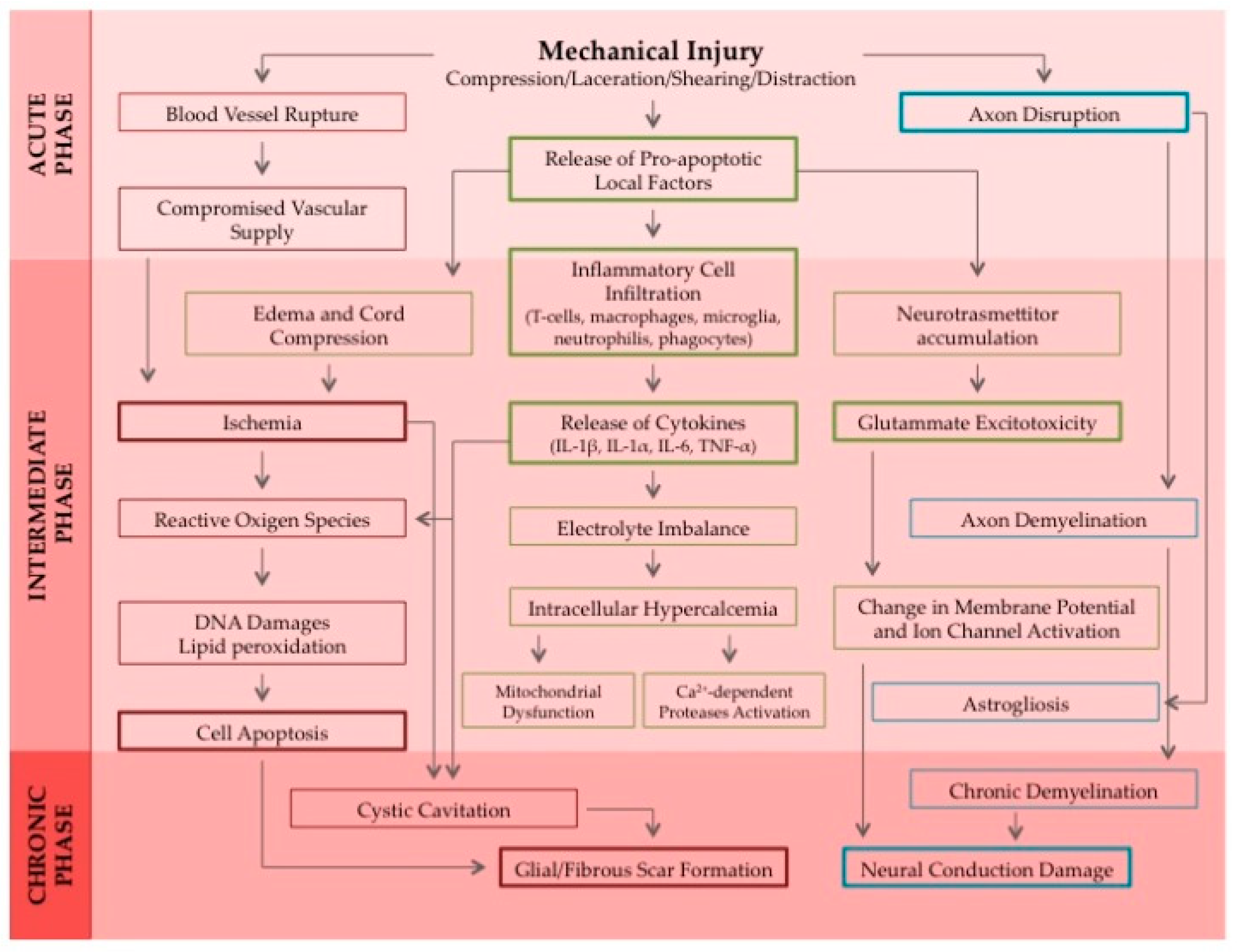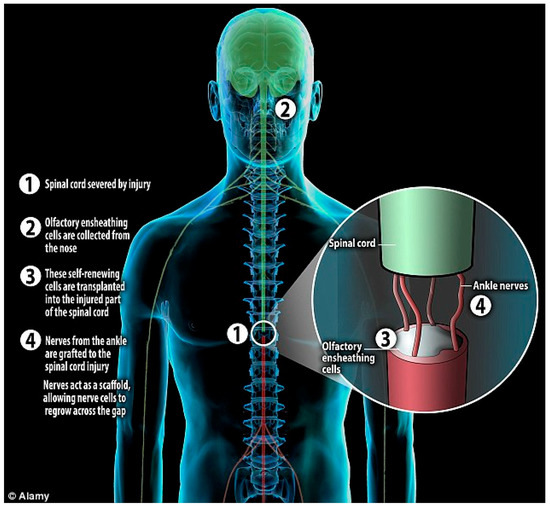 Figure 2.
Schematic diagram shows steps of the treatment of Spinal Cord Injury (SCI) in a male patient who was paralyzed due to knife injury in 2010. He was treated with Olfactory Ensheathing Cells (OECs), a type of cell which is produced at the base of brain and through which human beings get their sense of smell. The surgeon extracted OECs from the nasal cavity and cultured those in the lab. Then nerve grafts were extracted from the ankle of the patient to support the regeneration of severed spinal cord nerve fibers to fill the spinal cavity. Both nerve grafts and stem cells were injected into the spinal cord injured site of the patient. This figure is also available online:
http://www.dailymail.co.uk/sciencetech/article-2800988/world-man-spinal-cord-severed-walks-paralysed-fireman-recovers-thanks-uk-research.html
.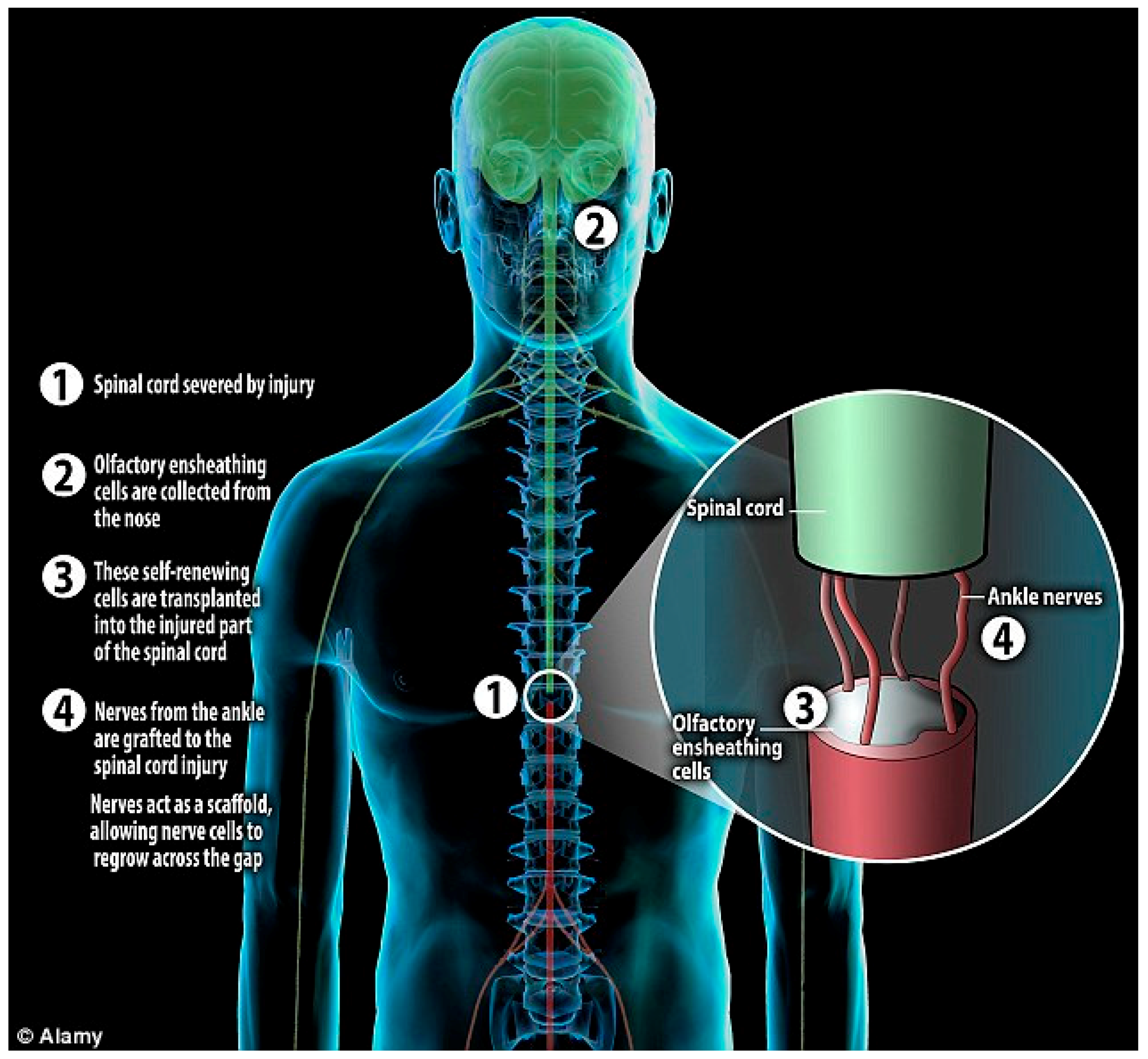 Table 1. Summary of the various molecular therapies in the nanoscale projects that show promise for the treatment of SCI. Keys: CNS: Central Nervous System; SCI: spinal cord injury; Ch'ase: Chondroitinase.
| Project Name | Mechanism | Current Progress | Future Outlook | Ref. |
| --- | --- | --- | --- | --- |
| Nogo Trap of ReNetX Bio | A decoy receptor that binds growth inhibitors, allowing for the nerve fibers to grow naturally and directly. | Nogo Trap has demonstrated improved neurologic function following CNS damage in several animal models. | Planning phase Ib–IIa clinical trials to test safety and efficacy for patients with a chronic cervical incomplete SCI. | [46] |
| CHASE-IT Preclinical Initiative of the International Spinal Research Trust (ISRT) | The application of the biological enzyme Ch'ase in animal models is reported to have degraded scar tissue, promoted growth and improved activity. | Ch'ase has proven to be effective in rats, delivered to both thoracic and cervical contusion injury sites. Latest animal studies took place in 2016 and proved that longer-term application of the enzyme led to more significant motor control improvement. | Promising outcome, but one should bear in mind that data is based on rodent in vivo models; will this translate to humans? | [47] |
| Intracellular sigma peptide (ISP), Ch'ase and combinations preclinical projects | Using the biological enzyme Ch'ase in combinations with intracellular sigma peptide in order to restore breathing after long chronic C2 hemisection injury. | These projects are at a single center led by Jerry Silver. Currently these applications are at a pre-clinical stage. | Development of the product and preparation for clinical trials. | [48] |

© 2018 by the authors. Licensee MDPI, Basel, Switzerland. This article is an open access article distributed under the terms and conditions of the Creative Commons Attribution (CC BY) license (http://creativecommons.org/licenses/by/4.0/).