Open Access This article is
freely available
re-usable
Article
Classical Risk Factors and Inflammatory Biomarkers: One of the Missing Biological Links between Cardiovascular Disease and Major Depressive Disorder
1
Department of Psychiatry and Psychotherapy, Ludwig-Maximilian-University of Munich, Nußbaumstraße 7, D-80336 Munich, Germany
2
Department of Psychiatry and Psychotherapy, University Regensburg, Universitätsstraße 84, D-93053 Regensburg, Germany
3
Department of Internal Medicine—Preventive Cardiology, Ludwig-Maximilian-University of Munich, Ziemssenstraße 1, D-80336 Munich, Germany
4
Max-Planck Fellow at the Max-Planck-Institute for Psychiatry, Kraepelinstraße 2-10, D-80804 Munich, Germany
*
Author to whom correspondence should be addressed.
Received: 28 May 2018 / Accepted: 8 June 2018 / Published: 12 June 2018
Abstract
:
Background: Cardiovascular disorders (CVD) and major depressive disorder (MDD) are the most frequent diseases worldwide responsible for premature death and disability. Behavioral and immunological variables influence the pathophysiology of both disorders. We therefore determined frequency and severity of MDD in CVD and studied whether MDD without CVD or other somatic diseases influences classical and inflammatory biomarkers of cardiovascular risk. In addition, we investigated the influence of proinflammatory cytokines on antidepressant treatment outcome. Methods: In a case-control design, 310 adults (MDD patients without CVD, CVD patients, and cardiologically and psychiatrically healthy matched controls) were investigated. MDD patients were recruited after admission in a psychiatric university hospital. Primary outcome criteria were clinical depression ratings (HAM-D scale), vital signs, classical cardiovascular risk factors and inflammatory biomarkers which were compared between MDD patients and healthy controls. Results: We detected an enhanced cardiovascular risk in MDD. Untreated prehypertension and signs directing to a metabolic syndrome were detected in MDD. Significantly higher inflammatory biomarkers such as the high sensitivity C-reaktive protein (hsCRP) and proinflammatory acute phase cytokines interleukine-1β (IL-1β) and interleukine-6 (IL-6) underlined the higher cardiovascular risk in physically healthy MDD patients. Surprisingly, high inflammation markers before treatment were associated with better clinical outcome and faster remission. The rate of MDD in CVD patients was high. Conclusions: Patients suffering from MDD are at specific risk for CVD. Precise detection of cardiovascular risks in MDD beyond classical risk factors is warranted to allow effective prophylaxis and treatment of both conditions. Future studies of prophylactic interventions may help to provide a basis for prophylactic treatment of both MDD and CVD. In addition, the high risk for MDD in CVD patients was confirmed and underlines the requirement for clinical attention.
Keywords:
cardiovascular disease; cell adhesion molecules; immunology; inflammation; nervous system
1. Introduction
Therefore, the presented comparative prospective case-control study in both diagnostic groups MDD and CVD which directly compares immunological and clinical cardiovascular risk variables may help to clarify these interdependencies. We prospectively investigated both MDD and CVD patients in comparison to psychiatrically and medically healthy controls. We studied frequency and severity of depression in CVD and compared clinical and immunological cardiovascular risk factors between CVD and MDD in an interdisciplinary study. Moreover, we studied to what extent MDD is related to cardiovascular risk factors and to inflammatory biomarkers in cardiovascularly healthy patients suffering from MDD in relation to healthy controls without CVD in order to identify biomarkers which may be suitable for estimation of the cardiovascular risk in MDD. In addition, we investigated the influence of inflammatory markers on antidepressant treatment outcome.
2. Results
2.1. Classical Cardiovascular Risk Markers
Comparison of mean values showed significant differences in a variety of risk markers indicating the elevated cardiovascular risk of MDD patients in comparison to healthy controls (
Table 1
). Blood pressure (BP) determinations according to the Joint National Committee on Prevention, Detection, Evaluation and Treatment of High Blood Pressure (JNC)-7 definitions [
28
] (
Figure 1
) revealed significantly more normal values in healthy controls, prehypertensive BP in MDD and stage 1 and 2 hypertension in CVD patients (χ
2
= 25.6, d.f. = 6,
p
< 0.001).
Post-hoc comparison of depressed patients and controls confirmed the significantly elevated diastolic blood pressure (BP) (U = 3777,
p
= 0.034) and heart rates (U = 1574,
p
< 0.001). Metabolic risk factors included significantly lower total cholesterol (U = 2622,
p
= 0.042) in view of significantly higher triglycerides (U = 2221,
p
= 0.001) and fasting glucose values (U = 1917,
p
= 0.020) in combination with lower high density lipoproteins (HDL) (U = 1711,
p
= 0.017). Lifetime smoking habits did not differ, whereas more MDD patients are current smokers. After correction for age using exact matching all significant differences except for cholesterol (
p
= 0.24) were confirmed. Moreover, systolic BP was significantly higher in MDD patients at baseline (U = 2396,
p
= 0.040).
CVD patients in comparison to controls showed significantly higher systolic BP values (U = 3677,
p
< 0.001) and heart rates (U = 3622,
p
< 0.001). Increased body weight (U = 3034,
p
< 0.001), BMI (U = 2794,
p
< 0.001), waist (U = 2573,
p
< 0.001), hip (U = 3417,
p
< 0.001), and waist/hip ratio (U = 2505,
p
< 0.001) were indicators of the higher metabolic risk. We also registered a higher lifetime cigarette consumption with more pack years (U = 733,
p
= 0.003). The Framingham sum index (U = 2042,
p
< 0.001) and the 10 years risk (U = 2078,
p
< 0.001) were significantly higher in CVD patients. After exact matching for age and sex all statistically significant differences with the exception of systolic BP differences were confirmed.
2.2. Inflammation Biomarkers in MDD in Comparison to Healthy Controls
Among inflammatory biomarkers, the general inflammatory marker high sensitivity (hs)CRP, the pro-inflammatory cytokines IL-6 and IL-1β as well as the adhesion molecule sICAM-1 were significantly higher in depressed patients in comparison to controls (
Table 2
). To rule out possible effects of a divergent age and gender distribution we repeated all comparisons after exact matching for age and sex. All differences remained statistically significant, except for higher sICAM-1 values in MDD patients, which changed to a nonsignificant trend (T = −1.94,
p
= 0.055).
To evaluate putative improvements of cardiovascular risk factors, all inflammatory markers were determined also after remission of depression shortly before discharge of the hospital. Only IL-6 and P selectin declined significantly after treatment with antidepressants (
Table 2
).
2.3. Cardiovascular Risk, Severity of Depression, and Time to Remission in MDD
There was correlative coherence between classical clinical and inflammatory cardiovascular risk factors and the severity of depressive symptoms: Baseline values showed positive correlations with HAM-D17 scores for heart rate (Spearman's ρ = 0.37,
p
< 0.001), triglycerides (ρ = 0.20,
p
= 0.001), and fasting glucose levels (ρ = 0.25,
p
< 0.001). Weak, but statistically significant negative correlations could be seen for HDL (ρ = −0.15,
p
= 0.02) and for the Framingham sum score (ρ = −0.15,
p
= 0.002) as well as for the 10-years risk score (ρ = −0.15,
p
= 0.003). The current smoking status (numbers of cigarettes) was correlated with hsCRP levels at the time of admission in MDD patients (ρ = 0.59,
p
= 0.045).
Baseline values of inflammation biomarkers revealed weak, but statistically significant positive correlations of HAM-D17 sum scores with hsCRP (ρ = 0.23,
p
< 0.001), sICAM-1 (ρ = 0.35,
p
< 0.001) and IL-1β (ρ = 0.26,
p
= 0.002). IL-6 showed a positive correlation only before discharge (ρ = 0.30,
p
= 0.025).
Surprisingly, a specific combination of psychopathology and inflammatory markers seems to affect the time to complete remission (HAM-D17 scores ≤ 7) from MDD: patients more likely to experience a more rapid relief from depressive symptoms suffered from lesser severe MDD (weak positive correlation of HAM-D17 at baseline with time to remission: ρ = 0.28,
p
= 0.045), were younger (ρ = −0.36,
p
< 0.001) and showed a specific inflammatory biomarker profile at baseline. This included higher LDL cholesterol (ρ = 0.39,
p
= 0.037) together with higher IL-1β- (ρ = −0.33,
p
= 0.030) and hsCRP-values (ρ = −0.32,
p
= 0.029) indicating a higher level of chronic inflammation. Also high hsCRP levels >2.0 mg/dL are considered as sign of subclinical inflammation and a biomarker of an enhanced cardiovascular risk [
29
,
30
]. Baseline hsCRP values were elevated in 38.5% of our MDD patients. As indicated in
Figure 2
the time to reach remission was significantly shorter (mean ± SD high vs. low: 25.6 ± 17.5 vs. 40.0 ± 27.3 days) in patients with elevated baseline CRP (Kaplan-Meyer-analysis, Log Rank (Mantel-Cox) d.f. = 1,
p
= 0.025).
3. Discussion
Patients suffering from MDD are at specific risk for the development of CVD. For the assessment of this risk the observance of classical cardiovascular risk factors including the Framingham index appears not to be sufficient. Our study suggests that the enhanced cardiovascular risk is mediated additionally by non-traditional risk factors including inflammatory biomarkers and a metabolic syndrome. MDD facilitates an unhealthy life style and consequently favors the development of a metabolic syndrome. On the other hand, biomarkers indicating a chronic inflammation, such as hsCRP, interleukins, and others, suggest that MDD patients are a high risk group for CVD. As a consequence a close monitoring of smoking status, vital signs (blood pressure and heart rate), triglycerides, HDL cholesterol, hsCRP, and, if possible, pro-inflammatory cytokines (IL-1β) and adhesion molecules (sICAM-1) is recommended for cardiovascular risk assessment.
In patients suffering from stable CVD a relatively high rate of MDD could be detected. Due to the fact that MDD in CVD represents a risk factor for subsequent cardiovascular events sufficient treatment of a putative depressive disorder is warranted. Effective antidepressant treatment supports the relief of depression, whereas an improvement of the prognosis and the reduction of cardiovascular mortality could not be proven sufficiently in prospective studies.
Limitations of our study were the limited case number in comparison to epidemiologic studies. Therefore we were not able to detect small differences in the investigated biomarkers between our three groups. Moreover, up until now, no follow-up investigations to detect longitudinal developments of risk factors and biomarkers and their clinical long-term consequences for the investigated MDD patient group have been performed. Such further investigations are warranted, because they may help to better classify the investigated risk factors and deduce better clinical recommendations.
To meet the requirement of an effective prophylaxis of both cardiovascular disorders in MDD and for diminishing the risk for MDD in CVD, more secondary and primary prevention studies are needed. In MDD early assessment of cardiovascular risk and an early induction of preventive arrangements may be useful. These steps may start with nutritional and life style educations, proceed to dietary arrangements and supplements, and, in case of increased cardiovascular risks, may even include cardio-protective medication. In CVD early diagnosis, treatment and prophylaxis of depression is desirable. This may include psychoeducation, psychosocial therapies, psychotherapeutic approaches, and suitable antidepressant medication.
Even if evidence from randomized controlled trials RCTs still is lacking, in most cases a combination of the mentioned treatments may be of use. From a clinical point of view only the awareness for the described risks, sufficient diagnostics and adequate treatment may help to go against the predicted worldwide rise of the impact of both disorders, CVD and MDD.
4. Material and Methods
4.1. Study Samples
A total of 333 subjects were recruited within the funding period of four years, 23 patients and controls were excluded due to somatic or psychiatric diagnoses detected after study inclusion or due to withdrawal of consent. Therefore, a total of 310 patients were investigated in the study.
Table 1
shows clinical and demographic data for patients and controls.
One hyndred unrelated in-patients suffering from unipolar MDD were recruited. Patients were diagnosed by experienced and trained psychiatrists according to DSM-IV [
48
] using the Structured Clinical Interview for DSM-IV (SCID). Only patients over 18 years old with an at least moderately severe depressive episode were included. The main inclusion criteria were unipolar depression and a score in the Hamilton Rating Scale for Depression [
49
] (17-item version, HAM-D17) of at least 17. Exclusion criteria were all other psychiatric comorbidities including e.g., schizophrenia, addiction or mental retardation. Prior to inclusion in the study blood samples were obtained for routine laboratory screening, a medical history was taken and a physical examination was performed by a physician to exclude medical disorders. Clinically relevant medical illness and the concomitant use of antihypertensive medication as well as hormone replacement therapies, alcohol or drug abuse within the last 6 month prior to study inclusion or withdrawal signs led to exclusion from the study. After washout period of at least 3 days prior to the blood sampling for the study patients received non-standardized antidepressant treatments (predominantly Mirtazapine up to 45 mg/day and Venlafaxine up to 300 mg/day) according to clinical requirements, cognitive behavioral treatment and social support. Changes in the depressive state were monitored using the HAM-D17 which was the primary outcome variable, the Montgomery-Åsberg-depression rating scale (MADRS) and the Beck depression inventory (BDI).
One hundred and six outpatients suffering from CVD were recruited from the Department of Internal Medicine—Preventive Cardiology of the Ludwig-Maximilian-University of Munich (sample 2—CVD). Their psychiatric evaluation included also the SCID for DSM-IV diagnoses together with CGI, HAM-D17, MADRS and BDI evaluation. Criteria for inclusion were evidence of CVD documented by confirmed diagnosis of previous myocardial infarction as per hospital discharge summary, or history of CABG or PCI or evidence of ischemic heart disease based on stress electrocardiography confirmed by diagnostic imaging. Patients had to be in stable conditions defined as at least 3 months from an acute episode, intervention or hospitalization for CVD. Thyroid disease, diabetes, hypertension and other chronic conditions had to be well controlled on a stable medical regimen for a minimum of 3 months. Inflammatory biomarkers were not determined in sample 2 due to ongoing treatments with statins.
One hundred and four age- and sex-matched controls of Caucasian ethnicity were recruited at the LMU and screened for psychiatric (SCID) and for medical disorders. A complete medical and social history, a detailed review of systems and complete physical examination were obtained to assess absence of cardiac, cerebral or peripheral vascular disease. Subjects with diabetes were excluded as this is considered a cardiovascular-equivalent disorder. Only healthy individuals negative for both psychiatric and medical disorders entered the study.
4.2. Assessment of Vital Signs and Calculation of the Framingham-Index
Height and weight were measured and the body mass index (BMI, kg/m
2
) was calculated. Hip and waist circumference were measured to calculate the hip/waist ratio. At least two blood pressure determinations were made after the patient or control subject had been sitting for at least 5 min with the arm at the heart level. Average values were used for further analysis. The calculation of the Framingham index including the risk factors age, gender, total cholesterol, HDL, systolic and diastolic blood pressure, and smoking status was performed as described elsewhere [
50
]. It was expressed as a total score and the 10-years risk for CVD incidence.
4.3. Biochemical Analyses
Inflammatory Risk Factors
All measurements were performed twice from single blinded personal not knowing sample affiliation or clinical details. hsCRP concentrations were determined with a commercially available ELISA (sensitivity 0.1–10 mg/L; DRG Diagnostics, Germany). High sensitivity IL-6 and IL-1β concentrations were measured using ELISA of R&D Systems, Minneapolis according the protocol delivered from the manufacturer. MCP-1, VCAM-1, ICAM-1, E-Selectin, P-Selectin, sCD40-L were determined using ELISAs obtained from IBL (Immuno Biological Lab), Minneapolis, MN, USA according to standard protocols.
4.4. Statistical Analysis
All analyses were performed using the Statistical Package for the Social Sciences (SPSS) for Windows (Releases 15-24, SPSS Inc., Chicago, IL, USA and IBM Deutschland GmbH, Ehningen, Germany). The One-Sample Kolmogorov-Smirnov Test was used to test about normal distribution of all variables. In case of a non-normal distribution, the corresponding variables were transformed with the log-transformation to reach a normal distribution before entering parametric testing. In case of persistent deviations from normal distribution non-parametric comparisons of mean values using the Mann-Whitney
U
test for comparison of means were performed. In case of normal distributions mean differences in demographic and clinical variables between patients and controls were compared using univariate analyses of variance (ANOVA procedure) or Student's
t
-tests in case of continuous variables. In case of categorical variables the frequencies were compared using χ
2
-tests. In addition, we screened cardiovascular risk factors for correlations with predominantly nonparametric variables using Spearman's rho coefficient. To test for influence of hsCRP status on treatment outcome in MDD patients Kaplan-Meyer survival analysis including Cox-regression was applied.
To rule out significant age and gender effects all comparisons were done after exact matching.
4.5. Ethical Approval
The study was approved by the ethics committee of the medical faculty of the Ludwig-Maximilian-University Munich (Project No. 207/03, approval 29 August 2003). Written informed consent was obtained from all patients and control subjects. Patients' data were anonymized.
Author Contributions
T.C.B., G.V.-B., R.R., B.B., and C.v.S. were responsible for study concept and design, analysis and interpretation of data, drafting the manuscript and revising it for important intellectual content, and study supervision. A.M., J.W., S.J. and C.N. contributed a substantial manuscript revision, C.B., S.H., C.S., and D.E., acquired the data, T.C.B. and G.V.-B. obtained funding. T.C.B. and B.B. analyzed the data. T.C.B., G.V.-B., P.Z., R.R., B.B., and C.v.S. gave administrative and technical support. T.C.B. is the guarantor.
Acknowledgments
This project is supported by a grant from the
Deutsche Forschungsgemeinschaft
(DFG BA 2309/1-1, funding period 2004–2008). The authors would like to thank Sylvia de Jonge and Klaus Neuner for expert technical assistance.
Conflicts of Interest
The authors declare no conflict of interest.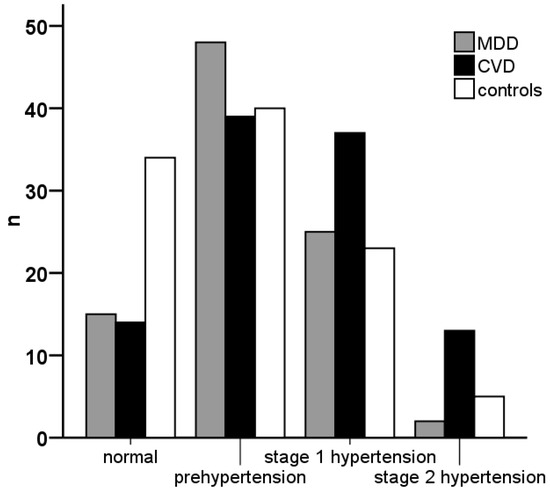 Figure 1.
JNC 7 classification of blood pressure. Classification of blood pressure baseline values according "The Seventh Report of the Joint National Committee on Prevention, Detection, Evaluation, and Treatment of High Blood Pressure" (JNC-7) [
28
] showed significantly different distribution of hypertension categories in major depressive disorder (MDD) and cardiovascular disorder (CVD) patients as well as in healthy controls (n = number of subjects in either group).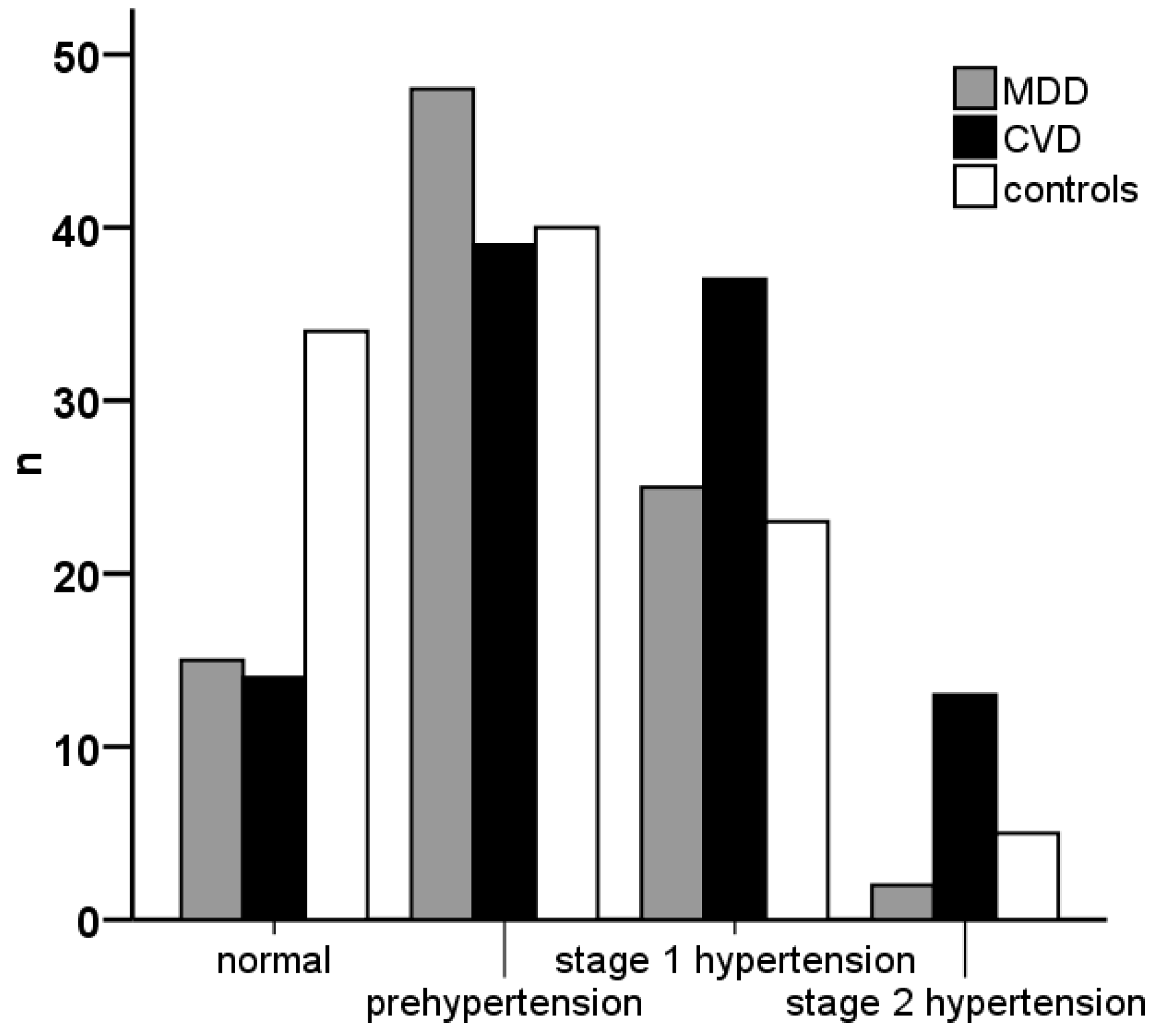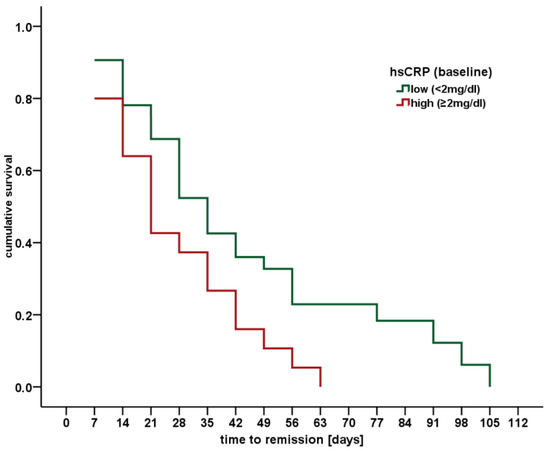 Figure 2. Kaplan-Meyer survival function of time to full remission of MDD for hsCRP status. Estimated likelihood of full remission (HAM-D17 score < 7) based on Mantel-Cox's regression analysis for hsCRP concentrations at baseline in patients suffering from MDD. Time to full remission was significantly shorter in patients with elevated baseline hsCRP concentrations.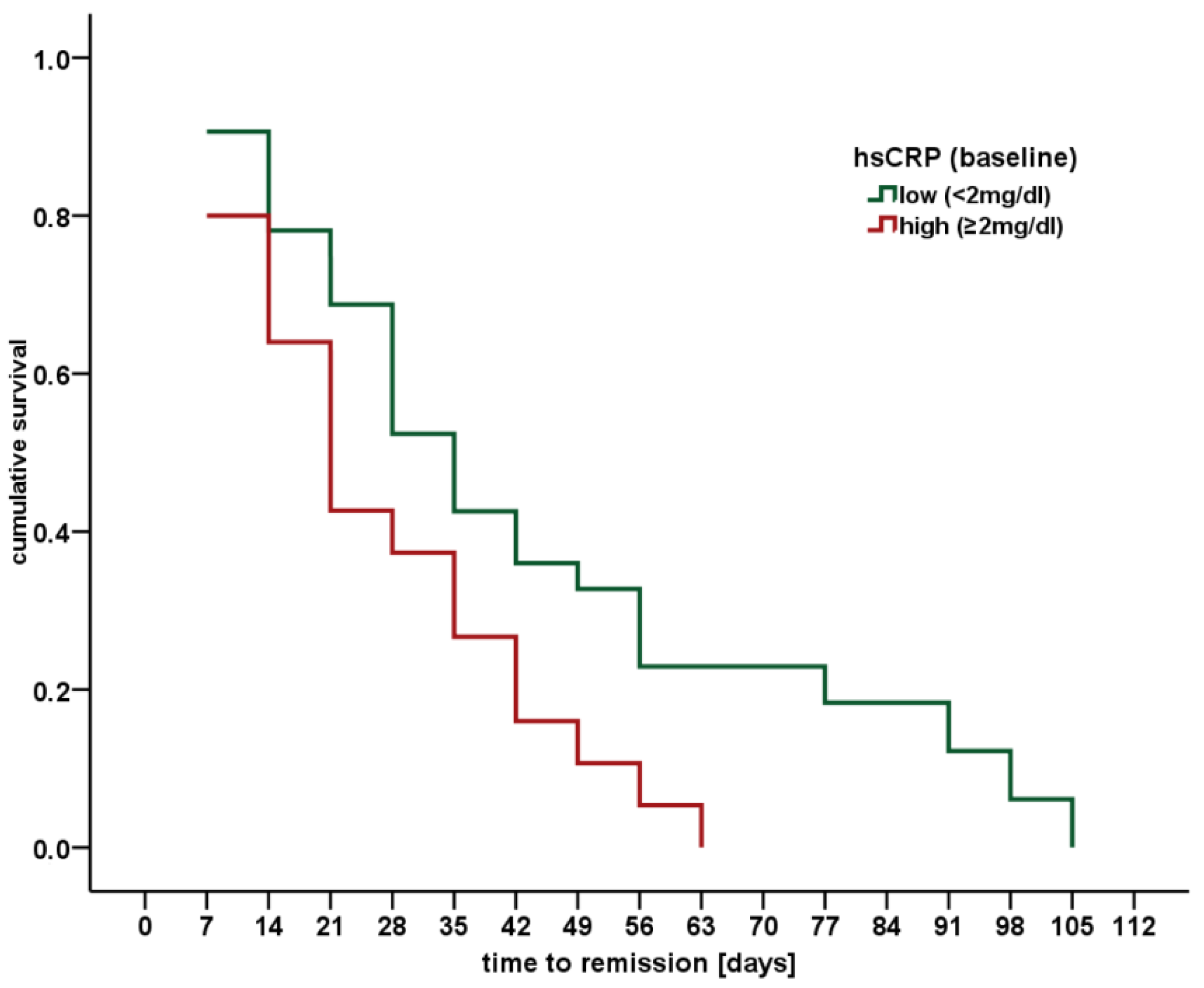 Table 1. Demographic, clinical, and medical characteristics of samples 1–3 including psychiatric ratings, vital signs, and selected classical cardiovascular risk factors. Vital signs as well as classical cardiovascular risk factors and behavioral variables are indicating an elevated cardiovascular risk in MDD.
Samples
Sample 1 *
Sample 2
Sample 3 †
Kruskal-Wallis- or χ2-Test ‡
Variable
MDD
CVD
Controls
χ2, d.f.,

p

n

100
106
104
age (mean ± SD)
46.6 ± 14.8
66.9 ± 7.3
54.7 ± 14.4
100, 2,

p

< 0.001
sex
(male/female)
37.0%/63.0%
81.1%/18.9%
45.2%/54.8%
46.3, 2,

p

< 0.001 ‡
clinical ratings (baseline)
CGI-1
5.3 ± 0.5
1.3 ± 0.8
1.0 ± 0.0
205, 2,

p

< 0.001
HAM-D17 (mean ± SD)
22.0 ± 5.3
2.4 ± 4.4
0.7 ± 1.2
160, 2,

p

< 0.001
MADRS (mean ± SD)
31.8 ± 7.4
3.2 ± 6.0
0.7 ± 1.3
162, 2,

p

< 0.001
BDI (mean ± SD)
26.4 ± 9.1
7.0 ± 5.1
2.8 ± 3.2
130, 2,

p

< 0.001
Vital signs and classical cardiovascular risk factors
blood pressure (systolic)
129.2 ± 13.5
138.6 ± 19.1
128.6 ± 19.1
18.7, 2,

p

< 0.001
blood pressure (diastolic)
79.7 ± 8.2
78.3 ± 10.9
76.8 ± 11.9
4.63, 2, n.s. §
heart rate (beats/minute)
85.7 ± 14.7
63.8 ± 10.7
68.9 ± 10.1
104, 2,

p

< 0.001
total cholesterol (mg/dL)
206.2 ± 58.1
n.d.
223.8 ± 48.1
4.15, 1,

p

= 0.042
LDL (mg/dL)
125.2 ± 42.8
n.d.
136.9 ± 45.6
2.30, 1, n.s.
triglycerides (mg/dL)
148.8 ± 100.3
n.d.
100.6 ± 51.6
10.5, 1,

p

= 0.001
HDL (mg/dL)
58.4 ± 17.1
n.d.
66.1 ± 19.8
5.67, 1,

p

= 0.017
fasting glucose (mg/dL)
95.1 ± 18.2
n.d.
86.9 ± 11.6
5.41, 1,

p

= 0.02
body weight (kg)
72.9 ± 13.6
82.8 ± 14.7
72.3 ± 11.8
32.9, 2,

p

< 0.001
body mass index (kg/m2)
25.3 ± 4.0
28.0 ± 4.4
24.4 ± 2.9
35.8, 2,

p

< 0.001
waist circumference (cm)
96.9 ± 12.3
101.9 ± 12.9
90.1 ± 12.1
34.2, 2,

p

< 0.001
hip circumference (cm)
105.3 ± 10.7
105.8 ± 9.5
100.6 ± 8.4
12.5, 2,

p

= 0.002
waist-hip-ratio
0.92 ± 0.12
0.96 ± 0.07
0.90 ± 0.09
35.9, 2,

p

< 0.001
smoker/non-smoker (%)
42.9%/57.1%
9.0%/91.0%
14.6%/85.4%
34.1, 2,

p

< 0.001 ‡
pack years (20 cigarettes/day * years)
18.8 ± 13.4
35.7 ± 30.7
18.8 ± 20.3
9.96, 2,

p

= 0.007
Framingham-index (total)
2.77 ± 5.74
9.69 ± 2.69
4.09 ± 5.86
99.3, 2,

p

< 0.001
Framingham-index, 10 years-risk (%)
4.94 ± 5.62
11.47 ± 7.11
5.85 ± 5.78
96.4, 2,

p

< 0.001
dropouts:

n

= 16; MDD = major depressive disorder; CVD = cardiovascular disorder; ANOVA = univariate analysis of variance; d.f. = degrees of freedom; SD = standard deviation; n.s. = not statistically significant; n.d. = not done (due to treatment with statins); CGI-1 = Clinical global impression scale, Item 1—severity of disease; HAM-D17 = Hamilton rating scale for depression, 17-item version; MADRS = depression rating scale; BDI = Beck depression inventory; LDL = low density lipoproteins; HDL = high density lipoproteins; * medical comorbidities were exclusion criteria for sample 1; † medical and psychiatric comorbidities were exclusion criteria for sample 3; bold = statistical significant differences between MDD and controls confirmed (Mann-Whitney-U test) after exact age and sex matching; ‡ χ2-test in case of categorical variables (continuous variables were evaluated by univariate analysis of variance); § Man-Whitney-U test:

p

= 0.005.
Samples
Sample 1

t

-Test *
Sample 3

t

-Test †
MDD
Controls
Variable
Baseline
Discharge
T,

p

Baseline
T,

p

inflammation marker
hsCRP (mg/L)
3.07 ± 3.7
3.97 ± 4.4
0.23, n.s.
1.37 ± 1.2
4.25,

p

< 0.001
pro-inflammatory cytokines
interleukin 1β (IL-1 β) (pg/mL)
1.08 ± 1.1
1.34 ± 1.0
0.88, n.s.
0.54 ± 0.6
4.10,

p

< 0.001
interleukin 6 (IL-6) (pg/mL)
1.58 ± 1.5
1.35 ± 1.7
2.26,

p

= 0.027
1.32 ± 1.3
2.64,

p

= 0.009
adhesion molecules
P selectin (ng/mL)
150.4 ± 102.4
114.4 ± 78.9
2.56,

p

= 0.013
184.2 ± 146.0
−1.47, n.s.
E selectin (ng/mL)
54.6 ± 29.0
58.0 ± 32.0
−0.69, n.s.
46.5 ± 27.2
1.76, n.s.
MCP-1 (pg/mL)
221.3 ± 149.7
301.8 ± 179.2
−2.92,

p

= 0.005
256.5 ± 140.8
−1.54, n.s.
sICAM-1 (ng/mL)
535.4 ± 210.0
555.0 ± 209.5
−0.92, n.s.
360.6 ± 107.7
5.90,

p

< 0.001
sVCAM-1 (ng/mL)
486.1 ± 182.0
533.2 ± 221.4
−1.62, n.s.
552.3 ± 142.2
−4.41,

p

= 0.017
costimulatory glycoprotein
sCD40 (ng/mL)
10.4 ± 3.7
11.3 ± 3.7
−2.42,

p

= 0.019
10.1 ± 4.2
0.59, n.s.
Inflammation biomarkers in MDD patients. Comparison to healthy controls: hsCRP, IL-1β, and sICAM-1 were significantly elevated in comparison to healthy controls. Other markers showed only nonsignificant trends or were even lower in MDD. Comparison before and after treatment of depression (at baseline and before discharge of the hospital): Reduced IL-6 and P selectin after antidepressant treatment. * Student's

t

-test for dependent samples: sample 1 baseline vs. discharge; † Student's

t

-test for independent samples: baseline sample 1 vs. baseline sample 3; n.s. = not statistically significant; bold = statistical significant differences between MDD and controls confirmed after exact age and sex matching (

t

-test and Mann-Whitney-U test).

© 2018 by the authors. Licensee MDPI, Basel, Switzerland. This article is an open access article distributed under the terms and conditions of the Creative Commons Attribution (CC BY) license (http://creativecommons.org/licenses/by/4.0/).