Classical Risk Factors and Inflammatory Biomarkers: One of the Missing Biological Links between Cardiovascular Disease and Major Depressive Disorder
1
Department of Psychiatry and Psychotherapy, Ludwig-Maximilian-University of Munich, Nußbaumstraße 7, D-80336 Munich, Germany
2
Department of Psychiatry and Psychotherapy, University Regensburg, Universitätsstraße 84, D-93053 Regensburg, Germany
3
Department of Internal Medicine—Preventive Cardiology, Ludwig-Maximilian-University of Munich, Ziemssenstraße 1, D-80336 Munich, Germany
4
Max-Planck Fellow at the Max-Planck-Institute for Psychiatry, Kraepelinstraße 2-10, D-80804 Munich, Germany
*
Author to whom correspondence should be addressed.
Received: 28 May 2018 / Revised: 6 June 2018 / Accepted: 8 June 2018 / Published: 12 June 2018
Abstract
Background: Cardiovascular disorders (CVD) and major depressive disorder (MDD) are the most frequent diseases worldwide responsible for premature death and disability. Behavioral and immunological variables influence the pathophysiology of both disorders. We therefore determined frequency and severity of MDD in CVD and studied whether MDD without CVD or other somatic diseases influences classical and inflammatory biomarkers of cardiovascular risk. In addition, we investigated the influence of proinflammatory cytokines on antidepressant treatment outcome. Methods: In a case-control design, 310 adults (MDD patients without CVD, CVD patients, and cardiologically and psychiatrically healthy matched controls) were investigated. MDD patients were recruited after admission in a psychiatric university hospital. Primary outcome criteria were clinical depression ratings (HAM-D scale), vital signs, classical cardiovascular risk factors and inflammatory biomarkers which were compared between MDD patients and healthy controls. Results: We detected an enhanced cardiovascular risk in MDD. Untreated prehypertension and signs directing to a metabolic syndrome were detected in MDD. Significantly higher inflammatory biomarkers such as the high sensitivity C-reaktive protein (hsCRP) and proinflammatory acute phase cytokines interleukine-1β (IL-1β) and interleukine-6 (IL-6) underlined the higher cardiovascular risk in physically healthy MDD patients. Surprisingly, high inflammation markers before treatment were associated with better clinical outcome and faster remission. The rate of MDD in CVD patients was high. Conclusions: Patients suffering from MDD are at specific risk for CVD. Precise detection of cardiovascular risks in MDD beyond classical risk factors is warranted to allow effective prophylaxis and treatment of both conditions. Future studies of prophylactic interventions may help to provide a basis for prophylactic treatment of both MDD and CVD. In addition, the high risk for MDD in CVD patients was confirmed and underlines the requirement for clinical attention.
View Full-Text
►

▼

Figures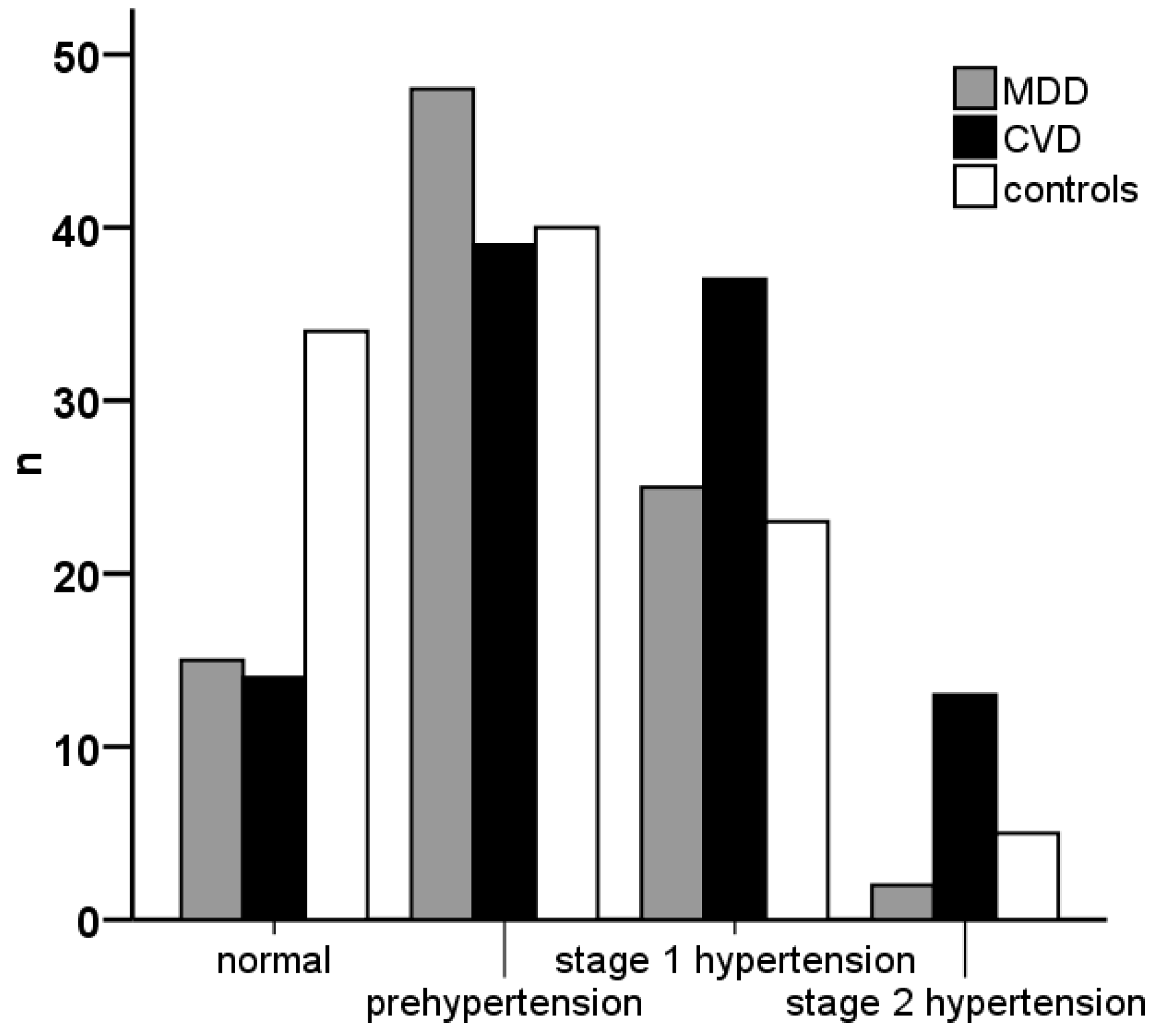 Figure 1
This is an open access article distributed under the
Creative Commons Attribution License
which permits unrestricted use, distribution, and reproduction in any medium, provided the original work is properly cited (CC BY 4.0).

Share & Cite This Article
MDPI and ACS Style
Baghai, T.C.; Varallo-Bedarida, G.; Born, C.; Häfner, S.; Schüle, C.; Eser, D.; Zill, P.; Manook, A.; Weigl, J.; Jooyandeh, S.; Nothdurfter, C.; Von Schacky, C.; Bondy, B.; Rupprecht, R. Classical Risk Factors and Inflammatory Biomarkers: One of the Missing Biological Links between Cardiovascular Disease and Major Depressive Disorder. Int. J. Mol. Sci. 2018, 19, 1740.
Note that from the first issue of 2016, MDPI journals use article numbers instead of page numbers. See further details here.
Related Articles
Comments
[Return to top]