Open Access This article is
freely available
re-usable
Review
VEGF Upregulation in Viral Infections and Its Possible Therapeutic Implications
Department of Microbiology, College of Medicine, Imam Abdulrahman Bin Faisal University (IAU), P.O. Box 1982, Dammam 31441, Saudi Arabia
Received: 31 March 2018 / Accepted: 29 May 2018 / Published: 1 June 2018
Abstract
:
Several viruses are recognized as the direct or indirect causative agents of human tumors and other severe human diseases. Vascular endothelial growth factor (VEGF) is identified as a principal proangiogenic factor that enhances the production of new blood vessels from existing vascular network. Therefore, oncogenic viruses such as Kaposi's sarcoma herpesvirus (KSHV) and Epstein-Barr virus (EBV) and non-oncogenic viruses such as herpes simplex virus (HSV-1) and dengue virus, which lack their own angiogenic factors, rely on the recruitment of cellular genes for angiogenesis in tumor progression or disease pathogenesis. This review summarizes how human viruses exploit the cellular signaling machinery to upregulate the expression of VEGF and benefit from its physiological functions for their own pathogenesis. Understanding the interplay between viruses and VEGF upregulation will pave the way to design targeted and effective therapeutic approaches for viral oncogenesis and severe diseases.
Keywords:
angiogenesis; vascular endothelial growth factor (VEGF); vascular endothelial growth factor receptor (VEGFR); Epstein-Barr virus (EBV); Kaposi's sarcoma herpesvirus (KSHV); Hepatitis C Viruses (HCV); Hepatitis B Viruses (HBV); Herpes Simplex Virus (HSV); Hantavirus; Dengue fever virus; therapeutics
1. Introduction
Angiogenesis is an important physiologic process which involves formation of new blood vessels from already existing vasculature. It plays a vital role during development and wound healing but also during disease pathology such as tumor growth and progression. Several stimulators are involved in the angiogenesis process including vascular endothelial growth factor (VEGF), which plays a crucial role in activating endothelial cells through binding to receptors on the cell surface called vascular endothelial growth factor receptor (VEGFR) [
1
]. There are four VEGF isoforms in mammals (VEGF-A,B,C,D) and the placental growth factor (PlGF) encoded by different but related genes [
2
]. Most of these isoforms express alternative splice variants or proteolytic cleaved proteins to produce a range of functional VEGF isoforms and splice variants. Furthermore, VEGF isoforms signal through different receptors (VEGFR1,R2 and R3) and coreceptors including the neuropilin receptors (Nrp1 and 2), heparan sulfate and integrins [
3
]. The three VEGFRs are tyrosine kinases and mediate signal transduction upon ligand binding and dimerization [
4
]. VEGFR1 binds VEGF-A, VEGF-B and PlGF. It is also present in a soluble form and therefore expected to play a negative regulatory role in VEGF signaling [
5
]. VEGFR2 binds VEGF-A, VEGF-C and VEGF-D and is implicated in most vascular and endothelial biological processes through phosphorylation activities at several tyrosine residues in its cytoplasmic tail [
6
]. VEGFR3 is the receptor for VEGF-D and VEGF-C and expected to play a role in lymphatic endothelium development [
6
]. Nonetheless, VEGFR3 was found to additionally play a role through its kinase activity in sprouting of endothelial cells during blood vessels formation [
7
,
8
].
VEGF-A is the prototype of all VEGFs and by far the most extensively studied isoform and therefore in some literature is referred to as VEGF. Seven proangiogenic splice variants exist from VEGF-A based on the presence of alternative splice site selection in exons 6 and 7 generating a variety of isoforms partially or completely lacking exons 6, 7 or 8 [
9
,
10
]. This family of splice variants is called VEGF-Axxx, where the triple-x indicates the number of amino acids in the protein. Another family of VEGF-A splice variants is produced based on an extra splicing site in exon 8 in addition to the splicing sites in exon 6 and 7. The involvement of the distal exon 8 splicing site in VEGF-A production generates VEGF isoforms similar to their VEGF-Axxx counterparts but with six different amino acids at its carboxy-terminus. This family of splice variants is called VEGF-Axxxb and is believed to have antiangiogenic properties [
9
,
10
].
Human viruses cause a variety of diseases where neither specific successful treatment nor safe and effective vaccine are available. VEGFs and their receptors have been implicated in the pathophysiology of many of these diseases. This review discusses the involvement of VEGFs and their receptors in viral diseases and the possible therapeutic applications.
Table 1
and
Figure 1
summarize common human viruses and their diverse mechanism of upregulation of VEGF expression.
2. Upregulation of VEGF Expression in Viral Oncogenesis
3. Upregulation of VEGF Expression in Non-Oncogenic Viral Infections
3.1. Herpes Simplex Virus-1 (HSV-1)
HSV type 1 infects more than half of the human population and the rate of infection may reach up to 90% in some geographical areas [
85
]. It causes Herpes labialis (cold sores) after primary infection and then establishes a lifelong infection residing latently in the trigeminal ganglia. HSV-1 may also cause ocular infection called herpetic stromal keratitis (HSK), where the cornea loses transparency due to neovascularization, which results in impaired vision and blindness [
86
]. VEGF and its VEGFR2 receptor are involved in the pathogenesis of HSK through the induction of lymphatic neoangiogenesis in the cornea and the underlying stromal tissue [
87
]. HSV-1 infection of the cornea triggers VEGF expression in the cornea and the stromal cells despite the absence of HSV-stromal cells infection [
88
]. It is believed that VEGF expression in the stroma is mediated by a paracrine effect of the IL-6 cytokine, which is also induced by HSV-1 infection of the cornea [
89
]. The infection cellular protein-4 (ICP4) seems to be the major player in HSV-mediated VEGF expression. ICP4 binds directly to the proximal promoter of the VEGF gene and drives the transcription of VEGF mRNA in collaboration with other early viral proteins [
90
]. HSV-1 infection of the cornea does not only upregulate VEGF expression, but also disrupts the balance with its soluble neutralizing receptor (soluble vascular growth factor receptor-1, sVEGFR1) by facilitating the sVEGFR1 degradation via the metalloproteases enzymes which are produced by the infiltrating inflammatory cells as a result of infection [
91
]. HSV-1 additionally exploits host factors such as the host microRNA-132 and the cytokine IL-17A to disturb the balance between VEGF and its neutralizing receptor sVEGFR1 and render the immune-privileged corneal tissue accessible to inflammatory cells and mediators and induces neovascularization [
92
,
93
]. It was recently observed that the fibroblast growth factor-2 (FGF-2), whose expression is also upregulated after HSV-1 infection, sustains the VEGF-mediated neovascularization of the cornea even after resolving of HSV-1 infection [
94
].
3.2. Dengue Virus (DENV)
Dengue virus is an arthropod-borne virus transmitted to human through the Aedes mosquito vector. There have been four serotypes identified (DENV1 to DENV4). DENV causes a mild feverish disease called Dengue fever (DF). However, the disease may develop into severe complications called dengue hemorrhagic fever (DHF), which is characterized by increased capillary permeability and plasma leakage [
95
]. Continuous plasma leakage may lead to decreased intravascular volume and hypotensive shock (dengue shock syndrome, DSS). VEGF was previously called vascular permeability factor (VPF) as it caused increase permeability of capillaries [
96
]. Many studies have shown the presence of elevated serum levels of VEGF in patients with DHF but not DF [
97
,
98
,
99
,
100
,
101
]. Other studies have demonstrated that DENV infection of pulmonary endothelial cell lines upregulates the expression of VEGF along with many Th1 and Th2 cytokines [
102
,
103
]. For this reason, it is believed that immune preparedness is a major determinant of disease severity [
95
].
3.3. Hantaviruses
The
Hantavirus
genus belongs to the family
Bunyaviridae
and comprises a group of zoonotic viruses (such as Andes virus, Hantaan virus, Seoul virus, and others), which transmit from the primary reservoir to human through inhalation of aerosols from rodents' feces, urine or saliva [
104
]. Rodents have been identified as the primary reservoir for several Hantaviruses from different geographical regions [
105
]. Hantaviruses cause serious diseases called Hantavirus Pulmonary Syndrome (HPS) and Hemorrhagic Fever with Renal Syndrome (HFRS) with fatality rate of up to 40% [
104
,
105
]. Disease manifestations are overlapping and characterized by increased permeability and vasodilatation which leads to extravasation of inflammatory mediators and blood in the affected organs. High levels of VEGF were implicated in the pathogenesis of many Hantaviruses [
106
,
107
].
Andes virus for example infects pulmonary endothelial cells in vitro and induces VEGF expression which leads to abnormal increased permeability [
108
]. VEGF expression in Andes-infected endothelial cells was found to be preceded by production of virus progeny [
109
]. Andes virus and Hantaan virus disturb the assembly of adherence junction of vascular endothelial cells by internalizing cadherins of endothelial cell junction and dysregulating β3-integrin and therefore allow extravasation of blood and inflammatory mediators [
107
,
110
]. Several other studies showed the upregulation of the VEGF by one or another virus from the
Hantavirus
genus [
111
,
112
].
4. Viral VEGF Homolog Proteins
Some viruses encode their own proangiogenic homolog such as the VEGF-E encoded by orf virus (ORFV). ORFV belongs to the genus
Parapox
of the family
Poxviridae
. It infects keratinocytes and causes pustular skin disease in sheep and goats which may transmit to human through direct contact [
113
]. Tissue sections from the ORFV skin lesions show high vascularization and infiltration of inflammatory components [
114
]. Considering the vascularized and edematous nature of the ORFV lesion, it was tempting to imagine the involvement of VEGF in ORFV pathogenesis. In 1994, it was discovered that ORFV encodes a homolog of the human VEGF later called VEGF-E and was found to be responsible for the virus-associated angiogenesis [
113
,
115
]. ORFV lacking functional
VEGF-E
gene causes lesions without dermal swelling and vascular proliferation [
116
,
117
]. VEGF-E shares about 25% homology with VEGF-A and binds with strong affinity to VEGFR2 [
118
,
119
]. VEGF-E lacks hairpin-binding domain and, therefore, cannot bind and engage the coreceptor heparan sulfate, whereas the VEGF-E variant encoded by the ORFV
NZ2
was found to bind to the coreceptor neuropilin-1 (NRP-1) through the RPPR peptide in its carboxyterminus and to induce the assembly of VEGFR2-NRP-1 complex [
120
,
121
,
122
]. VEGF-E can induce a strong angiogenic response comparable to VEGF-A, however, without the hemorrhagic effect and without disturbing the endothelial junctions which are considered adverse side effects of VEGF-A angiogenic properties [
118
]. This favorable angiogenic property of VEGF-E makes it a good candidate for proangiogenic therapy in clinical practice (discussed below).
Other viruses from the
Parapox
genus were found also to express VEGF homolog such as the Bovine papular stomatitis virus (BPSV) and Pseudocowpox (PCPV), which may also infect human [
123
,
124
]. A VEGF homolog was also detected in the Parapoxviruses of red deer in New Zealand (PVNZ); however, this virus was not reported to infect human [
125
].
5. Therapeutic Applications of Targeting VEGF in Viral Diseases
Apparently, targeting the molecular modulators of angiogenesis, in particular VEGF, is an attractive area of research and tempting approach for drug design to treat viral oncogenesis and other viral diseases when angiogenesis is involved. Lack of specific treatment and effective vaccination for most virus diseases adds more significance to this approach.
6. Summary and Conclusions
VEGF seems to be an important player in the pathogenesis of many viral diseases. Therefore, many viruses seek the upregulation of VEGF by several means and some viruses bring their VEGF homolog with them to the infected host (
Figure 1
). HIF-1α, COX-2 and AP1 appear to be the most common target pathways for virus-mediated upregulation of VEGF. However, some other viruses activate certain inflammatory mediators which end up by the upregulation of VEGF expression. Other viruses directly activate the VEGF promotor to enhance its expression by their own effector proteins (
Figure 1
). Therefore, major research efforts are required for a very good understanding of the role of viral gene products in upregulation of VEGF expression and are essential for designing novel therapeutic protocols and discovering new chemicals that selectively target viral genes and spare cellular physiologic functions.
Acknowledgments
The author would like to thank all members of the Department of Microbiology, College of Medicine at Imam Abdulrahman Bin Faisal University for their continuous support and encouragement.
Conflicts of Interest
The author declares no conflict of interest.
Abbreviations
| | |
| --- | --- |
| AP-1 | Activator protein 1 |
| COX-2 | Cyclooxygenase-2 |
| DENV | Dengue virus |
| E5, E6, E7 | HPV early proteins 5, 6 and 7 |
| EBNA1 | EBV nuclear antigen 1 |
| EBV | Epstein-Barr virus |
| EGFR | Epidermal growth factor receptor |
| HBV | Hepatitis B virus |
| HBx | HBV-x protein |
| HCV | Hepatitis C virus |
| HIF-1α | Hypoxia inducible factor-1 alpha |
| HPV | Human papilloma virus |
| HSV-1 | Herpes simples virus-1 |
| hTERT | Human Telomerase reverse transcriptase |
| ICP4 | Infected cell protein 4 |
| JNK | c-Jun N-terminal kinases |
| KSHV | Kaposi's sarcoma-associated herpesvirus |
| LMP1 | latent membrane protein 1 |
| NF-κB | Nuclear factor kappa B |
| NPC | Nasopharyngeal carcinoma |
| Npr | Neuropilin receptor |
| PI3K | Phosphatidylinositol 3-kinase |
| PlGF | Placental growth factor |
| SP-1 | Specificity protein 1 |
| VEGF | Vascular endothelial growth factor |
| VEGFR | Vascular endothelial growth factor receptor |
| vFLIP | Viral FLICE inhibitory protein |
| vGPCR | Viral G-protein coupled receptor |
| vIRF3 | Viral interferon regulatory factor 3 |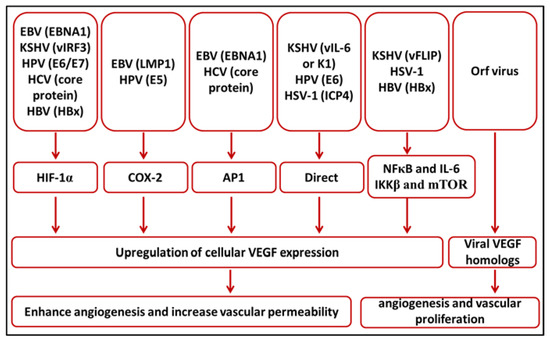 Figure 1. A schematic diagram summarizes how different viruses mediate vascular endothelial growth factor (VEGF) upregulation.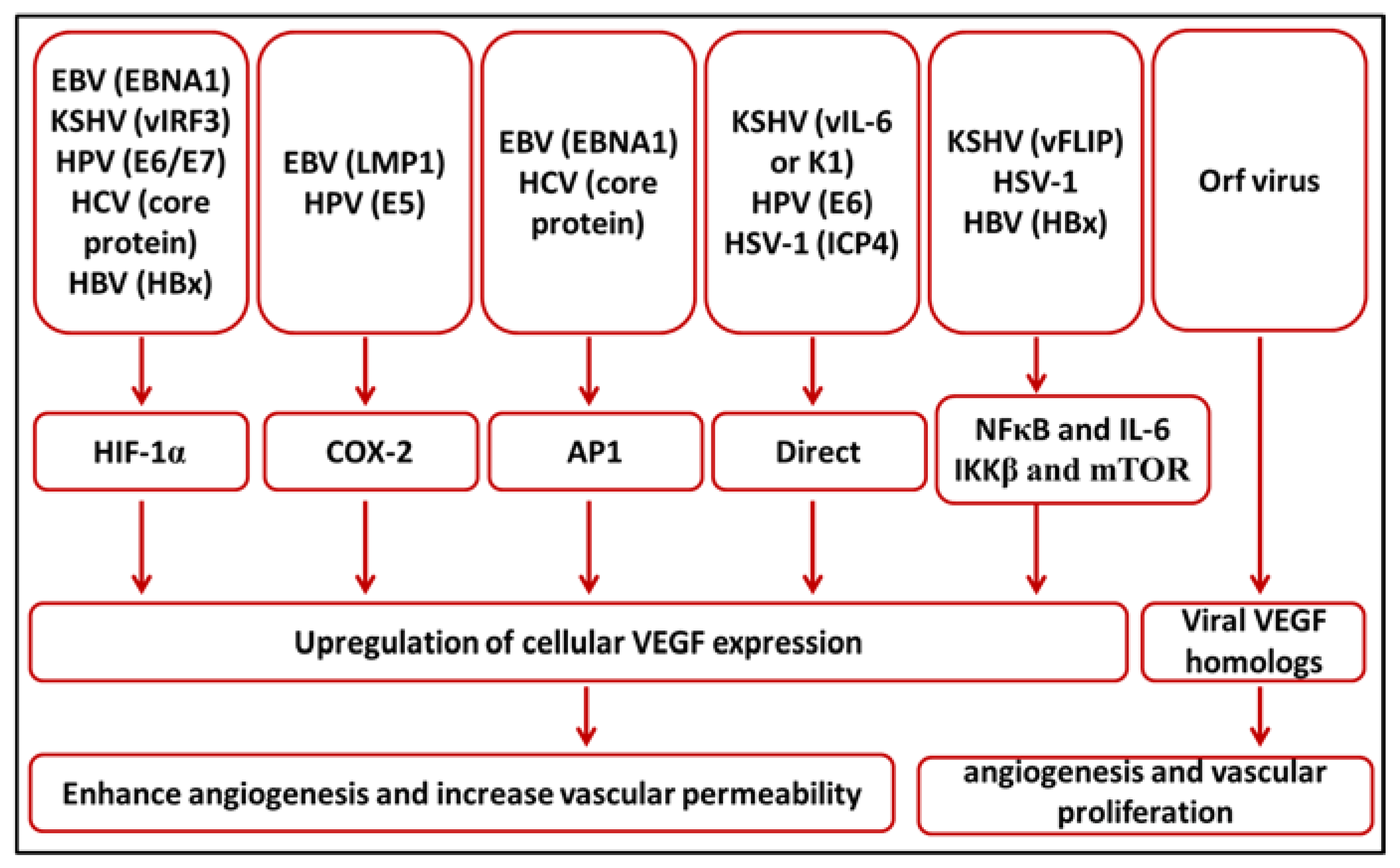 Table 1. Summary of viruses exploiting vascular endothelial growth factor (VEGF) upregulation in human diseases.
Virus
Disease
Mechanism of VEGF Upregulation
References
EBV
Nasopharyngeal carcinoma
LMP1 upregulates the expression of VEGF through the phosphorylation of JNKs/c-Jun signaling pathways
[20,21]
LMP1 upregulates COX-2 expression which leads to the upregulation of VEGF expression
[22]
EBNA1 activates the AP-1 transcription factor which enhances the transcription of VEGF
[24]
Gastric carcinoma
Overexpression of HIF-1α leads to the upregulation of VEGF expression
[26]
KSHV
Kaposi's sarcoma
vFLIP activates the transcription factor NF-κB which induce inflammatory response leads to upregulation of VEGF
[38,39,40]
Viral K1 and vIL-6 directly implicated in expression of VEGF
[41,42]
vGPCR enhances the upregulation of VEGF
[43]
vIRF3 stabilizes HIF-1α to enhance VEGF expression
[44]
HPV
Cervical cancer, head and neck carcinoma
E6 binds to a responsive region consisting of four SP-1 sites in the VEGF promoter region
[58]
E7 upregulates VEGF expression through the telomerase reverse-transcriptase (hTERT) and telomerase activity
[59]
E5 activates the EGFR which in turn leads to the phosphorylation of PI3K and Akt, enhancement of the transcription of COX-2 leading to increase in VEGF expression
[56,60]
HCV
Hepatocellular carcinoma
Core protein stabilizes HIF-1α which automatically upregulates the expression of VEGF
[67,68,69]
Core protein activates the AP-1 transcription factor which potentiates VEGF expression through direct binding to its promoter
[71]
HBV
Hepatocellular carcinoma
HBx protein stabilizes the HIF-1α and enhances VEGF expression
[79,80,81]
HBx induces mTOR and IKKβ which in turn induces VEGF expression
[82]
Pre-S protein potentiates the expression of VEGF
[83]
HSV-1
Herpetic stromal keratitis
ICP4 binds directly to the proximal promoter of VEGF gene and drives its transcription
[90]
HSV-1 disturbs the balance between VEGF and its neutralizing receptor sVEGFR1
[91]
DENV
Dengue hemorrhagic fever, dengue shock syndrome
Upregulation of Th1 and Th2 cytokines and VEGF
[102,103]
Hantaviruses
Hantavirus Pulmonary Syndrome, Hemorrhagic Fever with Renal Syndrome
Mechanism jet to be elucidated
Orf virus
Pustular skin disease
Encodes VEGF homolog called VEGF-E
[113,115]

© 2018 by the author. Licensee MDPI, Basel, Switzerland. This article is an open access article distributed under the terms and conditions of the Creative Commons Attribution (CC BY) license (http://creativecommons.org/licenses/by/4.0/).