Open Access This article is
freely available
re-usable
Review
Phytochemicals in Skin Cancer Prevention and Treatment: An Updated Review
1
Department of Dermatology, Chang Gung Memorial Hospital, Linkou, Taipei, and Keelung 105, Taiwan
2
Drug Hypersensitivity Clinical and Research Center, Chang Gung Memorial Hospital, Linkou, Taipei, and Keelung 105, Taiwan
3
School of Medicine, College of Medicine, Chang Gung University, Taoyuan 333, Taiwan
4
Graduate Institute of Clinical Medical Sciences, Chang Gung University, Taoyuan 333, Taiwan
5
Center for Tissue Engineering, Chang Gung Memorial Hospital, Taoyuan 333, Taiwan
6
Whole-Genome Research Core Laboratory of Human Diseases, Chang Gung Memorial Hospital, Keelung 204, Taiwan
†
These authors contributed equally to this work.

Received: 24 January 2018 / Accepted: 20 March 2018 / Published: 22 March 2018
Abstract
:
Skin is the largest human organ, our protection against various environmental assaults and noxious agents. Accumulation of these stress events may lead to the formation of skin cancers, including both melanoma and non-melanoma skin cancers. Although modern targeted therapies have ameliorated the management of cutaneous malignancies, a safer, more affordable, and more effective strategy for chemoprevention and treatment is clearly needed for the improvement of skin cancer care. Phytochemicals are biologically active compounds derived from plants and herbal products. These agents appear to be beneficial in the battle against cancer as they exert anti-carcinogenic effects and are widely available, highly tolerated, and cost-effective. Evidence has indicated that the anti-carcinogenic properties of phytochemicals are due to their anti-oxidative, anti-inflammatory, anti-proliferative, and anti-angiogenic effects. In this review, we discuss the preventive potential, therapeutic effects, bioavailability, and structure–activity relationship of these selected phytochemicals for the management of skin cancers. The knowledge compiled here will provide clues for future investigations on novel oncostatic phytochemicals and additional anti-skin cancer mechanisms.
Keywords:
phytomedicine; skin cancer; chemoprevention
1. Introduction
Skin is the largest human organ and serves as the first line protective barrier against environmental assaults. Skin barriers are especially vulnerable because they are exposed to a range of noxious agents, sun damage, and microorganisms [
1
]. Accumulation of these stresses may lead to skin carcinogenesis, which is a multistage process involving cancer initiation, promotion, and progression [
2
,
3
]. The initiation stage occurs after exposure to a carcinogen, such as ultraviolet (UV) radiation which causes cellular DNA damage. UV radiation induces carcinogenesis both directly, through DNA damage by photons, and indirectly, through affecting DNA, membranes, and proteins by reactive oxidative stress [
4
]. If DNA damage remains unrepaired, the cell undergoes irreversible permanent genetic mutations, enabling the cell with the ability for autonomous growth [
5
]. Followed by the initiation stage, the promotion stage occurs when these initiated cells are repeatedly exposed to compounds that promote selective clonal cell proliferation into a benign tumor over time. Regenerative proliferation, associated with repeated wounding or UV radiation, chronic inflammation, and oxidative stress, has been shown to contribute to skin tumor promotion [
6
]. Finally, during the progression stage, the benign tumor undergoes further genetic mutations and becomes progressively invasive, transforming into a malignant neoplasm with the ability to metastasize [
2
]. The exponential tumor growth during the progression stage is dependent on the recruitment of nutrition and oxygen supply through angiogenesis, a process where new blood vessels emerge from preexisting vascular structures [
7
].
Michael Sporn first coined the term "chemoprevention" in 1976, which now broadly refers to the use of pharmacologic or natural agents to inhibit the initiation, promotion, and progression of carcinogenesis [
8
]. Since then, chemoprevention has remained an area of active investigation especially with regards to the prevention of human cancer. Plants and herbal products have been used throughout history for medicinal purposes. In addition to the nutritional value derived from macro- and micronutrients, plants also contain phytochemicals, non-nutritive components, derived from the Greek "phyto" for plant [
9
]. Phytochemicals are biologically active compounds that may have potential health benefits, especially in the chemoprevention of cancer. Many phytochemicals have polyphenol groups consisting of multiple hydrophilic hydroxyl groups which act as scavengers for free radicals and reactive oxygen species (ROS), thereby protecting the cells from oxidative damage on DNA, protein, and lipids. Other phytochemicals exert anti-inflammatory properties by inhibiting cytokine activity or the release of inflammatory mediators, which in turn prevent the host cells from inflammation-induced damage. In addition, phytochemicals also modulate multiple cell signaling pathways and inhibit cell proliferation and angiogenesis [
10
,
11
].
Phytochemicals have the potential to play a unique role in skin cancer. First, pre-cancerous and cancerous skin lesions are readily accessible to both the subject and physician. This is advantageous to the development of topical agents that can be applied only to the suspicious malignant area of change with minimal damage to normal skin. This contrasts with the use of phytochemical for other internal organ tumors, which may require oral ingestion of the phytochemical resulting in a systemic effect. Secondly, skin lesions and treatment efficacy can easily be evaluated by both physicians and subjects. Pathological proof is intrusive for most cancers but skin biopsies are relatively non-intrusive. Thus, future trials evaluating the effectiveness of phytochemicals in skin cancer could be more feasible. Finally, most local adverse effects can be quickly noted by subjects with topical applications; this can reduce subject discomfort and potential for long-term or more severe side effects. Several promising phytochemicals have been found in a variety of fresh fruits, vegetables, roots, and herbs, such as epigallocatechin-3-gallate, resveratrol, curcumin, proanthocyanidins, silymarin, apigenin, capsaicin, genistein, indole-3-carbinol, and luteolin; these have been considered as a means to improve cancer chemoprevention and treatment via multiple mechanisms (
Figure 1
). In this review, we will discuss the preventive potential, therapeutic effects, bioavailability, and structure–activity relationship of these selected phytochemicals for the management of skin cancers (
Table 1
).
2. Phytochemicals and Protective Properties against Cutaneous Carcinoma
3. Conclusions
In conclusion, increasing evidence indicates that phytochemicals are important for cancer prevention and intervention. Phytochemicals may not be as effective as conventional chemotherapeutic or pharmaceutical agents, but their potential in cancer prevention is clear. The use of phytochemicals in skin cancer prevention and intervention is very attractive as these agents are widely available, cost-effective, and highly tolerated. The use of phytochemicals for skin cancer is advantageous to prove the effectiveness of phytochemical compounds as the organ is approachable with direct observation and readily accessible to topical treatment. Current literature has demonstrated the anti-carcinogenic effects of phytochemicals through regulation of multiple different signaling pathways which have been tightly involved in versatile protective actions, including anti-oxidation, anti-metastasis, anti-inflammation, anti-angiogenesis, and epigenetic/cancer stem cells modification. These natural ingredients may also potentially shield and reverse the damaging effects derived from solar UV radiation and other environmental carcinogens. Combined with the use of sunscreen, this may serve as a reasonable strategy for skin cancer prevention. As the primary barrier against environmental assaults, normal skin needs to proliferate and differentiate continuously at a relatively high pace. The antiproliferative effect of phytochemicals need to specifically target highly proliferative tumor cells to minimize potential adverse reactions to the skin. Accordingly, topical application may be an ideal route of delivery. To date, although mounting in vitro and epidemiologic evidence supports the chemoprotective efficacy of phytochemicals in skin cancer, controlled studies with blinded evaluators are still needed to further assess their protective properties, pharmacokinetics, and bioavailability in the human body (
Table 2
). For topical formulation, issues such as enhanced skin penetration, stability of the compounded formulation, drug concentration, and length of treatment warrant further investigation to enable translation of in vitro and murine studies to useful human clinical treatment. Furthermore, studies focusing on controlled drug release through topical or oral delivery systems as well as the interaction of phytochemicals with conventional skin cancer therapies in the complicated process of cancerization are required (
Table 3
).
Acknowledgments
This work was supported by a research grant from the Ministry of Science and Technology, Taiwan (MOST 105-2634-F-182A-001 to Shih-Chi Su).
Author Contributions
Chau Yee Ng and Hsi Yen contributed equally to the conception and draft of the manuscript. Specifically, the initial outline, literature review, and manuscript write-up for each phytochemical was divided between Chau Yee Ng and Hsi Yen. Chau Yee Ng was responsible for the following phytochemicals: curcumin, indole-3-carbinol, caffeic acid, silymarin and silibinin, genistein, luteolin, and caffeic acid phenethyl ester and
Figure 1
. Similarly, Hsi Yen was responsible for epigallocatechin-3-gallate, (6)-gingerol, eugenol, capsaicin, resveratrol, ursolic acid, and allyl sulfides. Chau Yee Ng and Hsi Yen then reviewed the other's work and were responsible for revisions. Both contributed to the Introduction, Conclusion and
Table 1
. Hui-Yi Hsiao and Shih-Chi Su reviewed the final manuscript.
Conflicts of Interest
The authors declare no conflict of interest.
Abbreviations
COX-2
Cyclooxygenase-2
NF-κB
Nuclear factor kappa-light-chain-enhancer of activated B cells
5-LOX
5-Lipoxygenase
STAT3
Signal transducer and activator of transcription
CRP
C-reactive protein
PGE2
Prostaglandin E2
TGF-β
Transforming growth factor-β
MAPK
Mitogen-activated protein kinase
AP-1
Activator protein
IL
Interleukin
MITF
Microphthalmia-associated transcription factor
VEGF
Vascular endothelial growth factor
iNOS
Inducible nitric oxide synthase
MPO
Myeloperoxidase
TNF
Tumor necrosis factor
EGF
Epidermal growth factor
TPA
12-

O

-tetradecanoylphorbol-13-acetate
ODC
Ornithin decarboxylase
H2O2
Hydrogen peroxidase
MDA
Malondialdehyde
EGFR
Epidermal growth factor receptor
DMBA
7,12-dimethylbenz[a]anthracene
PI3-K
Phosphatidylinositol 3-kinase
ERK
Extracellular signal-regulated kinas
AQP3
Aquaporin 3
MMP
Matrix metalloproteinase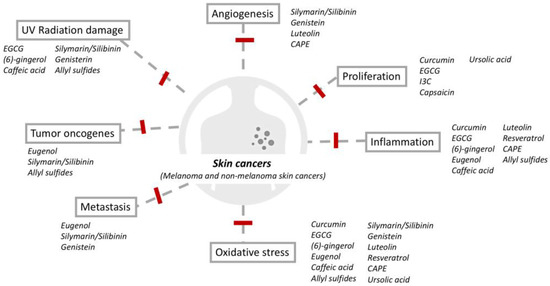 Figure 1. Mechanisms of phytomedicines in the chemoprevention of melanoma and non-melanoma skin cancers.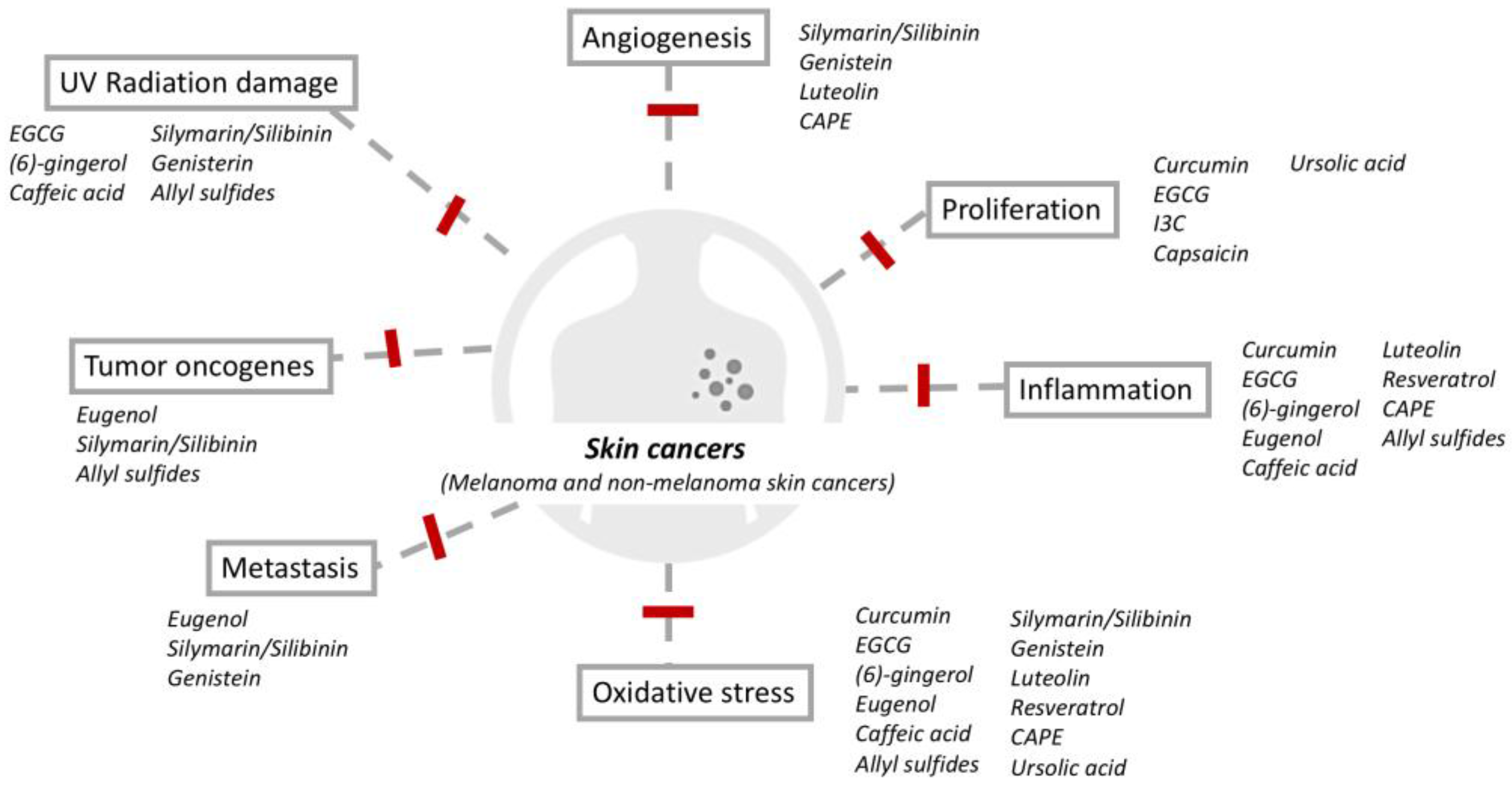 Category
Phytochemical
Source
Structure
Molecular Targets
Ref.
Phenolic compounds
(6)-gingerol
Ginger
↓NF-κB, ↓p53, ↓survivin, ↓Bcl2, ↓Bax, ↓COX-2, ↓AP-1, ↓p38
[12,13,14,15,16,17]
Caffeic acid phenethyl ester
Honey bee propolis
↓VEGF, ↓MDR-1, ↓NF-κB, ↑Bax, ↓Bcl-2, ↓Caspase-3
[18,19,20,21,22,23,24,25,26,27,28,29,30]
Capsaicin
Red chili peppers, jalapenos
↓NF-κB, ↓AP-1, ↓STAT3, ↓PI3-K, ↓Akt, ↓COX-2
[31,32,33,34,35,36,37,38]
Curcumin
Tumeric
↓COX-2, ↓NF-κB, ↓5LOX, ↓STAT3, ↓CRP, ↓PGE2, ↓TGF-β
[39,40,41,42]
Eugenol
Cloves, nutmeg, cinnamon, bay leaves, basil
↓

c-Myc

and

H-ras

, ↓E2F1, ↓superoxide formation, ↓lipid peroxidation, ↓COX-2, ↓iNOS, ↓IL-6, ↓TNF-α, ↓PGE2
[43,44,45,46,47]
Polyphenol: phenolic acid
Caffeic acid
Coffee
↓NF-κB, ↓AP-1, ↓MAPK, ↓COX, ↓TNF-α, IL-6, and IL-1β, ↓MPO
[48,49,50,51,52,53,54,55,56,57,58]
Polyphenol: flavonoid
Epigallocatechin-3-gallate
Green tea
↓NF-κB, ↓AP-1, ↓IL-1β, ↓TRAF6, ↓IL-1β, ↓MAPK, ↓COX
[59,60,61,62,63,64,65,66,67,68,69,70,71,72,73,74]
Genistein
Soybean
↓H2O2, ↓MDA, ↓p53, ↓p21, ↓Chk2
[75,76,77,78,79,80,81,82,83,84,85,86,87,88,89,90,91,92]
Luteolin
Carrots, peppers, celery, oliver
↓Bcl-3, ↑Bax, ↓ERK1/2, ↓Akt, ↓AP-1, ↓NF-κB, ↓COX-2
[93,94,95,96,97]
Silymarin and Silibinin
Milk thistle
↓VEGF, iNOS, ↓MAPK family (ERK1/2, JNK and p38), ↓Akt activation
[98,99,100,101,102,103,104,105,106,107,108,109,110,111,112,113,114,115]
Polyphenol: stilbene
Resveratrol
Grapes, peanuts, mulberries, red wine
↓NF-κB, ↓ERK, ↓p38 MAP, ↓MAPK, ↓survivin, ↓Bcl2↓AQP3, ↓Akt/PKB, ↓COX-1 and COX-2
[116,117,118,119,120,121,122,123,124,125,126,127,128,129,130,131,132]
Terpenoid
Ursolic acid
Basil
↓IκBα kinase, ↓p65, ↓NF-κB, ↑p53, ↑caspase-3, ↓Bcl-2, ↓lipid hydroperoxide, ↓COX-2
[133,134,135,136,137,138,139,140,141]
Organosulfur
Allyl sulfides
Garlic
↓p21/ras, ↑p53, ↓Bcl-2, ↓NF-κB, ↑Nrf2, ↑Bax, ↓MMP-2 and MMP-9, ↓nitric oxide, ↑catalase, superoxide dismutase, and glutathione peroxidase, ↓COX-2
[142,143,144,145,146,147,148,149,150,151,152,153,154,155,156,157,158,159]
Indole-3-carbinol
Cabbage
↓Bcl-2, ↓MITF
[160,161,162,163,164,165,166]
Cyclooxygenase-2 (COX-2), nuclear factor kappa-light-chain-enhancer of activated B cells (NF-κB), 5-lipoxygenase (5-LOX), phosphatidylinositol 3-kinase (PI3-K); signal transducer and activator of transcription (STAT3), prostaglandin E2 (PGE2), transforming growth factor-β (TGF-β), mitogen-activated protein kinase (MAPK), extracellular signal-regulated kinase (ERK) and p38 mitogen-activated protein (MAP) kinase, activator protein (AP-1), anti-apoptotic and proto-oncogenic protein, Akt/PKB, aquaporin 3 (AQP3), pro-apoptotic (Bax), anti-apoptotic(Bcl-2), interleukin(IL), microphthalmia-associated transcription factor (MITF), vascular endothelial growth factor (VEGF), multidrug resistance 1 (MDR-1), inducible nitric oxide synthase (iNOS), myeloperoxidase (MPO), tumor necrosis factor (TNF), epidermal growth factor (EGF), 12-

O

-tetradecanoylphorbol-13-acetate (TPA), TNF receptor-associated factor 6 (TRAF6), ornithin decarboxylase (ODC), hydrogen peroxidase (H2O2) and malondialdehyde (MDA), epidermal growth factor receptor (EGFR), 7,12-dimethylbenz[a]anthracene (DMBA), phosphatidylinositol 3-kinase (PI3-K), extracellular signal-regulated kinase (ERK), aquaporin 3 (AQP3), matrix metalloproteinase (MMP), oncogenes (

c-Myc

and

H-ras

), tumor suppressor gene (p53).
Formulation and delivery systems for optimal human bioavailability remains undetermined for most phytochemicals.
Adverse effects from the use of phytochemical have been reported
Lack of evidence for recommendation of the use of phytochemical in skin cancer prevention and management
Large controlled human trials to analyze clinical outcome measures (reduction of skin cancer incidence and skin cancer morbidity and mortality rates)
Development of formulations for optimal delivery systems and increased human bioavailability
Development of formulations combining phytochemical with other ingredients to reduce adverse effects
Combination of two or more phytochemicals in the same formulation for synergistic effect
Interaction of phytochemicals and current conventional chemotherapy

© 2018 by the authors. Licensee MDPI, Basel, Switzerland. This article is an open access article distributed under the terms and conditions of the Creative Commons Attribution (CC BY) license (http://creativecommons.org/licenses/by/4.0/).