Open Access This article is
freely available
re-usable
Review
HIV Vaccination: A Roadmap among Advancements and Concerns
1
INSERM u1016, Institut Cochin, 27 Rue du Faubourg Saint Jacques, 75014 Paris, France
2
Institute of Protein Biochemistry, C.N.R., Via Pietro Castellino 111, 80131 Naples, Italy
3
Institute of Genetics and Biophysics A. Buzzati-Traverso, C.N.R., Via Pietro Castellino 111, 80131 Naples, Italy
*
Author to whom correspondence should be addressed.
Received: 30 March 2018 / Accepted: 17 April 2018 / Published: 19 April 2018
Abstract
:
Since the identification of the Human Immunodeficiency Virus type 1 (HIV-1) as the etiologic agent of AIDS (Acquired Immunodeficiency Syndrome), many efforts have been made to stop the AIDS pandemic. A major success of medical research has been the development of the highly active antiretroviral therapy and its availability to an increasing number of people worldwide, with a considerable effect on survival. However, a safe and effective vaccine able to prevent and eradicate the HIV pandemic is still lacking. Clinical trials and preclinical proof-of-concept studies in nonhuman primate (NHP) models have provided insights into potential correlates of protection against the HIV-1 infection, which include broadly neutralizing antibodies (bnAbs), non-neutralizing antibodies targeting the variable loops 1 and 2 (V1V2) regions of the HIV-1 envelope (Env), polyfunctional antibody, and Env-specific T-cell responses. In this review, we provide a brief overview of different HIV-1 vaccine approaches and discuss the current understanding of the cellular and humoral correlates of HIV-1 immunity.
Keywords:
HIV-1; vaccines; clinical trials; immune correlates
1. Introduction
Since the first published report [
1
] (1981) of Acquired Immunodeficiency Syndrome (AIDS) in five homosexual men in Los Angeles being treated for
Pneumocystis carinii
pneumonia, Human Immunodeficiency Virus type 1 (HIV-1) has given rise to one of the most deadly infectious disease in the human history, causing about 35 million deaths. The latest estimate, available on the UNAIDS website (available online:
http://www.unaids.org/en
), tells us that over 36 million people worldwide were living with HIV/AIDS at the end of 2016 and 1 million persons died of AIDS in 2016, with sub-Saharan Africa remaining the area most severely affected by the HIV/AIDS pandemic. Currently, increasing numbers of HIV-infected individuals have access to the life-saving, highly effective antiretroviral therapy (HAART) that can suppress the plasma viremia and reduce the risk of AIDS and transmission of HIV [
2
]. However, the persistence of HIV-latent reservoirs makes the complete eradication of the virus in infected individuals receiving HAART extremely problematic [
3
,
4
].
HIV-1 is an enveloped RNA virus, a lentivirus belonging to the Retroviridae family. The virus was isolated and subsequently identified as the etiologic agent of AIDS in 1983 [
5
]. The viral genome, consisting of two copies of a single-stranded RNA, codes for structural (Gag, Pol, and Env), regulatory (Tat and Rev), and accessory proteins (Vpu, Vpr, Vif, and Nef) (
Figure 1
). As in other enveloped viruses, binding of the virus to cell-surface receptors is mediated by the envelope glycoproteins, which play a critical role in initiating the viral infection [
6
]. HIV-1 primarily infects CD4+ T-cells, macrophages, and dendritic cells, causing functional defects and damage to the immune system.
A safe and effective vaccine would be an invaluable tool to stop the HIV/AIDS pandemic. So far, only one HIV-1 vaccine clinical trial—the Thai Phase III RV144—demonstrated some efficacy of vaccination against HIV-1 acquisition [
7
]. Currently, the analyses of vaccine-induced immune correlates of protection in humans and non-human primate (NHP) models are guiding different HIV-1 vaccine approaches [
8
,
9
,
10
]. In this review, we provide a general overview of the recent advances in HIV-1 vaccine development, with a focus on the immunological mechanisms.
2. The HIV Vaccine Problem: Roadblocks and Main Challenges
The development of an HIV-1 vaccine is a daunting challenge that faces serious roadblocks. Traditional approaches to viral vaccine development are unworkable or inefficacious. Safety concerns rule out the use of the HIV-1 in live/attenuated vaccine formulations. The high propensity of the HIV-1 to mutate to escape immune response results in a high degree of genetic diversity that demands broadly cross-reacting neutralizing antibodies to prevent infection and, to date, such broadly neutralizing responses proved arduous to achieve by vaccination. The early establishment and persistence of latent virus reservoirs during infection is a potent mechanism of viral immune escape as well as the structure of the envelope (Env) protein. The highly glycosylated structure of the trimeric Env and the presence of Env immunodominant variable regions shield broadly neutralizing antibody (bnAb) epitopes and drive the immune response away from conserved regions [
11
,
12
].
3. The Working Hypotheses on How to Protect from HIV/AIDS
Virus-specific nAbs represent the key immune correlates of protection for most successful viral vaccines. HIV-1 bnAbs have been described that target different regions of the Env trimer, namely, the CD4 binding site, the variable loop 1 and 2 (V1V2) glycans and the V3 glycan on the gp120 protein, and the gp120–gp41 interface [
13
]. Formulations able to induce bnAbs capable of neutralizing the majority of HIV strains are a main aim of vaccine development efforts [
14
].
Along with protective antibodies, also the anti-HIV CD8 T-cell response is relevant for the control of HIV replication, although the specific mechanisms contributing to this suppressive activity are yet to be fully elucidated (recently reviewed by McBrien et al. [
15
]). The role of CD8 T-cells has been emphasized by preclinical studies [
16
,
17
,
18
,
19
], and by the data collected during HIV infection reporting that a decline of viremia occurs after the induction of virus-specific CD8 T-cells, thus suggesting that CD8 T-cells are involved in the initial control of infection [
20
]. Moreover, clinical trials have provided insights into potential correlates of protection against the HIV-1 infection, including polyfunctional immune responses [
10
].
Thus, an ideal vaccine should contain immunodominant epitopes conserved among the different clades and be able to elicit both bnAbs and a broad CD8 T-cell response.
4. Exploiting Germinal Center (GC) Responses for Eliciting bnAbs
6. Learning from the Clinical Trials
The lessons from RV144 suggested that the HIV-1 V2 region could be a target site to potentially induce antibodies able to block HIV-1 acquisition.
7. Current HIV-1 Vaccine Approaches
The modest efficacy of the RV144 HIV-1 vaccine candidate and the analyses of vaccine-induced immune correlates of protection in humans and NHP models [
8
,
9
,
10
] are currently guiding the development of novel HIV-1 vaccines [
71
]. Preventative and therapeutic strategies have been pursued and investigated into test-of-concept clinical trials with the aim to provide protection against HIV-1 [
72
,
73
]. RV144 regimen, novel vaccine regimens based on Ad26 viral vector, mosaic immunogens, and gp140 protein, HIV-1 SOSIP trimers, and passive administration of monoclonal antibodies are amongst the latest approaches to HIV-1 prevention and treatment. Here, we report some HIV immunotherapeutic current approaches (listed in
Table 2
).
8. Financial Concerns
On 28 March 2018, the World Health Organization (WHO) convened (in Geneva, Switzerland) researchers, policy makers, and AIDS activists to discuss the factors—including cost and ease of delivery—that can determine whether an HIV vaccine can succeed and how to prioritize the studies in the field, given the limitations of resources [
91
]. Moreover, officials involved in regulatory agencies reported the difficulties of facing decisions when considering the cost and effort of delivering treatment to people at risk. Similar concerns are relevant to passive immunotherapy: antibodies are expensive and are given as intravenous infusions, and it is unclear how long the treatment must continue.
However, along with the concerns, the discussion of these important issues is crucial and may foster renewed efforts in the scientific community to focus their research and define the milestone to achieve in order to obtain a successful vaccine formulation against HIV.
Author Contributions
Maria Trovato, Luciana D'Apice, Antonella Prisco and Piergiuseppe De Berardinis equally contributed to the work and wrote the manuscript. All the authors read and approved the final manuscript.
Conflicts of Interest
The authors declare no conflict of interest.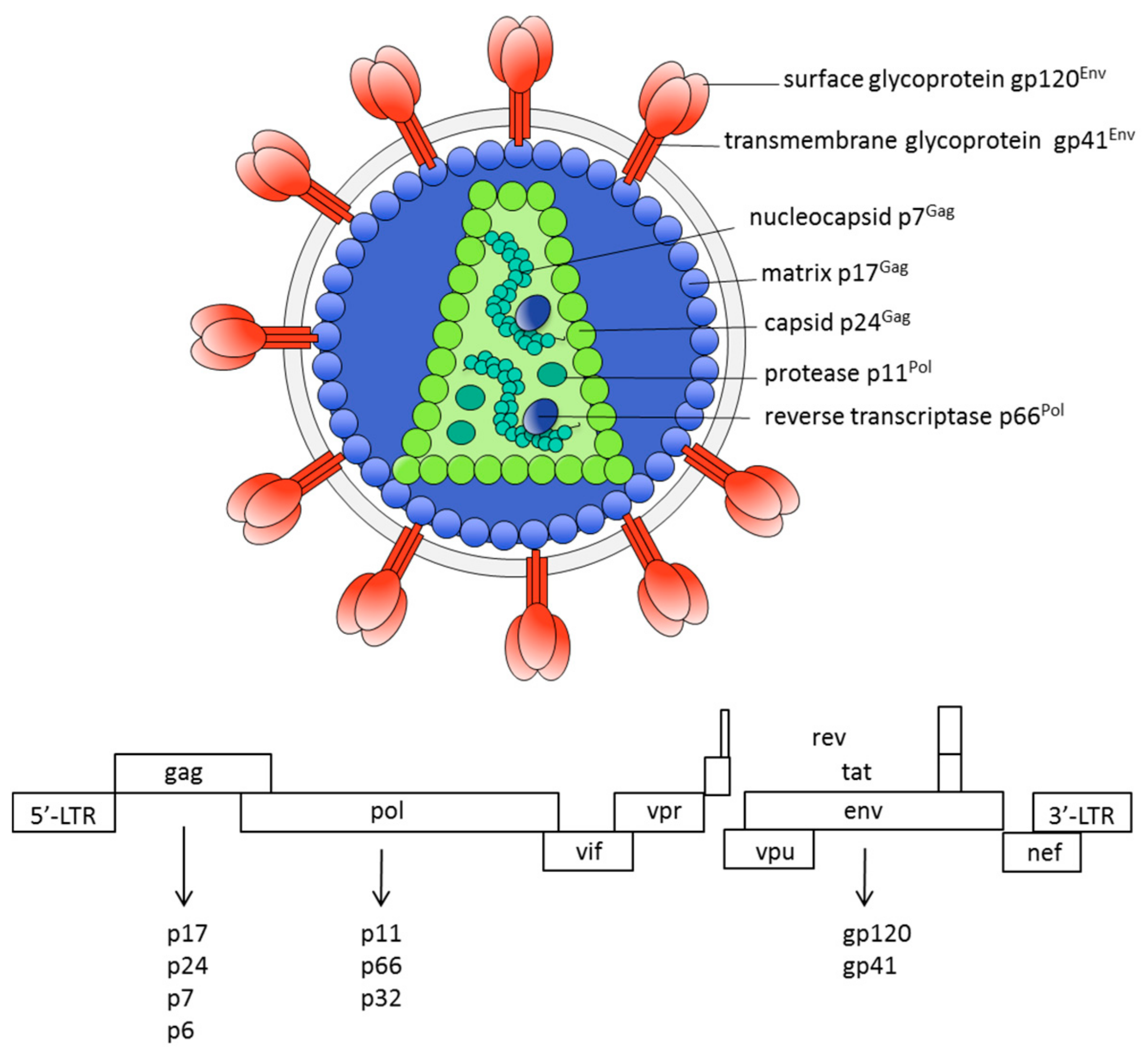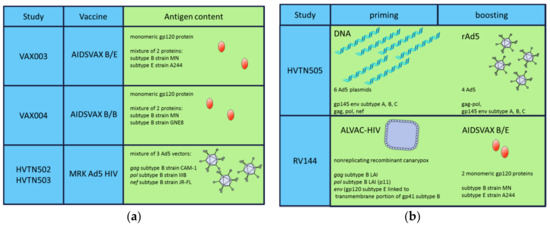 Figure 2. Vaccine regimens tested in HIV-1 clinical trials. (a) Antigen compositions; (b) Priming/boosting strategies.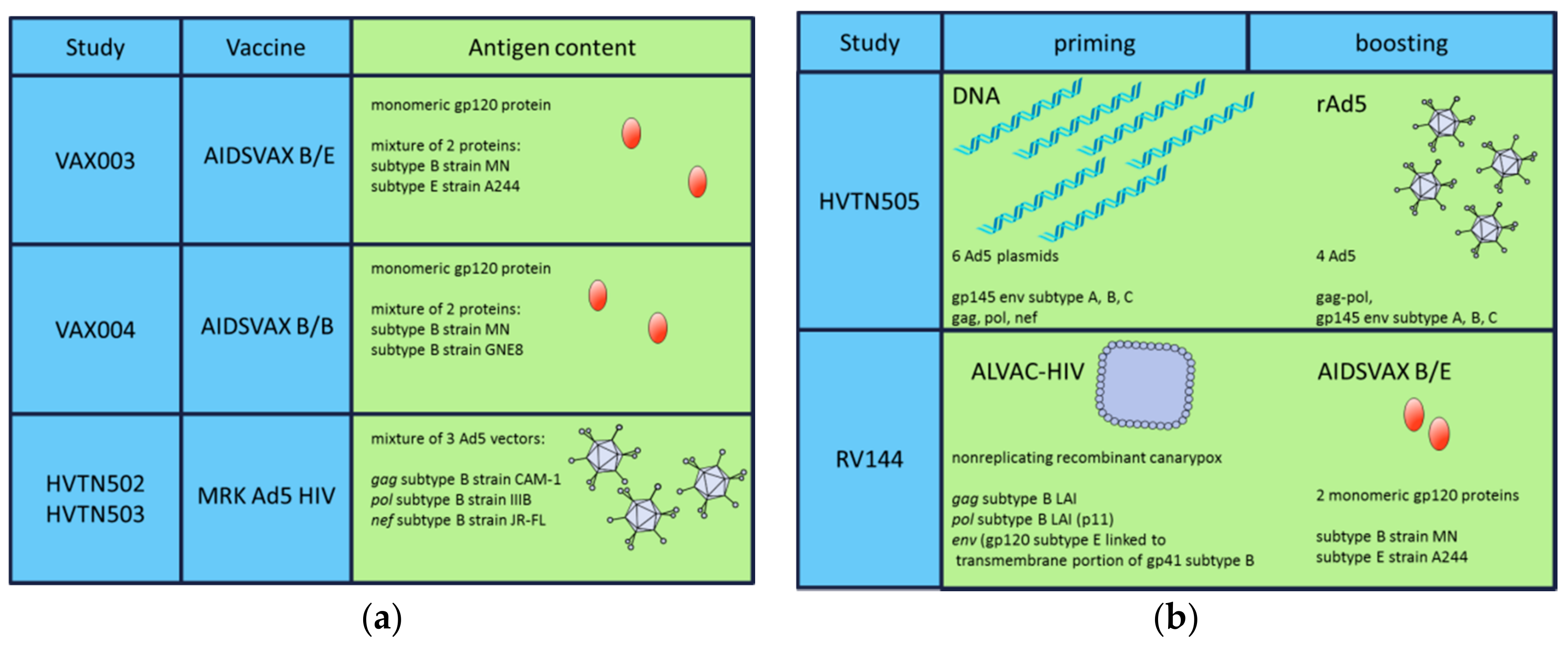 Study
Regimen
Participants
Aim
Outcome
References
VAX004 (United States, Netherlands)

r

gp120 B/B
MSM, high-risk women
bnAbs
No prevention of HIV infection
[61,62]
VAX003 (Thailand)

r

gp120 B/E
Drug users
bnAbs
No prevention of HIV infection
[63,64]
Step/HVTN502 (USA)

r

Ad5 HIV-1
gag/pol/nef B
MSM, high-risk women
CD8+ T-cells
Increased infection risk
[67]
Phambili/HVTN503 (South Africa)

r

Ad5 HIV-1
gag/pol/nef B
Heterosexual men, women
CD8+ T-cells
Increased infection risk
[68]
HVTN505
* DNA/

r

Ad5
MSM, transgender women
Ab and T-cells
No infection risk, no efficacy
[69]
RV144 (Thailand)
* ALVAC-HIV/AIDSVAX B/E gp120 in alum
High risk men and women
Ab and T-cells
31.2% vaccine efficacy
[7]
r

: recombinant; MSM: men who have sex with men; bnAbs: broadly neutralizing antibodies; *: prime-boost regimen.
Study/Strategy
Regimen
Host
Concept
Outcome
References
RV305
RV144 with additional boosts
Uninfected RV144 vaccinees
Boosting the immune response
Expansion of CD4bs-specific memory B-cells
[74]
HVTN097 (South Africa)
RV144
Uninfected men and women
Testing RV144 efficacy in South Africa
Env-specific CD4+ T-cells
[75]
HVTN100 (South Africa)
ALVAC-HIV C/gp120 in MF59
Uninfected men and women
Enhancing and sustaining the immunity
ongoing
[76]
Mosaic vaccine
Ad26 HIV-1 gag/pol/env
NHP
Increasing breadth and depth of specific immunity
Polyfunctional Ab and cellular immune responses
[77,78]
SOSIP

r

HIV-1 Env trimers
Rabbits, NHP
bnAb
Autologous Tier-2 nAbs
[39,81,82]
HVTN 704 (passive immunotherapy)

m

nAb
MSM
Protection against infection
ongoing
Available online: https://ampstudy.org
r

: recombinant;

m

: monoclonal; MSM: men who have sex with men; nAbs: neutralizing antibodies; CD4bs: CD4-binding site; NHP: non-human primate.

© 2018 by the authors. Licensee MDPI, Basel, Switzerland. This article is an open access article distributed under the terms and conditions of the Creative Commons Attribution (CC BY) license (http://creativecommons.org/licenses/by/4.0/).