Activation of ER Stress-Dependent miR-216b Has a Critical Role in
Salvia

miltiorrhiza

Ethanol-Extract-Induced Apoptosis in U266 and U937 Cells

1

Department of Pathology, College of Korean Medicine, Graduate School, Kyung Hee University, 1 Hoegi-dong, Dongdaemun-gu, Seoul 130-701, Korea

2

Department of Science in Korean Medicine, College of Korean Medicine, Graduate School, Kyung Hee University, 1 Hoegi-dong, Dongdaemun-gu, Seoul 130-701, Korea

*

Author to whom correspondence should be addressed.

†

These authors contributed equally to this work.

Received: 27 February 2018 / Revised: 3 April 2018 / Accepted: 17 April 2018 / Published: 19 April 2018
Abstract
Although
Salvia
miltiorrhiza
has been reported to have anti-cancer mechanisms, such as caspase activation, cell cycle arrest, an anti-angiogenesis effect, and Bcl-2 family regulation, its underlying mechanism of endoplasmic reticulum (ER) stress-mediated apoptosis has never been demonstrated. Thus, in this current study, ER stress-related apoptosis via miR-216b of the ethanol extract of
Salvia
miltiorrhiza
(SM) is elucidated for the first time. SM treatment inhibited the viability of U266 and U937 cells in a concentration-dependent manner. However, SM-exposed Raw264.7 cells were intact compared to U266 or U937 cells. Treatment with SM significantly elevated the generation of reactive oxygen species (ROS). The anti-proliferative effect of SM was reversed by pretreatment with the ROS scavenger,
N
-acetyl-
l
-cysteine (NAC), compared to cells treated only with SM. Also, SM treatment increased the ER stress by elevation of phosphorylated activating transcription factor 4 (p-ATF4), phosphorylated eukaryotic Initiation Factor 2 (p-eIF2), and phosphorylated protein kinase RNA-like endoplasmic reticulum kinase (p-PERK) expression. Caspase-3 and Poly (ADP-ribose) polymerase (PARP) were cleaved and CCAAT-enhancer-binding protein homologous protein (CHOP) was activated by SM treatment. PARP cleavage and CHOP activation were attenuated by NAC pretreatment. Furthermore, SM increased the tumor suppressor, miR-216b, and suppressed its target, c-Jun. miR-216b inhibitor attenuated the apoptotic effect of SM. Taken together, SM treatment induced apoptosis through regulation of miR-216b and ROS/ER stress pathways. SM could be a potential drug for treatment of multiple myeloma and myeloid leukemia.
View Full-Text
►

▼

Figures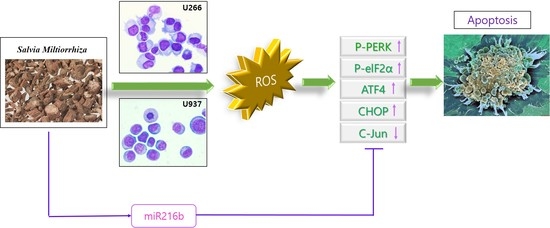 Graphical abstract
This is an open access article distributed under the
Creative Commons Attribution License
which permits unrestricted use, distribution, and reproduction in any medium, provided the original work is properly cited (CC BY 4.0).

Share & Cite This Article
MDPI and ACS Style
Kim, C.; Song, H.-S.; Park, H.; Kim, B. Activation of ER Stress-Dependent miR-216b Has a Critical Role in Salvia miltiorrhiza Ethanol-Extract-Induced Apoptosis in U266 and U937 Cells. Int. J. Mol. Sci. 2018, 19, 1240.
Note that from the first issue of 2016, MDPI journals use article numbers instead of page numbers. See further details here.
Related Articles
Comments
[Return to top]