Open Access This article is
freely available
re-usable
Review
Expression and Regulation of Thymic Stromal Lymphopoietin and Thymic Stromal Lymphopoietin Receptor Heterocomplex in the Innate–Adaptive Immunity of Pediatric Asthma
1
Department of Pediatrics, Shuang Ho Hospital, Taipei Medical University, Taipei 23561, Taiwan
2
Department of Pediatrics, School of Medicine, College of Medicine, Taipei Medical University, Taipei 11031, Taiwan
3
Graduate Institute of Clinical Medicine, College of Medicine, National Taiwan University, Taipei 10002, Taiwan
4
Department of Clinical Pathology, Far Eastern Memorial Hospital, New Taipei City 22060, Taiwan
5
School of Medical Laboratory Science and Biotechnology, Taipei Medical University, Taipei 11031, Taiwan
6
Ph.D. Program in Biotechnology Research and Development, College of Pharmacy, Taipei Medical University, Taipei 11031, Taiwan
7
Department of Biotechnology, National Formosa University, Yunlin County 63201, Taiwan
*
Author to whom correspondence should be addressed.
Received: 29 March 2018 / Accepted: 14 April 2018 / Published: 18 April 2018
Abstract
:
Asthma is a chronic inflammatory disease affecting the airway, and it is characterized by a wheezing breathing sound, variable airflow obstruction and the presence of inflammatory cells in the submucosa of the bronchi. Viral infection, pollutants and sensitivity to aeroallergens damage the epithelium from childhood, which causes asthma. The pathogenesis of asthma includes pathways of innate stimulation by environmental microbes and irritant pathogens. Damaged epithelial cells produce thymic stromal lymphopoietin (TSLP) and stimulate myeloid dendritic cell maturation through the thymic stromal lymphopoietin receptor (TSLPR) heterocomplex. TSLP-activated myeloid dendritic cells promote naive CD4+ T cells to differentiate into T helper type 2 (Th2) phenotype CD4+ T cells. Re-exposure to allergens or environmental stimuli causes an adaptive immune response. TSLP-activated dendritic cells expressing the OX40 ligand (OX40L; CD252) trigger naive CD4+ T cells to differentiate into inflammatory Th2 effector cells secreting the cytokines interleukin-4, 5, 9, and 13 (IL-4, IL-5, IL-9 and IL-13), and the dendritic cells (DCs) promote the proliferation of allergen-specific Th2 memory cells. Allergen presentation by Th2 cells through its interaction with their receptors in the presence of major histocompatibility complex (MHC) class II on B cells and through costimulation involving CD40 and CD40L interactions results in immunoglobulin class switching from IgM to IgE. DCs and other blood cell subsets express the TSLPR heterocomplex. The regulatory mechanism of the TSLPR heterocomplex on these different cell subsets remains unclear. The TSLPR heterocomplex is composed of the IL-7Rα chain and TSLPR chain. Moreover, two isoforms of TSLP, short isoform TSLP (sfTSLP) and long isoform TSLP (lfTSLP), have roles in atopic and allergic development. Identifying and clarifying the regulation of TSLPR and IL-7Rα in pediatric asthma are still difficult, because the type of blood cell and the expression for each blood cell in different stages of atopic diseases are poorly understood. We believe that further integrated assessments of the regulation mechanism of the TSLP–TSLPR heterocomplex axis in vitro and in vivo can provide a faster and earlier diagnosis of pediatric asthma and promote the development of more effective preventive strategies at the onset of allergies.
Keywords:
IL-7Rα; pediatric asthma; thymic stromal lymphopoietin; thymic stromal lymphopoietin receptor
Acknowledgments
We would like to thank Yu-Fang Tseng (Department of Biotechnology, National Formosa University, Yunlin, Taiwan) for processing this manuscript.
Author Contributions
Fang-Yi Cheng and Sheng-Chieh Lin carried out the experiments related to TSLPR heterocomplex expression in PBMC. Jun-Jen Liu provided analysis experience about the TSLPR heterocomplex. Yi-Ling Ye and Sheng-Chieh Lin took the lead in writing this manuscript.
Conflicts of Interest
There are no conflicts of interest to declare.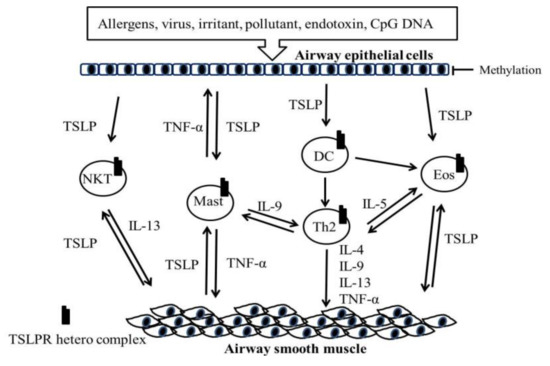 Figure 1. Role of TSLP in asthma. Airway epithelial-secreted TSLP after stimulation by allergens, viruses, irritants, pollutants, endotoxins and CpG DNA. TSLP can activate dendritic cells, mast cells, NKT cells and eosinophils to interact with cytokines and inflammatory mediators on the airway smooth muscle of patients with asthma. TSLP: thymic stromal lymphopoietin; TNF-α: tumor necrosis factor-α; NKT: natural killer T cells; Mast: mast cells; DC: dendritic cell; Eos: eosinophils; IL-4: interleukin-4; IL-9: interleukin-9; IL-13: interleukin-13.
Figure 2. Hypothesis of TSLPR heterocomplex regulation during allergic inflammation. Three possible expression changes occur after allergic inflammation: (I) TSLPR heterocomplex expression increased on the cell membrane surface by one or several specific cell subsets. (II) TSLPR heterocomplex expression by one or several specific cell membrane surfaces does not change, but the absolute number of one or several specific cell subsets is increased. (III) A combination of the phenomenain (I) and (II). "?" means cell subsets from T, Mo: monocyte; DC: dendritic cell; Eos: eosinophil; Neu: neutrophil; or mast cells; lfTSLP: long isoform of TSLP; sfTSLP: short isoform.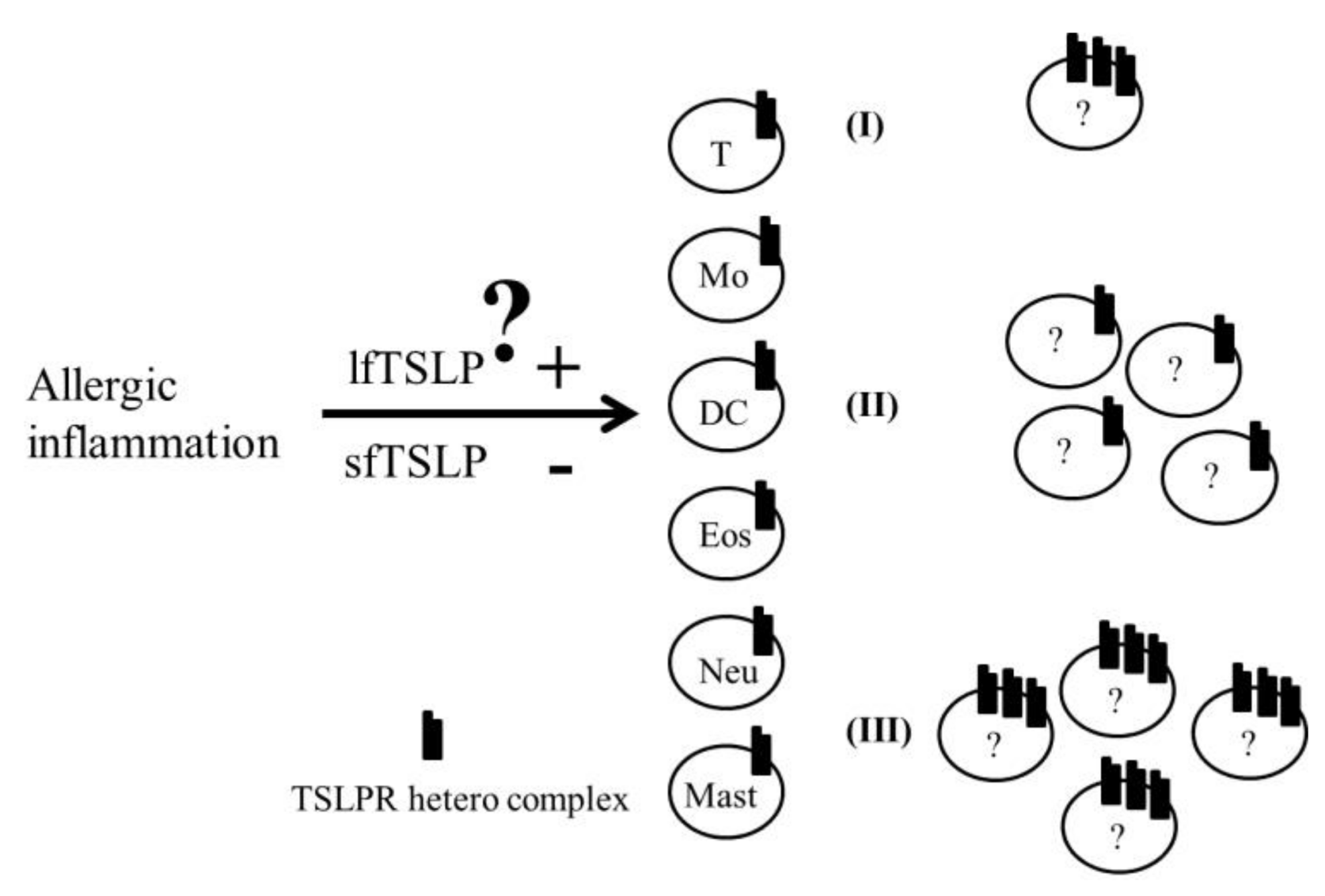 © 2018 by the authors. Licensee MDPI, Basel, Switzerland. This article is an open access article distributed under the terms and conditions of the Creative Commons Attribution (CC BY) license (http://creativecommons.org/licenses/by/4.0/).