Excessive Extracellular ATP Desensitizes P2Y2 and P2X4 ATP Receptors Provoking Surfactant Impairment Ending in Ventilation-Induced Lung Injury
1
Mobile Intensive Care Unit Zuid-West Nederland, 3062 NW Rotterdam, The Netherlands
2
Department of Surgery, Erasmus MC, Erasmus Universiteit Rotterdam, 3015 CE Rotterdam, The Netherlands
3
Department of Surgery, Upstate Medical University, Syracuse, NY 13210, USA
4
Adult Intensive Care Unit, Erasmus MC, Erasmus Universiteit Rotterdam, 3015 CE Rotterdam, The Netherlands
5
Department of Anesthesiology, Universitair Medisch Centrum Utrecht, 3584 CX Utrecht, The Netherlands
6
Department of Anesthesiology, Shimane University, Izumo, Shimane Prefecture 693-0021, Japan
7
Department of Cardiology, Erasmus MC, Erasmus Universiteit Rotterdam, 3062 PA Rotterdam, The Netherlands
8
Department of Anesthesiology and Critical Care Medicine, Showa University, School of Medicine, Tokyo 142-8666, Japan
*
Author to whom correspondence should be addressed.
Received: 5 March 2018 / Revised: 8 April 2018 / Accepted: 10 April 2018 / Published: 13 April 2018
Abstract
Stretching the alveolar epithelial type I (AT I) cells controls the intercellular signaling for the exocytosis of surfactant by the AT II cells through the extracellular release of adenosine triphosphate (ATP) (purinergic signaling). Extracellular ATP is cleared by extracellular ATPases, maintaining its homeostasis and enabling the lung to adapt the exocytosis of surfactant to the demand. Vigorous deformation of the AT I cells by high mechanical power ventilation causes a massive release of extracellular ATP beyond the clearance capacity of the extracellular ATPases. When extracellular ATP reaches levels >100 μM, the ATP receptors of the AT II cells become desensitized and surfactant impairment is initiated. The resulting alteration in viscoelastic properties and in alveolar opening and collapse time-constants leads to alveolar collapse and the redistribution of inspired air from the alveoli to the alveolar ducts, which become pathologically dilated. The collapsed alveoli connected to these dilated alveolar ducts are subject to a massive strain, exacerbating the ATP release. After reaching concentrations >300 μM extracellular ATP acts as a danger-associated molecular pattern, causing capillary leakage, alveolar space edema, and further deactivation of surfactant by serum proteins. Decreasing the tidal volume to 6 mL/kg or less at this stage cannot prevent further lung injury.
View Full-Text
►

▼

Figures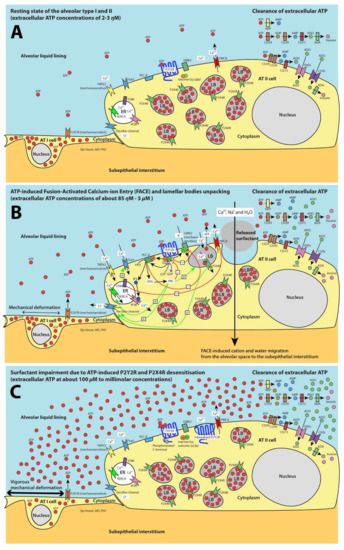 Figure 1
This is an open access article distributed under the
Creative Commons Attribution License
which permits unrestricted use, distribution, and reproduction in any medium, provided the original work is properly cited (CC BY 4.0).

Share & Cite This Article
MDPI and ACS Style
Hasan, D.; Satalin, J.; Van der Zee, P.; Kollisch-Singule, M.; Blankman, P.; Shono, A.; Somhorst, P.; Den Uil, C.; Meeder, H.; Kotani, T.; Nieman, G.F. Excessive Extracellular ATP Desensitizes P2Y2 and P2X4 ATP Receptors Provoking Surfactant Impairment Ending in Ventilation-Induced Lung Injury. Int. J. Mol. Sci. 2018, 19, 1185.
Note that from the first issue of 2016, MDPI journals use article numbers instead of page numbers. See further details here.
Related Articles
Comments
[Return to top]