Prenatal Metformin Therapy Attenuates Hypertension of Developmental Origin in Male Adult Offspring Exposed to Maternal High-Fructose and Post-Weaning High-Fat Diets
1
Department of Pediatrics, Kaohsiung Chang Gung Memorial Hospital and Chang Gung University College of Medicine, Kaohsiung 833, Taiwan
2
Institute for Translational Research in Biomedicine, Kaohsiung Chang Gung Memorial Hospital and Chang Gung University College of Medicine, Kaohsiung 833, Taiwan
3
Department of Urology, Kaohsiung Chang Gung Memorial Hospital and Chang Gung University College of Medicine, Kaohsiung 833, Taiwan
*
Author to whom correspondence should be addressed.
Received: 17 February 2018 / Revised: 19 March 2018 / Accepted: 1 April 2018 / Published: 3 April 2018
Abstract
Widespread consumption of a Western diet, comprised of highly refined carbohydrates and fat, may play a role in the epidemic of hypertension. Hypertension can take origin from early life. Metformin is the preferred treatment for type 2 diabetes. We examined whether prenatal metformin therapy can prevent maternal high-fructose plus post-weaning high-fat diets-induced hypertension of developmental origins via regulation of nutrient sensing signals, uric acid, oxidative stress, and the nitric oxide (NO) pathway. Gestating Sprague–Dawley rats received regular chow (ND) or chow supplemented with 60% fructose diet (HFR) throughout pregnancy and lactation. Male offspring were onto either the ND or high-fat diet (HFA) from weaning to 12 weeks of age. A total of 40 male offspring were assigned to five groups (
n
= 8/group): ND/ND, HFR/ND, ND/HFA, HFR/HFA, and HFR/HFA+metformin. Metformin (500 mg/kg/day) was administered via gastric gavage for three weeks during the pregnancy period. Combined maternal HFR plus post-weaning HFA induced hypertension in male adult offspring, which prenatal metformin therapy prevented. The protective effects of prenatal metformin therapy on HFR/HFA-induced hypertension, including downregulation of the renin-angiotensin system, decrease in uric acid level, and reduction of oxidative stress. Our results highlighted that the programming effects of metformin administered prenatally might be different from those reported in adults, and that deserves further elucidation.
View Full-Text
►

▼

Figures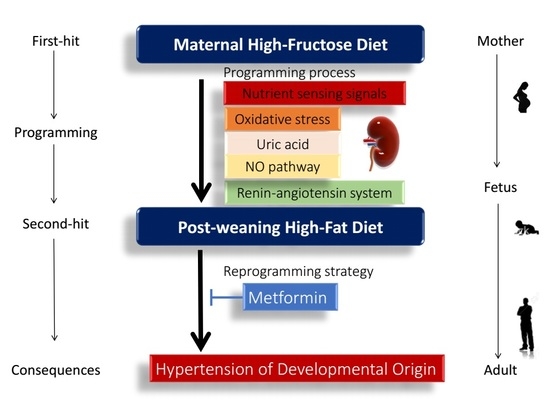 Graphical abstract
This is an open access article distributed under the
Creative Commons Attribution License
which permits unrestricted use, distribution, and reproduction in any medium, provided the original work is properly cited (CC BY 4.0).

Share & Cite This Article
MDPI and ACS Style
Tain, Y.-L.; Wu, K.L.H.; Lee, W.-C.; Leu, S.; Chan, J.Y.H. Prenatal Metformin Therapy Attenuates Hypertension of Developmental Origin in Male Adult Offspring Exposed to Maternal High-Fructose and Post-Weaning High-Fat Diets. Int. J. Mol. Sci. 2018, 19, 1066.
Note that from the first issue of 2016, MDPI journals use article numbers instead of page numbers. See further details here.
Related Articles
Comments
[Return to top]