Open Access This article is
freely available
re-usable
Review
The Potential for Connexin Hemichannels to Drive Breast Cancer Progression through Regulation of the Inflammatory Response
Department of Cell and Molecular Pharmacology & Experimental Therapeutics, Medical University of South Carolina, Charleston, SC 29412, USA
*
Author to whom correspondence should be addressed.
Received: 7 March 2018 / Accepted: 28 March 2018 / Published: 30 March 2018
Abstract
:
Over the past few decades, connexin hemichannels have become recognized as major players in modulating the inflammatory response. Chronic inflammation is documented to promote tumorigenesis and is a critical component of tumor progression. Furthermore, inflammation is strongly linked to angiogenesis, immunotolerance, invasiveness, metastasis, and resistance in breast cancers. In this review, the literature on the role of connexin hemichannels in inflammation is summarized, and the potential role for hemichannel-mediated inflammation in driving breast cancer progression is discussed. Lastly, the potential for connexin-based therapeutics to modulate the inflammatory component of the tumor microenvironment as an avenue for the treatment of breast cancer is also discussed.
Keywords:
hemichannels; breast cancer; connexin; purinergic; inflammation; tumor-associated macrophage (TAM); tumor-associated neutrophil (TAN); metastasis; resistance
1. Introduction
Connexins are membrane proteins that constitute connexin hemichannels and the intercellular channels that comprise gap junction (GJ) structures. These proteins contain a cytoplasmic N-terminus, four transmembrane domains, two extracellular loops that mediate hemichannel docking, a cytoplasmic loop, and a cytoplasmic C-terminus that acts as a regulatory domain [
1
]. The channels formed from connexins facilitate the passive diffusion of small molecules (<~1000 Da) between the cytoplasm and extracellular space in the case of hemichannels, or between cells in the case of GJ intercellular channels [
2
]. Much study has been devoted to GJs and their corresponding intercellular channels over the past 70 years, since they were first described in the 1960s. However, the wide-spread study of connexin hemichannels is a much more recent phenomenon, having truly gained traction over the last several decades [
3
].
Connexin hemichannels have been demonstrated to play both physiological and pathological roles [
4
]. Physiological functions include the regulation of hearing sensitivity in cochlear cells and ephaptic conduction in the vertebrate retina [
5
,
6
]. That said, connexin hemichannels appear to play a key part in mediating a pathological response to injury and stress. Numerous publications have shown that hemichannels open in response to a variety of stimuli that are common features of cell damage including mechanical stimulation, changes in ionic concentration and pH, oxygen and glucose deprivation (i.e., ischemia), and oxidative stress [
7
,
8
,
9
,
10
]. Hemichannels also open in response to cytokines and inflammatory agents: basic fibroblast growth factor (bFGF), tumor necrosis factor-α, interleukin-1β (IL-1β), and lipopolysaccharide (LPS) [
11
,
12
]. The opening of hemichannels results in the diffusion of small molecules such as adenosine triphosphate (ATP) from the cell interior to the extracellular space that can participate in pro-inflammatory and pro-death signaling [
13
,
14
].
Oxidative stress and hypoxia are predominant features of the tumor environment, and it is now well established that inflammation plays a role in the initiation and progression of cancer [
15
,
16
]. Given the potential connection, it is somewhat surprising that there are only a handful of studies that have examined the role of hemichannels in the development of cancer. In this review, we will discuss the mechanisms by which connexin hemichannels facilitate inflammation, what is currently known about hemichannels and cancer, the role of tumor-associated inflammation in breast cancer, and therapeutics that target hemichannels as adjuvant treatments to minimize tumor-associated inflammation and improve the prognosis for breast cancer patients. We will focus predominantly on the connexin43 (Cx43) isoform as it is the best characterized.
2. Connexin Hemichannels and the Inflammatory Response
3. Inflammation and Breast Cancer
4. Hemichannels in Cancer
While the significance of connexins and GJs in cancer has been extensively explored (see [
17
,
21
,
92
,
93
]), there is limited data from which to draw conclusions about the role of hemichannels in cancer. That said, inferences can be made from a number of sources. For example, antibodies to the extracellular domains of Cx43 have been demonstrated to block hemichannels without affecting gap junctional communication [
94
]. When Cx43 extracellular loop antibodies (called E2 antibodies) were applied in a rat model of glioblastoma, it was found that animal survival and tumor regression were enhanced, and this effect was synergistic with radiotherapy, suggesting that hemichannel blockade was anti-tumorigenic in this model [
95
]. However, it should be noted that these results could also be due to an immunogenic response to cells tagged by the antibody. Conversely, additional work has shown that ATP release by hemichannels on osteocytes inhibited the growth, migration, and invasiveness of human breast cancer cells using in vitro cell migration assays [
96
]. In addition, this study showed that mice with an osteocyte-specific genetic knockout of Cx43, or transgenic mice engineered to have osteocyte-specific expression of a Cx43 mutant (∆130–136) without functional GJ or hemichannels, exhibited enhanced tumor growth of transplanted mammary tumor cells, but not when a GJ-deficient and functional hemichannel Cx43 mutant (R76W) was expressed in osteocytes. These conflicting results suggest that the function of hemichannels in cancer may be specific to the context of a given disease state.
A number of in vitro studies also shed light on the role of hemichannels in cancer. One of the many small molecules that hemichannels can also release is nicotinamide adenine dinucleotide (NAD
+
) [
97
]. Extracellular NAD
+
is readily converted to cyclic ADP-ribose (cADPR—a potent second messenger mobilizer of intracellular calcium) by the ectoenzyme CD38, and one study found that NAD
+
released by CD38
+
"feeder" cells enhanced the proliferation of CD38
−
"target" cells, presumably by the conversion of NAD
+
to cADPR [
98
]. CD38 is primarily expressed in lymphoid cells (which include T cells and macrophages), and it has been suggested that NAD
+
released by tumor cells could suppress immune cell function directly while simultaneously enhancing tumor cell proliferation by converting NAD
+
to cADPR via CD38 on local immune cells [
99
]. Similarly, ATP that is released by Cx43 hemichannels and converted to adenosine by ectonucleases could provide a pro-metastatic signal in breast cancer by activating purinergic receptors on mammary tumor cells [
21
].
Conversely, it has also been shown that hemichannel opening can provide a pro-death signal. In one instance, localized apoptotic cell death was induced in C6 cells by electroporetic cytochrome C loading. In cells that were engineered to stably express Cx43, cells adjacent to the electroporated cells also underwent apoptosis, but this was not observed in wild-type (non-Cx43-expressing) cells, indicating the spread of some "pro-death" signal through GJs [
100
]. Interestingly, it was also observed that Cx43-overexpressing cells at distant locations from the cytochrome C loaded cells also underwent apoptosis, and this effect was specifically dependent on Cx43 hemichannel function. The authors of this study hypothesized that a signal was either being released from hemichannels in dying cells of the loading or adjacent region, or being accepted through hemichannels in the distant region. However, further tests to determine the paracrine messenger responsible for transmitting pro-death signals could only rule out ATP and glutamate, suggesting that some other small molecule was responsible or that hemichannel opening itself was contributing to the apoptotic effect. Supporting the second notion, it has also been shown that cultured cardiomyocytes subjected to simulated ischemia-reperfusion display significantly reduced cell viability, and that blocking hemichannels significantly increased cell survival [
9
]. Taken together, a direct role of connexin hemichannels in cancer has not been well established, but there is strong evidence that hemichannels modulate cellular characteristics that control tumor growth and metastasis.
5. The Intersection of Hemichannels, Inflammation, and Breast Cancer: Therapeutic Potential
6. Conclusions
The sciences of connexin hemichannels and inflammation in breast cancer have independently grown into their own distinct disciplines over the recent past, but have not yet intersected. Nevertheless, the potential connection is undeniable. Mammary tumors possess the pathophysiological states known to trigger connexin hemichannel opening and ATP release; extracellular ATP is a potent chemoattractant for, and activator of, leukocytes; TAMs and TANs are linked to tumor immunotolerance, angiogenesis, treatment resistance, metastasis, and generally poor prognosis in patients. Future studies should be aimed at dissecting the possible roles of hemichannels in mammary tumor-associated inflammation. Finally, whether connexin-based therapeutics modulate tumor-associated inflammation should be explored. Connexins can be somewhat difficult targets because drugs that affect hemichannels usually also impact GJ communication and vice versa, but hopefully this line of research will produce new chemotherapeutics that reduce the malignancy, resistance, and metastasis of breast cancers.
Author Contributions
J. Matthew Rhett and Elizabeth S. Yeh both reviewed the literature and composed the manuscript.
Conflicts of Interest
The authors declare no conflict of interest.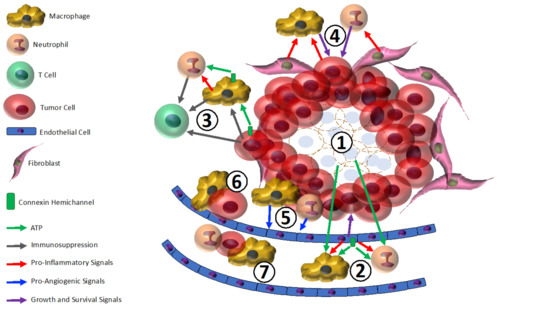 Figure 1. Connexin hemichannels and tumor-associated inflammatory cells in mammary tumor progression. ① Damage-associated molecular patterns (DAMPs), including ATP, that attract and activate macrophages and neutrophils are released from ruptured cells at the necrotic core of the tumor, and from tumor cells necrosing in response to therapy; ② Vascular endothelial cells secrete ATP through hemichannels in response to tumor-related stress, attracting macrophages and neutrophils. Endothelial cells also secrete TNF-α, which promotes tumor growth and inflammation; ③ Tumor cells may release ATP from hemichannels triggered to open by the cellular stressors intrinsic to tumor cell physiology. This can activate local macrophages (i.e., tumor-associated macrophages (TAMs)) that in turn produce pro-inflammatory cytokines. TAMs may also release neutrophil-recruiting ATP from hemichannels. In addition, tumor cells express ectonucleases that convert ATP to adenosine, which has immunosuppressive effects on tumor-associated neutrophils (TANs), TAMs, and T cells; ④ Breast cancer cells and cancer-associated fibroblasts (CAFs) produce pro-inflammatory cytokines that attract and activate TAMs and TANs. In turn, TAMs and TANs produce pro-survival and pro-growth signals that promote tumor progression; ⑤ TAMs and TANs produce pro-angiogenic factors that stimulate tumor vascularization; ⑥ TAMs aid metastatic tumor cells in intravasation; ⑦ TAMs and TANs may chaperone tumor cells through the vasculature to sites of metastasis.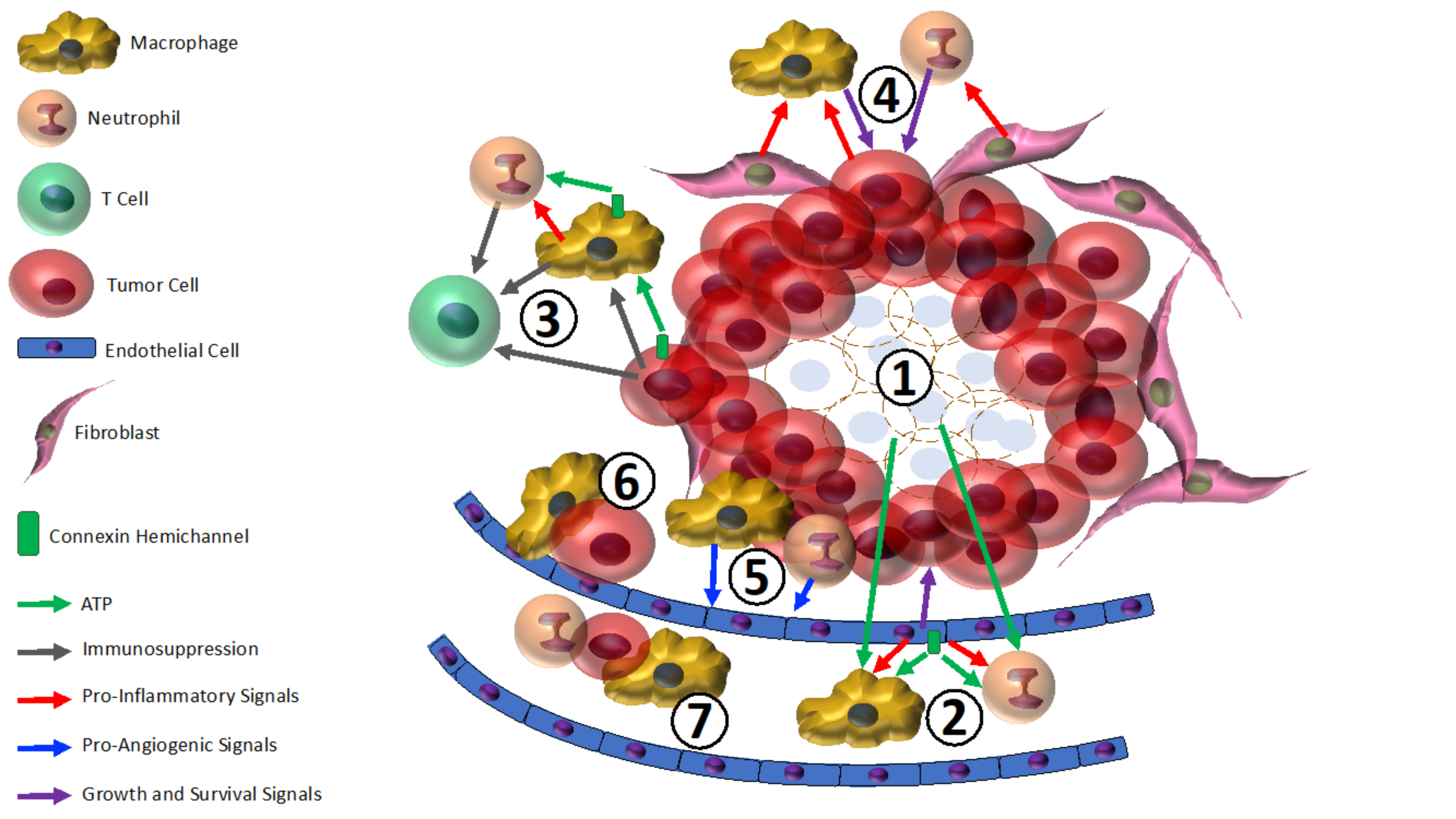 | Name | Effects | References | Clinical Trials |
| --- | --- | --- | --- |
| Extracellular loop 2 (E2) antibody | Blocks hemichannels without affecting gap junctional (GJ) communication; enhances animal survival and tumor regression in a glioblastoma model; promotes anchorage-independent growth, migration, and invasion of cultured breast cancer cells | [94,95,96] | None |
| α-connexin carboxyl-terminal peptide 1 (aCT1) | Increases GJ size and gap junctional communication, and concomitantly reduces hemichannel population and cell-extracellular communication; improves wound healing; enhances the activity of targeted therapeutics in breast cancer cells; sensitizes chemoresistant glioblastoma cells to temozolomide | [23,47,48,55,56,111,112] | NCT02652572—Phase I—venus leg ulcers; NCT02652754—Phase I—diabetic foot ulcers; NCT02666131—Phase III—diabetic foot ulcers; NCT02667327—Phase III—diabetic foot ulcers |
| Gap junction peptide 26 (Gap26) | Blocks hemichannels over short time periods (minutes) and gap junctional communication over long time periods (>30 min); reduces astroglial activation; reduces inflammation; reduces animal cell death due to sepsis | [36,113,116,117,118] | None |
| Gap junction peptide 27 (Gap27) | Reduces astroglial activation; reduces swelling after spinal cord injury; increases inflammation in corneal wounds | [36,115,119] | None |
| Gap junction peptide 19 (Gap19) | Selectively inhibits hemichannels and reduces cardiac infarct size; reduces serum levels of pro-inflammatory cytokines due to liver injury; increases macrophage hemichannel activity and decreases animal survival in a rodent sepsis model | [118,120,122,123] | None |
| Peptide 5 (P5) | Reduces astroglial activation and swelling after spinal cord injury; neuroprotective in stroke models; inhibits hemichannels and improves animal survival in models of sepsis and hepatic ischemia-reperfusion injury; inhibits inflammatory infiltrates into damaged retina | [52,115,118,124,125,126,127] | None |
| Juxtamembrane peptide 2 (JM2) | Inhibits hemichannels and GJ communication, and promotes microtubule polymerization; inhibits hemichannel-mediated ATP release and reduces inflammation from the foreign body response | [30,49] | None |

© 2018 by the authors. Licensee MDPI, Basel, Switzerland. This article is an open access article distributed under the terms and conditions of the Creative Commons Attribution (CC BY) license (http://creativecommons.org/licenses/by/4.0/).